Cold Soba Noodles Recipe
Cold soba noodles with a big dollop of ginger-scallion paste for the flight to Tokyo, plus pics from Japan, and a link to a few favorite spots in Tokyo.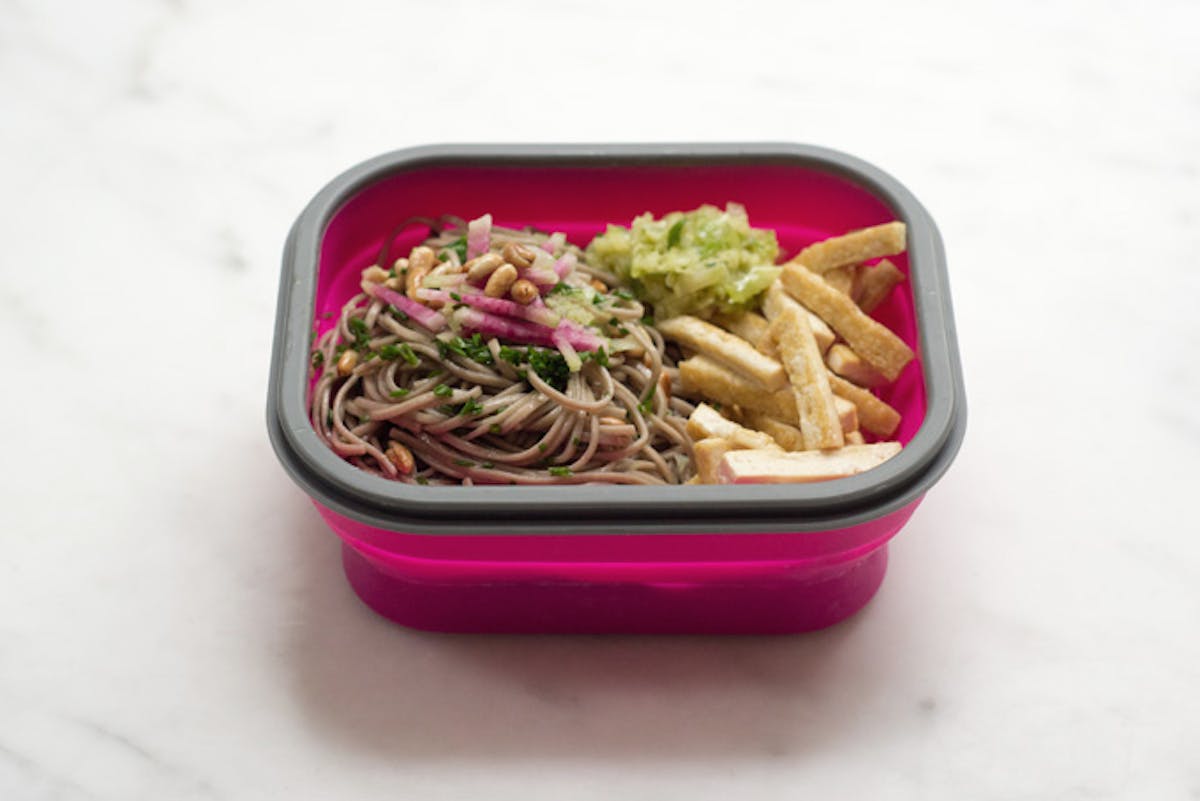 This was the scene on my counter at 7a.m. the morning we flew from San Francisco to Tokyo. Lunchbox ready, suitcases by the door. If you've been a reader for a while, you know, I don't love long flights. After six or seven hours I tend to get bad headaches and the headaches eventually make me queasy. I've found a few things do help though - packing good meals, drinking water every single time it is offered, and no alcohol in flight. Every time I shrug off my own rules, I pay. So, for this trip to Japan I made cold soba noodles with a fat dollop of strong scallion-ginger paste, some tofu for the protein, and lots of chives. My thinking was the ginger would help if I wasn't feeling great, and the flavors were strong enough to still be prominent in-flight - tastebud dead-zone. It was completely worth the last-minute scramble. Now, based on your notes and emails, it sounds like many of you are planning travel to Tokyo/Japan - here's an updated Tokyo page, with map and links. I'll do my best to keep adding to it over time, but this should get you started. And I'll share the soba recipe at the end of the post, after a few of my favorite shots from the trip.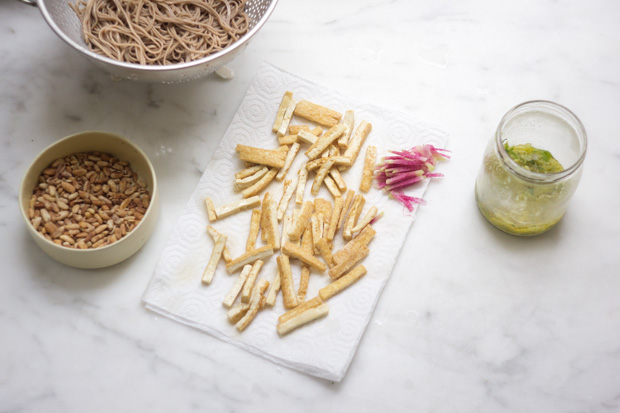 We flew into Tokyo and out of Osaka (we've done this both times) - after a few days in Tokyo (never enough time), we stayed in Kyoto, then to Naoshima Island after a night in Nara, and back through Okayama and Osaka. Most of these shots (below) are from the ferry ride to/from Naoshima.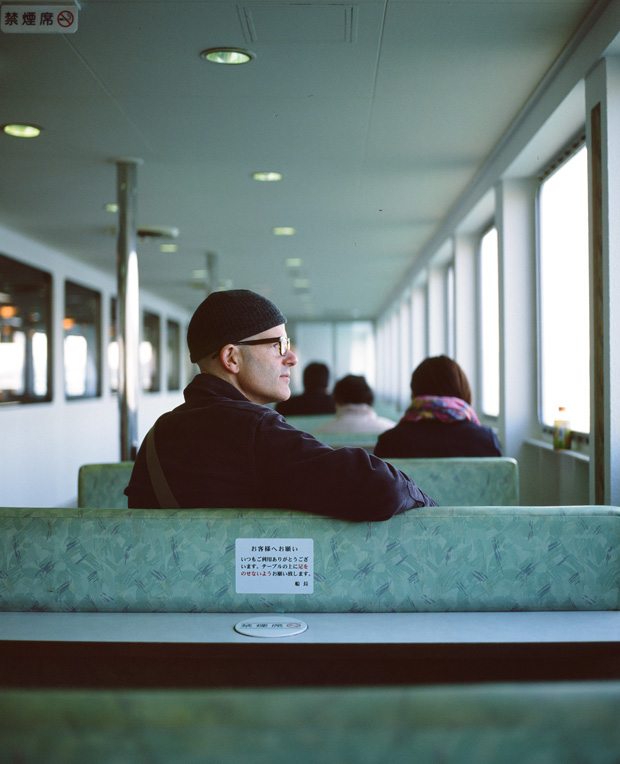 (Above) The ferry passes through various islands as you make your way to Naoshima on a large (mostly-empty) ferry. It was mostly day-tripping Japanese tourists on the ship - young students and clusters of school girls.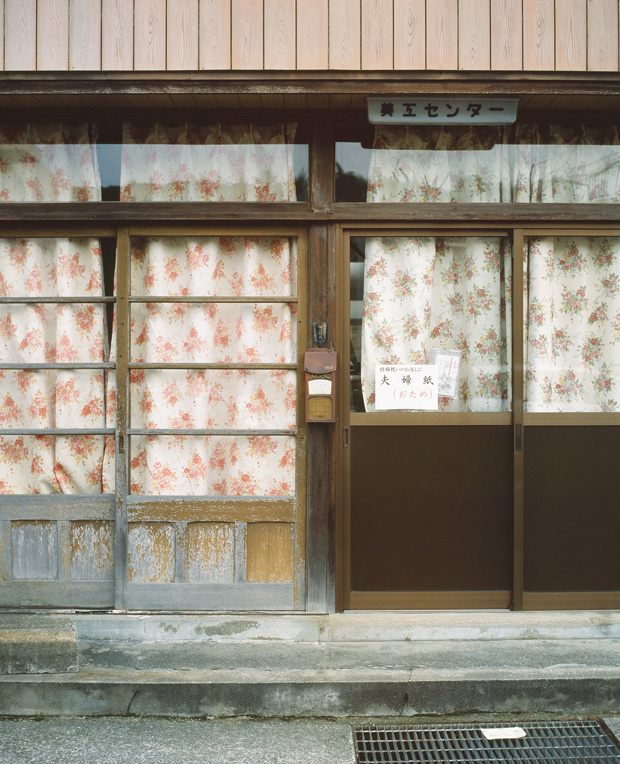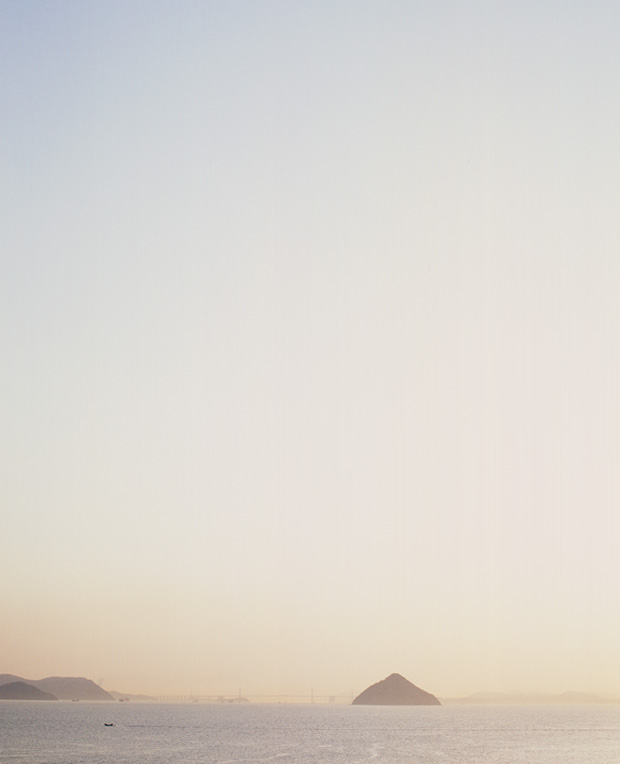 While we were in Japan, there was much talk (and mask-wearing) related to high pollen counts and a particularly nasty yellow dust storm making it's way from the Gobi Desert to Japan. You could see (and taste) the haze. The only upside? When the sun set each day - this.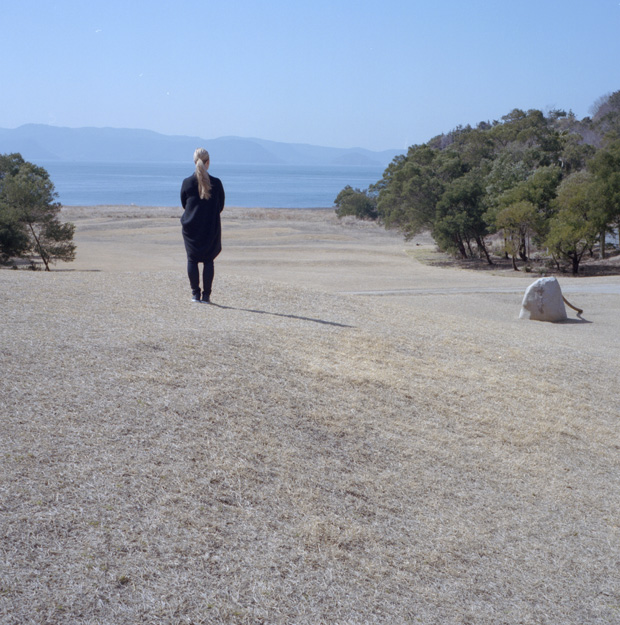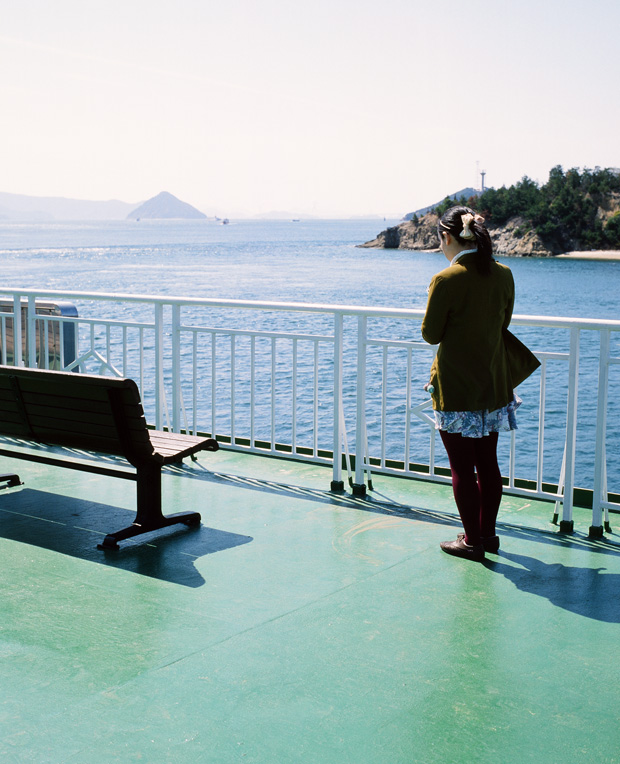 Wayne took the picturet of me, two shots up, one morning as we walked the string of museums that follow the perimeter road around the island. I'll try to write more about other aspects of this trip to Japan, but in the meantime, if you have a chance to visit Naoshima - it's worth making your way to Japan just to see the Water Lilies at the Chichu, explore the Tadao Ando spaces, and watch the ships pass on the sea.
Cold Soba Noodles
You can make the paste a day or two a head of time, but I recommend making the soba and tofu the day you want to eat this. Also, for a bit of crunch I used watermelon radish here, but you can swap in whatever varietal you like - little coins of baby radish might be a nice alternative and potentially easier to come by.
4 scallions, thinly sliced
5 medium shallots, peeled and finely sliced
2 tablespoons grated, peeled ginger
scant 1 teaspoon fine grain sea salt
7 tablespoons good sunflower or olive oil

12 ounces extra-firm tofu

12 ounces dried soba noodles

1 radish, peeled, cut into matchsticks
1/3 cup toasted pine nuts
1 bunch of chives, minced
Bring a large pot of water to a boil.
While you're waiting for the water to come up to temperature, place the scallions, shallots, and ginger in a mortar and pestle. Sprinkle with the salt, and pound until everything is quite bruised, but not paste-like. Gently heat the oil in a small saucepan until it is just hot enough that you could saute something in it. Add the scallion mixture to the oil, remove from heat, and transfer to a jar or bowl to cool.
Drain the tofu, pat it dry, and cut it into matchsticks or 1/2-inch cubes. Cook the tofu, along with a pinch or two of salt, in a well-seasoned skillet over medium-high heat for a few minutes, until the pieces are browned on one side. Add a tiny splash of oil if needed to prevent sticking. Toss gently once or twice, then continue cooking for another minute or so, until the tofu is firm, golden, and bouncy.
Salt the boiling water, and cook the soba noodles per package instructions. Drain, rinse under cold water to stop the cooking, and shake off as much water as possible. Toss the noodles with a bit of the oil off the top of the scallion ginger paste at this point so the noodles don't stick down the line.
Serve the soba along with the scallion-ginger paste (you can either toss it with the noodles or serve on the side), topped with radish, pine nuts, and lots of chives.
Serves 3-4.

Prep time: 25 minutes - Cook time: 10 minutes