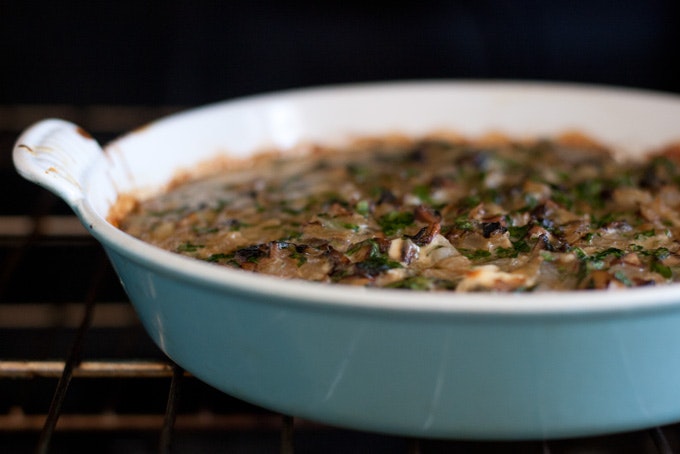 I'm boarding a flight back to San Francisco. Wayne and I had a great time in NYC and I promise more details about it after I get home, unpack, and settle in. I didn't win the Beard Award, but we had a fantastic time regardless - it was a lot of fun to be part of the celebration. I thought while I'm in transit I'd share a post I wrote before I left - a fun twist on lasagna.
The next time you are in the mood for something creamy, rich, terribly decadent and uncompromisingly delicious - without it being a complete nutritional train wreck, this is your recipe. Imagine a lasagna, but instead of using pasta noodles, I used crispy, whole-grain crackers. Most people use pound after pound of beef and/or sausage, and then more beef (which as you all know, isn't my thing anyway). Instead, I pureed cottage cheese (which gets silky smooth), and thinned it out with a bit of milk and a couple eggs - some chopped mushrooms and spinach were part of the plan as well. Flash forward thirty minutes and out of the oven comes a beautiful, golden-topped pan of something that is lasagna-esque in nature, or close enough. And though it might sound a tad offbeat, it's great.
Why this recipe, why now? It does seem like the perfect cold weather recipe, doesn't it. Something perfect for a blustery night. I should mention that Wayne has been running long, long distances lately (he's running a marathon later this summer), and because I've been finding him foraging for anything edible in the kitchen after he gets back, I've been trying to keep hearty, filling, yet relatively healthy leftovers around for him. This was one of my experiments.
This is the onions and mushrooms in the skillet, just before I pull it off the heat add the spinach.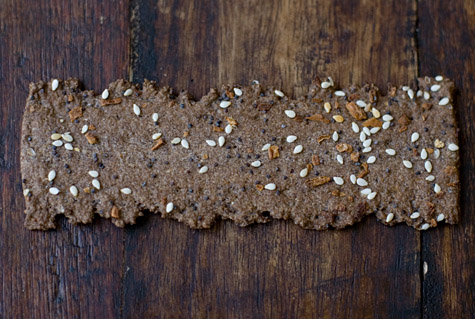 Here's a shot of the type of cracker I used. As I mention in the headnotes, it's important to choose a sturdy cracker, one that won't completely disintegrate on you when you soak them.
Cracker Lasagna Recipe
A few important head notes: when you go to place the baking dish in the oven, you might worry that things look are a little on the runny/liquid side. It's ok - the crackers continue to absorb and swell though out the baking process, and the cottage cheese mixture will set up nicely due to the eggs. When choosing a type of cracker to use, hoosing go for sturdy ones, a cracker that can stand up to ten minutes of soaking without going to mush on you - I included a photo of the crackers I used up above, I suspect Ak-Mak would be a good choice as well (Trader Joe's, Whole Foods). Also, don't worry if your crackers are the exact dimension I call for in the recipe, just use enough to construct three layers in whatever pan you are using. Prepping all your ingredients beforehand is helpful here - chop your spinach and onions, etc. Things will go more smoothly. And lastly, I can't help but think that some shredded gruyere would right at home on top of this.
1 1/2 cups cottage cheese
1 cup milk
2 large eggs
scant 1/2 teaspoon fine grain sea salt

splash of olive oil
1 medium onion, chopped
1 shallot, chopped (optional)
1/4 pound brown mushrooms (about 12 medium), brushed clean and chopped
pinch of fresh thyme (optional)
2 big handfuls of spinach, washed and chopped
18 2 x 4 - inch crispy crackers (see head notes)

9 - inch round baking dish, or an 8x8 baking pan will work as well
Preheat oven to 400F degrees with rack in the middle. Oil your baking dish and set aside.
Using a hand blender (or food processor or regular blend) puree the cottage cheese, milk, eggs, and salt until smooth. Line a separate deep dish or baking pan with the crackers and cover with 1 1/2 cups of the cottage cheese mixture, reserving the rest for later use. Let the crackers soak for about 10 minutes - long enough for them to soften a bit, but not long enough for them to loose all their structure
In the meantime, in a large skillet over high heat, cook the onion and shallot in a splash of olive oil along with a pinch of salt. Cook for a couple minutes, until they begin to soften up a bit. Stir in the mushrooms, and cook until they release their liquid and start to brown, another 5 minutes or so - stirring once or twice along the way. Remove from heat and stir in the spinach. Combine with the remaining cottage cheese mixture.
Arrange about 1/3 of the soaked crackers in a single layer in the bottom of prepared pan - I break up the crackers a bit to make things fit. I should mention things are much easier if you're using a square pan. Ladle 1/3 of the spinach mushroom mixture over the first layer of crackers. Add another layer of crackers, another 1/3 of the mushroom mixture, a final layer of crackers and the remaining mushrooms - three layers total. Place in oven for about 30 minutes or until top is golden (edges golden). Remove and cool for 15-20 minutes - this helps everything set up nicely. Serve warm or at room temperature.
Makes about 8 - 10 servings.