Crunchy Breakfast Magic – One Cereal & Five Ideas Recipe
With crispy quinoa, puffed brown rice, chia, hemp, and flax seeds, this is a favorite nutritious homemade breakfast cereal blend. The recipe is written so you dump all the ingredients in a quart-sized jar, shake, and go.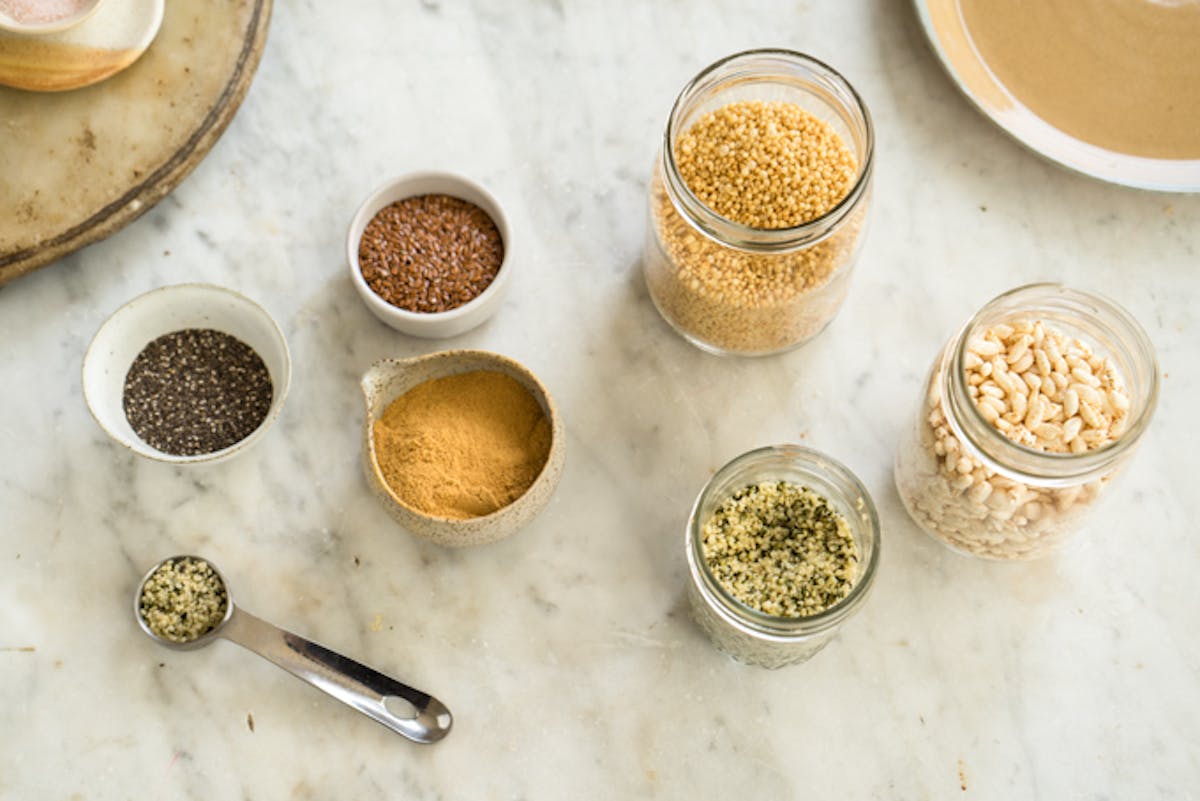 Everyone should make their own breakfast cereal blend now and then. Stand in front of the bulk bin section at the grocery store with some little baggies or containers, and fill them with a medley of cereals, fruits, seeds, nuts, and the like. Stir together, and keep in a jar. That's what happened here, but I think I happily landed on something extra special. The emphasis is on crunch, something to counter the creaminess of a smoothie, or acai bowls. The players? Six ingredients. Crispy quinoa, puffed brown rice, chia, hemp, and flax seeds tossed into a jar with a generous scoop of mesquite flour (which you can skip if you can't find it). That's it. Keep it in plain sight and you'll find yourself reaching for it constantly. I initially thought of this as a homemade cereal that you'd have with milk/mylk or yogurt, but the crunchy magic seems to work its way into all sorts of other preparations. The video (below) demonstrates how the cereal comes together, and then goes into a handful of other ideas including homemade power bars using this as the base. Enjoy!
As I mention in the video - keep your eyes peeled for mesquite flour. It's very much worth seeking out, and you'll find yourself using it in everything from oatmeal to smoothies, and this cereal. Made from the ground pods of mesquite trees, the resulting flour is sweet, malty, fragrant, nutritious, and one of my favorite flours to bake with. It can be tough to find, but as I'm typing this, I'm realizing that adding a scoop of cacao powder instead for a chocolate version, might be scandalously good.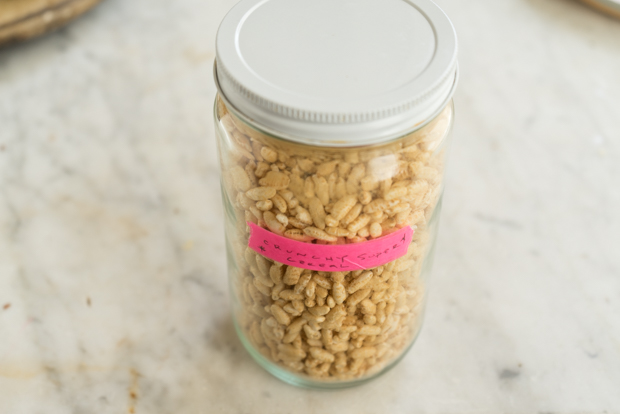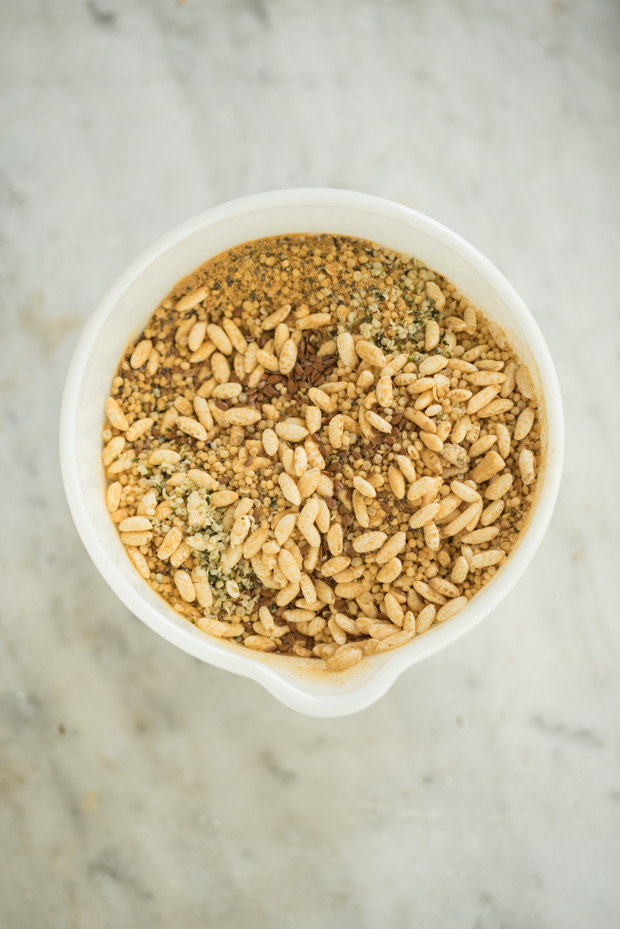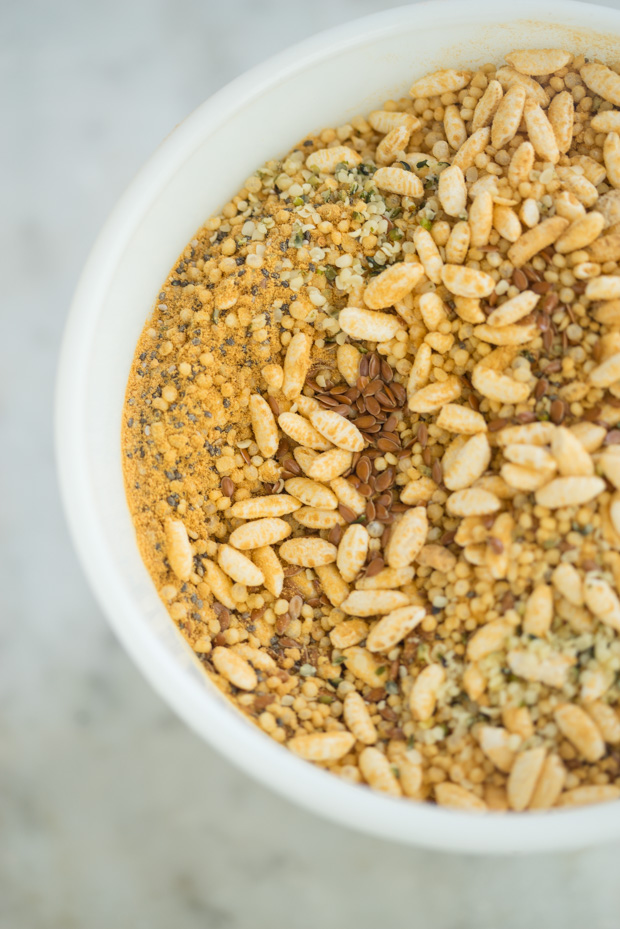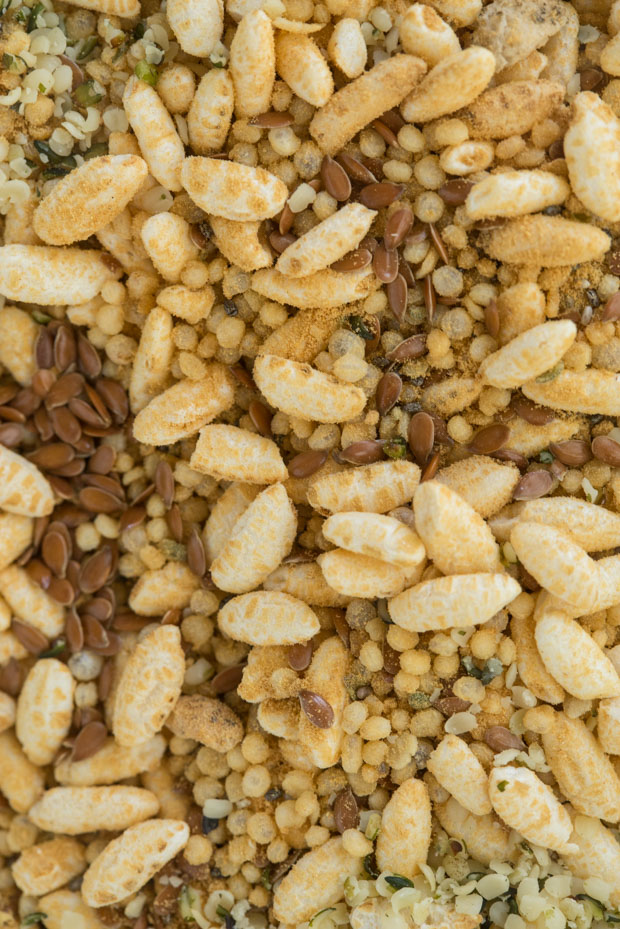 Crunchy Breakfast Magic Super Cereal
Take a look at the photos and there is also close-up video footage of crispy quinoa and crisped brown rice if you aren't clear on what it is. You buy it crisp/puffed. I find both ingredients in the cereal section as well as the bulk bins. The crisped brown rice (I've seen it in two forms), looks like Rice Krispies (or puffed rice), but is made from brown rice. Same goes for the quinoa, but is quinoa instead of rice. Use a quart-sized mason jar to make a good-sized batch of this. You simply put everything in the jar and shake. The quinoa and crisped brown rice bring the crunch, and the flax, hemp, and mesquite bring some extra substance and nutrition to the blend. Use it to top yogurt bowls, boost, smoothies, it's even welcome atop puddings, and chia bowls, or as the base for homemade power bars. I demonstrate a bunch of these ideas in the video up above, and will include the recipe notes for all the examples below as well. Enjoy!
1 1/2 cups crispy quinoa (see headnotes)
1 1/2 cups crisped brown rice (see headnotes)
3 tablespoons flax seeds
3 tablespoons hemp seeds
3 tablespoons chia seeds
Boost: ½ cup mesquite flour (optional but tasty)

optional: Swap out mesquite flour for lacuma flour, or use a blend of the two. Another idea, use cacao powder for a chocolate version.
Combine all the ingredients in a mason jar. Shake well to combine, making sure each of the ingredients is well distributed. Keep it somewhere within eyeshot, so you're inclined to reach for it.
Makes 4 cups.
Other ideas!

DRAGONFRUIT SMOOTHIE BOWL
Combine 1 cup of frozen dragonfruit with one cup of your favorite nut milk in a blender with a bit of sweetener to taste. Top with Crunchy Breakfast Magic and a bit of toasted coconut.

WITH MILK/MYLK
Enjoy it with your favorite milk - like any other cereal.

HOMEMADE CRUNCHY BREAKFAST MAGIC POWER BARS
They're the perfect plane snack, or, wrapped in parchment, they're good for days tucked into a purse pocket, or lunchbox.
1 tablespoon coconut oil or ghee
1 1/4 cups rolled oats
1 1/4 cups CRUNCHY BREAKFAST MAGIC (recipe above)
1 cup brown rice syrup
scant 1/2 teaspoon fine-grain sea salt
Grease a baking pan with the coconut oil or ghee. If you like thick power bars, opt for an 8 by 8-inch pan (or smaller); for thinner bars, use a 9 by 13-inch pan. Mix the oats, and CRUNCHY BREAKFAST MAGIC cereal together in a large bowl and set aside. Combine the rice syrup and salt in a small saucepan over medium heat and stir constantly as it comes to a boil and thickens just a bit, about 4 minutes. Pour over the oat mixture and stir until the syrup is evenly incorporated.
Spread into the prepared pan and cool to room temperature, pressing down on the surface of the bars to compress them a bit about half way through cooling, before cutting into whatever size bars you desire.

ALMOND BUTTER BITES
Quick snack. Pour a bit of CRUNCHY BREAKFAST MAGIC into a small bowl. Add a couple of small dollops of almond (or other) nut butter. Stir to combine, until it comes together into a ball. Add more cereal or nut butter until the mixture is the right consistency to shape into little bites. Dampen your hands with water, and shape into balls.