Edamame Soup Recipe
Charlotte's edamame soup recipe was a big hit with Wayne - a bit of olive oil, potato, frozen edamame beans, and vegetable stock come together to make a satisfying, protein packed bowl, of pale green tastiness.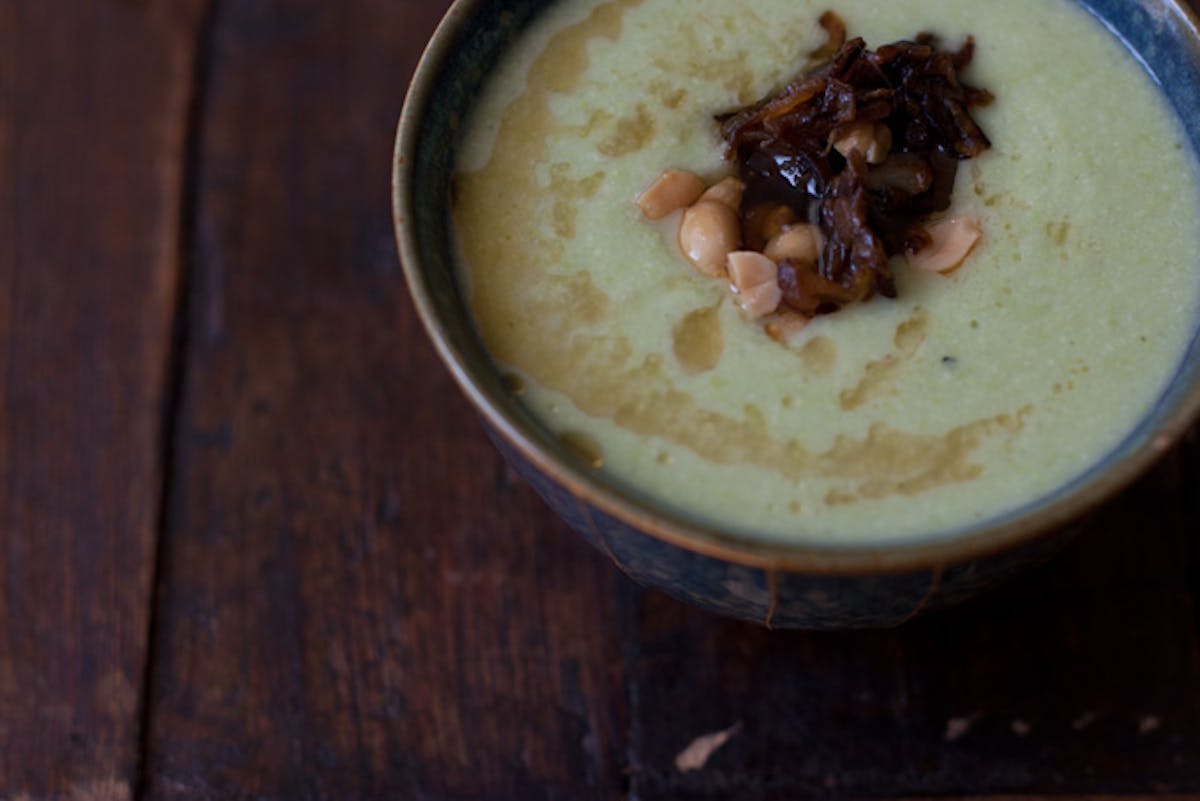 Today's edamame soup recipe comes from a delightful new cookbook by London-based Charlotte Hume - The Great Big Veg Challenge - a book my mom (and parents of all picky eaters) could have benefited from. It stems from a blog of the same name, inspired by her son, a vigilant seven-year-old vegetable hater by the name of Freddie.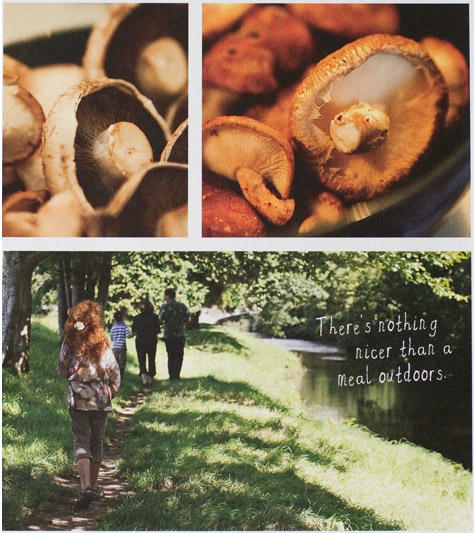 Aside from corn and potatoes, Freddie won't eat vegetables. One evening, desperate, Charlotte signs up for a blog. Her idea was to take Freddie on an A to Z tour of the veg-kingdom, hoping the site would serve as a forum for inspiration and support. She starts off by opening the site up to...
"...all of you parents out there who have tried and succeeded to introduce your offspring to the joys of carrots, peas, lettuce, spinach, asparagus, beetroot, green beans - in fact any vegetable. Any ideas gratefully received."
Flash forward through L,M,N,O,P, and the transformation of a fussy eater. It's a great story, and now the blog has led to the lovely, newly released soft back cookbook sitting here in front of me. It's a beautifully photographed and illustrated extension of the web-site that started it all. Unfortunately, it looks like The Great Big Veg Challenge is only available for through Amazon.uk at this point, but I suspect at some point it will be available domestically in the U.S. and I'll update this page at that point.

The book is packed with very approachable and appetizing recipes. We work our way from artichoke, asparagus, and aubergine onto broad beans, broccoli, and brussels sprouts all the way though watercress, yams, and zucchini.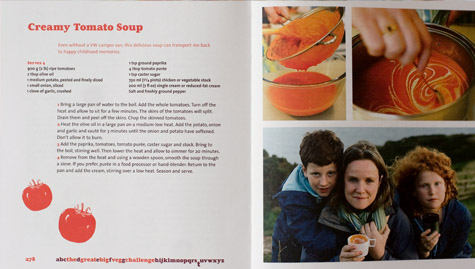 Each chapter has basic information about the ingredient alongside cute stories. Edamame is a favorite ingredient around here, and I decided to try Charlotte's edamame soup which was a big hit with Wayne. A bit of olive oil, potato, frozen edamame beans, and vegetable stock become a satisfying, protein-packed bowl, of pale green soup you can make a meal out of. Congratulations to Charlotte and her family for creating a fantastic new book that I'm sure will inspire many fussy eaters. In fact, I know a few adults who could learn a thing or two from Freddie ;)

Edamame Soup Recipe
In a rare instance of fussiness, I ended up pushing this soup through a strainer to smooth it out a touch. Totally not necessary, but an option if you're up for it. I also finished my version with a drizzle of toasted sesame oil, fried shallots, and crushed, toasted peanuts. To make this soup vegan, omit the creme fraiche.
1 teaspoon olive oil
1 medium onion, finely chopped
1 potato, peeled and cut into small cubes,
750 g (1 1/2 lb) frozen edamame beans, defrosted
1 quart (1.2 litres or 2 pints) vegetable stock
2 tablespoons creme fraiche
salt and freshly ground pepper

- see headnotes for garnish you see in photo
In a pan, saute the onion and potato in the oil over medium heat, stirring frequently. Cover and allow it to soften for about 4 minutes, until they have both softened. Stir to prevent the mixture from sticking and burning. Add the beans and the vegetable stock. Put the lid on and simmer on a medium heat for 15-20 minutes until the beans are tender. Puree in a food processor or with a hand blender. Stir in the creme fraiche, reheat gently without boiling and serve.
Serves 4.
Excerpted with permission from The Great Big Veg Challenge by Charlotte Hume (Clarkson Potter, a division of Random House, Inc. 2008)