Garlic Soba Noodles Recipe
Delicious garlic soba noodle recipe made with soba noodles, Parmesan, greens, and garlic powder topped with golden Parmesan-crusted tofu.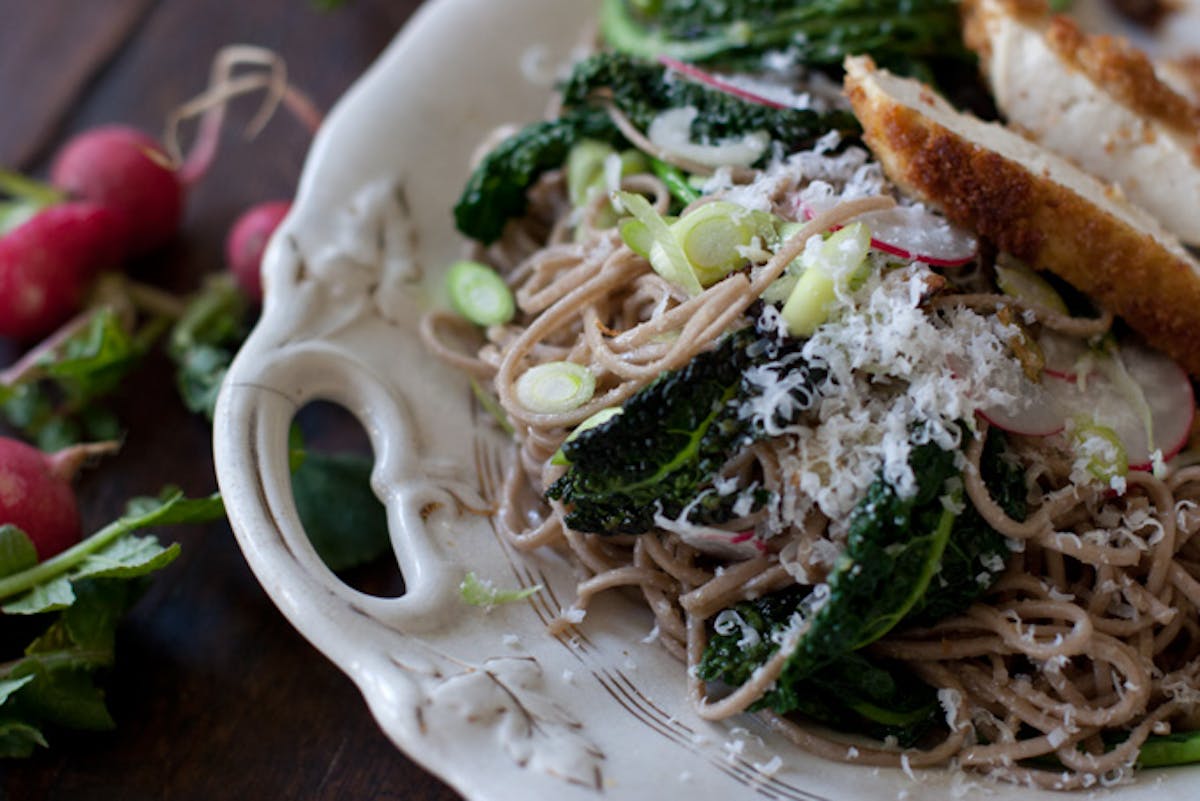 Dried pasta, garlic powder, olive oil, and Parmesan cheese - the ingredients that made up the backbone of my sister's college pantry. Toss hot, cooked noodles with a glug of olive oil, a big shake from the green can, a dusting of garlic powder - this was lunch. Not the most nutritious lunch mind you, but lunch none the less. I woke up the other morning craving these garlicky noodles and started to think about what an updated version might look like - preferably one that stepped up the game on the nutrition front. I opted for buckwheat soba noodles in place of spaghetti noodles, threw in some greens for color, kept the Parmesan (now freshly grated), and served the noodles along side Parmesan-crusted tofu. That being said, you could certainly opt for another favorite protein source to balance out the plate.
Garlic Soba Noodle Recipe
I seek out (and tend to stockpile) Organic Planet soba noodles - they are thinner than many of the other brands on the market and made from a buckwheat / wheat flour blend. I like the way they behave after I've cooked them - they aren't prone to sticking or clumping. The powdered garlic I use is simply dehydrated garlic that has been ground. It has a harsher flavor than most fresh garlic you'll encounter, and the fragrance it puts off is different as well. I feel a bit of nostalgia for it, and actually like to use it for certain recipes (like this one). Feel free to toss in a few fresh cloves (chopped) in its place if you prefer. In that scenario I'd add the fresh garlic just before the chard.
8 ounces dried soba noodles

3/4 cup bread crumbs
1/4 cup Parmesan freshly grated
big pinch of salt
12 ounces extra firm organic tofu, cut into 6 rectangular slabs
2 eggs, lightly beaten

a generous splash of olive oil
1 bunch green onions, greens trimmed, thinly sliced
4 big handfuls of chard, spinach or kale - destemmed and cut into bite-sized pieces

1 teaspoon garlic powder
1/2 cup Parmesan, freshly grated

a few baby radishes, sliced paper thin
Boil a large pot of water and cook soba noodles per packet instructions or until just tender. I like to salt my water generously as I would other pasta. Drain and set aside.
While the water is coming to a boil, get the tofu started by combining the bread crumbs, Parmesan and salt in a shallow plate. Dunk each piece of tofu in the egg and then press into the bread crumbs. Make sure each piece is nicely coated with crumbs. Place each piece on a parchment-lined baking sheet and repeat with the remaining pieces. Bake in a 375 degree oven or pan-fry in a skillet in a bit of olive oil until both sides are golden, flipping once along the way. Slice into strips and set aside.
Add the olive oil (and bit of salt) to a large skillet over med-high heat. Stir in the green onions, chard, and cook for a minute until the chard collapses. Stir in the soba noodles. Stir in the garlic powder and Parmesan. Remove from heat. Sprinkle with sliced radishes. Serve family-style or on individual plates - each nest of noodles topped with some of the tofu slices.
Serves 4-6.