Otsu
You have to try this one! Soba noodles are tossed with a fiery ginger-sesame dressing and a generous amount of cucumbers, scallions, and pan-seared tofu. For over twenty years this has been a desert island recipe in our house.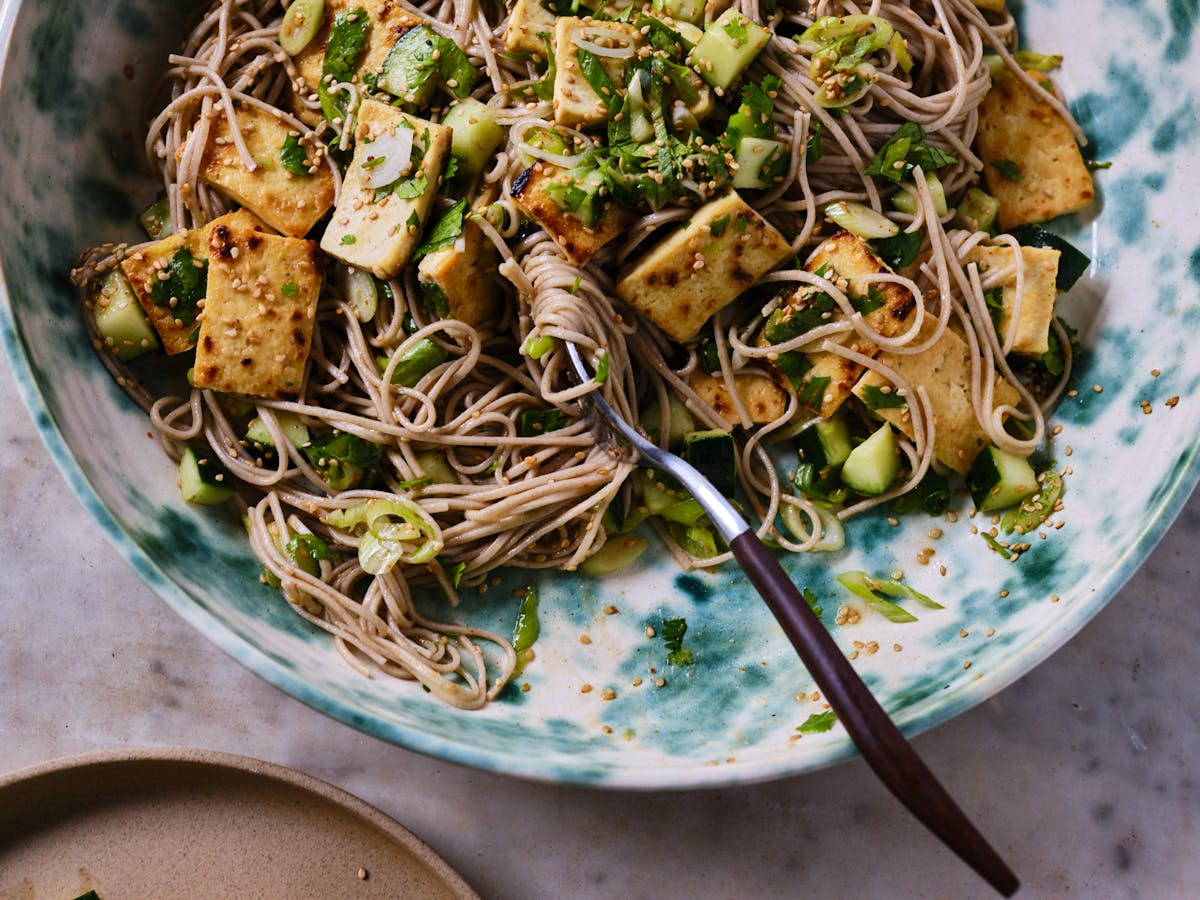 The last time I worked on this page was the day it was published here - July 19, 2004! We still make Otsu regularly, especially as the weather warms, and I thought this favorite deserved some fresh photos and a little update. I originally sold this recipe hard and asked you to "listen up close, because I am going to tell you about the best recipe I've come across all year." Lol. Bold! Twenty years on though, I stand by this sentiment. It's a great recipe, and here's the story behind it.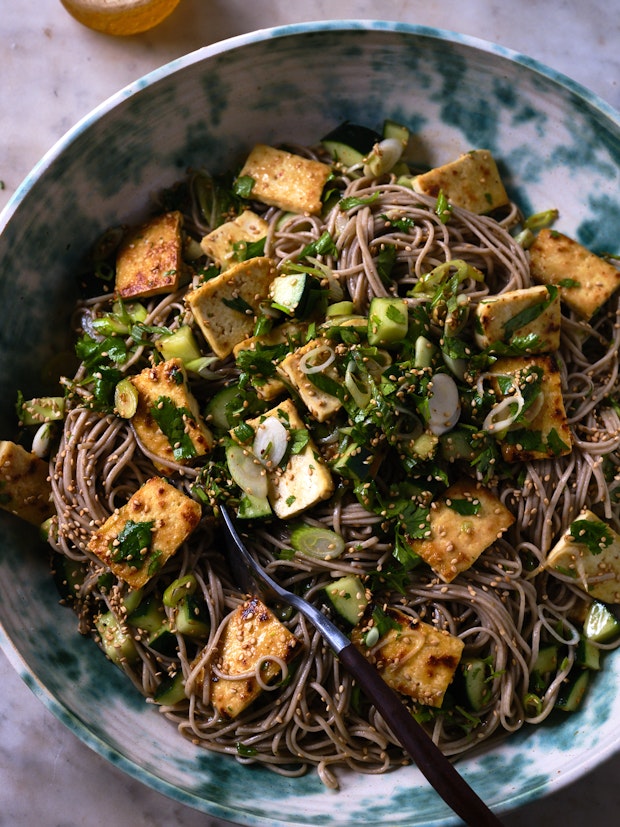 July, 2004 - A couple weeks back Wayne came home, pulled a page ripped from a magazine out of his pocket, unfolded it, and placed it on my desk. It was a recipe for a dish named Otsu, and was from a neat little restaurant nearby called Pomelo. Pomelo is tiny -- and when I say tiny, I mean it is smaller than my kitchen here at home, the kind of place where you feel as if you can almost reach out and touch all four walls. The food there is delicious, and unless you are sitting at one of two tables, you will get to see your food prepared to order on a four burner stove as you sit at a stylish little counter overlooking the kitchen. We go to the Pomelo on Judah, there is another one on Church Street, and I think that one may be bigger.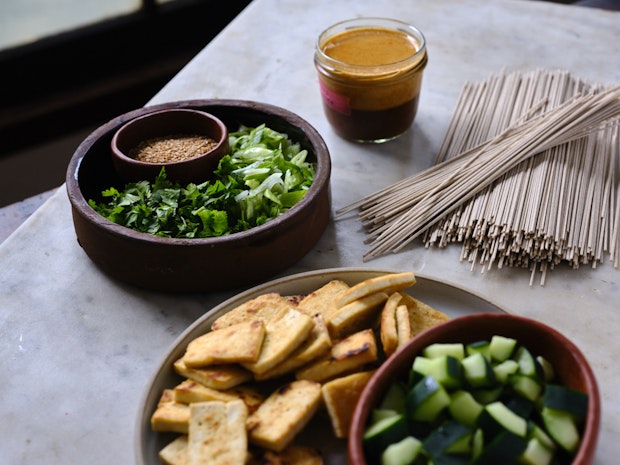 Otsu in Japanese can mean something is strange; quaint; stylish; chic; spicy; witty; tasty; romantic. In line with its namesake, this buckwheat noodle salad has a few distinctive sides to it. It is amazingly flavorful. It is substantial. And it has a feisty kick to it while being cool and refreshing at the same time. The noodles are tossed with a cayenne-spiked ginger-sesame dressing plus lots of cucumbers, scallions, and pan-seared tofu.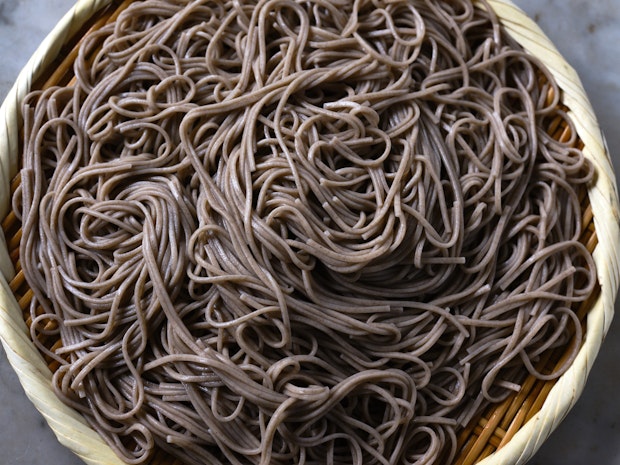 Otsu is great in so many scenarios! Lunch, dinner, potluck, picnic, warm or cold -- this salad is going to be a hit. After you eat a serving of Otsu, you feel full but not sluggish, and you are ready to get on with your day.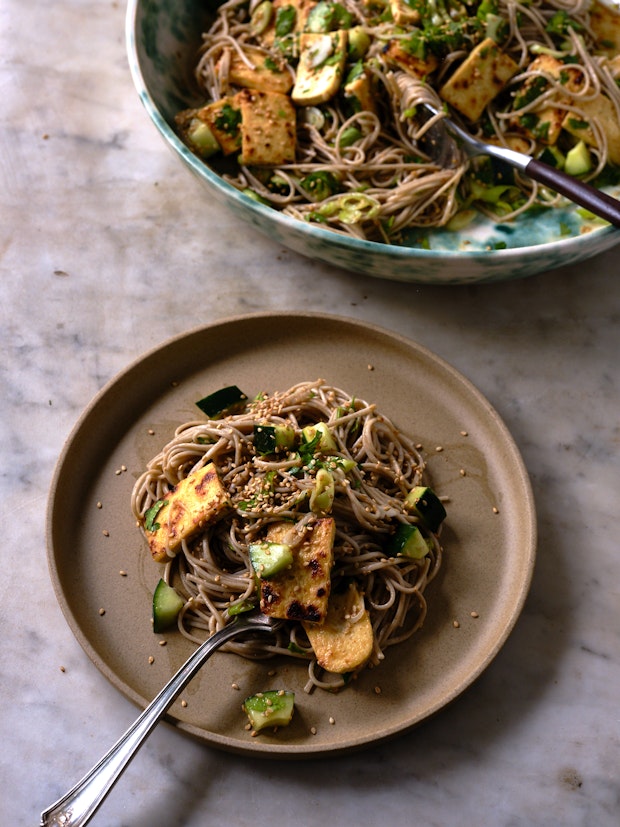 The recipe was published in a publication called Culture & Cuisine. I wanted to share the recipe with you all so I emailed Rolf Bachmann at Pomelo and he was generous enough to give me permission. Enjoy!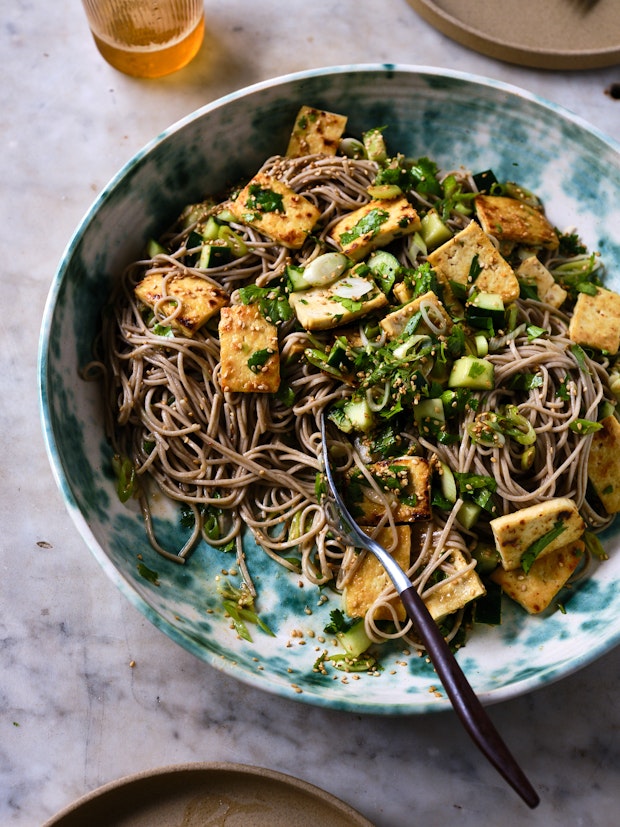 More Noodle Recipes
Otsu
Ingredients
Grated zest of 1 lemon

Fresh ginger, cut into a 1-inch cube, peeled, and grated

1

tablespoon

honey

3/4

teaspoon

cayenne

3/4

teaspoon

fine-grain sea salt

1

tablespoon

freshly squeezed lemon juice

1/4

cup

unseasoned brown-rice vinegar

1/3

cup

shoyu, soy sauce, or tamari

2

tablespoons

extra-virgin olive oil

2

tablespoons

toasted sesame oil

12

ounces

dried soba noodles

12

ounces

extra-firm tofu

1/4

cup

chopped fresh cilantro

3

green onions, thinly sliced

1/2

cucumber, peeled, cut in half lengthwise, seeded, and thinly sliced

1

small handful of cilantro sprigs, for garnish

1/4

cup

toasted sesame seeds, for garnish
Instructions
Make the dressing by combining the zest, ginger, honey, cayenne, and salt in a food processor (or use a hand blender) and process until smooth. Add the lemon juice, rice vinegar, and shoyu, and pulse to combine. With the machine running, drizzle in the oils. Taste and make any needed adjustments.

Cook the soba in plenty of rapidly boiling salted water just until tender, then drain and rinse under cold running water.

While the pasta is cooking, drain the tofu, pat it dry, and cut it into rectangles roughly the size of your thumb (½ inch thick and 1 inch long). Cook the tofu in a dry nonstick (or well-seasoned) skillet over medium-high heat for a few minutes, until the pieces are browned on one side. Toss gently once or twice, then continue cooking for another minute or so, until the tofu is firm, golden, and bouncy.

In a large mixing bowl, combine the soba, the 1/4 cup cilantro, the green onions, cucumber, and about 1/2 cup of the dressing. Toss until well combined. Add the tofu and toss again gently.

Serve on a platter, garnished with the cilantro sprigs and the toasted sesame seeds.
Related Recipes
More Recipes
Popular Ingredients