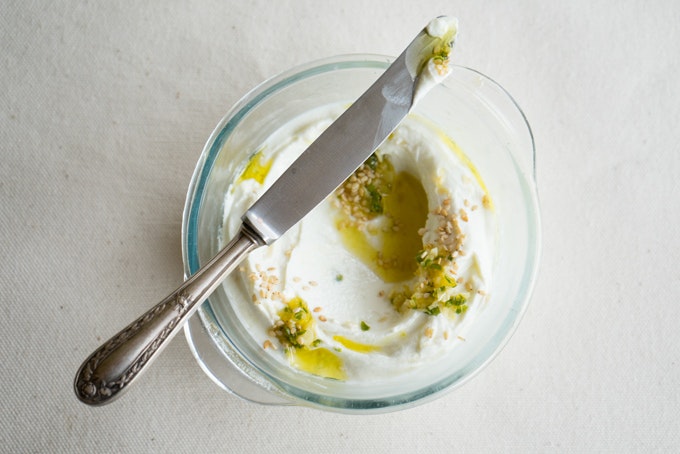 Green Chile Whipped Goat Cheese Recipe
This is the recipe I was working on when Sarah Lonsdale came to visit to do this interview. You can see my little recipe notepad in some of the photos in that piece. Although, come to think of it, to call this an actual recipe might be a stretch. Whipped goat cheese is simply combined with flecks of sautéed garlic and green chile resulting in an easy spread that pairs perfectly with a long list of things. To date, I've used a smear on warm tortillas before adding beans and sautéed mushrooms. I've added a couple of spoonfuls to finish a pan of scrambled eggs. Along the lines of this. And a thin layer works nicely inside a lettuce wrap helping to keep other fillings in place while adding a bit of richness. A dollop in a carrot soup like this one is just the sort of spicy tang a soup like that needs, but I bet you can come up with ideas that trump these. Enjoy the spread, and in the meantime I'm going to unpack from a whirlwind trip to New York. Much love to the East Coast for such a warm welcome, I can't wait to come back. More soon! -h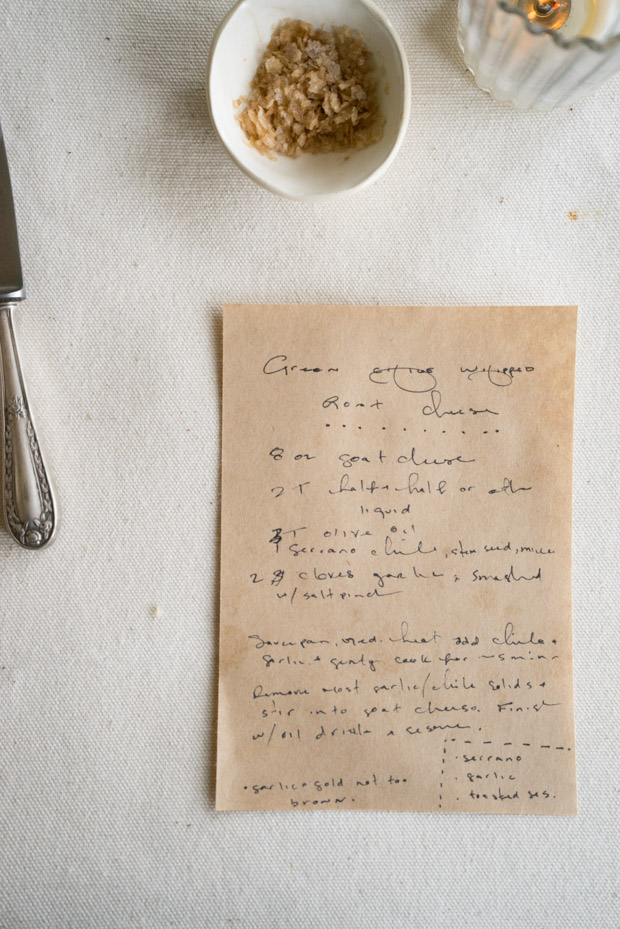 Green Chile Whipped Goat Cheese
I used goat cheese here, but can imagine a version with strained plain Greek yogurt, or strained ricotta in place of the goat cheese.
8 ounces goat cheese
2 tablespoons half & half or other liquid
3 tablespoons extra virgin olive oil
1 serrano chile, stemmed, seeded, minced
2 medium cloves garlic, smashed, minced
1 1/2 teaspoons toasted sesame seeds
pinch of salt, or to taste
In a medium bowl whisk together the goat cheese and half & half. A hand blender makes quick work of this if you have one. It should become light, and easily spreadable.
Combine the olive oil, chile, and garlic, in a small saucepan over medium heat. Allow to cook for five minutes or so - it's o.k. if the garlic takes on a bit of color, but you don't want it to get too dark. Use a slotted spoon or fork to transfer most of the solids to the goat cheese, and stir in. Season with salt to taste. Allow the chile oil to cool a bit. When ready to serve, transfer the goat cheese to a serving bowl, and finish by drizzling with the oil, and remaining garlic and chile solids. Sprinkle with sesame seeds.
Makes about 1 cup.
Prep time: 5 minutes - Cook time: 10 minutes