Hummus with Green Goo Recipe
A light, almost billowy, hummus topped with "green goo" a flavor-packed, bright green emulsion made from olive oil, garlic, jalapeño, and parsley.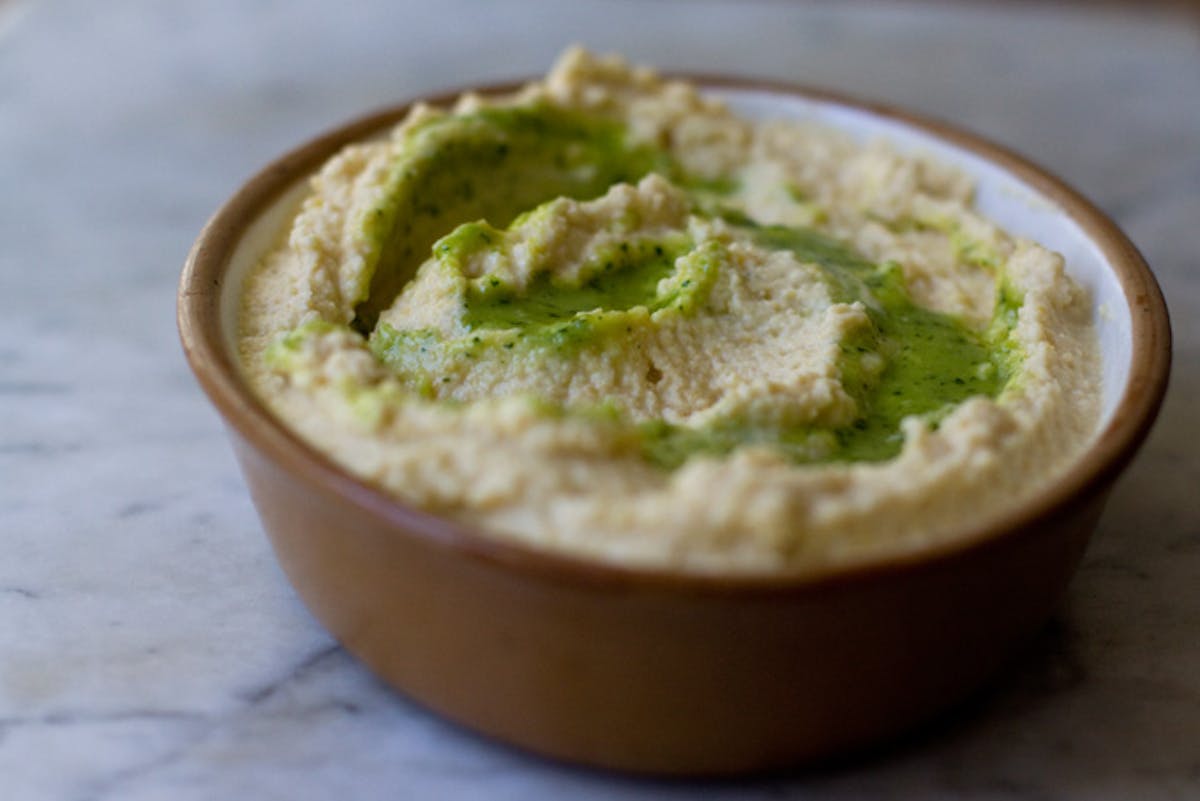 Twin Peaks are two of the most impressive hills in a city filled with impressive hills. They top out just shy of 1000 feet, and from the primary outlook you see two signature red-orange towers to the north, the tightly clustered high-rise buildings downtown, streaks of candy-colored Victorians, and a maze of streets that criss and cross the city. The whole scene is framed by the formidable bay, and if you turn your head along its path from the west you see it squeeze between Marin and San Francisco, around the tip of the peninsula, then south, south, south toward the airport and beyond. On a clear day, that is.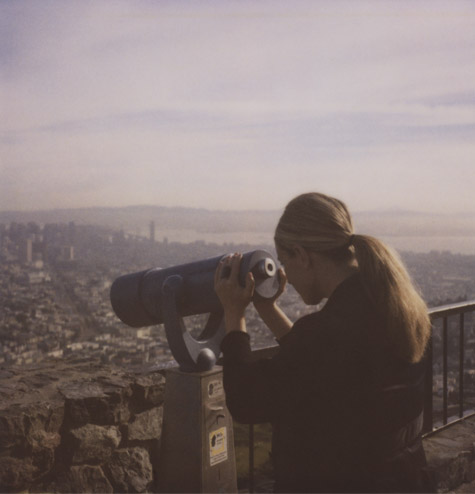 Twin Peaks is the sort of place you might forget to visit if you live in San Francisco. The parking lot has a stretch of slots allocated to tour buses, and a collection of coin-operated telescopes. You share the view with globe-trotting visitors, and if you listen in, chances are, you'll hear an impressive range of tongues.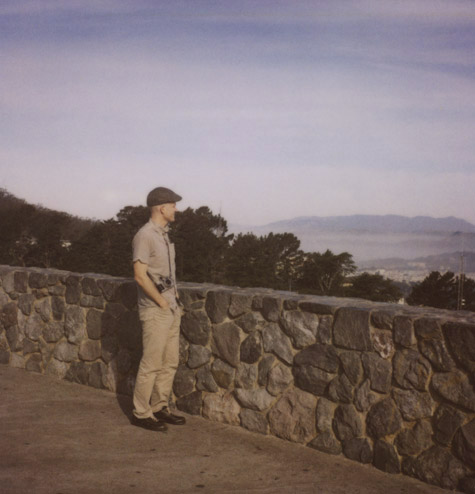 Every other week, Wayne and I find ourselves tourists in our own city. Our housekeeper comes early in the morning and we find ourselves cast into the city before most establishments are open. Sometimes we set out on foot, usually with cameras, other times we hop in the car. This time out we found ourselves on top of Twin Peaks.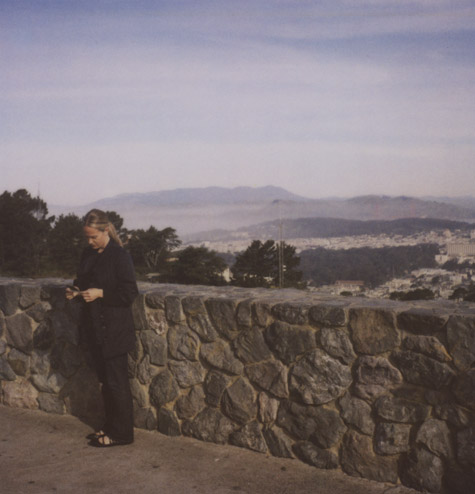 If I'd planned ahead, I would have packed a bundle of snacks to enjoy along with the vistas, instead we had to wait until we returned home. I whipped up a batch of hummus from a pound of chickpeas I'd cooked the day before. They quickly became a memorable version of hummus topped with a vibrant, lively green chile drizzle.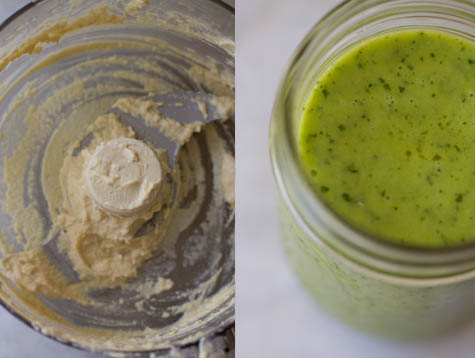 This hummus was based on a version I spotted in the Insalata's cookbook, a self-published book my friend Hannah passed along to me recently. It's not like I need another hummus recipe, but there were a couple things that struck me as interesting about the version in this book (her green harissa also caught my attention). Heidi Krahling does the thing where she cooks the chickpeas with baking soda, something I normally don't do, but tried this time. Then, when pureeing the chickpeas, she lets the food processor go for a full three minutes. The resulting hummus is light, almost billowy, and remains so even after a couple days in the refrigerator. The "green goo" as she calls it is made from olive oil, garlic, jalapeño, and parsley. She does a chopped version, but I ended up making a spicy green emulsion using the food processor (it was already out on the counter).
It's worth noting the green drizzle is great on lots of things, not just hummus. I've been enjoying it over eggs, roasted vegetables, drizzled in crepes, and it goes particularly well with quinoa.
I hope you enjoy the hummus, and I hope you have the opportunity to enjoy being a tourist in your own city (or town, or village) now and then.
Hummus with Green Goo
This hummus keeps nicely, refrigerated, for a few days, but is best served at room temperature. As Heidi notes in her recipe, the hummus might thicken in the refrigerator. If this happens, you can simply thin it with a splash of water. Adjust with salt and lemon juice if needed as well. If you are sensitive to heat, you can deseed and devein the jalepeno.
Hummus:
1 pound / 453 g dried chickpeas, soaked in water for at least 4 hours, drained

1 teaspoon baking soda
1 cup water
scant 1/2 cup freshly squeezed lemon juice
1 1/2 teaspoons fine grain sea salt
1/3 cup / 80ml tahini

Green Goo
1/4 cup Italian parsley
1 jalapeño, destemmed
1 large clove garlic
scant 1/2 teaspoon fine grain sea salt
2/3 cup / 160 ml extra virgin olive oil
In a large pot cover the chickpeas with 2 inches of water. Bring to a boil over medium heat. Add the baking soda, and reduce the heat. Simmer, skimming any foam from the surface, until the chickpeas are soft but still structured, roughly an hour. Drain.
Place 4 cups / 1.5 pounds / 650 g of the cooked chickpeas in a food processor. You can set aside any remaining chickpeas and have them as a snack or use them in a stew or soup. To the food processor add the water, lemon juice, and salt. Process for three minutes or until completely smooth. Scrape down the sides of the bowl once or twice along the way. If you like your hummus thinner add more water a small splash at a time. Add the tahini, process one more time. Taste and adjust the seasoning, add more salt or lemon juice if needed. Transfer the hummus to a serving bowl.
To make the "green goo" rinse out the food processor bowl, and use it again, and if you don't have a food processor, you can certainly do a hand-chopped version. Pulse the parsley, jalapeño, garlic, and salt in the food processor. Slowly drizzle the olive oil into the mixture while the processor is running, until an green emulsion is created. Transfer to a jar, taste, and adjust the seasoning.
Drizzle the hummus generously with the green goo. I realize now, I didn't use nearly enough in the photo up above.
Serve with pita chips, crackers, flatbread, or toasted lavash.
Makes 4 cups of hummus.
Adapted from Insalata's Mediterranean Table written by Heidi Insalata Krahling of Insalata's Restaurant in San Anselmo, California.

Prep time: 240 minutes - Cook time: 60 minutes