Maple Grilled Tempeh Recipe
A fantastic salty-sweet grilled tempeh recipe. The marinade is made from a simple (but effective) combination of maple syrup, soy sauce, garlic and ground chipotle pepper.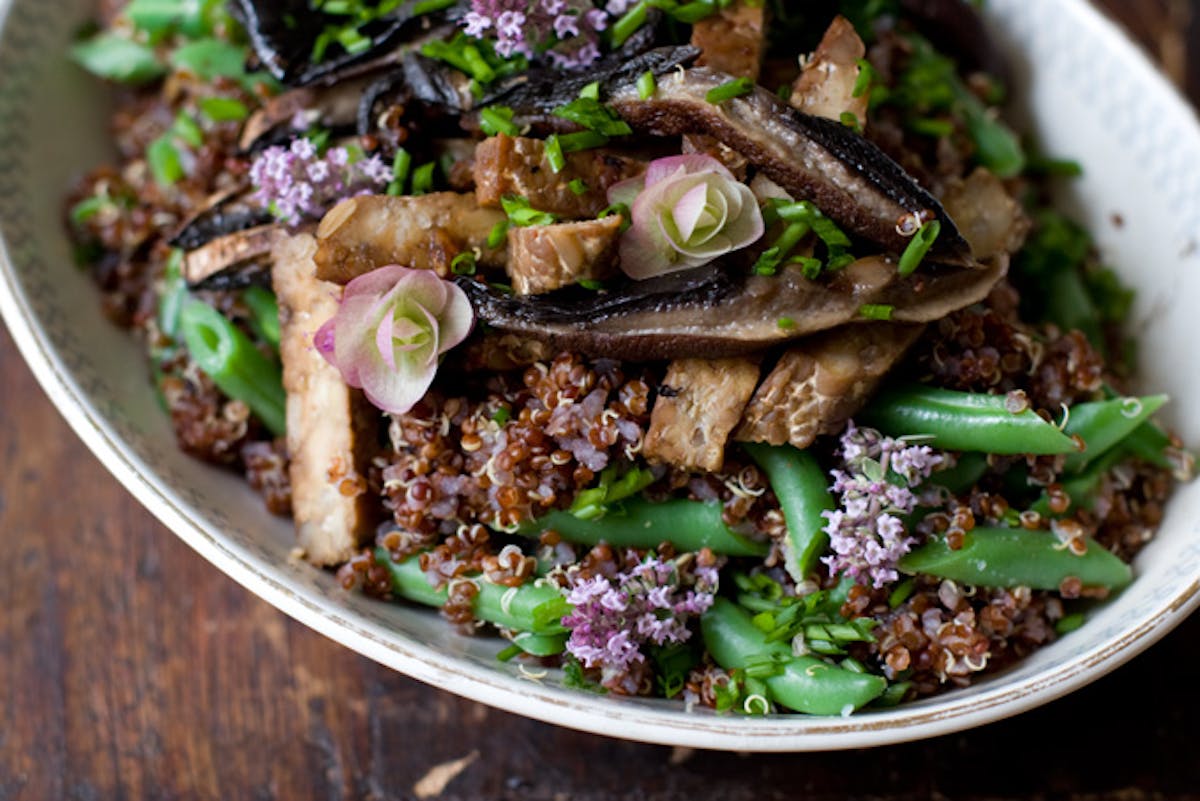 This is another one of my clean-out-the-fridge recipes. Actually, I should rephrase that. This is a take-apart-the-entire-refrigerator, wipe-down-every-surface, throw-away-90% - of-the-condiments-crammed-in-the-door, and- figure -out-how-to-use-up-the-rest recipe. Tonight grilled tempeh was on the menu made with a marinade I cobbled together from a few of my surviving condiments and pantry items - maple syrup, soy sauce, garlic and ground chipotle pepper.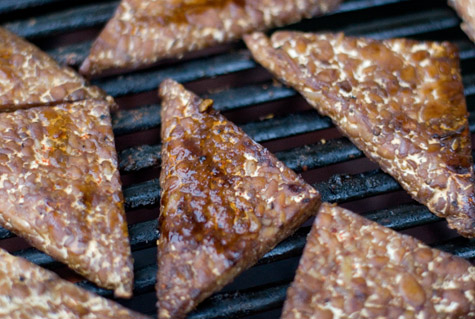 So good, so easy! I've failed too many tempeh attempts to count - part of the reason you never see tempeh recipes here. But not this time. The salty sweet marinade really worked its way into the tempeh. The heat from the grill added a nice touch of caramelization. It worked beautifully alongside the grilled mushroom, served on top of the earthy quinoa.
For those of you looking for variations - this flavorful, salty-sweet marinade would work nicely on tofu as well. The marinade would also make a nice sauce for say, a soba noodle dish, or over pan-fried rice - just keep in mind it is fairly strong. Start with a drizzle and go from there.
Maple Grilled Tempeh Recipe
For those of you wanting to know what brand of tempeh is in the photo - Turtle Island Organic Five Grain Tempeh. I like it because it has a pleasant neutral flavor that isn't overpowered by other ingredients/seasonings in the tempeh, I like their flax variety as well.
8 ounces tempeh
3 tablespoons soy sauce (I prefer shoyu sauce)
3 tablespoons maple syrup
1 teaspoon rice vinegar
2 cloves garlic, peeled, crushed and chopped
1/2 teaspoon powdered chipotle (or a couple pinches of cayenne)

optional (version in photo):
1 -2 portobello mushrooms
2 1/2 cups cooked quinoa or brown rice
a handful of blanched green beans
Cut the tempeh diagonally into 4 triangles. If possible, thin those triangles out by slicing each in half horizontally - 8 triangles total. Set the tempeh aside while you make the maple marinade by combining the soy sauce, maple syrup, rice vinegar, garlic, and chipotle powder in a small bowl. Reserve a few tablespoons of the marinade to use later as a drizzle.
Place the pieces of tempeh flat in a large baking dish. Pour the remaining marinade over the tempeh. Make sure the tops and bottoms are coated and marinate for anywhere between 30 minutes and 2 days, flipping occasionally.
Grill the tempeh on a medium hot grill for a few minutes on each side - Brushing all the while with the marinade remaining in the bottom of the baking dish. When the tempeh is a toasted, deep, maple-y, golden brown remove and enjoy on a sandwich, over rice, or however you like. If you want to try the preparation shown in the photo, throw a big portobello mushroom on the grill next to the tempeh, and brush it with some of the leftover marinade as well. When the mushroom and tempeh are done grilling, slice them into thin strips and serve over a bed of warmed quinoa (or rice) and barely-cooked green beans (broccoli might be nice too). I threw in a few (flowering) herbs from my garden for good measure - chives, thyme and oregano - and drizzled with the reserved marinade.
Serves 2 - 4