Mark Bittman's Autumn Millet Bake Recipe
This millet bake recipe is a largely hands-off, winter squash-based casserole that uses golden millet, baked squash, pumpkin seeds and jewel-toned cranberries. A perfect Thanksgiving recipe for those of you collecting ideas.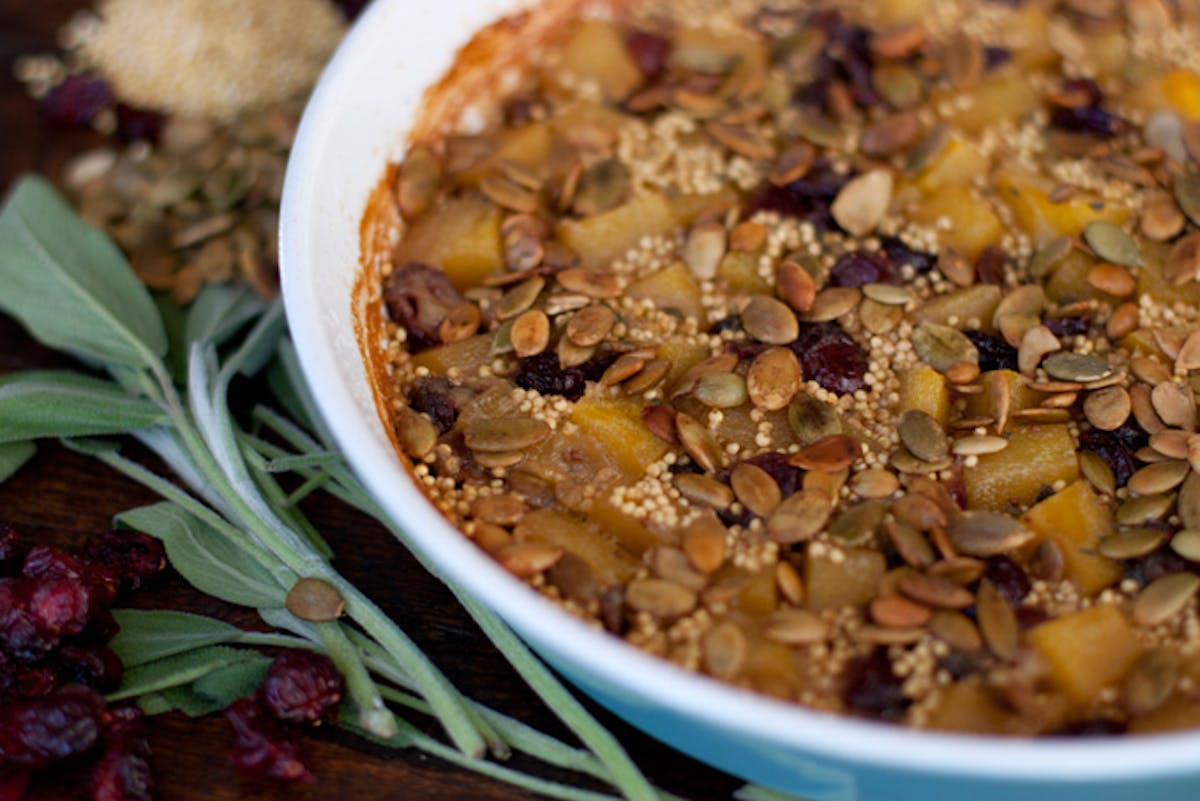 Mark Bittman wrote a giant, 996-page vegetarian cookbook....yes, that Mark Bittman. I know, I was a bit perplexed as well. And here's the thing, it's very good. That Autumn Millet Bake recipe you see up above, it's a Bittman creation. The first three times I saw How to Cook Everything Vegetarian in my local bookstore, I didn't even bother picking it up. I thought, "oh he just dusted off all the meatless recipes from his past books, columns, and television shows and stuck them in one volume. Yawn." I finally sat down with a review copy that was sent to me and I have to tell you, this book is fantastic - absolutely packed with great recipes, charts, illustrations, endless variations and ideas.
For the four or five of you who might not be familiar with Mark Bittman, instead of attempting to summarize his accomplishments for you, I thought it would be more fun to punch "Mark Bittman" into googlism.com to see what turned up. A few select returns:
- mark bittman is a highly regarded food journalist
- mark bittman is a cool dude and sensible to boot
- mark bittman is standing beside you walking you through everything
- mark bittman is a treasure
- mark bittman is the master of simplicity; reality cooking with no frou
- mark bittman is a culinary dance that should not be missed
- mark bittman is exacting but not
- mark bittman is as opinionated as they come
To that I'll add, he writes The Minimalist column for the New York Times, is globetrotting for a public television cooking series with Mario Batali and Gwyneth Paltrow in Spain (where no doubt his newfound love for meatless meals suffered some setbacks), and his cookbooks have sold millions.
Onto the big question, why would Mark Bittman write a massive, 2,000 recipe vegetarian cookbook? This is the man who can be seen from week to week on his current PBS show How to Cook Everything doing lamb five ways with Daniel Boulud, squab with Jean-Georges, or chicken over what looked like a jet-engine with Charles Phan. In his own words, "...what motivated me--several years ago--was seeing the handwriting on the wall: That although being a principled, all-or-nothing vegetarian was not a course of action that would ever likely inspire the majority of Americans, the days of all-meat-all-the-time (or, to be slightly less extreme, of a diet heavily dependent on meat) could not go on. Averaging a consumption of two pounds a week or more of meat (as Americans do) is not sustainable, either for the earth or our planet. And, as more and more of us realize this, I thought it was important to develop a cookbook along the lines of How to Cook Everything, but without meat, fish, or poultry." He also says, "I need to make something else clear: I'm not a vegetarian, and I'm not an advocate of a vegetarian diet; I'm an advocate of Americans eating fewer animal products - less meat, fish, poultry, and dairy." He goes into the environmental and health impacts of a meat-intensive diet here. I think Mark and I are very much on the same page, for those of you who are serious about living a more green lifestyle - one of the most important things you can do is eat less meat.
Here's the part that I love about this book (and it comes through eventually in Mark's Leonard Lopate interview). This is not a book about cooking vegetables. Mark Bittman is clearly excited about all the other ingredients that come into play when you start to phase out some (or all) of the meat in your diet. It is a cuisine that lends itself to a wonderful range of grains, legumes, salads, and produce. A few of the recipes I look forward to trying from How to Cook Everything Vegetarian: Spanish-Style Plantain Stew, Green Tea Broth with Udon Noodles, Bulgur Croquettes with Walnuts, Fresh Favas with Eggs and Croutons, Chickpea Fondue, Baked Lentil Samosas, and Cornmeal Pound Cake.
I made the Autumn Millet Bake yesterday, a largely hands-off winter squash-based casserole of sorts, and a perfect Thanksgiving recipe for those of you collecting ideas. The pop of the golden millet plays off the soft texture of the baked squash beautifully. The cranberries look like jewels dotting the top (I screwed up and used dried - still good), and the pumpkin seeds add satisfying crunch. The only part that took any time whatsoever was the cutting of the squash - you can use your favorite seasonal variety - pumpkin, butternut, acorn, etc. As far as the base grain is concerned, I used millet as the recipe called for, but as Mark mentions in his headnotes you can also use quinoa, teff, cracked wheat - whatever you have on hand. The other great thing about this recipe is you can do it all ahead of time if you like - just add the liquid before you pop it in the oven. Read the headnotes down below if you decide to give it a try, there are a few little things to pay close attention to.
In the end, a book that inspires for vegetarians, vegans, and most importantly people who want to incorporate more modern, inspired meatless meals into their diets - whatever their motivation. Bravo Bittman!
- Publisher's Weekly interview with Mark Bittman
- Mark Bittman talks about HTCEV on The Leonard Lopate Show.
- For anyone looking for other ways to play with millet (and you have my book onhand), there is a millet fried rice in there that is a "everyday" type recipe of mine.
Mark Bittman's Autumn Millet Bake Recipe
I screwed up a bit and used dried cranberries. If you are referencing the photo, you'll notice the shrivel factor. Still good. You can make this vegan, vegetarian, I used a bit of cream* - but you can use just stock or water. The real trick is getting the millet to cook all the way though, so don't over toast it, and keep adding liquids if you need to.
1/4 cup extra virgin olive oil, plus oil for the dish
3/4 cup millet
1 medium butternut or other winter squash or 1 small pumpkin, peeled seeded and cut into 1-inch cubes
1 cup fresh cranberries
Salt and freshly ground pepper
1 tablespoon minced sage leaves or 1 teaspoon dried
2 tablespoons maple syrup or honey
1 cup vegetable stock or water, warmed*
1/4 cup pumpkin seeds or coarsely chopped hazelnuts

Preheat the oven to 375F and grease a 2-quart casserole, a large gratin dish, or a 9x13-inch baking dish with olive oil.
Put 2 tablespoons of the oil in a small skillet over medium-high heat. When hot, add the millet and cook, stirring frequently, until fragrant and golden, about 3 minutes (hs note: don't overdo it). Spread in the bottom of the prepared baking dish.
Scatter the squash or pumpkin cubes and the cranberries on top of the millet. Sprinkle with salt and pepper and the sage and drizzle with syrup. Carefully pour the warmed stock over all (hs note: I did about 1/2 cup stock & 1/2 cup cream based on one of his variations). Cover tightly with foil and bake without disturbing, for 45 minutes.
Carefully uncover and turn the oven to 400F. As discreetly as possible, sneak a taste and adjust the seasoning. If it looks too dry, add a spoonful or two of water or stock. (hs note: This is key! The millet should be close to being cooked through at this point, if not you need to add liquid and keep it moist and cooking - I used another 1/4 cup+ of stock here). Sprinkle the pumpkin seeds on top, and return the dish to the oven. Bake until the mixture bubbles and the top is browned (hs note: and the millet is cooked through), another 10 minutes or so. Serve piping hot or at room temperature (hs note: drizzled with the remaining olive oil if you like).
Serves 4 to 6.
*In the end, I used 3/4 cup stock + 1/2 cup cream