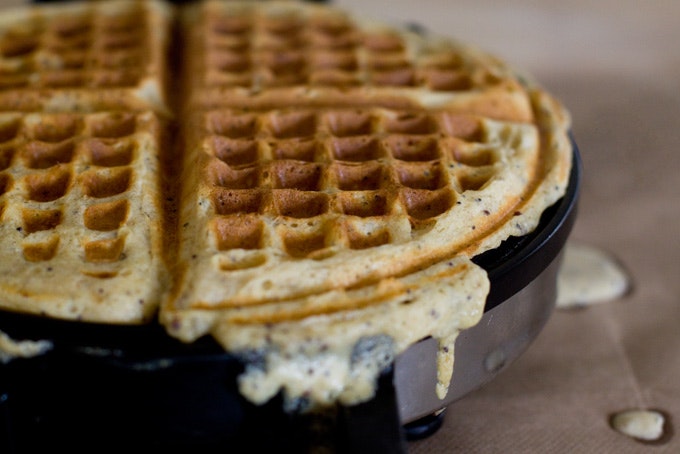 Multigrain Waffles Recipe
I've been playing around with multigrain flour blends lately. In part, inspired by Kim Boyce's book, in part to rid my refrigerator of endless bags and jars of flours. I mixed up a batch of these waffles last weekend for a Saturday breakfast - well worth the effort it took to dust off the waffle maker. Poppyseed-flecked and made with a blend of barley, oat, and rye flours, these multigrain waffles are buttermilk-moist with a golden crust and a hint of tanginess.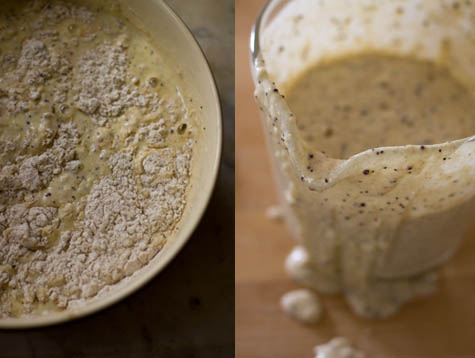 I know I'm going to get a lot of questions about substituting flours here. The bulk of this blend is barley flour. The barley flour here helps keep these waffles on the light side, but if you need to replace it with whole wheat pastry flour, that should be a reasonable substitution. The whole wheat pastry flour is a bit heavier, but nothing like using a full-on hard whole wheat flour. As for the "accent flours" in this blend, I like the way the rye and oat works with the barley. I felt like quinoa flour would be too grassy for what I was after, but millet flour might have been interesting in place of the rye flour? I'm not 100% sure. That's part of the fun of playing around with the multigrain blends, the variations are nearly endless - so take good notes as you experiment. And report back if you stumble on a combination that is particularly delicious.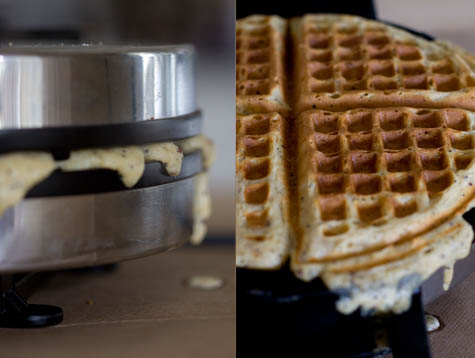 Let me know if you have any favorite multigrain blends or insights - interesting flour pairings or flour blend & ingredient pairings. It's the sort of thing I love reading about.
Multigrain Waffles
I left a few notes regarding various flour substitutions in the body of the main entry.
1 1/2 tablespoons poppy seeds
2 cups / 475 ml buttermilk
1 cup / 3.5 oz / 100g barley flour
1/2 cup / 1.5 oz / 45 g oat flour
1/2 cup / 2 oz / 55g rye flour
1 tablespoon natural cane sugar or Muscovado sugar
1 tablespoon aluminum-free baking powder
scant 1/2 teaspoon fine grain sea salt
3 large eggs, whisked
1/3 cup / 3 oz unsalted butter, melted and cooled a bit
If you happen to remember, soak the poppy seeds in the buttermilk overnight, if not, it's no big deal. Just add them to the wet mix later on.
Preheat your waffle iron. I set mine to medium heat, but you'll have to play around a bit with the settings on your particular waffle iron to settle on the right temperature.
In a large bowl mix the flours, sugar, baking powder, and salt together. In a separate bowl whisk the eggs into the buttermilk mixture, then whisk in the melted butter. Whisk the wet ingredients into the dry and stir until just combined.

I use about 1/2 cup / 120 ml of batter per waffle. Close the iron, and resist the urge to peek for a couple of minutes, the waffle needs time to set and develop a bit of a skin. After that you can check to see how your waffle is coming along. Cook until deeply golden. If you aren't eating the waffles immediately, keep in mind they can get a bit soggy if you place them directly on a plate. I tend to set hot waffles on a metal cookie rack in a warm/hot place while cooking the remainders. Serve with syrup, preserves, or sprinkled with more Muscovado sugar.
Makes 6 - 8 standard waffles.
Prep time: 10 minutes - Cook time: 20 minutes