Olive Oil Braised Spring Vegetables Recipe
Back in the late 90's Vogue Entertaining + Travel was the Australia-based magazine I splurged for any time I came across it on the news stand. Today's recipe for silky, tender olive oil-braised spring vegetables was inspired by paging through one of the cookbooks Vogue published in conjunction with the magazine.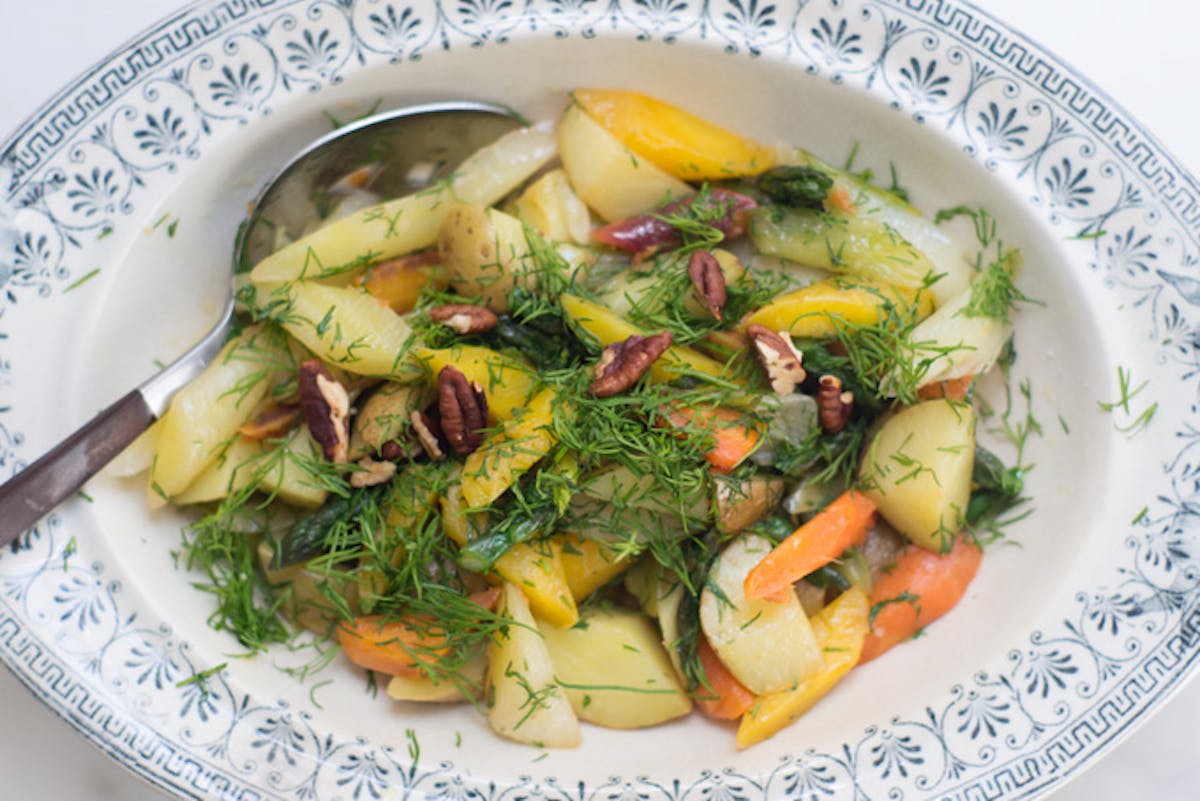 Back in the late 90's Vogue Entertaining + Travel was the Australia-based magazine I splurged for any time I came across it on the news stand. It was gorgeously produced with the likes of Mikkel Vang, Petrina Tinslay, David Loftus, Quentin Bacon, and Con Poulos filling the pages - imagery that was modern, aspirational, and (often) lit naturally. About that time, they started publishing a series of little seasonal Vogue Entertaining Cookbooks. Over the years I collected five of the volumes, and all of them have survived multiple moves (and brazen cookbook purges). Paperback, and roughly 160 pages in length, their simplicity is inviting, and a straight-forward mix of recipes and idea lists are everyday approachable. Each ingredient-led chapter is filled with simple, short-order techniques and ideas. Sometimes I'll sit on the floor of my pantry while a laundry cycle is finishing and flip through them. Which is what was happening when I came across a spring-fabulous shot of olive oil-braised leeks. I used the general idea as a jumping off point, and proceeded to have olive oil braised vegetables for the next five meals in a row (Wayne was out of town, and I tend to slip into easy ruts). Spring is the perfect season for olive oil braising baby vegetables into silky tenderness - you can pick and choose the best baby vegetables as you come across them.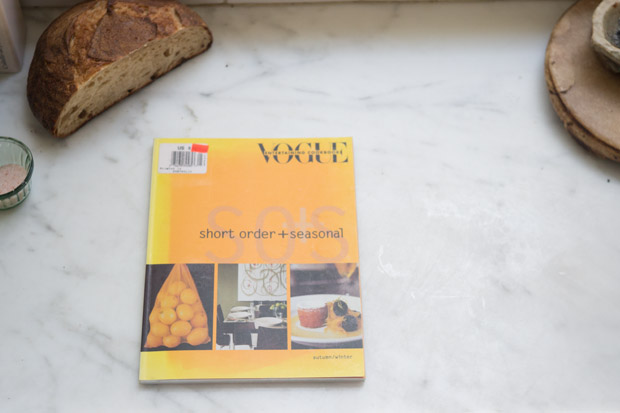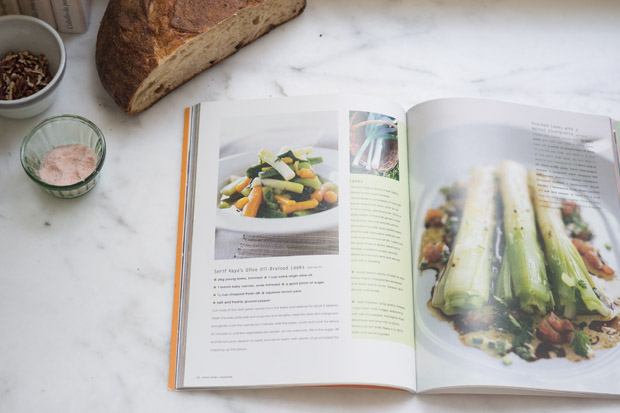 I did the version in the lead photo on it's own when Adele came by for a Friday lunch. Adding some toasted pecans and fresh dill as accents to the vegetables. The slightly different version (below) was with lemon in the skillet, micro greens, all served a top a plate of brown rice and adzuki beans - family-style.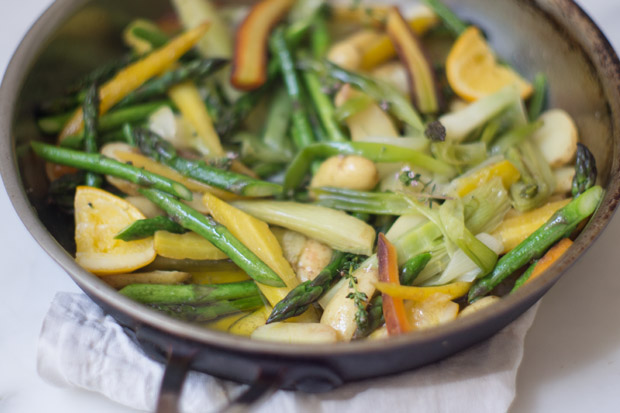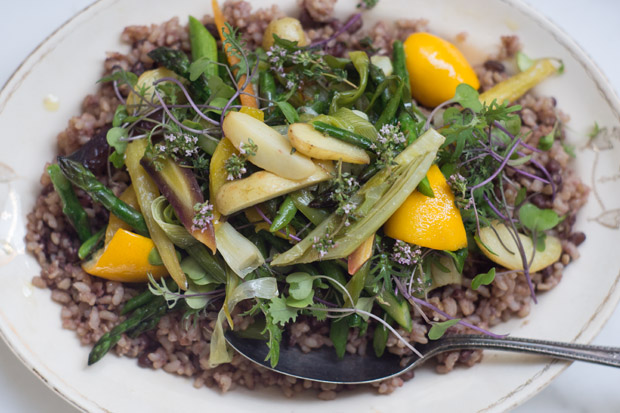 Not much to say about my little lunch bowl here - the last of the leftovers. Back to the pecans, which I can't seem to get enough of.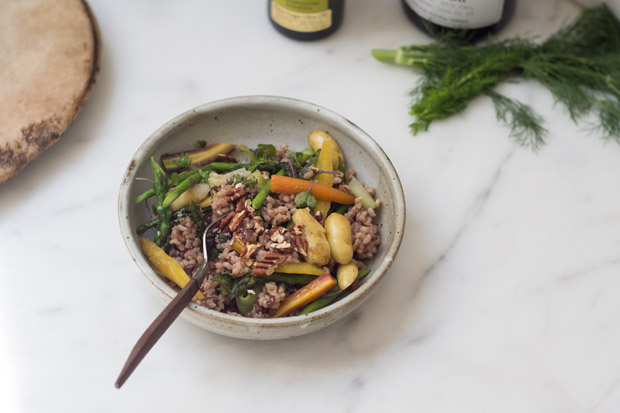 Back issues of VE+T pop up on eBay in the US on occasion. Though, if you're in Australia, you're in luck, because you can sometimes find entire back libraries of the magazine. Libraries that span the better part of a decade.Same goes for the Vogue Entertaining Cookbooks - keep your eyes peeled :) ! -h
Olive-oil Braised Spring Vegetables
I used baby carrots, tiny potatoes, and baby fennel here, but you can certainly swap in other vegetables based on whatever looks appetizing or is in season. Just cut them roughly the same size, so they cook in roughly the same time.
1/2 cup extra virgin olive oil

1/4 pound baby carrots, cut into bite-friendly segments
1/4 pound baby potatoes, cut into bite-friendly segments
2 baby fennel, trimmed & quartered
1/4 teaspoon fine grain sea salt
6 small spring onions (or scallions), trimmed
1/2 pound asparagus, trimmed and cut into segments
1 lemon, cut into small wedges, deseeded

to serve: toasted pecans/fresh dill OR fresh thyme/micro greens

Add the olive oil to a large skillet over medium-low heat. You want the pan to be hot enough to cook the vegetables, but not hot enough to brown them. Add your long-cooking vegetables to the pan - in this case, carrots, potatoes, and fennel - along with the salt, and allow to cook for a few minutes. Add the onions, then cover and cook for another 10 - 15 minutes. You're aiming to have everything end up silky and tender, just cooked through. The trick is to avoid overcooking - you want the vegetables to maintain some structure. A minute before you think the carrots and potatoes are cooked, add the asparagus and a few of the lemon wedges to the pan. The asparagus is quick cooking (depending on its thickness), so you're adding it at the end. Cook just until it brightens, and is barely tender. Remove from heat and sprinkle with herbs (dill or thyme). Serve with the remaining lemon wedges to the side. The vegetables are good hot, or at room temperature. You can serve them as antipasti - at room temperature, or over something. You can see the different ways I tweaked the general idea over a few days up above. For ex: served on their own, or over the brown rice and adzuki beans I had on hand.
Serves 4-6.
Prep time: 10 minutes - Cook time: 15 minutes