Palak Daal Recipe
A palak daal recipe from Kasa's Anamika Khanna - a hearty pot of spinach, lentils, and spices. Kasa is a favorite Indian restaurant of mine here in San Francisco.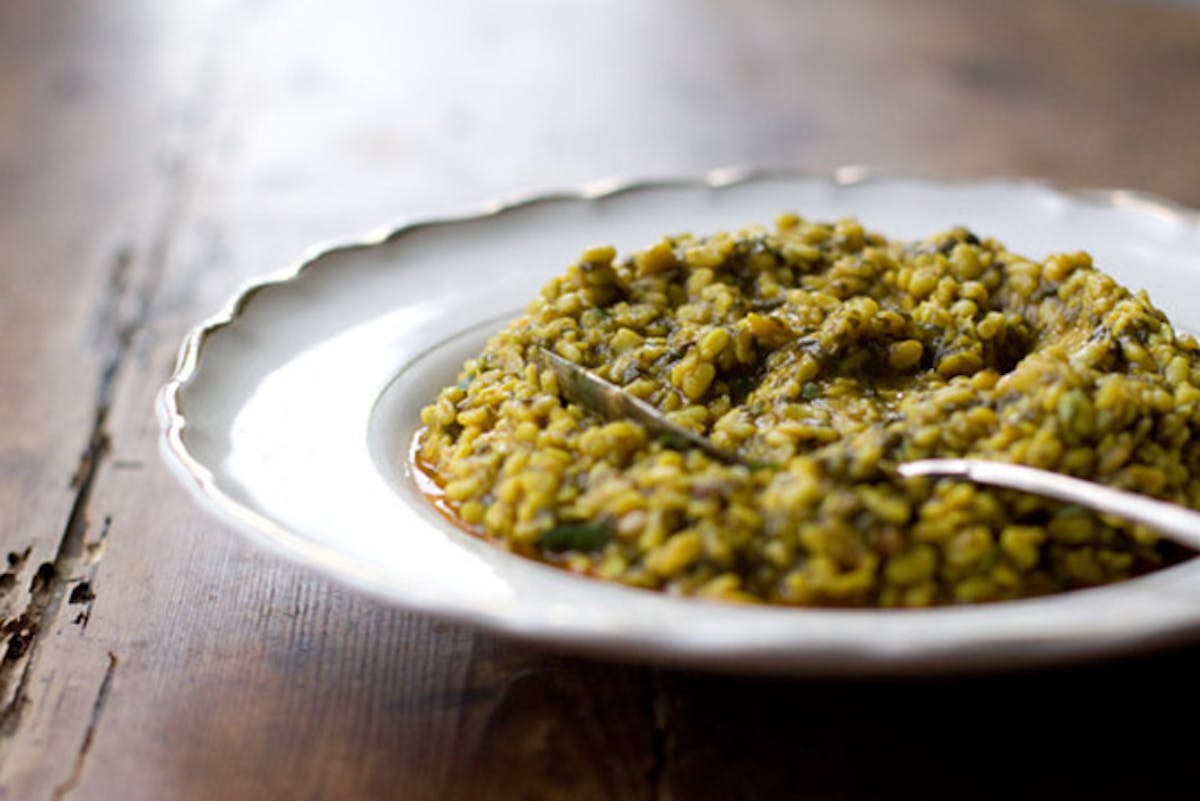 Wayne and I regularly frequent a place called Kasa. It takes just about ten minutes to get there on foot. It's casual, fast, and I know exactly what I like - kati roll, paneer, unda-style with side of daal. The other day I was chatting with Anamika, one of the owners, and she mentioned that she was teaching a cooking class as part of a fund-raiser.
I have to admit that I'm always checking the Kasa blog with the hope that Anamika will post some of her recipes. So when she mentioned she was going to be teaching palak daal - spinach and lentils, and then offered to email me her recipe, I was pretty excited. I'd take a cooking class with Anamika any day, and in the meantime, this was the next best thing.
So, I'm excited to share my attempt at Anamika's daal - it's rich, filling, and nutritious. The fragrant spices filling the house were welcome (on yet another) rainy day. Thank you for sharing the recipe Anamika, big congratulations on your new location, and if you ever teach another class I hope to be first in line!
Palak Daal
Spinach can be particularly muddy this time of year it seems. I fill the large bowl from my salad spinner with cold water, place the spinach in the basket the place it into the bowl of water. Swish the leaves around a bit to loosen any dirt. Drain and repeat. This usually does the trick. I use the same approach with kale and leeks as well. As far as peppers go, I used serrano chile peppers here, and used a pure red chile powder made from a mildly spicy red pepper, not cayenne in this case, I suspect that would be a bit on the too spicy side...but if that is all you have, adjust to what tastes good to you. I skipped the asafetida, but if you have it on hand, start with a pinch. Leftevers were delicious reheated with a generous splash of coconut milk. And lastly, if you are having trouble tracking down white urid daal / ivory lentils, feel free to experiment with other types of lentils.
1 cup / 6.5 oz / 185 g white urid or urad daal, picked over and rinsed

6 cups / 1.5 liters water, plus more if necessary
1/2 pound spinach, washed and finely chopped
1 tablespoon ginger, peeled and finely chopped
1/2 teaspoon turmeric
2 medium green chile peppers, minced
2 tomatoes, chopped
1/2 teaspoon salt

2 tablespoons butter
1/2 teaspoon cumin seeds
1 teaspoon pure red chile powder
a pinch of asafetida, optional
more salt to taste
juice of 1/2 a lemon
1/4 cup cilantro, chopped
In a large pot over medium-high heat combine the daal and water. Bring to a boil, then add the spinach, ginger, turmeric, 3/4 of the green chiles, and all of the tomatoes. Reduce the heat, and simmer for 1 1/2 to 2 hours or until the lentils are extremely soft. You may need to add a bit more water during the cooking process to keep the lentils soupy. After an hour and a half, stir in the salt.
In a separate pan, heat the butter and cumin and fry until the cumin seeds start to pop. Now add the red chile powder (and asafetida if you're using it) and fry for another 30 seconds. Taste and add more asafetida if you like. Add this butter mixture to the lentils and allow to cook for another five minutes. Taste, and season with more salt if needed. I also enjoyed a touch of lemon juice added at this point. Serve topped with the cilantro and the remaining green chiles.
Serves 4-6 with rice or roti.
Prep time: 20 minutes - Cook time: 120 minutes