Pappardelle with Spiced Butter Recipe
A recap of my Sunday, including a few portraits I shot, plus a top-notch pasta with spiced butter and asparagus inspired by a recipe from Yotam Ottolenghi's new book.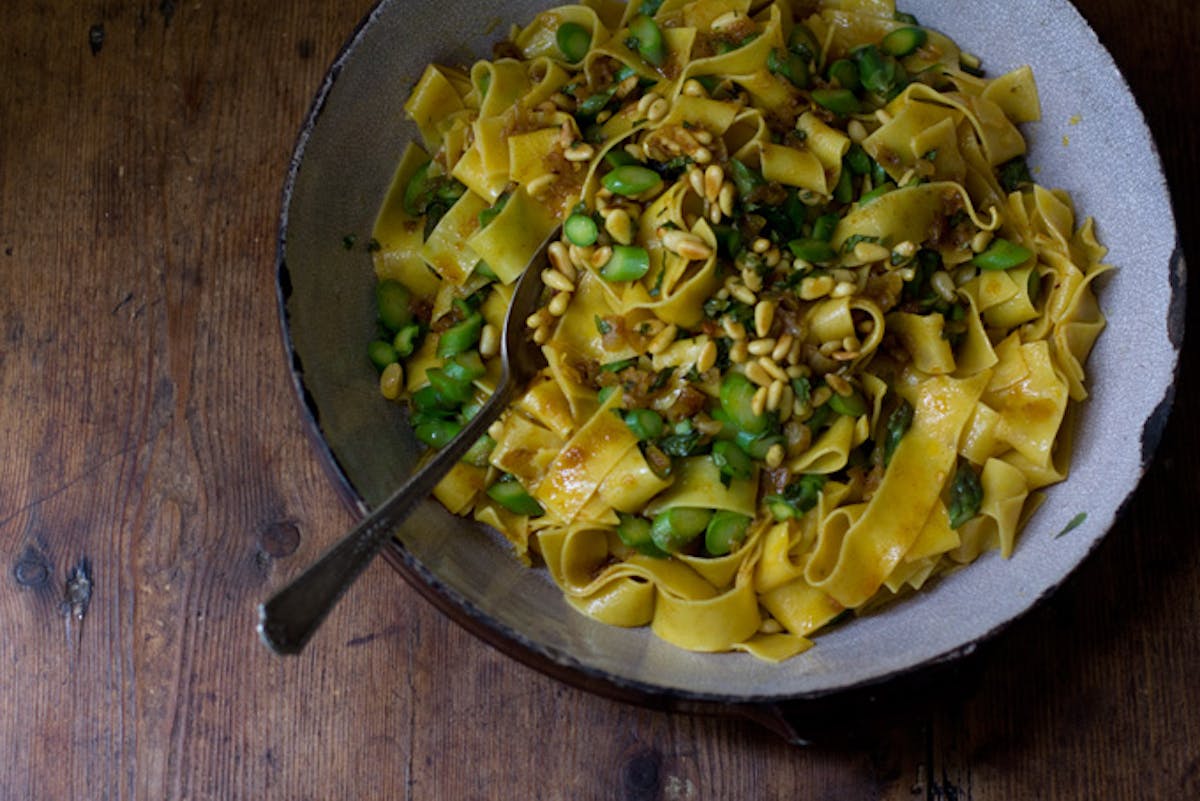 I made a series of portraits on Sunday, sort of on a whim. Allow me set the stage. Each year the Bay to Breakers weaves it's way through San Francisco. It's a running race, and by that I mean, some people actually run the course. It's also a parade, and San Francisco dearly loves a parade. Elaborate costumes and floats are involved, and not even frosty temperatures prevent (at least some) participants from getting naked. People get drunk. Obliterated drunk. I saw a panda bear curled up under one of the trees in our park (minus his shoes and socks and jeans), and a watermelon slice passed out on the sidewalk outside a coffee shop...at 7p.m. So, even though the course brings the race with a few blocks of my house, I usually I stay clear of the mayhem. But this year, Wayne got a call on Saturday from a friend, and they decided at the last minute to run the race.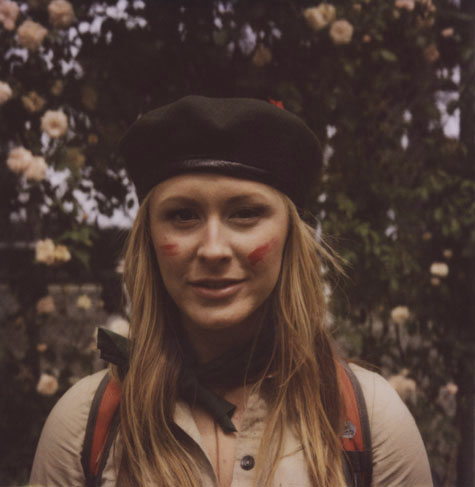 The alarm clock went off at 6:30, they headed downtown, and I eventually made my way to the coffee shop and then up the hill to do some people watching. I took my Polaroid and a pack of film (10 shots), and started thinking about what sort of photos I might like to take. Sometimes in visually chaotic/busy situations I get overwhelmed, and my camera never comes out of its bag. When I'm crowded by people it's hard to find the little details or moments I find inspiring. But I've been wanting to shoot more portraits lately, so on my way up to Alamo Square I decided I'd focus on that one thing - individual portraits.
I stood in one place for a long time, just outside of the main flow of people, on a corner, and proceed to have a great time. I typically shoot in quiet spaces, with all the time in the world. This was entirely different. Total chaos. Total strangers. I had to be quick - frame, focus, shoot. If I was going to go out of my way to ask a complete stranger if I might take their portrait, I wanted it to be worth it. So, the learning curve was steep, and the little things added up. For example, I learned from the first shot that I needed to step a touch closer to the subject to get the framing I was after, and I learned from the second shot that too much head space cuts off nice costume details. That sort of thing. Anyhow, I thought I'd share my four favorite portraits from the day.
I didn't find Wayne and Mirah until later - we walked around a bit more, had lunch, and then I spent the better part of the afternoon paging through Yotam Ottolenghi's new cookbook, Plenty. I've long been a reader of his new vegetarian column in the guardian.co.uk, and most of you know what a fan I am of many of the Ebury books. It was nice of them to send me a copy. I decided to do a riff on Yotam's Saffron Tagliatelle with Spiced Butter for dinner. It's a pasta dish tossed with vibrant Moroccan-inspired spice butter made from a blend of eight spices - ginger, paprika, cinnamon, coriander, turmeric, etc....so good. I used a dried pappardelle egg pasta, and tossed some asparagus into the mix to work a vegetable onto the plate. It made for a nice spring supper.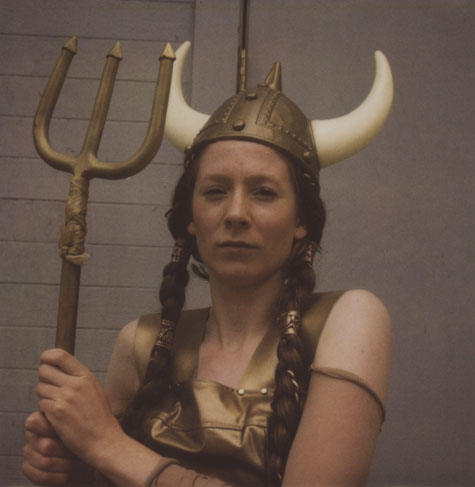 So, that was my Sunday. I'm off to Monterey for a few days. I hope you all enjoy the rest of your week (and this pasta if you make it)... -h

Pappardelle with Spiced Butter
Yotam uses fresh, home-made saffron tagliatelle (the recipe is included in the book), but wanting to throw together a something quick so I opted for a good-quality dried pappardelle I had on hand. On the spice front, you will definitely get some heat from the cayenne pepper, so scale back a bit if you are sensitive. Also, feel free to double up on the spice blend, I've been using the extra in all sorts of things - from eggs to vinaigrettes. Also, this recipe make quite a good amount of spiced butter. Use as much or as little of it as you like. You can always reserve any leftover for drizzling on potatoes, crepes, vegetables, etc. later in the week.
1/4 teaspoon saffron threads
pinch of salt

1 stick / 4 oz / 100 g butter
2 tablespoons extra virgin olive oil

6 medium shallots, chopped
1/2 teaspoon ground ginger
1/2 teaspoon sweet paprika
1/2 teaspoon ground coriander
1/2 teaspoon ground cinnamon
scant 1/2 teaspoon cayenne pepper
1/4 teaspoon red chile flakes
1/4 teaspoon ground turmeric
1/4 teaspoon+ fine grain sea salt
black pepper

1/2 pound / 8 oz / 225 g dried pappardelle egg pasta
1/2 pound / 8 oz / 225 g asparagus, sliced into 1/4-inch rounds

splash of cream
1/2 cup / 2 oz / 60 g pine nuts, toasted and chopped
2 tablespoons roughly chopped mint
2 tablespoons roughly chopped parsley
Place a large pot of water over high heat and bring to a boil. In the meantime, use a mortar and pestle to crush the saffron and salt into a fine powder. Set aside.
To make the spiced butter: Place the butter and olive oil in a frying pan and cook the shallots gently for about 10 minutes, or until they soften and the butter browns just a bit. Stir in all the spices, the salt, and a bit of freshly ground black pepper, remove from heat (but keep warm).
Salt the water generously and cook the pasta per the package instructions, or until al dente. Barely thirty seconds before the pasta has finished cooking, add the asparagus. Drain and return the pasta and asparagus to the pot. Stir in the saffron salt. Pour about half of the spiced butter over the pasta, add a small splash of cream, and toss well. Taste, then ask yourself if you need to add more spiced butter or salt. I suggest adding more butter until it is to your liking, then reserve any leftover for later use (see head notes). Serve the pasta in a large bowl, or divided across plates, sprinkle with pine nuts and herbs.
Serves 4 - 6.
Inspired by the Saffron Tagliatelle with Spiced Butter in Plenty by Yotam Ottolenghi. Ebury Press, May 2010.
Prep time: 20 minutes - Cook time: 10 minutes