Mushroom Lasagna
This freezer-friendly mushroom lasagna is all about homemade mushroom ragù, big dollops of ricotta cheese, and silky tender sheets of pasta finished with a bit of basil and some grated Parmesan cheese.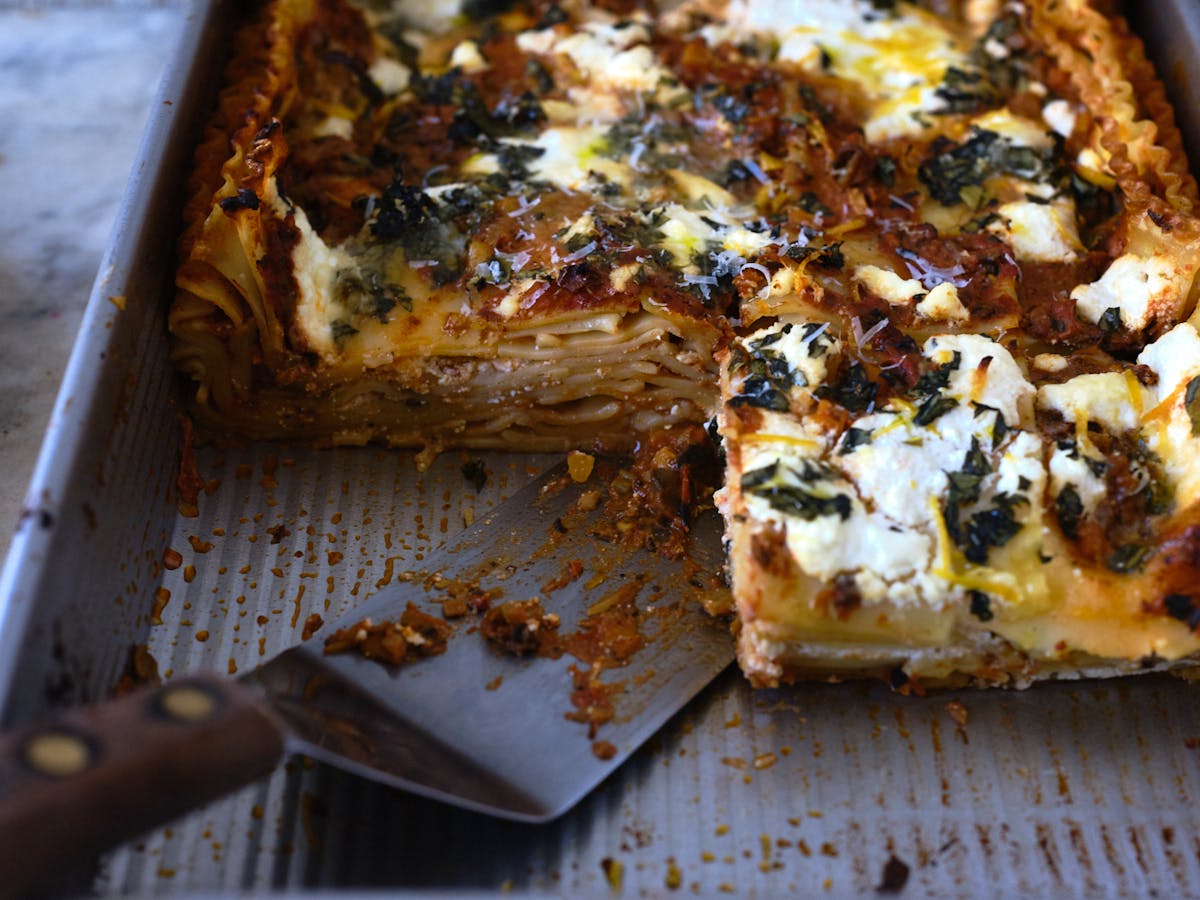 This is the mushroom lasagna I make when no-one is looking. The one where I cut a couple of traditional corners, add a few personal touches and, quite honestly, never look back. Sometimes I go long-form and use homemade pasta for the layers, other times it's all about keeping the process quick -- store-bought lasagna sheets and ragù from the freezer it is. Both versions are pictured here.
Consider yourself warned, this lasagna is a big boy, and will fill all of a 13x9 pan with layers of a vibrant, hearty and creamy mushroom ragù. There are generous dollops of ricotta and ribbons of silky pasta. I've grated fragrant lemon zest into the bottom of every lasagna for as long as I can remember, and that's a feature here too.

The Vision
There are a number of different styles of mushroom lasagna. Some are white lasagnas, with no tomatoes whatsoever. They rely on creamy béchamel (butter, milk, flour) for some of the binding and creaminess desired in lasagna. My version isn't that. I generously layer a creamy, tomato-based mushroom ragù as the primary sauce throughout. It's rich enough that I simply skip the béchamel component you see in many lasagnas. Lemon zest lifts all the flavors up, and you can choose to use store-bought lasagna sheets or make them from homemade pasta depending on how ambitious you're feeling.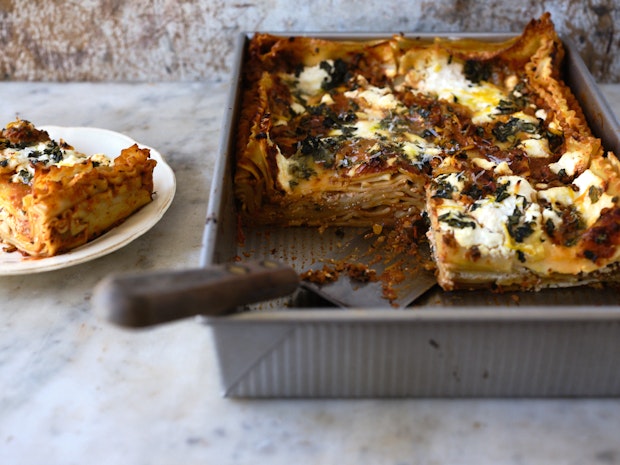 Quick version vs. Slow Version
Lasagna is always made with love. They can be all day affairs, but with a bit of planning, one like this can come together reasonably quick. To make the lasagna pictured above I used mushroom ragù thawed from the freezer with store-bought noodles. Had the whole thing in the oven 30 minutes after walking in the kitchen. The other lasagna picture, not so much. I made the ragù the same day, rolled out homemade pasta sheets, and when I say it was an all-day situation, no exaggeration. Either way, a lasagna is never not worth the effort.
Mushroom Lasagna: The Ingredients
The list here is short, so you want to make sure each component is on point, seasoned well and tasting good.
Mushroom Ragù: There's only one sauce in this lasagna recipe and it is this mushroom ragù is it. It's a hearty,

wonderful,

slow-cooked

tomato and mushroom sauce featuring finely chopped mushrooms, tomatoes, and aromatics. Keep it in your freezer. Use half for pastas, the other half for this lasagna.

Pasta: You have options here and both are fantastic! You can use homemade pasta or store-bought lasagna sheets.
Cheese: The main cheese in this lasagna is ricotta. Parmesan is used more as a finishing cheese.
Lemon zest: Don't skip it. It is the secret wink of goodness.
Basil: Use it when basil is in season - always fresh basil. But don't let the lack of basil deter you from making this.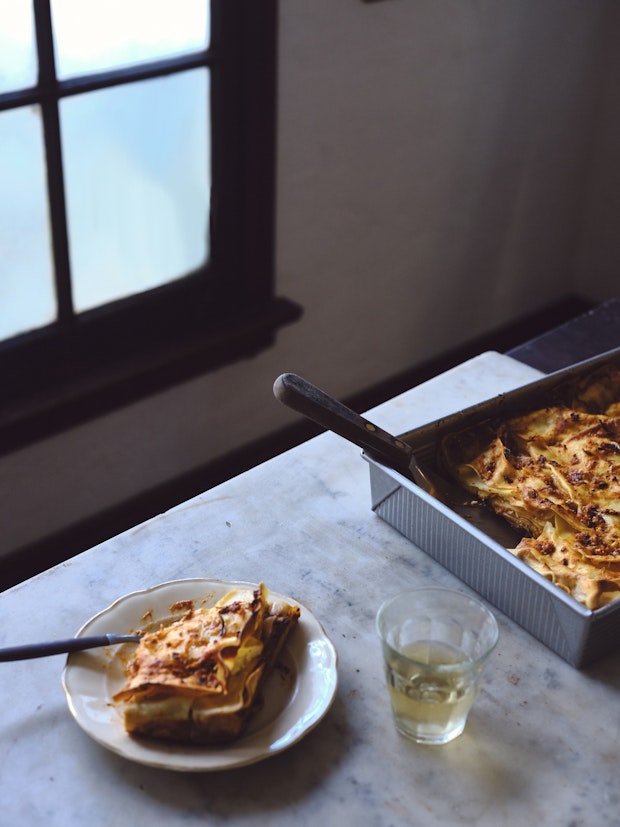 Dial up the Mushrooms
All of the mushrooms in this lasagna are introduced in the ragù. They're well chopped. That said, if you want a mushroom lasagna with more defined mushrooms you have options! Stem and slice a pound of mushrooms 1/4-inch thick. Cook them in a couple tablespoons of olive oil in a hot skillet with a pinch of salt until golden. Alternately, you can also roast them after tossing with olive oil in the oven as it is pre-heating. Introduce these mushrooms to your lasagna layers.
Mushroom Lasagna: The Process
Here's a step by step illustration of how to make this lasagna. The first thing to do is butter or oil your baking pan, and then sprinkle with some citrus zest. You see orange here, but I typically use lemon. Or a blend.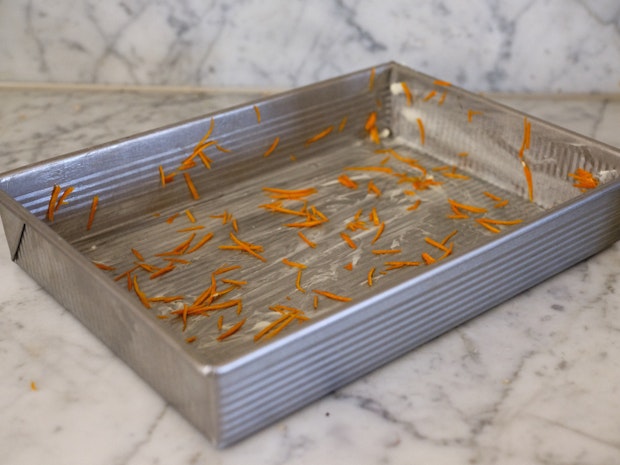 The next step is pre-cooking the lasagna sheets in boiling, salted water. You'll dunk them in a big bowl of ice water spiked with a bit of olive oil. Then transfer to a baking sheet. See below.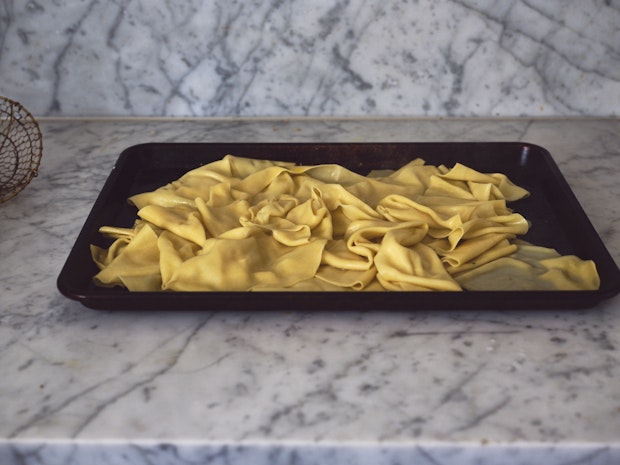 From there, build the lasagna in layers starting with a thin layer of ragù. Next, a layer of pasta, more mushroom ragù, and then dollops of ricotta.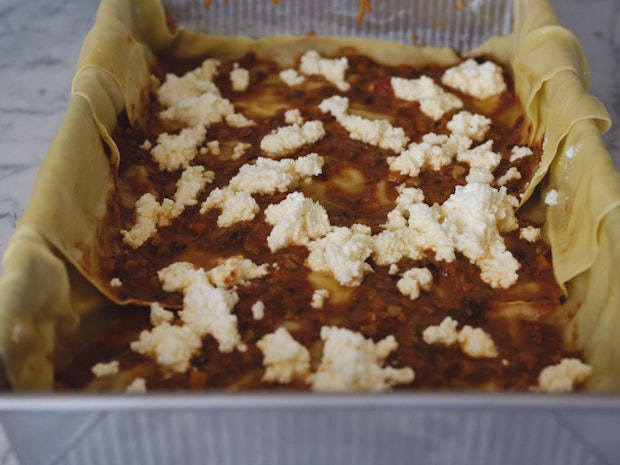 Repeat until you've run out of ingredients. Make sure to end with a good amount of sauce. You can add ricotta, a bit of basil, and more lemon zest to the top if you like, or keep it simple with just a bit of sauce and a finishing layer of Parmesan. The lasagna below was made with homemade pasta and Parmesan to finish. Bake until golden and beautiful.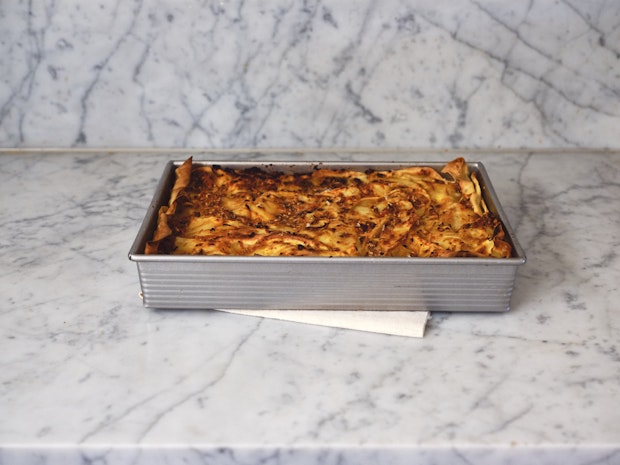 Once your lasagna has finished baking, allow it to sit for a few minutes before cutting into it.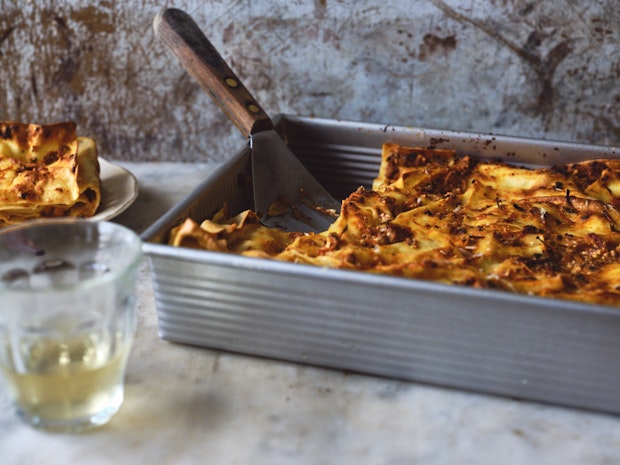 Freezing Lasagna
The house rule for this mushroom lasagna is eat half, freeze half. It reheats brilliantly and makes for an easy weeknight meal alongside a quick salad or vegetable side of some sort. To freeze the lasagna, first allow it to cool completely. Slice into desired individual pieces and freeze. Store each slice in an individual container or freezer bag. It makes things easier and slices don't freeze together. Keep frozen for up to three months.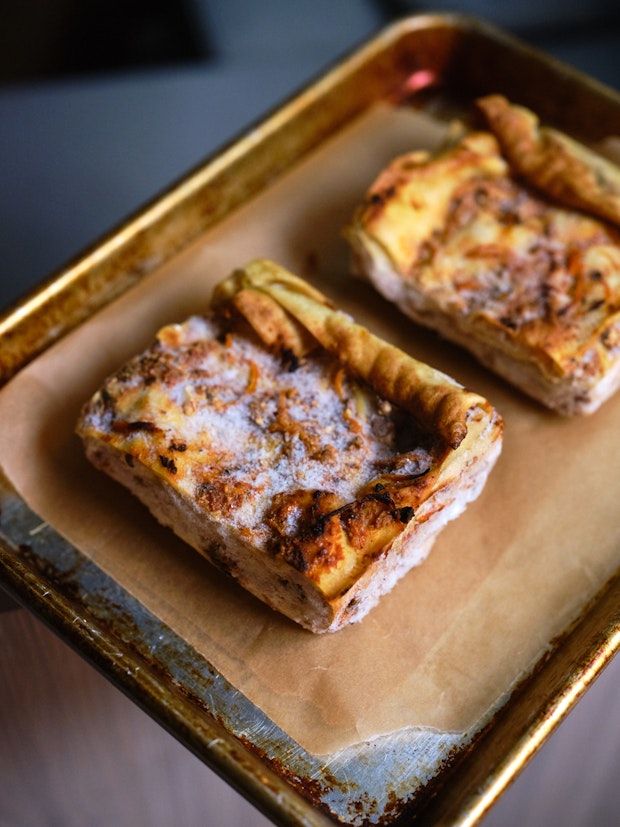 Reheating Lasagna
Arrange frozen slices of lasagna on a parchment-lined baking sheet, an inch or more apart. If you remember, allow it to thaw a bit ahead of time. Not a big deal if you forget, thawing just allows you to reheat it more quickly. Heat the oven to 400F, cover the baking sheet with foil and bake for 30 minutes, or until the lasagna is hot throughout. You may need to cut into a slice to make sure the center is hot.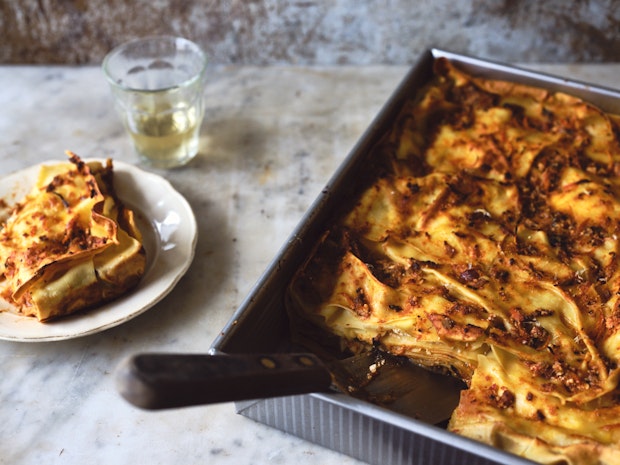 More Pasta Recipes
Favorite Pasta Sauces

Other Favorite Italian Recipes
Mushroom Lasagna
You can use ~2 pounds / 32 ounces of homemade pasta dough, cut into lasagna sheets or 1 pound / 16 ounces dried lasagna sheets for this recipe. If you're going the homemade pasta route it is a double batch of this homemade pasta recipe rolled out to setting 6 or 7 on your pasta machine, cut each sheet into 7-inch long rectangles. No need to be a perfectionist about this.
Ingredients
extra-virgin olive oil or butter, for pan and drizzling

zest of one lemon

(or orange)

2

pounds

of homemade pasta dough or 1 pound dried lasagna sheets (see head notes)

6

cups

mushroom ragù

3

cups

ricotta cheese

8

basil leaves

freshly grated Parmesan cheese
Instructions
Preheat Oven to 400F, rack in the center.

Oil or butter your 13x9-inch baking pan generously. Sprinkle with half of the lemon zest and set aside.

Pre-cook the lasagna sheets:

Bring a large pot of water to a boil. In the meantime, to prepare, fill a large bowl with ice cold water and a few glugs of olive oil. Get a large, rimmed baking sheet and add a bit of olive oil to that as well. Now you are ready to boil your pasta. Place a handful of the pasta rectangles into the boiling water to cook (I've found I can get away with about 20 at a time), fish them out (I use a spider) after just 15-20 seconds, don't over cook. Transfer the pasta immediately to the cold olive-oil water for a quick swim and cool-off. Remove from the cold water bath and the sheets out on the oiled baking sheet. It is ok for them to overlap, as long as they're coated with a bit of oil they shouldn't stick. (If using store-bought lasagna sheets, cook for about 6 minutes, or follow package instructions.) Repeat until all your pasta is boiled.

Build the lasagna:

Spread the baking pan with a layer of mushroom ragu and cover with a layer of pasta. Add another layer of ragu, and some dollops of ricotta. Repeat the layering until you have used all of the ingredients — usually 3 or four layers. Be sure to finish with a generous layer of the ragu, ricotta, basil (chopped or whole leaves), and grated Parmesan cheese. Sprinkle with the remaining lemon zest and drizzle with a bit of olive oil.

Bake, uncovered, until the lasagna is crisp-edged, golden and a little bubbly at the edges - 35-40 minutes. Remove from the oven and allow it to rest for a few minutes before slicing. Serve topped with more Parmesan and a drizzle of good olive oil.
Related Recipes
More Recipes
Popular Ingredients