Raw Tuscan Kale Salad Recipe
A beautiful, shredded, raw kale salad tossed in a vibrant, lemony-pecorino dressing. From Melissa Clark's new cookbook, In the Kitchen with A Good Appetite. The first thing I made after getting back from Rome.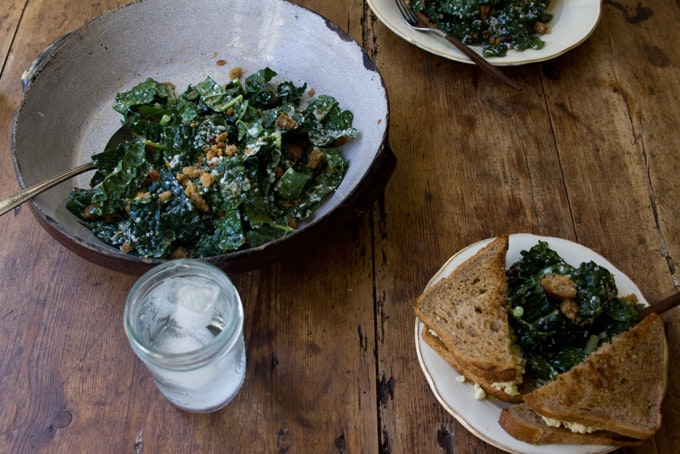 Sometimes a kale salad is in order. And this is one of those times. I'm home. My suitcase is unpacked. My laundry is done. Fresh flowers are finding their way back into Mason jars, and the avalanche of mail is, quite honestly, being ignored. Travel time from our apartment in Testaccio to our front door in San Francisco: twenty hours. Twenty. Hours. It hurts to even type that. And not to whine about it too much, but flights like that mess me up - the lack of sleep, the dehydration, the weird food. On the worst flights I sometimes get headaches that turn into nausea. I end up craving extra-wholesome food for days after arriving home. This time, my first day back, I turned out a super satisfying lunch inspired by two recipes in Melissa Clark's new cookbook, In the Kitchen with A Good Appetite.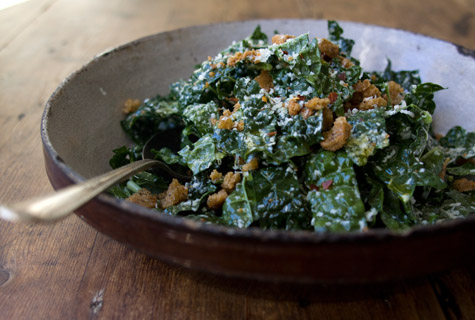 The first thing I made was her shredded raw kale salad. Lots of greens tossed in a vibrant, lemony-pecorino dressing. The recipe calls for just a handful of ingredients, but they all deliver - crunchy, toasted breadcrumbs, red pepper flakes, good olive oil. Simple, but special. It's a salad I threw together for lunch, but also something I can imagine making for friends or family when they come over. And I can imagine endless ways you might work it into a one-dish meal. Make a bit of extra dressing, add some farro to the mix, and top with a poached egg, for example. Or, incorporate some roasted winter squash alongside the kale. Or, do a more finely chopped version before folding into a bowl of seasoned quinoa.
I ate the kale salad alongside Melissa's mustard and pickle-spiked tofu salad served on toasted poppy seed wheat bread. At that moment, few things would have tasted better. I suspect both recipes will become regulars around here.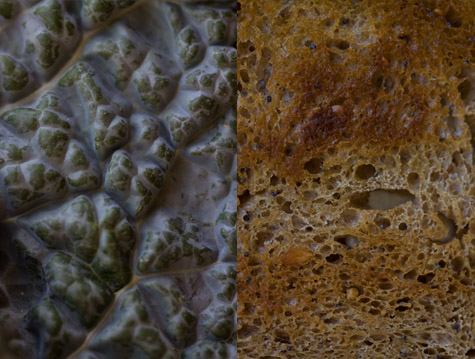 So, it's nice to be home. I have a couple Rome-centric posts on the near horizon. One with an extra-special recipe from a very unique place, and one compiling a list of my favorite places from this trip with links to some of the sites that helped me plan this trip. Now that I'm not jet-lagged I might be able to wrangle them into something comprehensible...

Raw Tuscan Kale Salad
I doubled up on the breadcrumbs here. Because who doesn't like a bit of extra crunch? That is reflected in the recipe below. And for those of you without access to pecorino, freshly grated Parmesan would be a reasonable substitute.
1 bunch Tuscan kale (for ex: black or lacinato)
2 thin slices country bread, or two handfuls good, homemade coarse breadcrumbs

1/2 garlic clove
1/4 teaspoon kosher salt, plus a pinch

1/4 cup (or small handful) grated pecorino cheese, plus adiitional for garnish

3 tablespoons extra-virgin olive oil, plus additional for garnish

Freshly squeezed juice of one lemon (scant 1/4 cup or ~50ml)

1/8 teaspoon red pepper flakes
Freshly ground black pepper to taste
Trim the bottom few inches off the kale stems and discard. Slice the kale into 3/4-inch ribbons. You should have 4 to 5 cups. Place the kale in a large bowl.
If using the bread, toast it until golden brown on both sides and dry throughout. Tear into small pieces and pulse in a food processor until the mixture forms coarse crumbs, or crumbs to your liking.
Using a mortar and pestle or a knife, pound or mince the garlic and 1/4 teaspoon of salt into a paste. Transfer the garlic to a small bowl. Add 1/4 cup cheese, 3 tablespoons oil, lemon juice, pinch of salt, pepper flakes, and black pepper and whisk to combine. Pour the dressing over the kale and toss very well (the dressing will be thick and need lots of tossing to coat the leaves).. Let the salad sit for 5 minutes, then serve topped with the bread crumbs, additional cheese, and a drizzle of oil.
Adapted from the Raw Tuscan Kale Salad with Chiles and Pecorino recipe in Melissa Clark's In the Kitchen with A Good Appetite.
Prep time: 10 minutes - Cook time: 5 minutes