Genius Kale Salad Recipe
There is a special kale salad recipe in the Food52 Genius Recipes cookbook. A single kale salad that ran the gauntlet, beating out all others, for a slice of limelight.
There is a special kale salad in the in the new Food52 Genius Recipes cookbook. A single kale salad that ran the gauntlet, beating out all others, for a slice of limelight in the book. Which is saying something. There is no shortage of kale salad inspiration out there, and I knew this one must be pretty special to make the cut.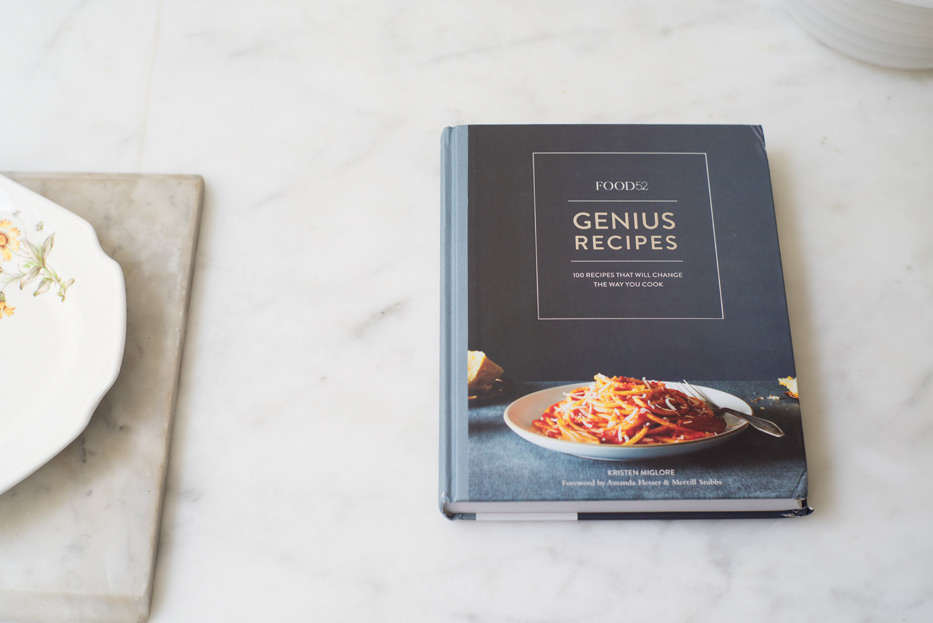 The whole premise related to the genius recipe series is highlighting recipes that aren't just great - they need to be more than that. They need to change, or surprise, or shift the way you think about a recipe - or cooking in general. Kristen Miglore selected 100 recipes for the book, and this was the kale salad - special it is! The details! It is from Northern Spy Food Co. Shredded kale is tossed with olive oil and freshly squeezed lemon juice, and accented with rough-cut almonds, roasted squash (or, this time of year, asparagus), strong chunks of good cheddar cheese, and whispy shavings of Pecorino. I made it with the last delicata squash in my arsenal, and a second time with roasted asparagus. It's kale salad well punctuated. Meaning, there you are enjoying a fork full of lacinato kale, and along comes an exclamation of cheddar, or all-caps CRUNCH of almond. It's really nice, and to my palette it's the well-accented simplicity that makes this version stand out.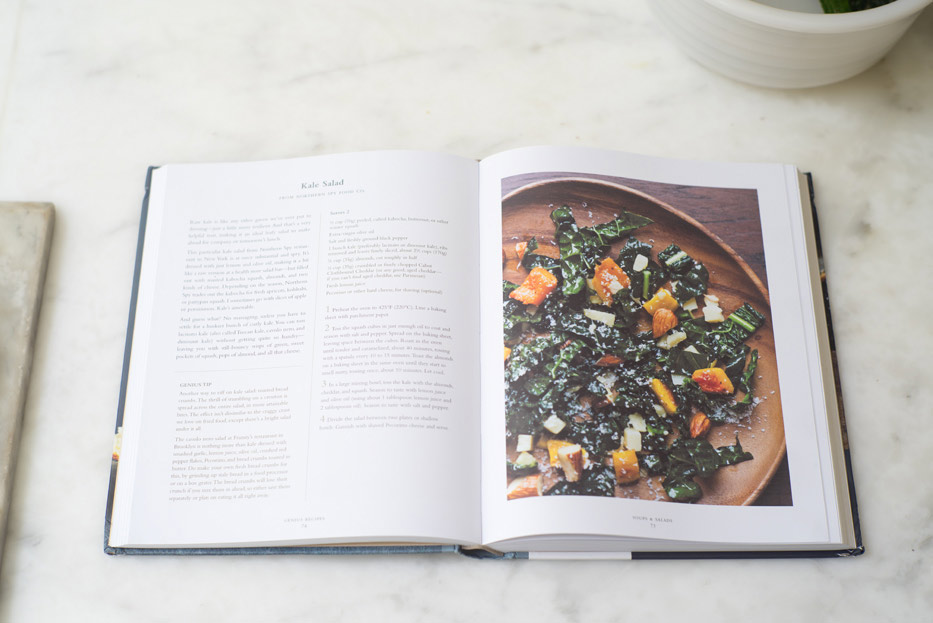 Technique
If you give it a go, I'll encourage deliberate chopping and slicing. Thoughtful, intentional prep is one of the things that takes this salad from good to great. You want the kale stemmed, and sliced into ribbons not too thick, not too thin. Good cheddar is assertive, so you want crumbles that function as good accents on the fork - too big is overwhelming, but you also don't want to go too small. The book has beautiful photography accompanying each recipe by James Ransom, and they are illustrative as well as enticing. Meaning, you're able to see the intended result, and can take cues from not only the recipes, but the visuals as well.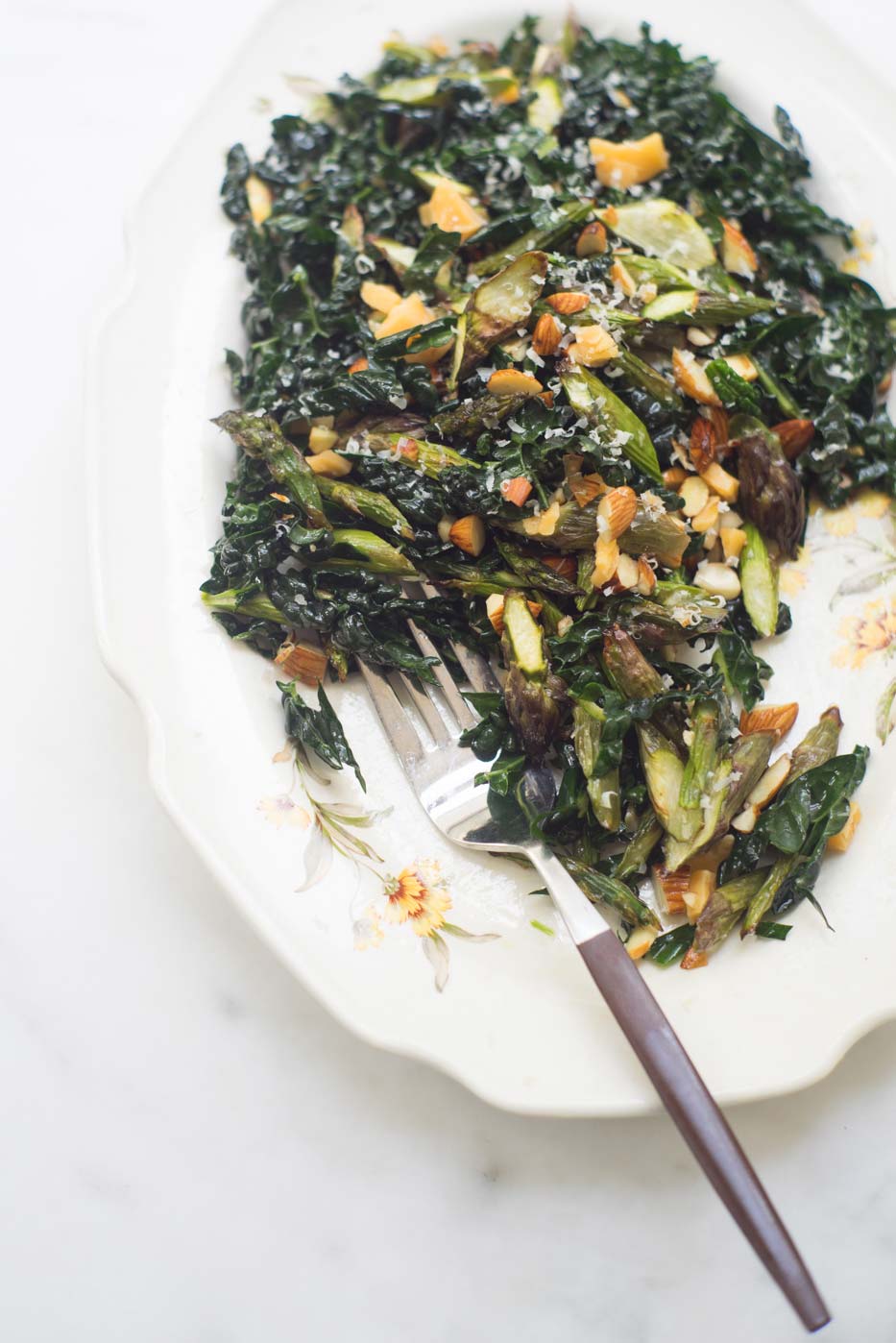 You can prep this a day or two ahead of time. I might wait until you're relatively close to eating to toss it with the lemon juice and olive oil, but aside from that it's incredibly simple. And I recommend doing a double recipe while you're at it. The leftovers were brilliant, wilted for a flash in a hot pan, and then tossed with fresh pasta for a quick one-pan dinner.
More Kale Salads
Genius Kale Salad
Kristen notes that Northern Spy trades out the kabocha for fresh apricots, kohlrabi, or patty pan squash. She goes for slices of apple or persimmon, and I loved the roasted asparagus version.
Ingredients
1/2

cup

/ 70g peeled, cubed kabocha butternut, or other winter squash (or chopped asparagus)

Extra-virgin olive oil

Salt and freshly ground pepper

1

bunch kale (lacinato or dinosaur kale), ribs removed, leaves finely sliced, about 2 1/2 cups

1/4

cup

/ 35 g almonds, cut roughly in half

1/4

cup

/ 35 g crumbled or finely chopped good, aged cheddar

Fresh lemon juice

Pecorino or any other hard cheese, for shaving
Instructions
Preheat the oven to 425F / 220C. Line a baking sheet with parchment paper.

Toss the squash cubes (or, in this case, asparagus) in just enough oil to coat and season with salt and pepper. Spread on the baking sheet, leaving space between each piece. Roast in the oven until tender and caramelized, 30-40 minutes, tossing with a spatula every 10 to 15 minutes. Toast the almonds on a baking sheet in the same oven until they start to smell nutty, tossing once, about 10 minutes. Let cool.

In a large mixing bowl, toss the kale with the almonds, cheddar and squash (or asparagus), Season to taste with lemon juice and olive oil (using about 1 tablespoon lemon juice and 2 tablespoons oil). Season to taste with salt and pepper.

Divide the salad between two places or shallow bowls. Garnish with shaved Pecorino cheese and serve.
Related Recipes
More Recipes
Popular Ingredients