Seeded Popovers Recipe
Popovers are the most delightful thing my oven produces - sky-high and billowy. Here's my go-to recipe, a few tips, and the overall technique I use.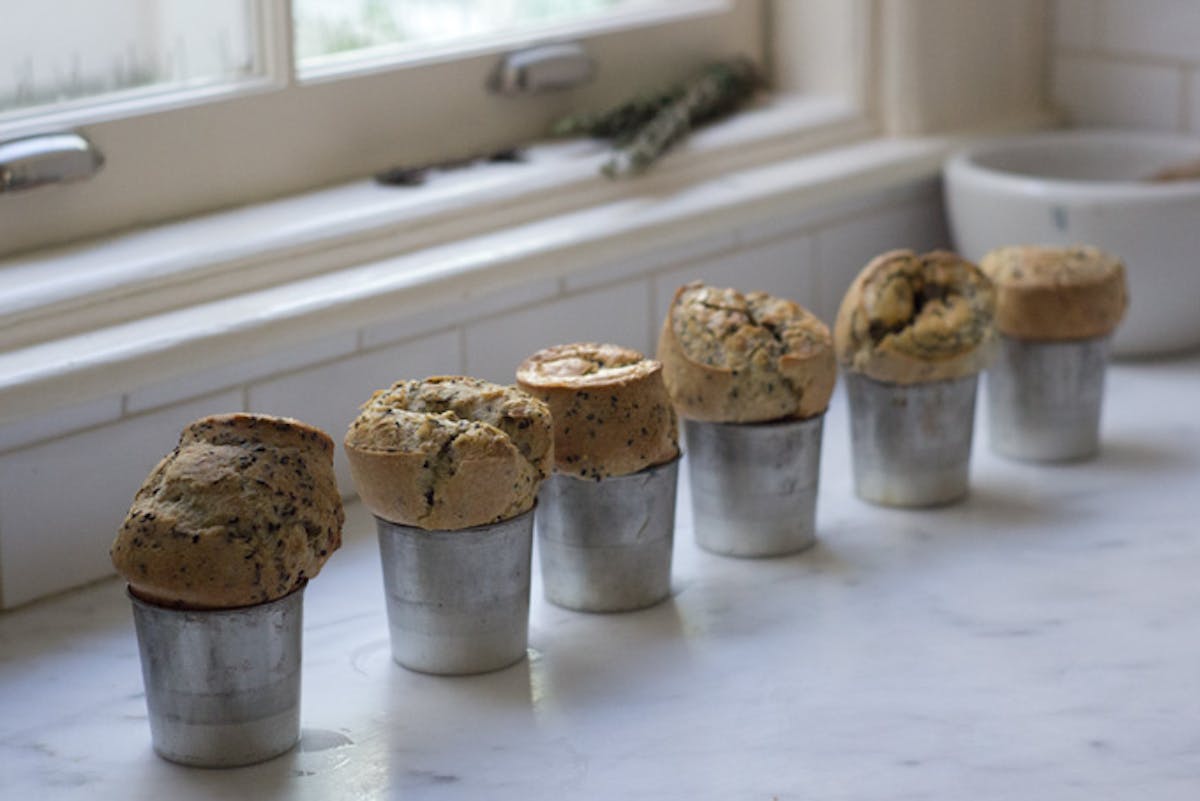 The most delightful thing my oven produces is the popover. Gougères are a close second, but the popover wins for sheer drama. They're golden-crusted bready crescendos made from the simplest ingredients. Their crunchy exterior belies a billowy eggy interior that absolutely begs for a slather of butter or honey. Popovers are worth learning to make well. Which, I'll be honest, takes a bit of practice. I've chipped away at this recipe over the years, and I suspect I'll continue, but I thought I'd put it out there today and encourage you to give them a go. I suspect some of you popover specialists out there have a thing or two to teach me as well.
I'm going to talk a bit about technique down below, but before you dive down the rabbit hole related to then endless number of popover techniques that are out there, you really want to make sure your oven is on point. You need to make sure you have even constant heat, and good control over temperature. You need a blast of heat in the beginning to get that upward push going, then a more gentle heat to cook the popovers through and to allow a beautiful crust to develop. Just know, while a bad run of popovers might not be pretty, they'll likely be tasty regardless.
Before we get to the recipe, I'll mention that just about every variable related to making popovers is up for discussion - both related to the recipe and the technique. There is debate on what type of flour to use, baking powder vs. none, batter resting time, oven temperature, food processor vs. blender vs. mixer, preheating the baking tins or not......people are passionate. I'll tell you that I haven't had luck using bread flour or whole grain flours, too dense and heavy. I'm all ears though, if you've had luck. Some famous popover recipes use a much higher ratio of flour than I do here - I just never had any success with that. I fill my tins a hint over 1/2 full with batter, and get great pop. I've gone higher, but sometimes get spillover, particularly with an eggier batter. I've written a few tips into this recipe, from things I've learned the hard way - for example, it really is worth dirtying a pitcher and using that to quickly fill your pans. Bonne chance my friends - let me know how it goes.
Seeded Popovers
I use individual timbales here, but you can use a special popover pan, or muffin tin. Deep and narrow tins get great results, but muffin tins deliver the delight as well.
2 cups / 475 ml whole milk
2 tablespoons unsalted butter
2 cups / 9 ounces / 255 g unbleached all-purpose flour
1 1/4 teaspoons fine grain sea salt
3/4 teaspoon baking powder
1/4 cup / 1.5 oz / 45 g raw, uncooked millet seeds*
2 tablespoons / .5 oz / 15 g toasted sesame seeds*
2 tablespoons / .5 oz / 15 g toasted sunflower seeds*
5 large eggs, room temperature(!)
Start by preheating your oven to 425F / 220C, with a rack in the low-center. If you're using popover or muffin pans, grease them, I like to use clarified butter. If you're using individual timbales (like I did), do the same. Place the tins on a baking sheet, preferably rimmed.
Place the milk and butter in a medium saucepan and gently heat until it is warm to the touch, not more than 115F/45C - you don't want to scramble the eggs down the line. Remove from heat.
Sift the flour, salt, and baking powder into a large bowl. Stir in the millet, sesame seeds, and sunflower seeds. Set aside.
Now you're going to whisk the eggs. It's important to start with room-temperature eggs here, using an electric mixer with the whisk attachment at medium-high speed. It'll take a couple of minutes, but you want the eggs to get nice and voluminous, light, and take on the color of yellow taffy (see photo up above). Dial back the mixer speed, and add the milk in a slow, steady stream. Gradually add the flour mixture a bit at a time, and whisk for another 60 seconds. Transfer to a pitcher.
Preheat the empty popover pans in the oven for five minutes. Quickly, but carefully, remove them (you don't want to let all the heat from the oven), and fill each tin 1/2 full with batter, maybe a tad more. If you're using muffin pans, fill every other hole, to give room for the popover. Transfer to the hot oven carefully (but quickly!), and dial back the heat to 400F. Bake for 30-45 minutes. I hate to give exact times here, I really go by sight. Without opening the oven look for deep golden coloring on all sides, and lots of airy lift. Bake as long as you can without letting the tops get too dark, if you let them bake on the long side, you'll end up with more structure, which helps keep your popovers puffed when they come out of the oven. When golden, remove, turn out onto a cooling rack, and enjoy as soon as possible.
Makes 6-8 large popovers, or more smaller ones..
*If you opt out of the seeds, you're back to the basic popover recipe. Feel free to swap in chopped dried or fresh herbs, grated cheese, spices, zests, etc.
Prep time: 65 minutes - Cook time: 50 minutes