Sesame Yogurt Pasta Salad Recipe
An off-beat pasta salad made with stuffed pasta, seasonal vegetables, and a spice-forward, golden sesame yogurt sauce.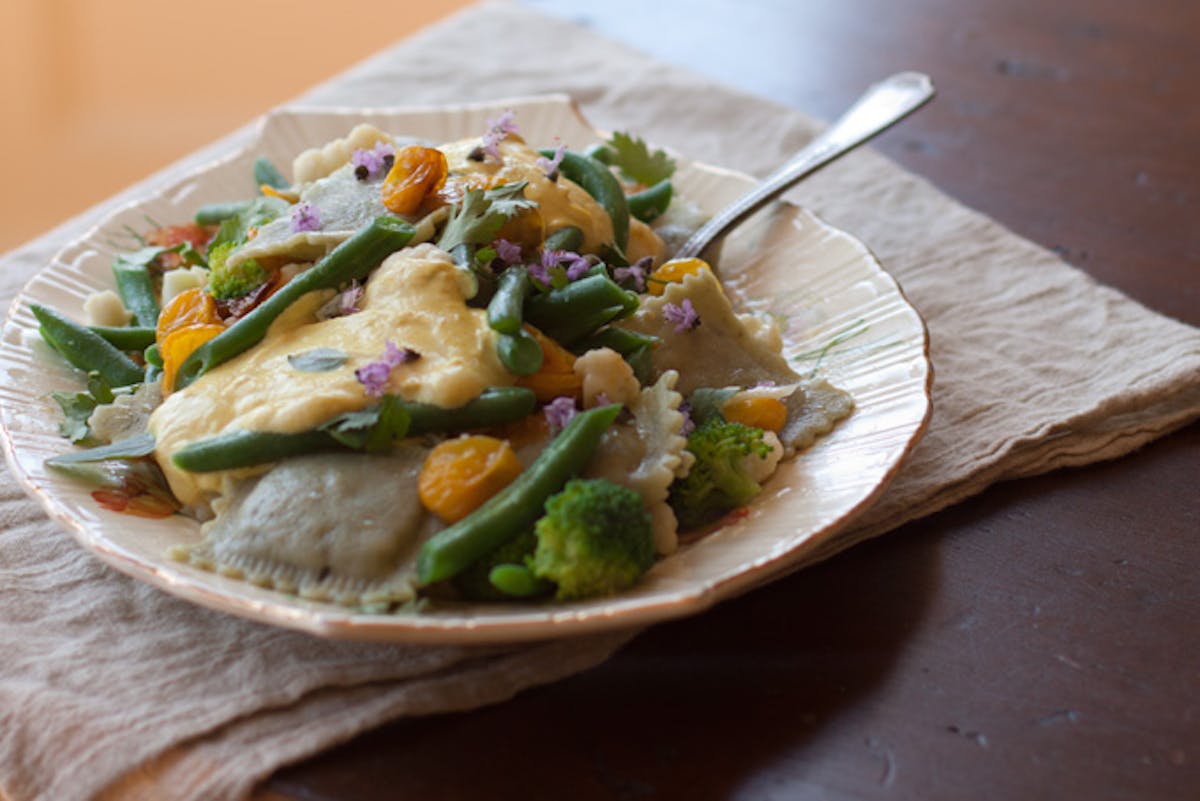 Hi everyone, it's going to be a quick post today. I wanted to share this pasta salad with you. It's the sort of off-beat thing I'd argue is worth a minute or two of your time. It made a stand-up lunch - filling, plenty of vegetables, and so on. Also, the flavors in the turmeric-tinted sauce are brilliantly unexpected - garlic, tahini, yogurt, cumin, cayenne, and coriander. Sealing the deal? The fact that you can prep everything a day or two ahead of time, making it easy to throw the whole thing together on whatever timeline you fancy. This quirky combination of ingredients is one of the reasons I still love cooking and finding inspiration from other cooks - their cookbooks, websites, articles.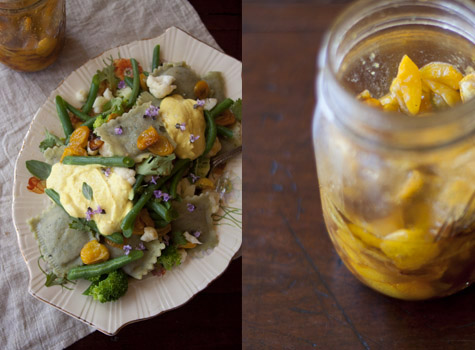 In this case I have Peter Berley to thank. I pulled his book from the shelf and tweaked one of the pasta salads ever so slightly. In this version you toss stuffed pasta and a medley of in-season vegetables with the (previously mentioned) spiced sesame yogurt sauce. It's oh so perfect for summer. One of those all-in-one meals that work beautifully with all the brightly colored vegetables available this time of year. Serve it at room temperature, or just slightly chilled. Too cold, and textures change, pasta hardens, and the flavors shut down.
Sesame Yogurt Pasta Salad
I used a ricotta-stuffed pasta here, but you can substitute if you like. Just try to stick with a pasta that will go along with the spices in the sauce. You can make the sauce a day or two ahead of time. You can cook the vegetables and pasta head of time as well. Just keep the pasta separate and toss with a bit of oil before storing in the refrigerator. Combine all the components just before serving. You can use raw tomatoes here, although I prefer roasted - like the ones in the back of Super Natural Every Day.
Sauce:
2 tablespoons extra virgin olive oil
1 medium garlic clove, minced
1/2 teaspoon ground cumin
1/2 teaspoon ground coriander
1/4 teaspoon cayenne pepper
1/2 teaspoon turmeric
1/2 cup / 120 ml warm water
1/2 cup / 120 ml tahini (sesame paste)
1/2 cup / 120 ml plain or Greek yogurt
3 tablespoons fresh lemon juice
fine grain sea salt

Salad:
a big handful of broccoli florets
a big handful of cauliflower florets
a big handful of green beans, cut into 1 1/2-inch segments
1/2 pound / 8 oz / 225 g stuffed pasta (ravioli, etc)
a big handful/scoop of cherry tomatoes, raw or roasted
a small handful torn basil and/or cilantro

Get a big pot of water started - you are going to want to bring it to a boil.

While the water is heating, make the sauce. Heat the oil in a small saucepan over medium heat. Add the garlic, cumin, coriander, cayenne, and turmeric. Stir well, and saute for just 15-30 seconds, or until the spices are toasted and fragrant. Transfer this mixture to a medium mixing bowl and stir in the water, tahini, yogurt, lemon juice, and 1/4 teaspoon of salt. Taste and adjust to your liking - you most likely will need a bit more salt. Set aside.

Salt the pot of water generously, and boil the broccoli, cauliflower, and green beans. Boil just 30 seconds, and quickly fish out with a slotted spoon. Run the vegetables under cold water to stop cooking. Drain well and set aside in a large mixing bowl.

Return the water to a boil and add the pasta. Cook until al dente, then drain and run under cold water. Really try to shake off any extra water, then add to the vegetables. Add the tomatoes, and toss gently. You can toss with half of the sauce at this point, or serve the salad with dollops of the sauce on top - to be tossed at the table. It's prettier this way. Sprinkle with the basil/cilantro (and basil flowers if you have them) and serve. Serve the extra sauce on the side - any leftover makes a good dip later in the week.

Adapted from the Pasta Salad with Tangy Sesame-Yogurt Sauce in Peter Berley's The Modern Vegetarian Kitchen.

Prep time: 10 minutes - Cook time: 10 minutes