Spring Panzanella Recipe
A spring twist on a panzanella recipe. This panzanella features asparagus, spinach, and peas with hearty, garlic and time toasted bread cubes.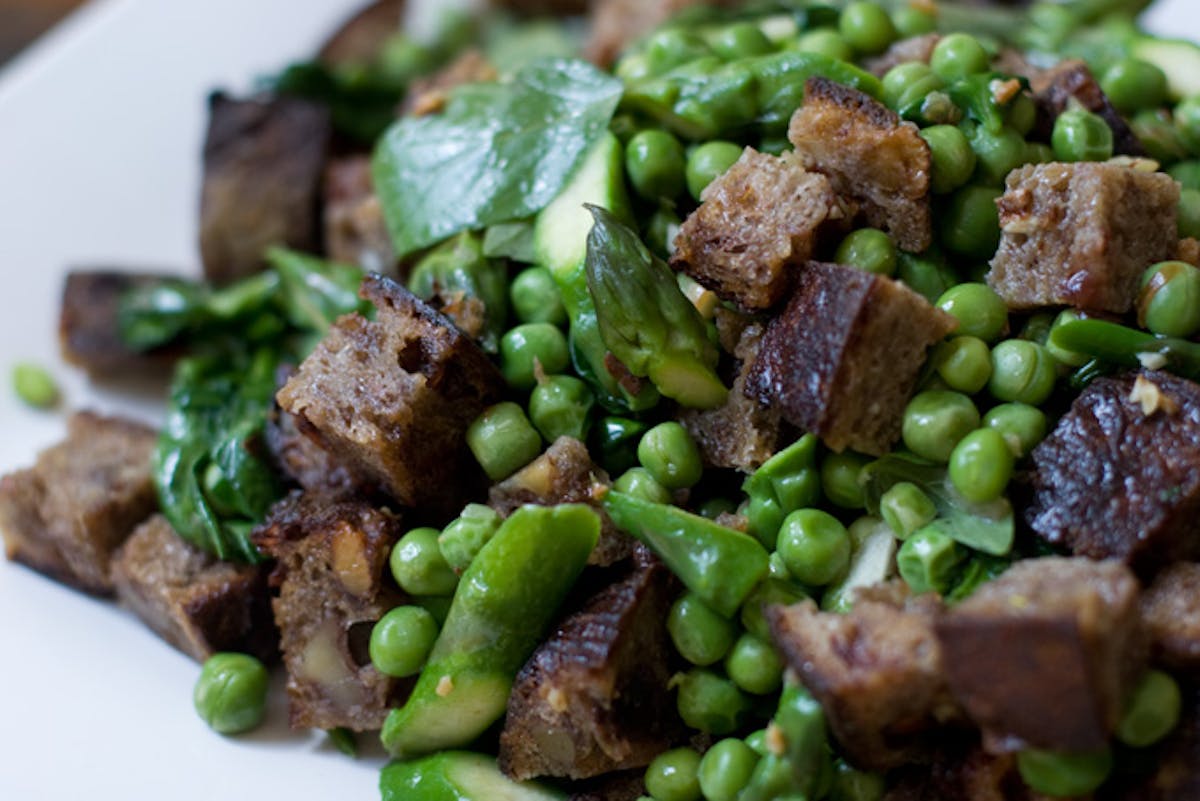 I wasn't going to run this Spring Panzanella recipe. It sounded like some of you were suffering from pea and asparagus fatigue, so I planned on saving it for next year, or just keeping it to myself. But after seeing mountains of peas at the Union Square Farmer's Market in New York City on Saturday morning I changed my mind. Here it is, one last pea and asparagus recipe, before it's too late and we run headlong into summer. I used herbs from my container garden (more about that ongoing saga later), and fresh peas, asparagus, and greens from the farmers' market. The thing that makes this recipe great is that you don't need to make up a separate dressing, flavorful pan juices from cooking the greens do the job nicely without any extra effort.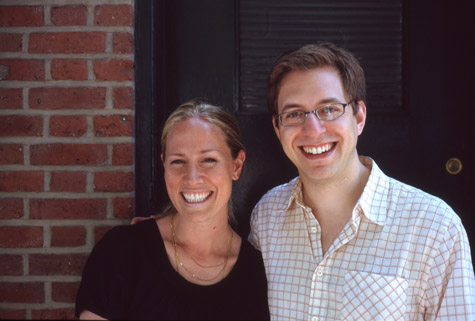 For those of you interested in my NYC trip, the Greenmarket was just one of the great things I encountered on this trip - it's actually hard for me to believe what we were able to cram into such a short stay. Here's a list of highlights from my 72 hours in NYC; Union Square Greenmarket, cortado at Joe The Art of Coffee, Gibraltar at Gimme! Coffee, lunch with Grace, drinks with Harris, Dashwood Books (photography books), Gobo, two of my favorite paintings, Bonnie Slotnick Cookbooks, Birdbath, Soho Grand Hotel, baked eggs & brunch with Adam at August, Caravan of Dreams, Babycakes NYC, Magnolia Bakery, Le Pain Quotidien, Paul Smith store in Soho, A.P.C., Cafe 2 at the MoMA, Dean & Deluca, Ten Speed Press reception, James Beard Foundation Awards at Lincoln Center, breakfast with Lily, and a couple other rendez-vous I'll keep quiet for now ;)....
...all in 90+ degree heat, and most of it on foot. Needless to say, Wayne is a good sport.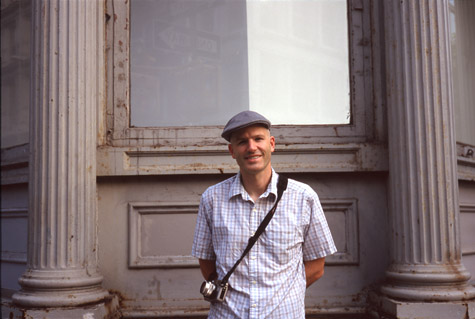 A photograph of Wayne in Soho near our hotel taken by me
So, we had a great time at the (blindingly) star-studded James Beard Awards and the Gala Reception that followed - both took place at Lincoln Center's Avery Fisher Hall. It's funny, I suspect the memory that will stay with me longest was not part of the official plan. Following the awards ceremony (and as if to remind everyone to keep things in perspective), the sky opened up into a remarkable lightning display. To stand on the balcony of Avery Fisher Hall, sheltered from raindrops the size of elephant tears, thunder booming, sweltering heat, staring up at the twinkling buildings of New York city was something I will hold onto for a long time.
The photo of me with Adam up above was taken by Wayne in front of August.

Spring Panzanella Recipe
The bread I used also had walnuts and dried cranberries in it, but I think I'd prefer a seeded whole wheat version. Use whatever you like.
1 lb loaf of hearty, day-old, whole wheat bread into 1-inch cubes
4 cloves garlic, chopped
1 shallot, chopped
1 tablespoon fresh thyme - just pluck leaves from the sprig
a couple pinches of salt
1/4 cup extra-virgin olive oil
1 bunch asparagus, cut into segments
2 cups peas, fresh or frozen
4 handfuls spinach
1/4 cup small basil leaves
In a large bowl toss the bread with the garlic, shallot, thyme, salt and olive oil. Turn the bread out onto a baking sheet and toast in a 350 degree oven for about 15 minutes - or until they are nice and golden and crunchy.
In a cold skillet pour in a splash of olive oil, a splash of water, and a couple pinches of salt. Dial up the heat and when the water starts to bubble stir in the asparagus. Cover, wait about twenty seconds, now add the peas. Cover, wait a few seconds, now add the spinach. Cover and cook just a few more seconds until the spinach starts to collapse just a bit.
Put the bread crumbs in a large bowl. Now pour the asparagus and peas and all the pan juices over the top of the bread.
Give it a good toss, add the basil leaves and toss again. Serve the salad family-style on a big platter.
Makes about 6 - 8 servings.