Tortilla Salad Recipe
A tortilla salad made from all sorts of good stuff - heirloom beans, avocado, watermelon radish, and cauliflower. Electric colors, punchy dressing, fresh and filling.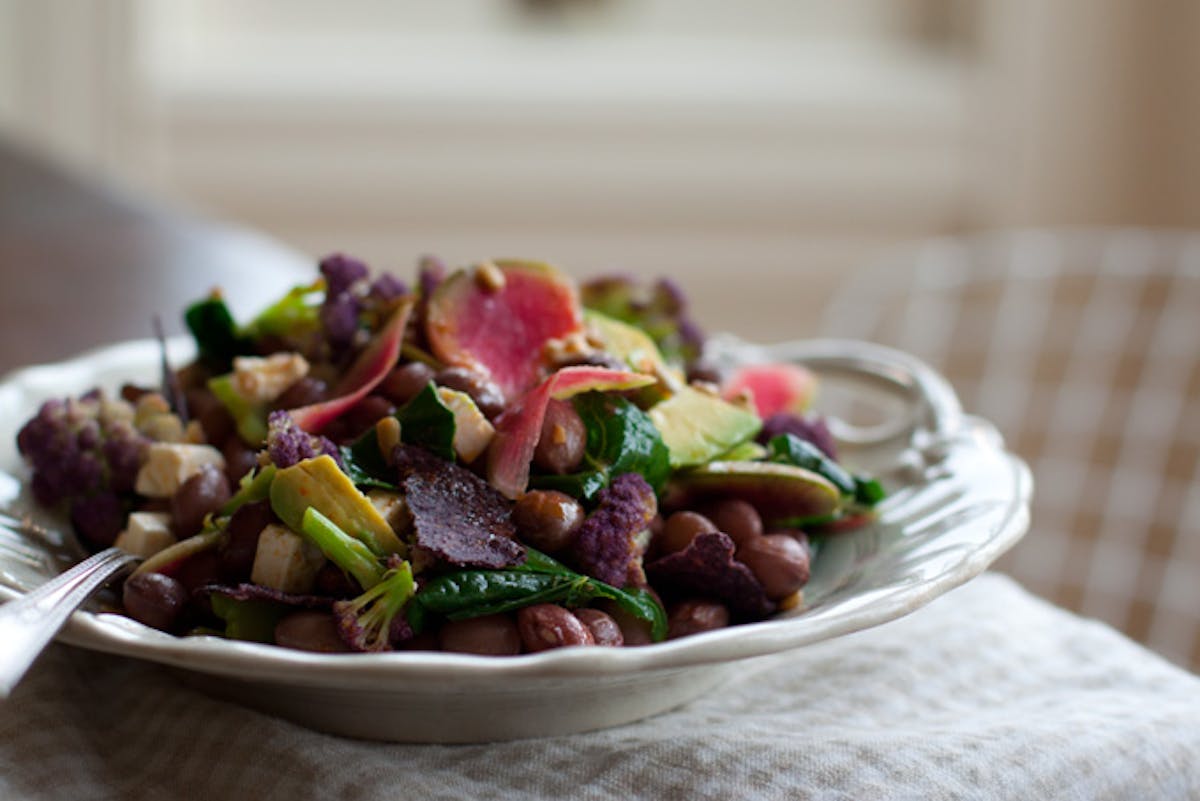 Hi all - I'm having this recipe jump the line because I'm that eager to share it with you. I made it just before leaving for this place, which means I'm now scrambling to get it onto the server when I really should be packing. What's all the fuss? This was one of those times when a simple lunch idea blossomed into something unexpected and wonderful - electric colors, punchy dressing, everything super fresh and filling. The idea here was to build a salad around some beautiful dried cranberry beans I found at the market. They ranged in color - some were a deep pink, others rosy brown, many took after their namesake with deep cranberry red skins. Some were bean-shaped, others more like Niçoise olives - full and round, yet small. I knew I wanted to play off the pink. But beyond that, I just kept reaching for things I needed to use up. Blue corn chips, some leftover dressing, a ripe avocado on the counter - the loose notion of a tortilla salad starts to take shape. The details...
Let's start with the dressing. For those of you who missed this post, I should note that the dressing du jour around here is that paprika-spiked stunner. Assertive, rustic, herb-kissed - it is perfect with beans. Done. I had a watermelon radish on hand - fuchsia fleshed and spicy, it was another welcome addition. Thin slices of the avocado brought a bit of luxe creaminess, and sunflower seeds and tortilla chips delivered crunch and structure. I actually hesitated before adding the chips. The salad was certainly fine without them, but there was something about the chips that really worked. I mean, they're tortilla chips. Why not? I threw in a bit of barely cooked cauliflower (chopped leaves, stems, all of it), and feta. I think it goes without saying - you can experiment and swap in other seasonal vegetables, types of cheese (goat might be nice), etc.
I made a little treat for my flight & hope to share that recipe and some pics when I get back. -h
Tortilla Salad Recipe
HS: While I used heirloom cranberry beans here, you can substitute another sort of bean if you like. It's better if you've cooked them from scratch. And do your best to avoid overcooking them.
3 cups / ~1 lb / 16 oz cooked beans, room temperature or warm
1/3 cup / 1.5 ounces / 45 g toasted sunflower seeds (or pepitas)
1/4 cup / 60ml this dressing (or other favorite vinaigrette), or to taste

2 cups / big handfuls of chopped cauliflower (stems, leaves, florets), boiled in a bit of salted water for just 20 seconds, then drained under cold water

2-3 big handfuls of tortilla chips
1/4 cup / 1.5 oz / 45 g crumbled feta
1 small (watermelon) radish, sliced paper thin
1/2 avocado, sliced
Combine the beans, sunflower seeds, most of the dressing, and cauliflower in a large bowl. Toss well. Add the chips, feta, and radish. Toss gently. Taste, add more dressing if needed, and the avocado. Toss once or twice and enjoy.
Serves 4.