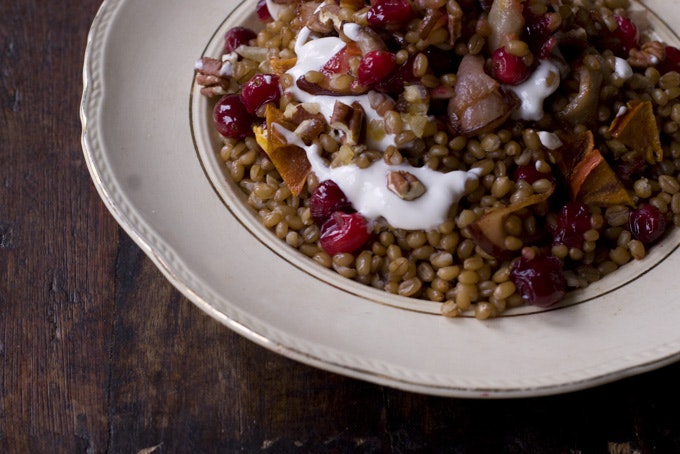 Wheat Berry Breakfast Bowl Recipe
This is better than milk and dry cereal, I promise. Thin slices of sautéed pears, ruby-hued cranberries, and plump, golden wheat berries are sweetened with generous dollops of maple-sweetened yogurt and finished with plenty of toasted pecans and a sprinkling of dried persimmons, ginger, and dates. You get just enough crunch from the pecans to play off the chewiness of the wheat berries, and just enough sweetness from the maple yogurt to play off the tart edge of the cranberries. While I've been enjoying individual-sized portions of this in my breakfast bowl, I imagine it would be quite stunning served on a platter family-style at the next brunch I attend.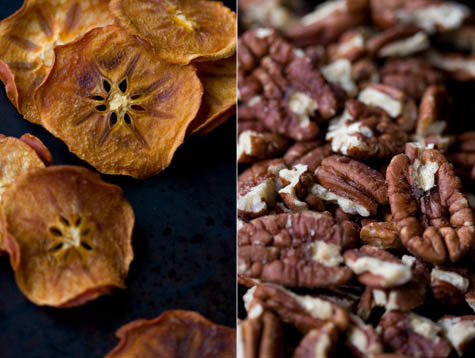 You can prep a good portion of this recipe a day or two before, if needed. Pre-cook the wheat berries, toast the pecans, make the maple yogurt and chop the dried fruit. That leaves just two things prior to serving - heating the wheat berries, and cooking the pears and cranberries. Also, for a slightly more decadent version do a maple-sweetened mascarpone in place of the yogurt. You can also experiment with other fruit depending on the season. I'm imagining that a cherry or berry version of this would be delicious. And play around with different nuts (or combination of nuts)...
Wheat Berry Breakfast Bowl
I used red anjou pears here, but any firm, flavorful pear will do. Also, this recipe calls for wheat berries but don't get discouraged if you can't find them (check the bin section at Whole Foods Market or natural foods stores) - any plump, whole grain will do - farro, barley, oat groats, etc.
1 cup Greek yogurt
1/4 cup maple syrup

scan tablespoon of extra-virgin olive oil
scant tablespoon of butter
2 firm pears, cored and chopped into 1/4-inch THIN bite-sized slices
1/2 cup fresh cranberries
3 cups cooked wheat berries* (see head notes for alternatives)
1/2 cup toasted pecans
1/2 cup assorted dried fruits, chopped (I used equal portions of dried persimmons, dates, and crystallized ginger)
Whisk the yogurt and maple syrup together and set aside.
In a large skillet over medium-hight heat, sauté the pear slices in the olive oil and butter for about five minute, or until they get a bit golden. Keep an eye on them though, because they can burn in a flash. Toward the very end, stir in the cranberries and cook for another minute or so - just until the cranberries soften up a bit and a few of them begin to split open. Add the wheat berries to the skillet and toss gently.
Turn out onto a platter, or serve in individual bowls ladled with a generous amount of the maple yogurt, and sprinkled with plenty of pecans and dried fruit. For those of you who prefer a bit more sweetness, serve with more maple syrup on the side.
Serves 4-6.
*To cook wheat berries: Combine 2 cups wheat berries, 6 cups water, and 2 teaspoons salt in a large saucepan over medium-high heat. Bring to a boil, lower the heat, and simmer, covered, until plump and chewy (and a few of the berries split open), about an hour or so. The berries will stay al dente, and the only way to be sure they're done is to taste a few. Drain and set aside.