Winter Vegetable & Tofu Korma Recipe
A thick, cumin and coriander-spiced root vegetable stew. It's a free-wheeling one-pot dinner that attempts to use up whatever winter vegetables I have lingering about.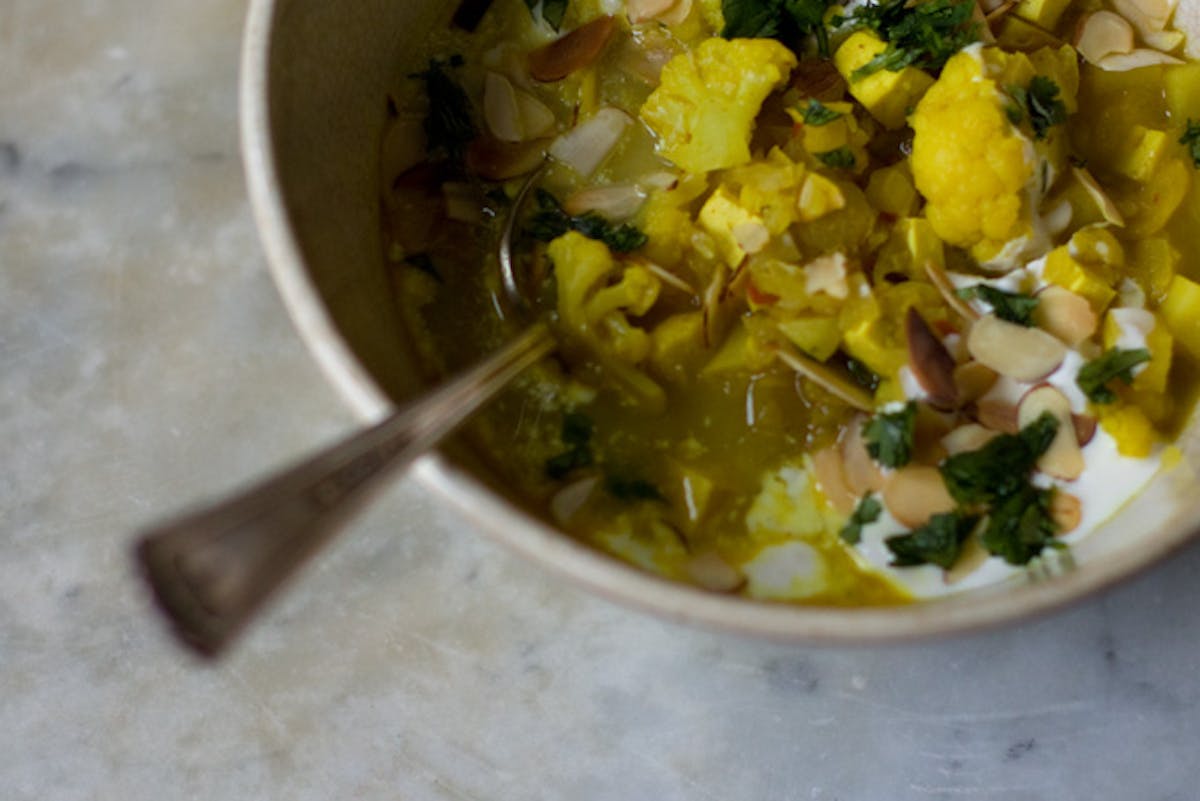 Lately I've been making a thick, cumin and coriander-spiced root vegetable stew. It's a free-wheeling one-pot dinner that attempts to use up whatever winter vegetables I have lingering about, and provides leftovers for a day or two to come. I'm not entirely sure what to call it. A curry? A korma? Either way, I took some to my sister's recently, and she asked for the recipe. Heather, here you go :). We can make it the next time I come over if you want. xo. There's quite a bit of chopping involved, but a big pot of goodness is the reward.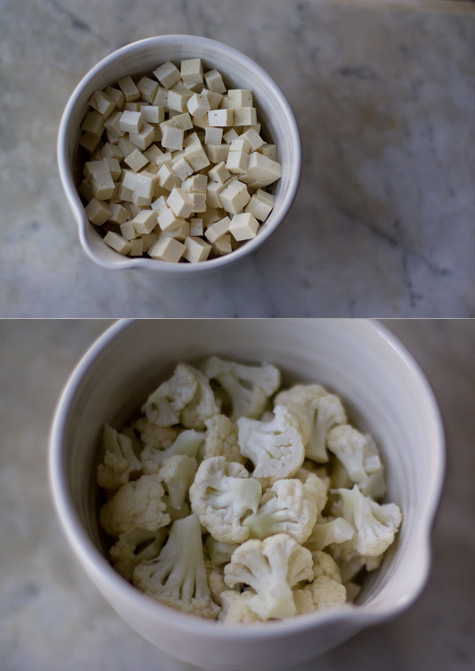 In the version I made for her, I used potatoes, cauliflower, and then a bit of tofu for protein and substance - but other times I trade in carrots, or parsnips, or shredded cabbage. I use a yogurt/cream blend here, which is inspired by Indian kormas, but there is no reason you couldn't substitute coconut milk for that lux-y creamy component.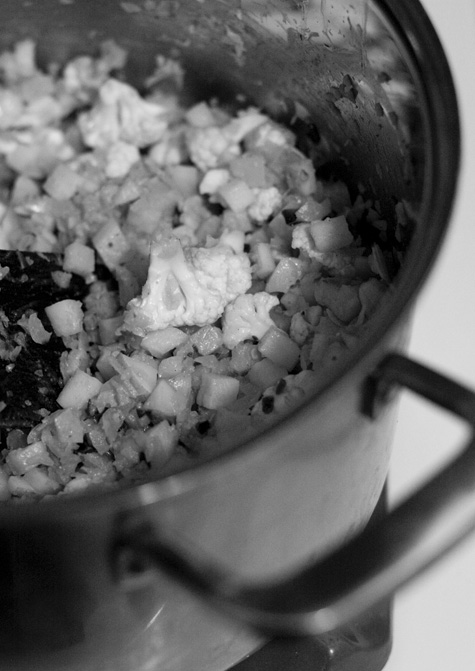 You can eat this as-is. Or serve it over brown rice, or with a side of naan or flatbread. I admit, I've even had leftovers for lunch atop a scoop of farro. One other thing I've noticed is how good the sauce is in its own right - without the chunky vegetables and tofu. I can imagine it working nicely with dumplings, drizzled across a crunchy-topped frittata, tossed with egg noodles....
You can prep a lot of this ahead of time to make it a more week-night friendly. For example, go ahead and measure out the spices ahead of time, and keep them in an air-tight container. And go ahead and chop the onions, ginger, cauliflower, and tofu a day or two in advance if you like. But if you cut the potatoes early, keep them covered in a bowl of water to keep them from browning - you can cut those a day or so in advance as well.
Winter Vegetable & Tofu Korma
HS: One shortcut, you can use a food processor to chop the onions. And like i mention up above, while I used potatoes and cauliflower here, you can add or swap other seasonal vegetables. For example: chopped or sliced green beans, parsnips, broccoli, zucchini, etc. You can also certainly play around with different spice blends or tweak the ratio of spices to your liking. This one isn't particularly hot-spicy.
1/4 teaspoon ground cardamom
1 1/2 teaspoons turmeric
1 1/2 teaspoons crushed red pepper flakes
1 1/2 teaspoons ground cumin
1 3/4 teaspoons ground coriander
1/4 teaspoon cinnamon

2 tablespoons clarified butter, ghee, or sunflower oil

2 medium yellow onions, very finely chopped
1 tablespoon freshly grated ginger, peeled first
4 medium cloves garlic, peeled and chopped

1 1/2 pounds waxy potatoes, cut into 1/4-inch cubes
12 ounces / 340 g cauliflower, cut into tiny trees
2/3 cup / 65g sliced almonds, toasted
3/4 teaspoon fine sea salt, plus more to taste
12 ounces / 340 g firm tofu, cut into 1/4-inch cubes or matchsticks

1/2 cup / 4.5 oz / 130 g greek yogurt
1/2 cup / 120 ml heavy cream
a small bunch of fresh cilantro, chopped
Combine the cardamom, turmeric, red pepper flakes, cumin, coriander, and cinnamon in a small bowl and set aside.
Heat the butter/oil in a large, thick-bottomed soup pot over medium-high heat. Stir in the onions. Cook until they soften a bit, just a minute or two. Then add the ginger and then garlic. Stir in the spices and continue cooking for a couple minutes, or until the spices are very fragrant. Stir in the potatoes, cauliflower, and half the almonds. Add 3/4 teaspoon salt.
Now stir in 3 cups of water. Stir gently, cover with a lid leaving a tiny crack and simmer for 15-20 minutes, the potatoes should be just about cooked by then. Taste, and add more salt if needed. Stir in the tofu after about 15 minutes so it has time to heat through.
In the meantime, combine the yogurt and cream in a bowl with a couple pinches of salt.
Once the vegetables are cooked through, dial down the heat to low. Now, you can add the yogurt mixture all at once and bring the pot back just to the brink of a simmer. Or do what I do, serve the yogurt on the side, so people can make their bowl as rich as they like. Either way, taste, make sure to taste the broth, and add more salt if needed. If you haven't added the yogurt to the big pot, serve each bowl with a generous dollop of the yogurt cream, and top with the remaining nuts and chopped cilantro.
Serves 6+
Prep time: 40 minutes - Cook time: 20 minutes