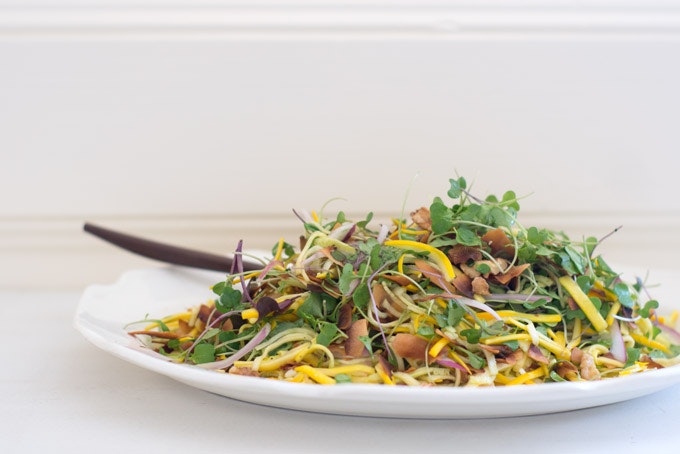 Zucchini Agrodolce Recipe
I suspect we've talked about this before. I fight a losing battle to keep my kitchen under control. Looking at the counter tops this morning I see - Corsican honey, clary sage-blackberry honey, also olive blossom honey. There are voatsiperifery peppercorns I picked up in Paris months ago, preserved kumquats from the Saturday farmers' market here in San Francisco, dried candy cap mushrooms, dried celery blossoms in a small bowl, camu and wheat grass powders, midnight beans, and a lavender thyme za'atar blend I made over the weekend with dried rose petals and black sesame. The sprawl extends to the refrigerator, cupboards above, and kitchen island behind me. But there is a limit, and every couple of months, I put the brakes on, refrain from bringing anything else into the kitchen, clean up, re-organize, and do my best to use what I have on hand. Enter today's recipe, a pretty, summer-centric zucchini agrodolce. The premise is simple - shredded zucchini doused with a garlic infused agrodolce splash of vinegar, honey, and olive oil. Add to that a good number of other tastes and textures pulled from the cupboards and pantry - toasted coconut and walnuts bring crunch, red onion for bite and assertiveness, a couple of chopped dates, and tiny greens (you could do herbs) threaded about.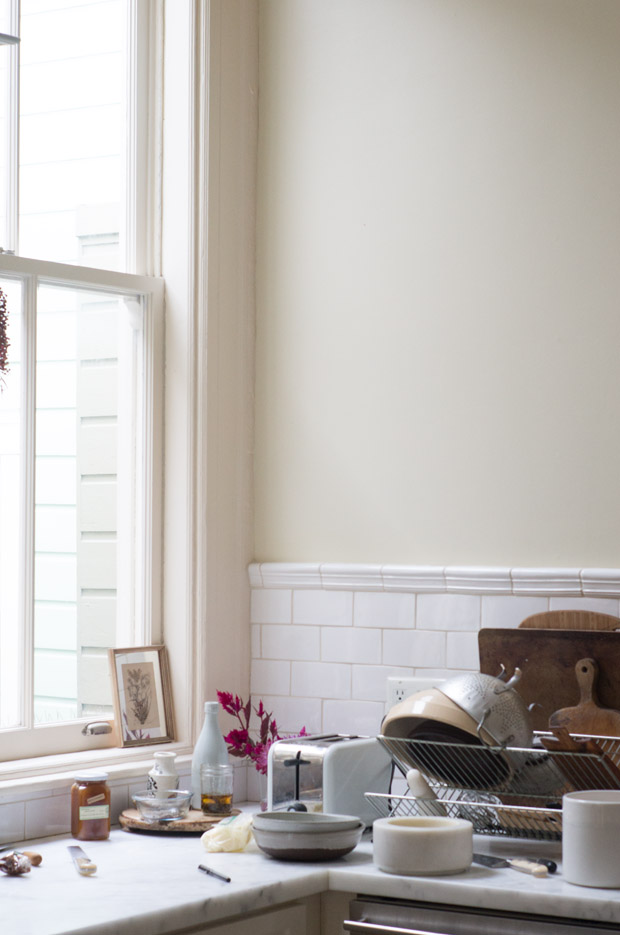 Above: A corner of the kitchen this morning at 7 a.m.
Above: Four types of nuts & seeds, four types of tea, five kinds of peppercorn in a bowl.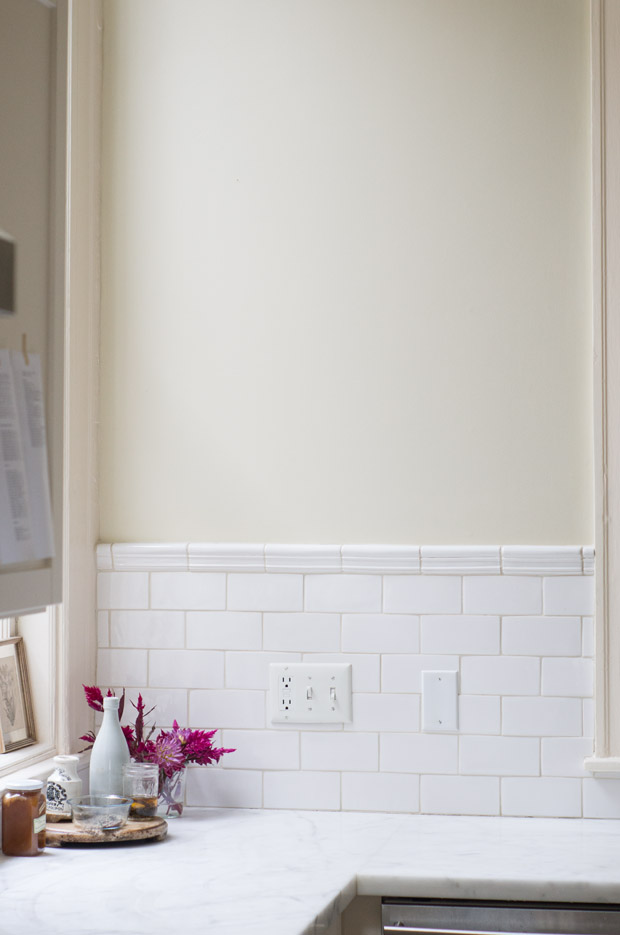 Above: 7:45, same morning, after some tidying.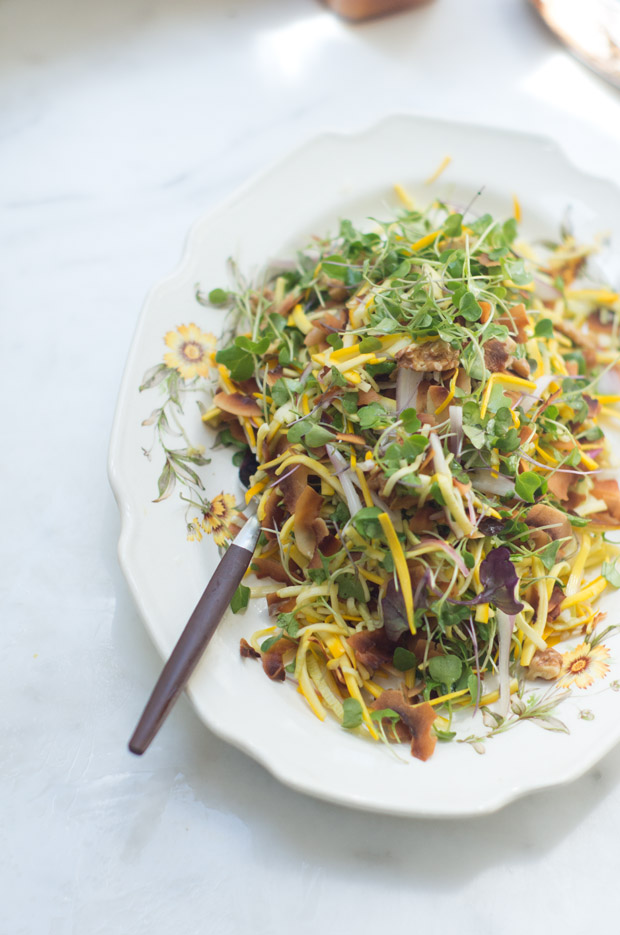 I used yellow summer squash here. You can use regular green zucchini or a mix. This would be fantastic made with blanched (and well dried) cauliflower in place of the summer squash later in the year - or even now! Enjoy, -h
Zucchini Agrodolce
Julienning summer squash can be a bit time intensive, you can certainly do a version of this with very thin coin-shaped slices instead. I used a mandolin to make quick work of it all.
3 tablespoons white wine vinegar
2 tablespoons runny honey
2 small garlic cloves, minced
1/4 teaspoon fine grain sea salt, plus more to taste
3 tablespoons extra-virgin olive oil

1 small red onion, finely sliced, soaked in ice water
1 pound zucchini, julienned

1 cup / 4 ounces toasted walnuts, roughly chopped
2/3 cup / 1 ounce toasted coconut flakes
3 dates, pitted and chopped
to serve: micro greens or chopped herbs
Combine the vinegar, honey, garlic, and sea salt in a small saucepan over medium heat. Stir constantly until it comes together, remove from heat, and let cool for a few minutes. Whisk in the olive oil.
Drain the onions, and pat dry. In a large bowl, combine the zucchini and onion together, pour over the vinegar mixture, toss well, then taste and add more salt to taste. Set aside for a few minutes. Alternately, you can move it to the refrigerator until you're ready to serve.
Before serving, toss the zucchini mixture with the walnuts, coconut flakes, and dates, then finish with a generous sprinkling of herbs or micro greens.
Serves 6.

Prep time: 10 minutes - Cook time: 5 minutes