Easy Tomato & Pasta Salad
Pasta salad extraordinaire - tomatoes & pasta in an A+ one-bowl meal. Whole-grain pasta, baby kale, basil, and the best tomatoes you can get your hands on, with a generous drizzle of strong harissa dressing.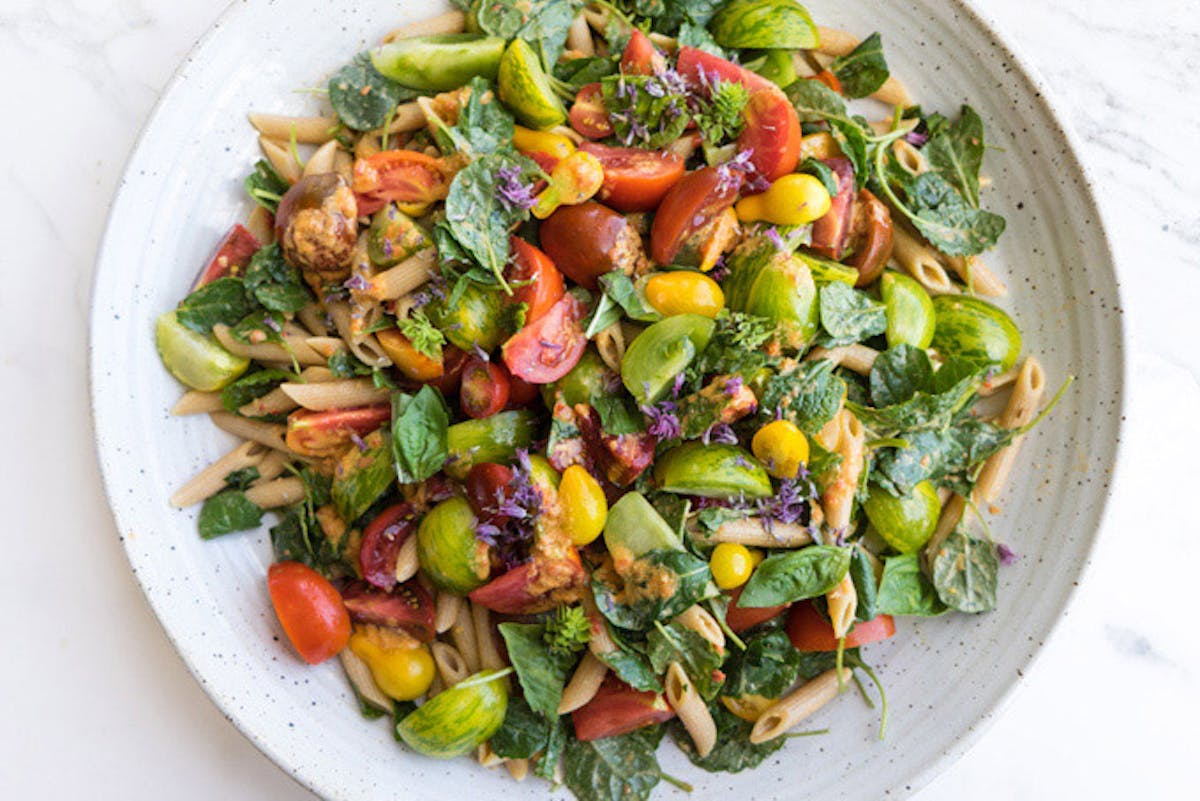 Tomato season is officially on from where I stand. Using a mother lode of assorted cherry, zebra, and heirloom tomatoes, I made this quick, summer-tastic pasta salad for a picnic the other day. Whole-grain pasta, baby kale, basil, and the best tomatoes you can get your hands on get a generous drizzle of strong harissa dressing (garlic, harissa, nutritional yeast, etc.). This is exactly what you want to be making during peak tomato season, and you can whip up the dressing and slice the tomatoes as your pasta cooks.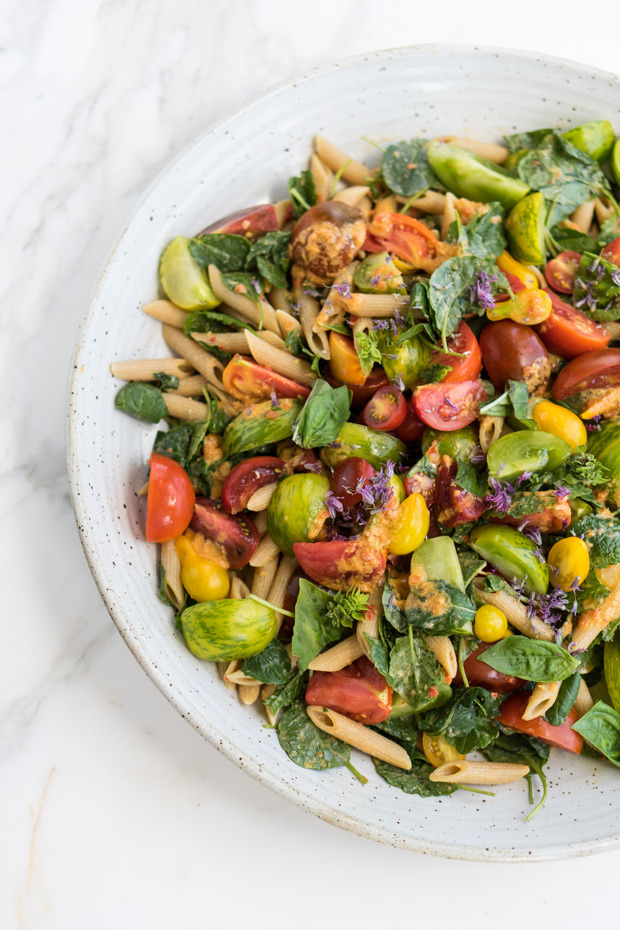 Beyond that, everything comes together in a flash, and good pasta salad is always a crowd pleaser. I've added some alternate suggestions below as well, building on the general concept. Enjoy!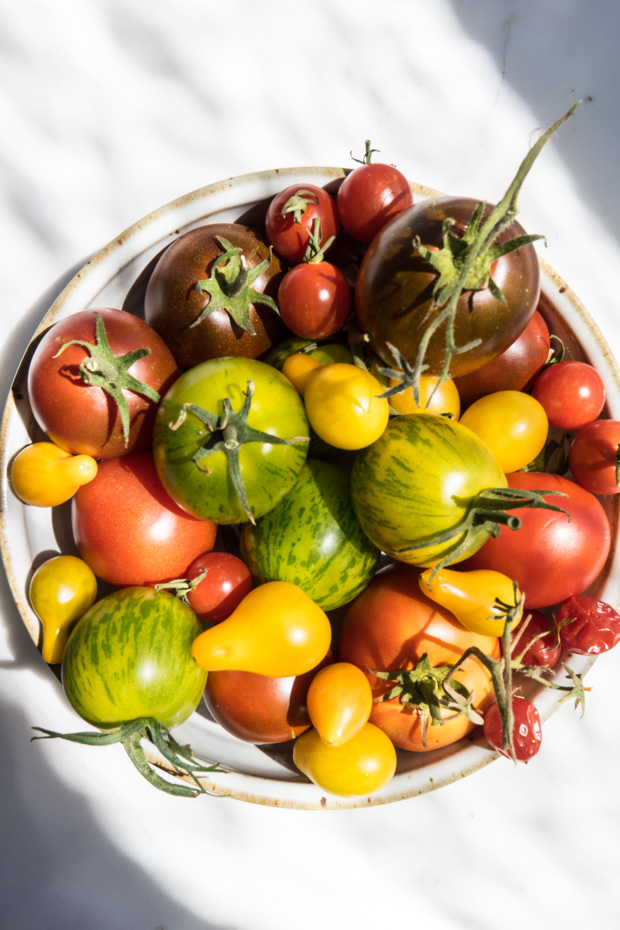 Variations & Add-ins
I've suggested some additional toppings in the recipe below:
Lentils: I was disappointed that I didn't have any black lentils cooked and on-hand, because I would have added those for the added substance and nutrition boost. If you have some, add them!
Olives: Olives were a great addition, and I enjoyed pasta salad leftovers with a bit of slivered makrut lime leaves tossed in (so good!).
Almonds: Whole toasted almonds - yes for the crunch, and everything else that makes almonds delicious.
Flowers: Added a bit of pretty with some dried herb flowers.

You don't really need any of these, the whole thing is good without (especially if your tomatoes are on point), I guess what I'm encouraging is a bit of latitude when it comes to add-ins and flare. You could even make a nice, clear, garlic broth, and pour it over a bowl of leftovers for a beautiful soup.
More Pasta Salad Recipes
Easy Tomato & Pasta Salad
This is the quintessential summer salad. It travels beautifully, and is perfect for any family-style get-together. Use a mix of the best tomatoes you can get your hands on. I love a mix of heirlooms, green zebras, and multi-colored cherry tomatoes cut into bite-sized bursts of summer. Bonus - you can make the dressing a day or two ahead of time. To make this gluten-free, use a gluten-free pasta
Ingredients
1/4

pound

kale, loosely chopped or baby kale

8

ounces

dried whole-grain short pasta

1

teaspoon

whole caraway seeds

3

garlic cloves

1/4

teaspoon

fine grain sea salt

2

tablespoons

harissa paste

1/3

cup

fresh lemon juice

1/3

cup

water or almond milk

3

tablespoons

nutritional yeast

1

tablespoon

tahini (optional)

2

pounds

of tomatoes, halved or quartered

lots of fresh basil, torn or thinly sliced

to serve, any or all of the following: herb flowers, thinly sliced makrut lime leaves, torn olives, chopped toasted almonds, cooked black or French lentils
Instructions
Arrange the kale in a large serving bowl. Cook the pasta in salted water per the package instructions, drain, and shake off any additional water.
Make the Dressing
Make the dressing by toasting the caraway in a dry skillet just until fragrant - a minute or two, tossing regularly. Transfer to a mortar and pestle, and crush the seeds. Add the garlic, and the salt, and crush into a paste. Work in the harissa, followed by the lemon juice, and then the water, eventually the nutritional yeast, and tahini (if using). Taste and add more salt if needed (I sometimes add a bit of sweetness at this step too if the lemon is too assertive).
Toss and Assemble the Pasta Salad
Just before serving pour 1/3 of the dressing over the kale and toss well. Add the pasta, another third of the dressing, and toss again. Arrange the tomatoes, and basil on top of the kale-pasta, and give the gentlest toss, being extra nice to the tomatoes. Drizzle with the remaining dressing, and top with any of the suggestion extra toppings. Enjoy!
Related Recipes
More Recipes
Popular Ingredients