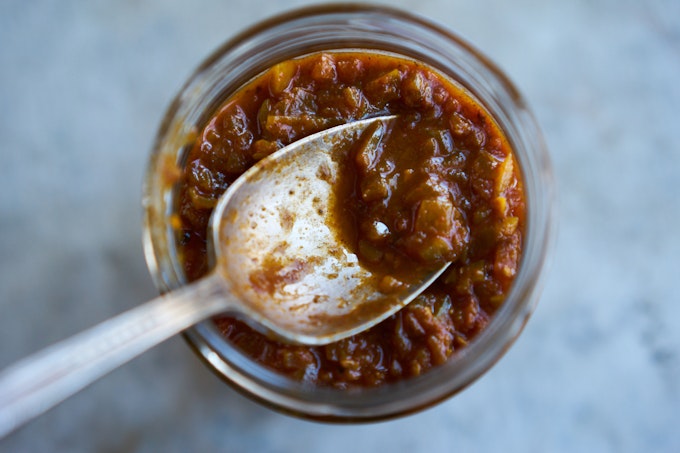 Instant Pot Indian-spiced Simmer Sauce
I'm slipping this incredibly fragrant and feisty Indian-spiced simmer sauce in here this morning in preparation for a recipe I'm going to post tomorrow (a Chickpea Cauliflower Korma). This tomato-based, ginger-slammed, garam masala-boosted simmer sauce is a riff on Coco Morante's version in The Essential Instant Pot Cookbook, and I suspect it will become a staple sauce for many of you. The recipe makes about six cups of sauce - perfect for using some, refrigerating some, freezing some. And no worries if you don't have an Instant Pot, I suspect a stovetop, or even a slow cooker version of it would be equally wonderful.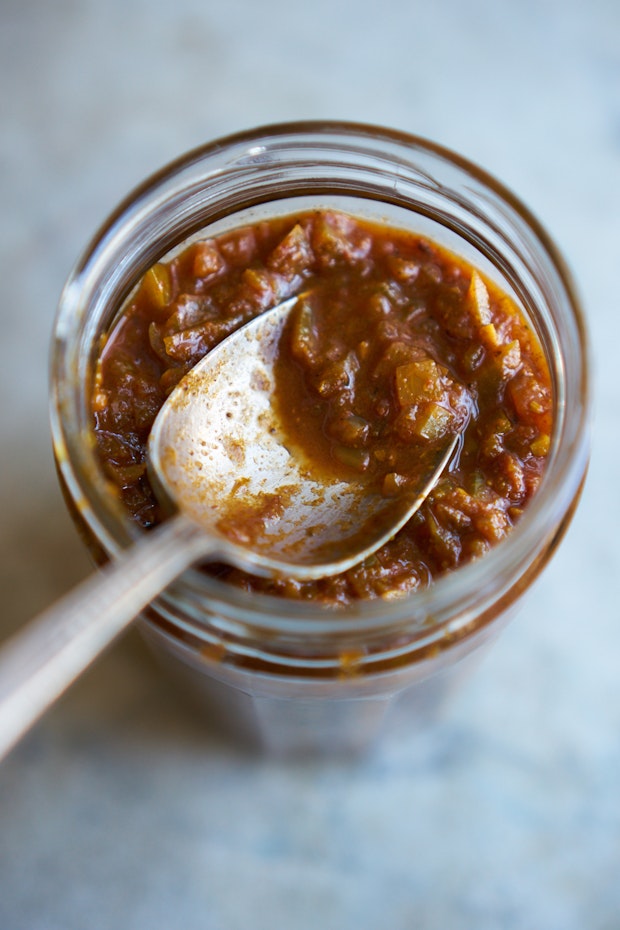 I use this simmer sauce as the base of the korma, but I've also used it this week on a cauliflower pizza crust, along with a sprinkling of chickpeas, and a bit of paneer for Indian-spiced pizzas (quick lunch), and I'm going to use it on a garlicky, whole wheat crust tonight for dinner. It's nice as a sandwich spread, a dipping sauce for broiled broccoli, or for chana masala. Generally speaking, it's just flat out delicious, and you'll have no trouble thinking of clever ways to use it up. If you make some some today, I promise you won't regret having it on hand to make quick work of tomorrow's recipe. Consider it a homework assignment! ;)
I made a few tweaks to Coco's recipe. I used fire-roasted tomatoes because I thought it'd give the sauce some nice depth, and it's what I had on hand. Fantastic. Also, I slashed the pressure release time way down, opting for ten minutes of natural pressure release, because the extra 15 minutes seemed like too long for me to wait for something that smelled as good as this did! Enjoy!
Instant Pot Indian-spiced Simmer Sauce
Use it as the base of this Instant Pot Chickpea Cauliflower Korma. For a creamy version of the sauce, add a generous splash of cashew or coconut milk just before serving. I've been using fire-roasted tomatoes, no regrets. If you can handle spicy, dial the cayenne up to 1 teaspoon.
Ingredients
2

tablespoons

extra virgin olive oil

3

large onions, finely diced

3

cloves

garlic, finely chopped

1-

inch

knob fresh ginger, peeled and grated

3/4

teaspoon

fine grain sea salt, plus more to taste

1

tablespoon

ground coriander

1

tablespoon

ground cumin

3/4

teaspoon

cayenne pepper

1

teaspoon

ground turmeric

1

tablespoon

sweet paprika

1

tablespoon

garam masala

1 28-

ounce

can whole tomatoes and their liquid (fire-roasted optional)

1

cup

water
Instructions
Press the SAUTE setting on the Instant Pot and heat the oil. Add the onions, garlic, ginger, and salt, and saute until the onions have softened, and are just beginning to take on some color, about 10 minutes.

Stir in the coriander, cumin, cayenne, turmeric, paprika, and garam masala. Wait a minute, and add the tomatoes and their liquid, breaking up and crushing the tomatoes with your hands as you add them to the pot. Stir in the water.

Secure the lid, set the pressure release valve to SEALING. Press the CANCEL button, and then MANUAL for 15 minutes at high pressure. Let the pressure NATURAL RELEASE for ten minutes, then carefully QUICK RELEASE. The sauce can be used immediately, refrigerated for a few days, or frozen.
Notes
Adapted from Coco Morante's The Essential Instant Pot Cookbook. You can also find her at her popular Facebook Instant Pot Recipe group!
To make this on a conventional stovetop: combine the ingredients in the same order as above, and instead of pressure cooking, allow the sauce to simmer on low heat for as long as you can stand, at least 20-30 minutes. You can use the sauce right away, refrigerate it for up to a few days, or freeze it.
For reference, this is the Instant Pot I used for this recipe: Instant Pot DUO Plus 6 Qt 9-in-1
Related Recipes
More Recipes
Popular Ingredients