The Palak Paneer Recipe You Should Cook Tonight
Palak paneer is power food. With a spinach and tomato base, and range of spices, you're getting all sorts of nourishing goodness in each bite. And the homemade paneer!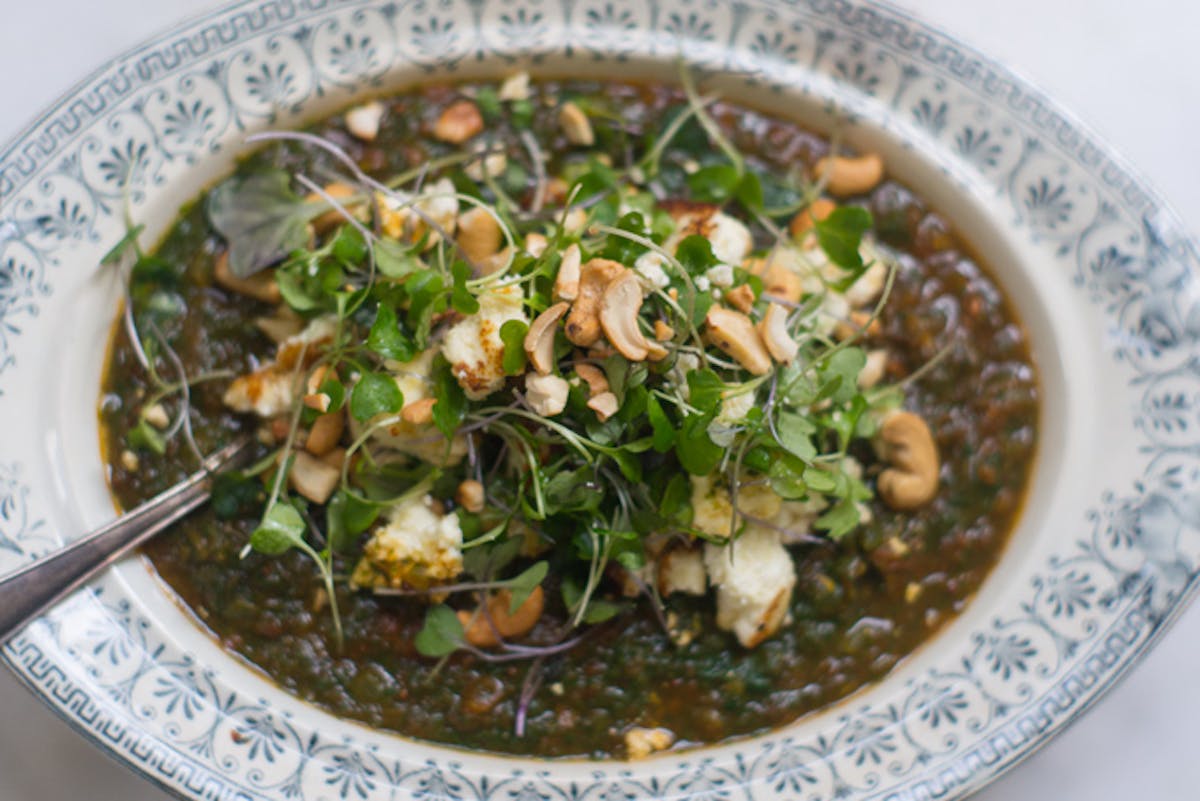 Palak paneer is power food. When translated literally it means spinach (palak) and cheese (paneer) - the two primary components. But there is a lot more to celebrate here. It's the kind of dish that when prepared with care and good ingredients, can shift perspectives. It's delicious, dynamic food to feed and power your body. The opposite of simply eating to fill up. With a spinach and tomato base, and range of spices, you're getting all sorts of nourishing goodness in each bite.
This version of palak paneer is inspired and adapted from one of my favorite new cookbooks
Studio Olafur Eliasson: The Kitchen
. I made some tweaks based on the spices I had on hand, and it's a great recipe to tackle on a weekend afternoon. It's also a recipe to consider doubling. Leftovers are great throughout the week, and fresh, homemade paneer never goes unappreciated.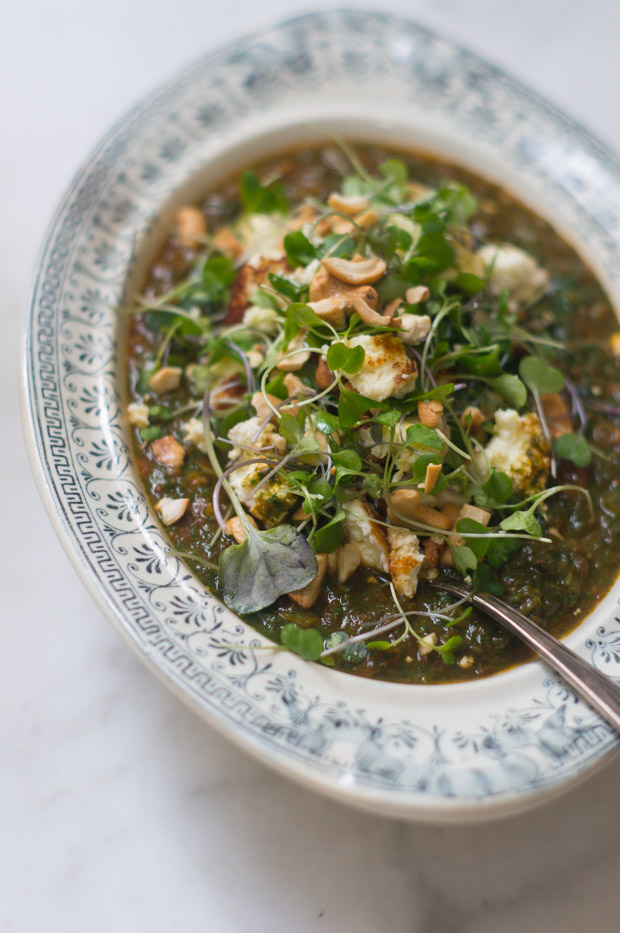 Palak Paneer is filling, nutritious, adaptable, and nourishing, and the kind of food we should all be eating more of. I've made this version a few times since picking up the book in New York. Serve the palak paneer with brown basmati rice, or the paratha from the India chapter in
Near & Far
. Enjoy!
Palak Paneer
One note - a couple of you have had trouble getting the milk to curdle when making fresh paneer. It's an issue I've never run into in the many times I've made paneer (or ricotta) over the years. I suspect it might have something to do with some dairy being ultra-pasteurized, so please avoid that if possible, and you should be fine.
Ingredients
1

quart

whole full-fat milk

3-4

tablespoons

fresh lemon juice

1

pound

spinach, rinsed

3

+ tablespoons ghee or clarified butter

2

medium yellow onions, chopped

1

tablespoon

black mustard seeds

2

medium cloves garlic, chopped

1

thumb peeled ginger, grated

scant 1 teaspoon crushed red pepper flakes

1

teaspoon

cumin seeds, crushed

1

teaspoon

coriander seeds, crushed

1

teaspoon

ground turmeric

1/2

teaspoon

fine grain salt

1 28-

ounce

can crushed tomatoes

1

tablespoons

garam masala

To serve: basmati rice or paratha bread, toasted cashews, and/or micro greens
Instructions
Pour the milk into a large pot, and place over medium heat. Bring barely to a simmer and add the lemon juice, stir well, and continue to heat. The milk should begin to curdle, and if it doesn't, add more lemon juice a splash at a time. Drain using a fine strainer, or cheese cloth, press out as much moisture as possible, and allow to cool.

Place another pot of water over high heat, and bring to a boil. Salt well and add the spinach to the boiling water, and blanch for just a flash, 15-20 seconds. Drain, run under cool water - it should be bright green. Use a blender or food processor to puree, and set aside.

In the meantime, cut the paneer into small pieces, and, in a frying pan over medium heat, fry the cheese in a generous splash of ghee or clarified butter until golden brown. Set aside.

Heat the remaining ghee in a heavy-bottomed pot, and gently sauté the onions until golden. Add the mustard seeds and cook until they pop. Dial back the heat a bit, and add the garlic, ginger, chile flakes, cumin, coriander seeds, turmeric, and salt. Fry until fragrant. Add the tomatoes and simmer for 10-20 minutes. Add the garam masala and spinach and cook for another ten minutes. Serve topped with the paneer, some cashews, and micro greens with some rice or paratha on the side.
Related Recipes
More Recipes
Popular Ingredients