A Really Good Chana Masala Recipe
There are a lot of chana masala recipes out there that are perfectly good, but this is the chana masala you should make tonight - a Technicolor version of chana masala.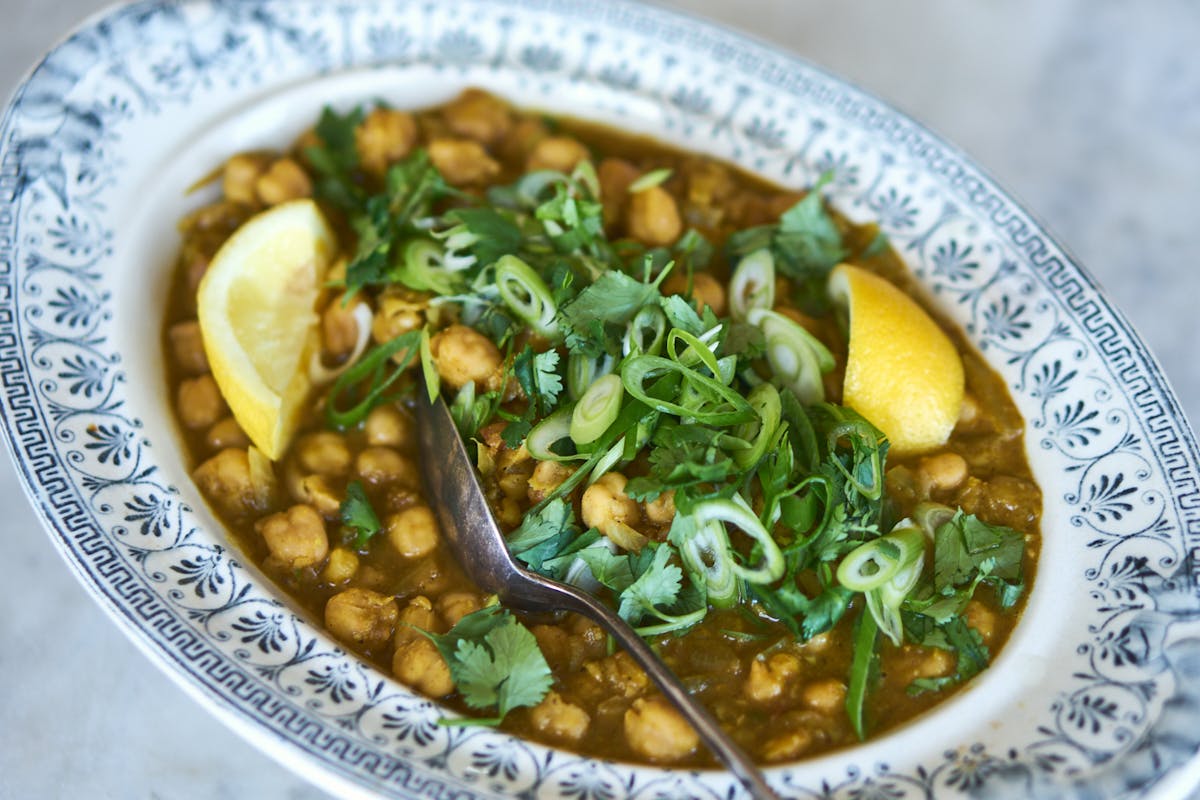 There are a lot of chana masala recipes out there that are perfectly good, but this is the chana masala you should make tonight. It's what I want when I order chana masala in a restaurant. It's what I look for when I dive into a beautiful thali plate.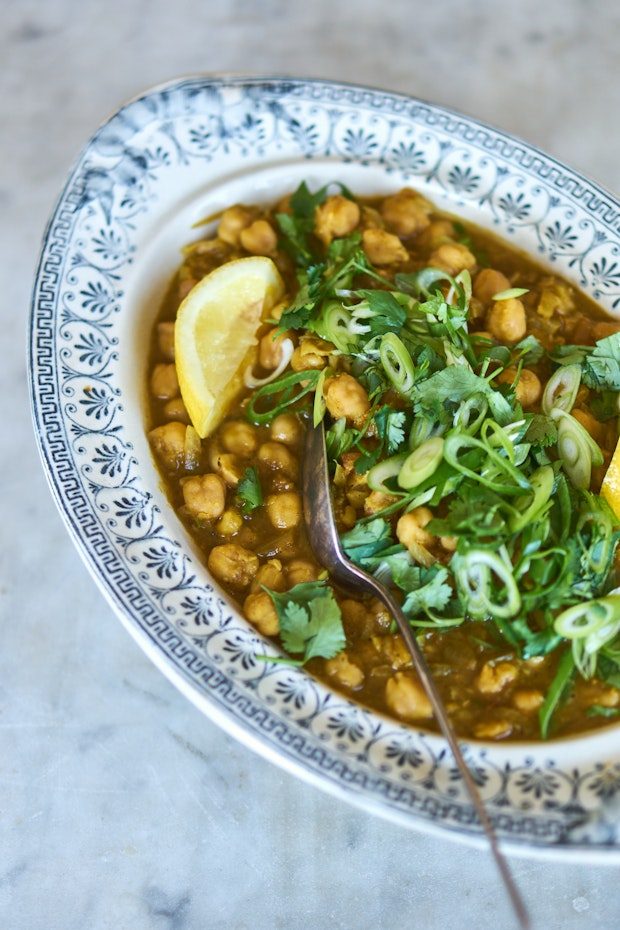 Chana masala, the wildly popular dish from the Indian subcontinent made of chickpeas (chana) simmered in a feisty, spice-forward tomato sauce. It's one of those gateway preparations that introduce people to the food of India and Pakistan, and I've enjoyed versions of it all over the world. I've had it in Bangkok, I've had it in Rome, I've had it in Jodhpur, and I've had it in Istanbul. I've formed strong opinions, and there were a number of variables I wanted to (finally) get right for a go-to version I would make regularly in my own kitchen. It has taken a while to crack the code!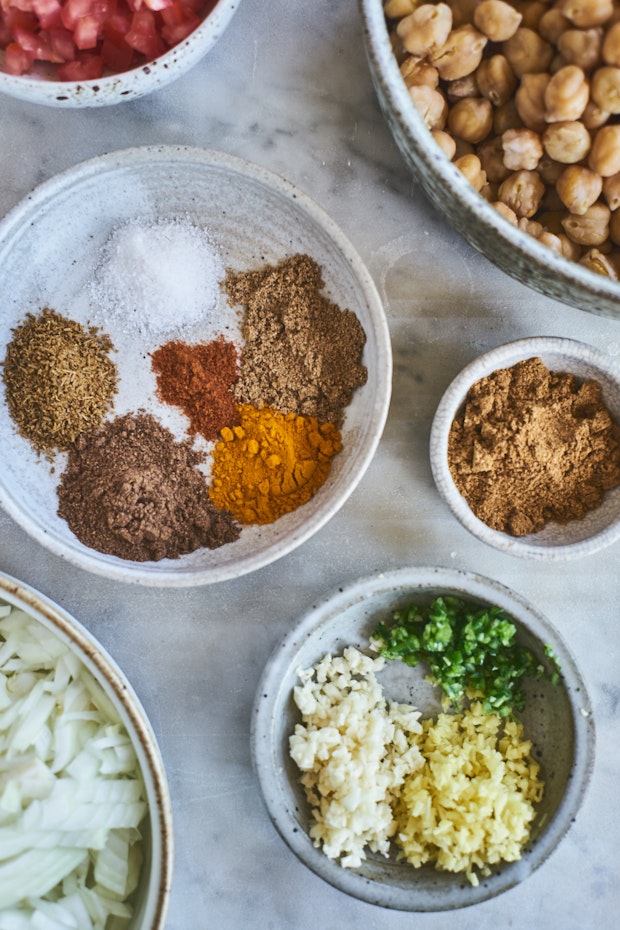 Chana Masala Goals
Chana masala varies from region to region, across borders, and from cook to cook. This is the version of chana masala I hope for and crave when I order it at a restaurant. Too often the version I get is overly oily, weakly seasoned, flat in flavor. This is not that. This is a Technicolor version of chana masala. It's spicy, racy, and balanced. There's kick from cayenne, serrano, and chana masala powder. There's a bit of sour from the tomatoes, from the mango powder and pomegranate seeds in the chana masala powder.
As I was working on this recipe there were a number of things I wanted to focus on. First, I wanted to get the flavor and texture right (of course). Texture is really important, and my favorite chana masalas often lack clear definition between the chickpeas and the sauce, in a good way. They have this third thing going on, a crumbled texture of sorts, which I learned is from broken up chickpeas. You'll see that reflected here.
There's an onion masala sauce I like in Urvashi Pitre's Indian Instant Pot Cookbook. I used that as one of my jumping off points here - scaling back the oil and salt by half, tweaking the spice and ingredients amounts more to my liking, and approaching things for the stovetop instead of a pressure cooker (or IP). Once you have a simmer sauce mixture like this prepared, you're 90% there as far as effort is concerned, and you can make it more or less spicy based on your own tastes. One other idea I had in my notes - rehydrate hibiscus flowers (jamaica), chop them, and use them as a finishing topping. I feel like chana masala really needs a balancing kick of acid (usually citrus) to counter the chickpeas and sauce, but maybe the tang of hibiscus could be welcome too. A drizzle of lemon or tangerine olive oil is also a wonderful finishing kiss.
Second, I think one of the things that intimidates people about cooking Indian, or Pakistani, or Sri Lankan food at home is the long ingredient lists (so many good-for-you spices). I've written this recipe so you'll have enough of the simmer sauce for two meals. One for now, one to freeze for later. Double that and you've got four meals...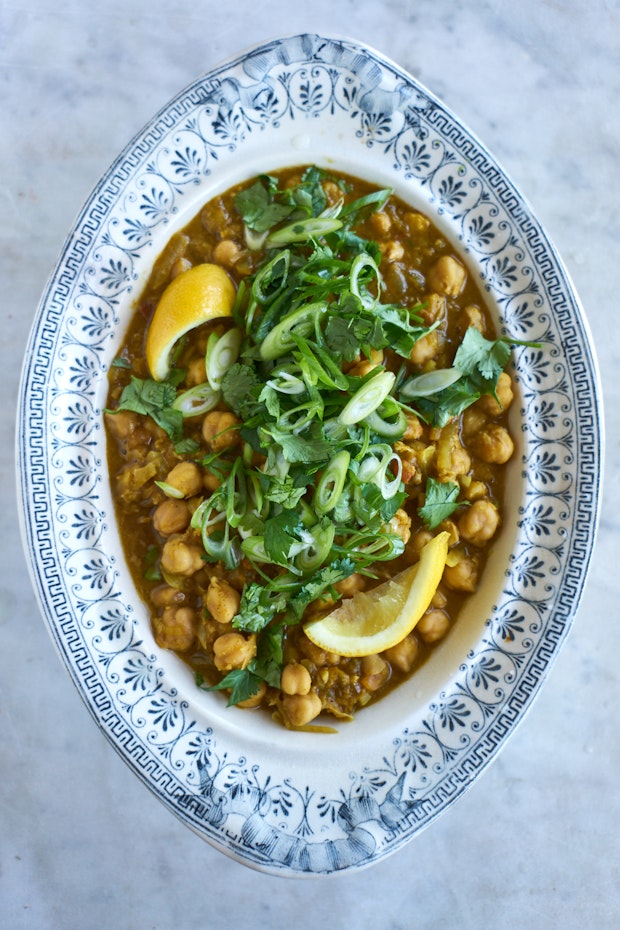 Chana Masala Ingredients
Which chickpeas to use? The answer is simple, whatever you have on hand. If you have chickpeas you've cooked from dried (like these turmeric soaked chickpeas), use those. If it's a Wednesday night, and all you have is canned chickpeas, go for it! Either way, your chana masala will be delicious.
Thick or thin: Some chana masala is thin and soupy, other times it is thick, and more cohesive. It's all a matter of personal preference - I tend to like mine somewhere in the middle.
Chana masala powder: You need to source good chana masala powder. It matters (meaning, don't leave it out), and you're not going to make it at home - it has mango powder, ground pomegranate seeds, dried musk melon, and a long list of other wonderful but challenging to source ingredients. I've been using this MDH chana masala powder, and I like it. Spicy! Tangy! Good sprinkled on all sorts of things.
Chana Masala as a Meal or Part of a Meal
Eat chana masala with rice, eat it with flat bread, eat as a component in a thali plate, eat it spooned over your favorite grains. I love it with a simple side of cauliflower, and often I'll throw in a handful of shredded kale or spinach, to get my greens in - a perfect one dish meal.
Hope you love this recipe!
A Really Good Chana Masala
This recipe makes enough simmer sauce for two nights of chana masala. Make one, freeze one. I also used it as a component in dumpling filling the other night! The recipe calls for two cans of chickpeas, but you can substitute 4 cups of chickpeas cooked from dried, I do this all the time if I don't have cooked chickpeas on hand. And be sure to source good chana masala powder - worth it!
Ingredients
1

tablespoon

olive or sunflower oil

2

medium onions, finely diced

1-

inch

piece of ginger, peeled and minced

4

cloves

garlic, minced

1

small serrano chile, stemmed, seeded, minced

2

teaspoons

garam masala

1

teaspoon

turmeric powder

1/4

teaspoon

cayenne pepper, or more to taste

1

teaspoon

ground coriander

2

teaspoons

ground cumin

3/4

teaspoon

fine grain salt, plus more to taste

2

medium tomatoes, diced

1 1/2

cups

water

2

14-ounce

cans chickpeas, drained

1

generous tablespoon chana masala powder (I use this one)

lemon or lime

to serve: lots of scallions, lots of cilantro
Instructions
Make the Simmer Sauce
Heat the oil in a medium saucepan over medium heat. Stir in the onion, and saute for 5 minutes or so. Stir in the ginger, garlic, and serrano chile, and allow to cook for another minute or two, or until fragrant. Add the garam masala, turmeric powder, cayenne, coriander, cumin, and salt. Stir well, and then add the tomatoes and water. Simmer for 2-3 minutes or until thick. Remove the sauce from heat, and reserve half for later use - it will keep refrigerated for 5 days or so, or freeze.
Add the Chickpeas and Serve
Mash about half of the chickpeas with a big fork or potato masher. This is the magic trick. Combine the whole and smashed chickpeas with 1 cup of the simmer sauce, and the chana masala powder in a medium saucepan over medium heat. Stir well, and add a generous splashes of water to thin the chana masala out, to loosen it up a bit, until it is a porridge consistency. This is usually in the range of 1 - 1 1/4 cups. Stir in a generous squeeze of lemon or lime juice, and serve showered generously with lots of chopped scallions and cilantro. Enjoy!
Related Recipes
More Recipes
Popular Ingredients