Orange Pan-glazed Tempeh
The best tempeh recipe I've highlighted to date - it features a simple ginger and garlic-spiked orange glaze that plays of the nutty earthiness of the pan-fried tempeh beautifully.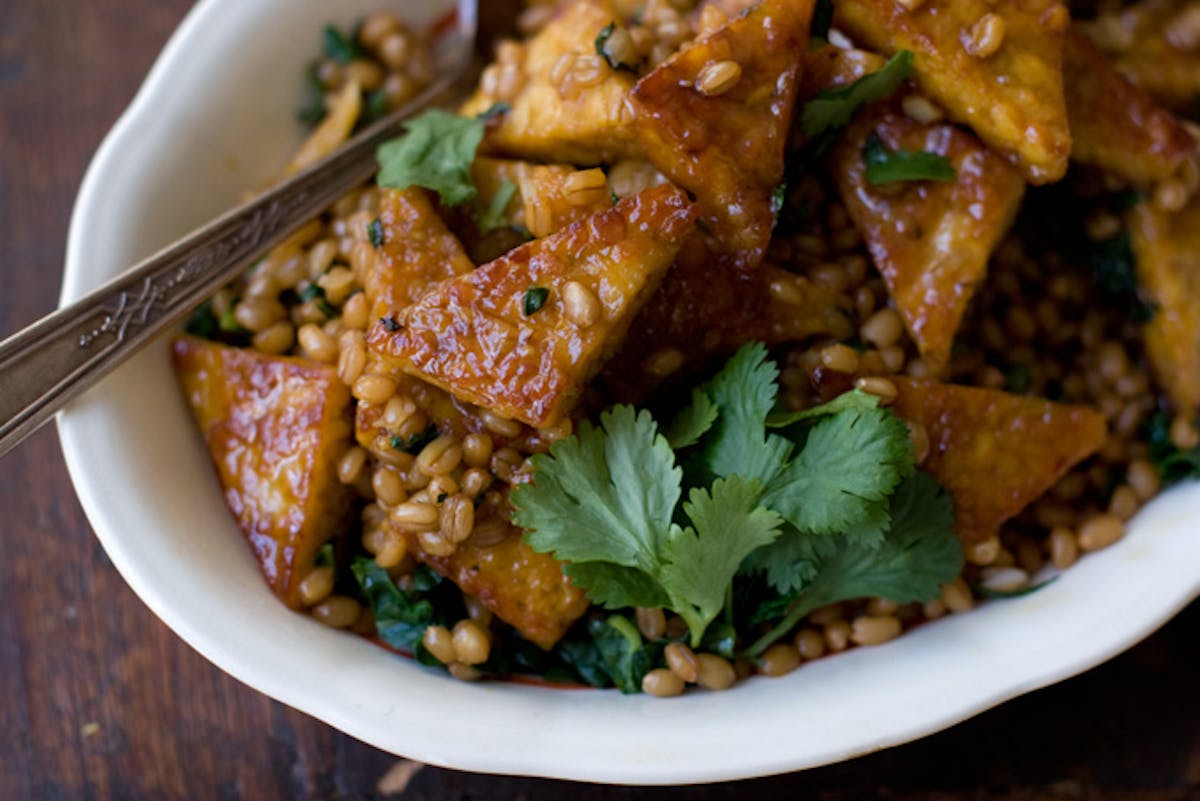 This might be the best tempeh recipe I've highlighted to date. It features a simple ginger and garlic-spiked orange glaze that plays off the nutty, earthiness of pan-fried tempeh beautifully. Unlike many other tempeh recipes, there is no need for a long marinade time with this one, making it great for a last-minute weeknight meal.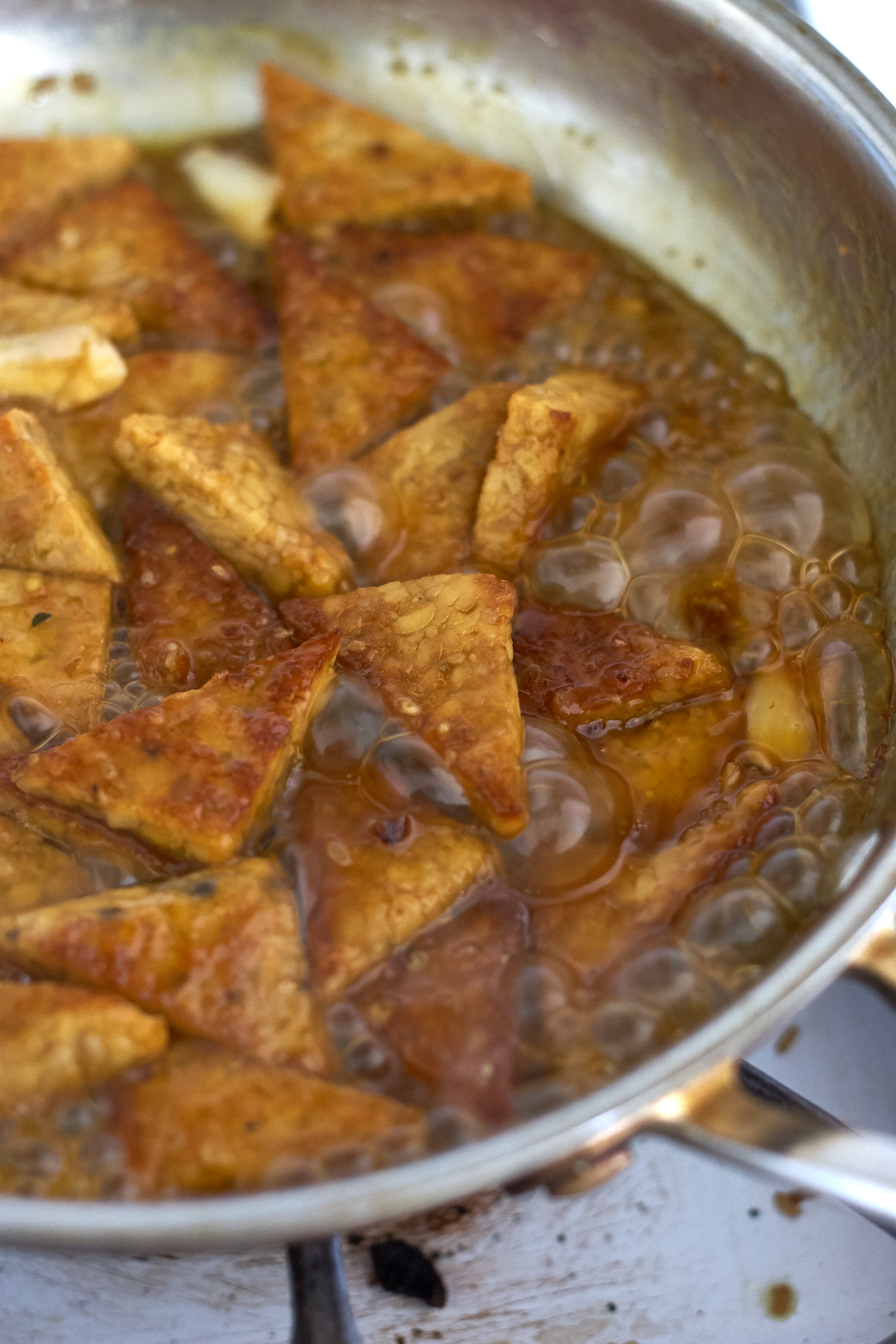 The recipe comes with a bit of a story, originates in a book I suspect many of you haven't seen yet, and started with an email I received one morning last September from Australian cookbook author (and natural foods enthusiast) Jude Blereau. It read,
Dear Heidi, My name is Jude Blereau and I'm a Natural Foods Chef and author from Western Australia. I'm currently in San Francisco, having a fabulous time(...) I'd love the opportunity to have a chat with you and meet you. We do similar work I think, though with our own different slant. Hoping we can meet...
The name sounded quite familiar to me, I did a quick scan of my cookbooks, and spotted her book immediately. It was a thoughtfully composed volume of natural food recipes that I had tucked into my suitcase on my journey back from New Zealand a couple years ago. The minute I discovered Wholefood in a bookstore in Wellington, I knew I was reading along with a cook I had much in common with. Flash forward a couple years (and emails) later and we are chatting over coffee and croissants at Tartine Bakery here in San Francisco.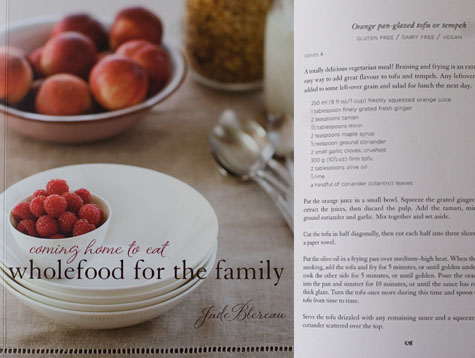 We talked about all sorts of things, and I asked Jude if she'd let me highlight one of her recipes here on the site. She told me she had a new book just published in Australia, and that she'd send the new one to me upon her return. Today's tempeh recipe is from Jude's new book - Coming Home to Eat: Wholefood for the Family published by Murdoch Books. It is beautifully written, delicately designed, brimming with great recipes, and punctuated by a handful of photographs (by Geoff Fisher and Michelle Aboud) that help set the aesthetic tone of the book perfectly.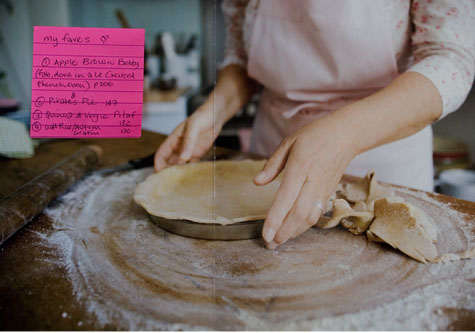 My hope is that Coming Home to Eat will get U.S. distribution sometime in the near future, but as far as I know, that could take some time. Meanwhile, you can follow Jude through her site or her blog. And if you find yourself in Perth looking for a cooking class experience or natural chef training program - Jude's the one to track down.
And thank you for reaching out Jude, I look forward to visiting you in Perth someday. You books an inspiring, and your enthusiasm infectious. I hope our paths cross again soon. -h
Orange Pan-glazed Tempeh Recipe
HS note: This recipe is equally good made with tofu. I made a couple minor tweaks to the recipe based on American ingredients/measurements. You can make a meal out of this by pairing it with some lightly sauteed seasonal vegetables, or in this case I simple served if over some left-over cooked wheat berries that I heated with a bit of chopped kale.
Ingredients
1

cup

freshly squeezed orange juice (3-4 large juicy oranges)

1

tablespoon

freshly grated ginger

2

teaspoons

tamari (or soy sauce)

1 1/2

tablespoons

mirin

2

teaspoons

maple syrup

1/2

teaspoon

ground coriander

2

small garlic cloves, crushed

roughly 10 ounces of tempeh (or extra-firm tofu)

2

tablespoons

coconut oil, ghee, or olive oil

1/2

lime

a handful of cilantro (coriander) leaves
Instructions
Put the orange juice in a small bowl. Squeeze the grated ginger over the bowl to extract the juices, then discard the pulp. Add the tamari, mirin, and maple syrup, ground coriander, and garlic. Mix together and set aside.

Cut the tempeh (or tofu) into thin-ish, bite-sized pieces, and if working with tofu, pat dry with a paper towel.

Put the coconut oil in a large frying pan over medium-high heat. When the oil is hot but not smoking, add the tempeh and fry for 5 minutes, or until golden underneath. Turn and cook the other side for another 5 minutes, or until golden. Pour the orange juice mixture into the pan and simmer for 10 minutes, or until the sauce has reduced to a lovely thick glaze. Turn the tempeh once more during this time and spoon the sauce over the tofu from time to time.

Serve the tempeh drizzled with any remaining sauce and a squeeze of lime, with the coriander scattered on top. Heidi note: As I mention in the head notes, I served this over some leftover wheat berries heated with a few handfuls of chopped kale.
Notes
Serves 4. (or two if you love it as much as we did -h)
Related Recipes
More Recipes
Popular Ingredients