Quick Shredded Tofu Stir-fry
This is a snappy little tofu stir-fry, it comes together in a flash, and is the perfect way to kick off the new year. Use it as a spring roll or lettuce wrap filling as well!
This is one of my favorite recipes from my last cookbook, Near & Far. It's a snappy little tofu stir-fry, and it comes together in a flash. It's the perfect kind of recipe to kick off the new year. You get freshness from bright pea shoots (or other greens), substance from the tofu, and some crunch from the pepitas and sesame seeds. It's an easy crowd pleaser, and I often use the leftovers as a spring roll filling (perfect for on-the-go lunches). Rice paper or lettuce wraps do the job!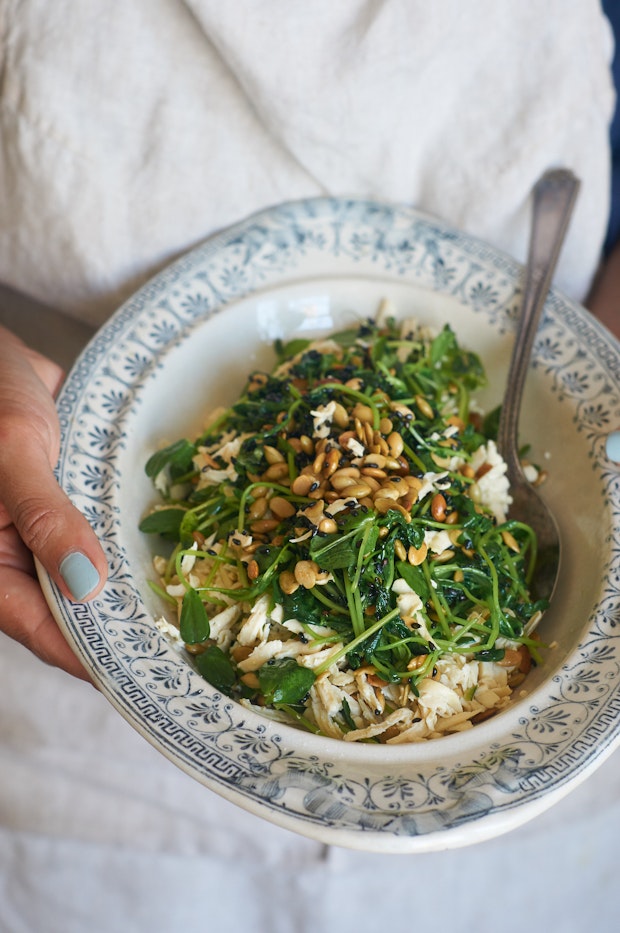 You'll need to use a box grater for this; finer Microplane graters will shred the tofu too thinly to maintain the right amount of structure.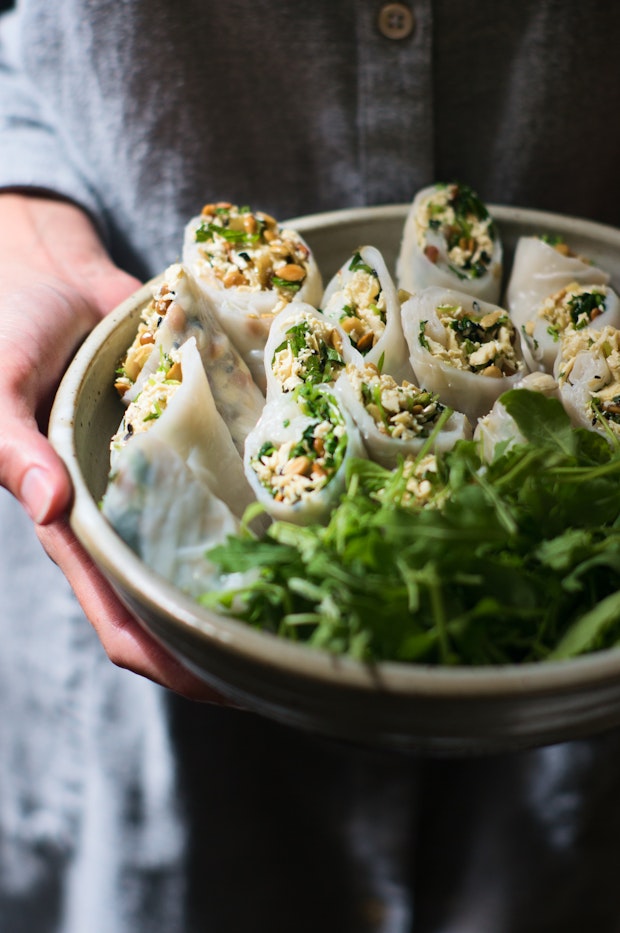 More Tofu Recipes
Quick Shredded Tofu Stir-fry
This recipe is endlessly adaptable! Take the basic premise and run with it. Chopped broccoli florets make an easy alternative to the pea shoots, peanuts or cashews an alternative to the sesame seeds. To keep the recipe vegan substitute a bit of brown sugar or maple syrup for the honey, and use a non-dairy yogurt instead of crème fraiche.
Ingredients
1

small Serrano pepper, seeded and minced

1/4

teaspoon

fine grain sea salt, plus more to taste

1

tablespoon

white wine vinegar

1

teaspoon

runny honey, brown sugar, or maple syrup

4

tablespoons

/ 60 ml extra virgin olive oil

1

tablespoon

crème fraiche, sour cream, or non-dairy yogurt

2

cups

/ 2 oz / 55 g pea shoots

8

ounces

/ 225 g extra-firm tofu, shredded on a box grater

1/2

cup

/ 2.5 oz / 70 g well-toasted pepitas

3

tablespoons

(black) sesame seeds
Instructions
Start by making the dressing; you'll want it ready when you start to cook. Whisk together the pepper, 1/4 teaspoon of salt, the vinegar, honey, and 3 tablespoons of the olive oil, until emulsified. Add the crème fraiche (or yogurt), and whisk again. Taste and adjust to your liking. Set aside.

Just before serving, heat the remaining tablespoon of olive oil in a large skillet or wok over medium-high heat. When hot, add the pea shoots, a pinch of salt, and sauté for just 5 seconds or so. The shoots will quickly begin to wilt. Immediately transfer them to a plate.

Place the tofu in the hot skillet with most of the pepitas and sesame seeds and two-thirds of the dressing. Turn off the heat, and toss gently to distribute the ingredients without breaking down the tofu too much - you just want to warm the mixture a bit. Taste and stir in more salt if needed. Transfer to a serving platter and top with the pea shoots and remaining sesame seeds and pepitas. Serve the extra dressing on the side.
Related Recipes
More Recipes
Popular Ingredients