Big List of Pizza Topping Ideas
Need pizza topping inspiration? The best pizza topping ideas focus on using fresh, flavor-packed ingredients. Combine a few to create your own signature combinations!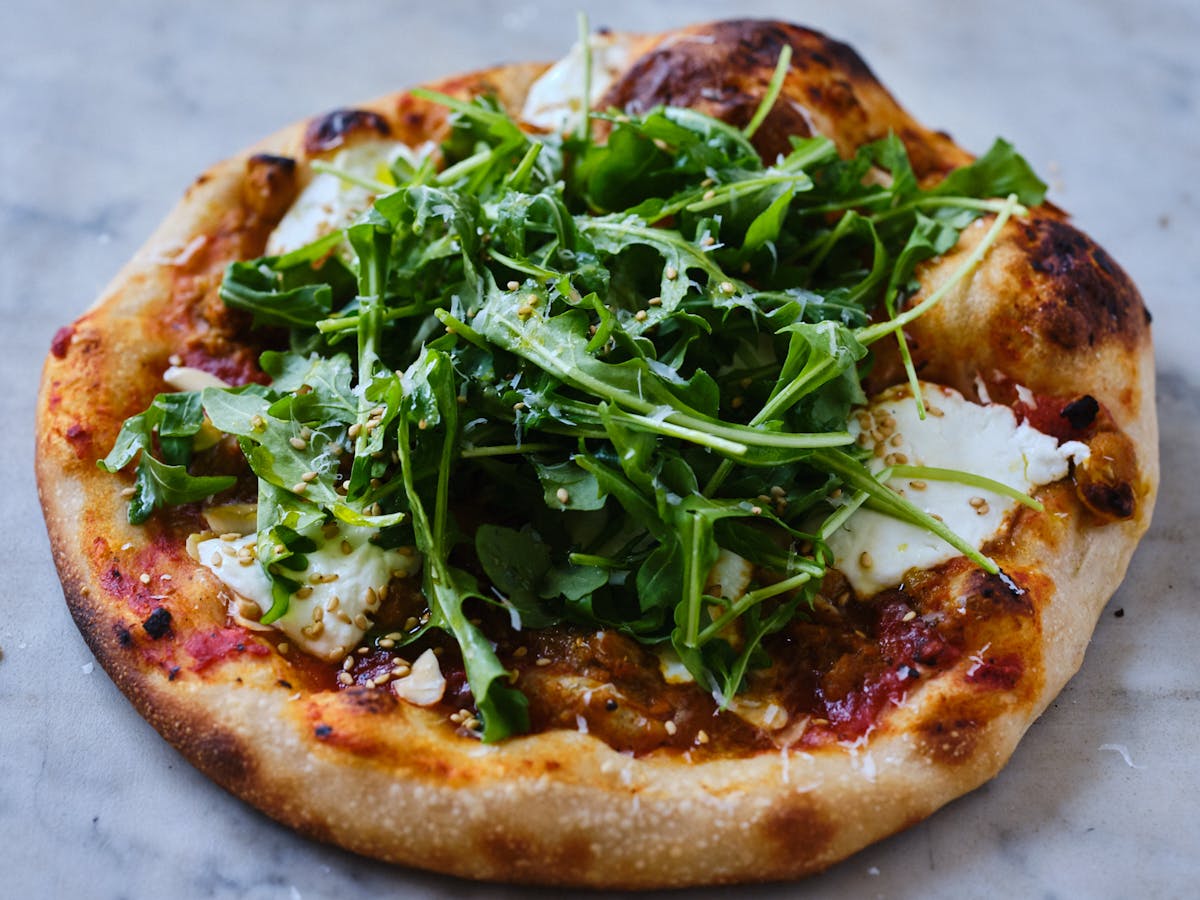 When you combine a good homemade pizza dough with a handful fresh and flavorful pizza toppings, pizza night is on! The key is using flavor-packed, fast cooking ingredients that have a tendency to melt (or cook) quickly for your toppings. Second thing? Don't go overboard, thoughtfully curate each pizza so the flavors of each ingredient have room to speak.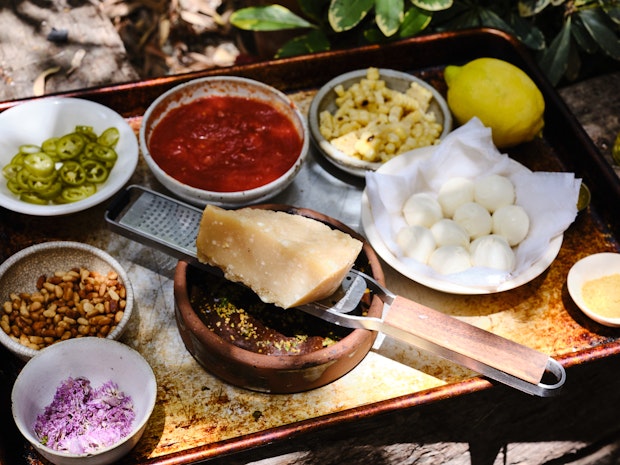 In this post you'll find a range of favorite pizza topping ideas. They're organized into sauces, cheese, vegetable toppings, finishing flavors, and a long list of favorite pizza topping combinations from years of pizza making. Enjoy! And I highly recommend keeping a pizza journal to keep track of all your favorite topping combinations!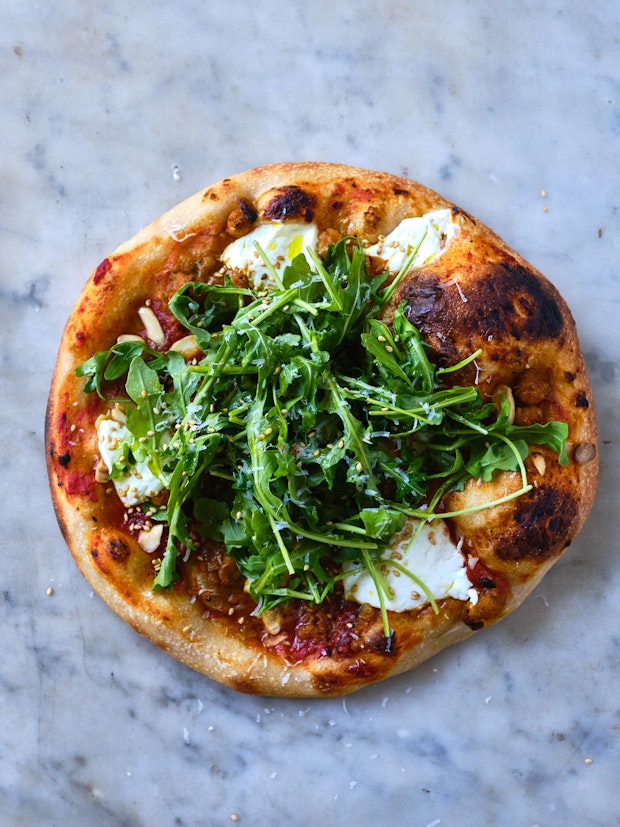 The Cheeses
Along with your sauce, cheese is often a defining pizza topping. Correspondingly, it's important to get right. I avoid pre-shredded cheeses. They can have anti-caking agents and mold-inhibitors. Generally speaking, you want your cheese to be…cheese. My favorites? I love to tear up balls of fresh mozzarella into shreds, use dollops of ricotta, and grate fresh Parmesan or pecorino for the best results. On occasion, spoonfuls of Greek yogurt scooped around the tops of a pizza sets up beautifully as well (pictured above). Crumbled feta adds a nice salty accent, and gruyere cheese grated by hand delivers that oozy, melty cheese vibe with lots of flavor.
The Foundation: Good Pizza Sauce
Aside from a good, reliable pizza dough, your sauce choice is another foundation you want to get right before moving on to the wide world of pizza toppings.
Tomato Sauce: This is a favorite simple tomato sauce, and it's great on many red sauce pizzas. My one pro-tip is to make it ahead of time, it's fine for up to a week refrigerated. When you go to assemble your pizza, be sure the sauce is room temperature or cooler. Make sure it's not hot. If the sauce is still warm when you're topping your pizza, the dough is more likely to stick.
Pesto: Pesto pizzas are a favorite, and this pesto is my go-to. Made with hand-chopped basil, garlic, Parmesan, olive oil and pine nuts, it's the real deal. It's a pesto recipe taught to me by my friend Francesca's mother who came to visit from Genoa, Italy. It's what you want as the foundation for your pesto pizza.
Mushroom Ragù: Use this mushroom ragù to double down on your favorite mushroom pizza combination. A pizza made with this sauce topped with pre-roasted sliced mushrooms, dollops of ricotta cheese, a sprinkling of rosemary, and finishing drizzle of chile oil is A-plus.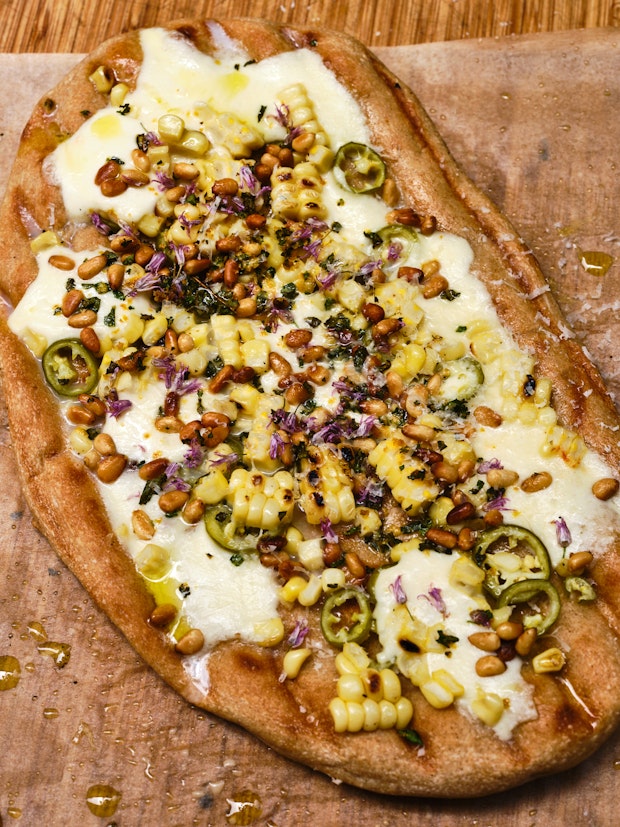 Vegetable Pizza Toppings
There are so many ways to get creative about vegetable pizzas. Sometimes I'll pre-cook vegetables, for example artichokes, other times they'll go on a pizza raw. Some ideas.
Fresh corn, thin asparagus, roasted cherry tomatoes, peas, baked mushrooms, caramelized onions, olives, fava beans, citrus zests, grilled or pan-blistered artichokes, sautéed thinly sliced potatoes, broccoli florets, cauliflower florets.
Pictured above: A grilled pizza with mozzarella, fresh corn, quick pickled serrano chiles, and pine nuts. Finished with chive flowers.
Finishing Flavor
This is where you can take your pizza topping ideas from really good to great. The final accent drizzles and sprinkles are the punctuation marks on your pizza. Finishing touches I love and use all the time: lemon olive oil, tangerine olive oil, makrut lime oil, chives and chive flowers, and hot honey. Other favorites include:
Za'atar: Singling this out. Love the greenness and fragrance this brings to white pizza.
Fresh basil

: Forever classic.

Herbs

: a sprinkle of fresh herbs like oregano, thyme, fresh basil, minced chives, lemon verbena

Flavored olive oil

: There are so many amazing oils available now, experiment!

Kale chips

: So easy to make, and a favorite finishing pizza topping. Toss a bunch of de-stemmed curly kale leaves in a bowl with a few glugs of olive oil, a very generous sprinkling of nutritional yeast, and a pinch of salt. Bake on baking sheets at 375F until crispy, tossing once along the way.

Pickled Serrano chiles

: Keep these on hand at all times! Slice 8 (or more!) Serrano chiles 1/8th-inch thick and place in 2 cups of white vinegar in a Mason jar. Use the chiles w/in a week or two. You can use the vinegar for weeks after that on pizza, in dressings, on lettuce wraps, and rice bowls.

Citrus zests: (lemon, orange, tangerine, lime, etc.)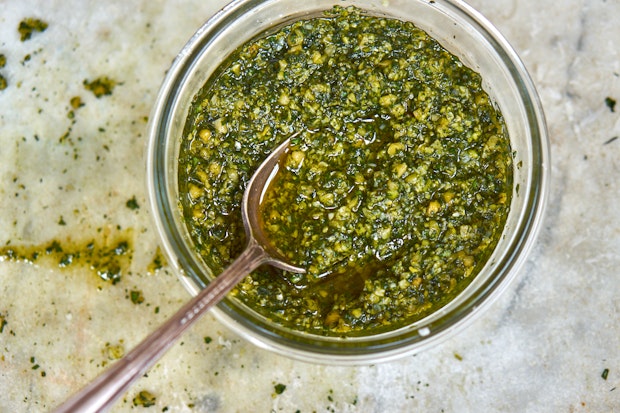 Favorite Classic Pizza Combinations
Margherita: simple tomato sauce, good mozzarella, fresh basil after baking pizza, and a finishing drizzle of olive oil.
White pizza: see the corn pizza up above. I also love a white pizza with garlic oil and mushrooms and lots of fresh herbs to finish.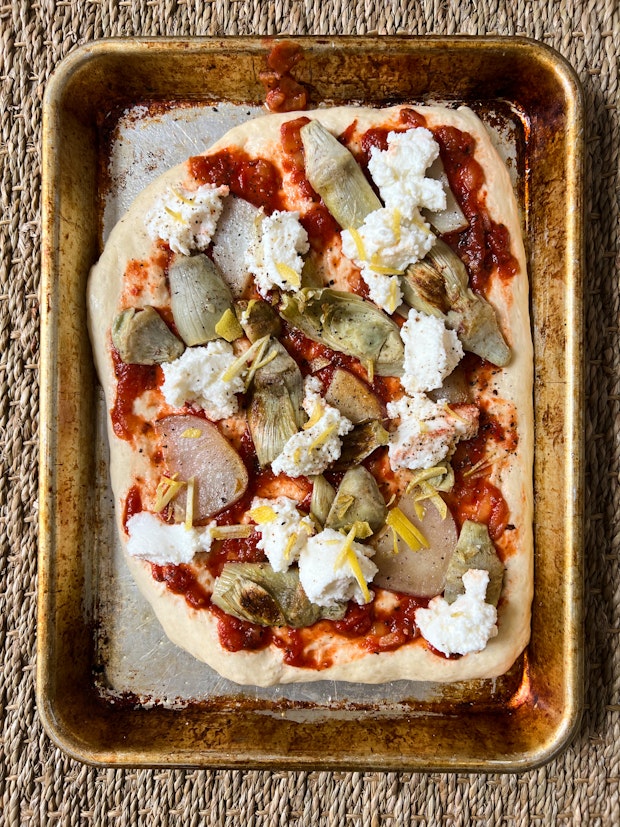 Artichoke pizza: Olive oil or pesto, sautéed artichoke hearts, mozzarella or ricotta cheese, and lemon zest. Pictured directly above, prior to baking.
Pesto pizza: Few things are better than a pesto pizza made with ricotta, fava beans, lemon zest and a tangle of arugula to top the pizza once it is out of the oven.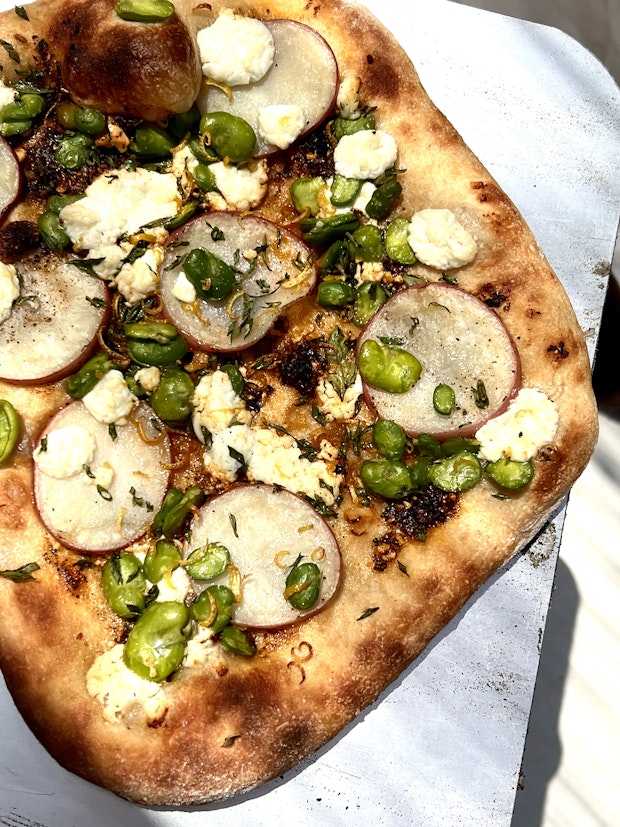 Favorite Wildcard
Pizza Topping Combinations
I keep a journal of pizza topping ideas that are a hit around here. These are a bunch of recent favorites.
Chile Crisp Potato Pizza

: I love a potato pizza. This one (above) was a chile crisp oil like the one by 

Fly By Jing

 or 

KariKari

, thinly sliced blanched potatoes, ricotta, fava beans, and lemon zest. Finish, after baking, with a lemon olive oil drizzle and lots of chopped chives.

Chana Masala Pizza

: We make this one a lot. Start with a foundation of tomato sauce made with lots of caramelized onions added along with a generous amount of chana masala spice blend (or sometimes garam masala). Top that with chickpeas and dollops of low-fat yogurt (it works better than full-fat here for some reason). When the pizza comes out of the oven top with tons of crushed nutritional yeast baked kale chips (or fresh arugula), and a drizzle of lemon or basil olive oil. So so so good. Pictured just below with some added sesame seeds.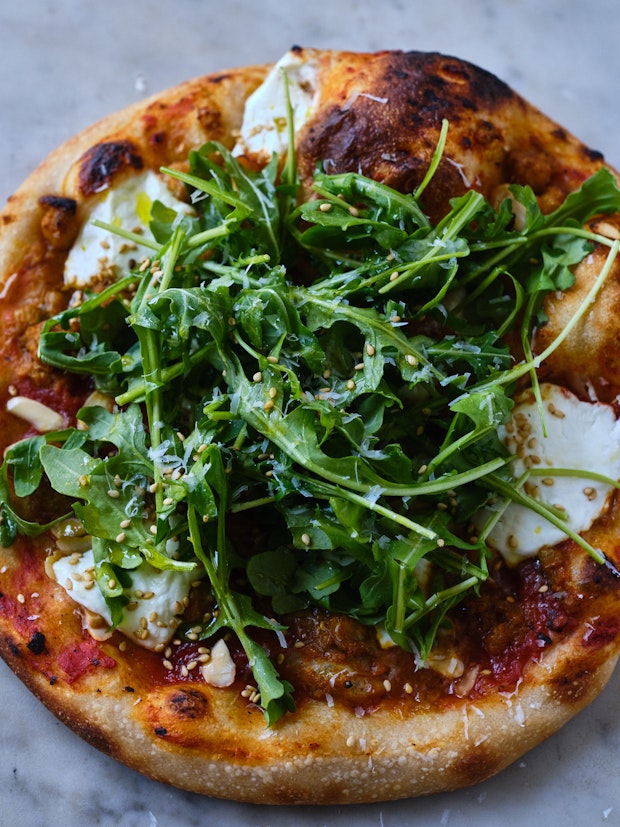 Cherry Tomato Kosho Pizza

: Start by smearing the pizza dough with a foundation layer of kosho or other

citrus garlic paste

. To that add cherry tomatoes, chickpeas, chives, and slivered basil with a drizzle of tangerine oil (or other citrus olive oil) after it comes out of the oven.

Meyer Lemon Pizza

: Inspired by my favorite pizza ever, at Bettina in Santa Barbara, CA. Ricotta cheese dollops, pickled red onion, thinnest slivers of whole Meyer lemon, pistachios.

Paneer & Pea Pizza

: Turmeric-marinated paneer (like the paneer I use for these veggie kebabs), scallions, chickpeas, sautéed artichoke hearts, tomato sauce, peas, a bit of crumbled goat cheese, and serrano chiles. Add lots of chopped cilantro after the pizza comes out of the oven.
Garlic & Pineapple Pizza: Peel a bunch of garlic cloves, sprinkle them generously with salt and then smash and chop them into a paste. Transfer to a jar and add 1/3 cup (or so) or extra virgin olive oil and stir well. For each pizza, spread some garlic oil across your dough. Then top with mozzarella, fresh pineapple, fresh

jalapeño

slices, and sliced black olives. When the pizza is done baking finish with fresh arugula or crushed kale chips and a finishing drizzle of good olive oil.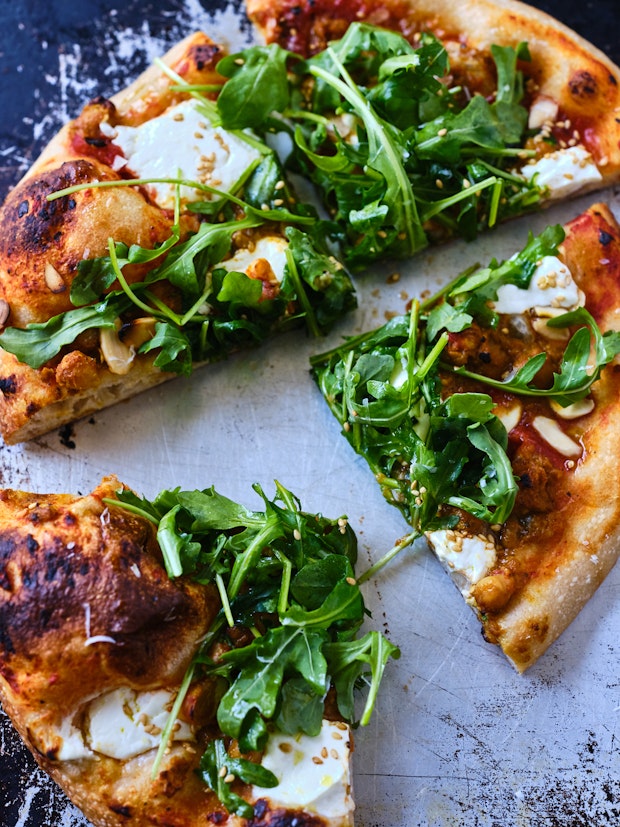 More Pizza Topping Ideas
Thirteen grilled pizza ideas that go beyond classic margherita. And this post does a deep dive into how to grill pizza. Helpful as the weather heats up and it's too hot to use your oven! Have fun making lots of pizza!
Pizza Topping Ideas
Classic pizza toppings are loved for good reason, but it is fun to experiment as well. These are some of our favorite homemade pizza toppings. There are also a many more outlined in the main post up above. Still haven't nailed your pizza dough? This page has everything I know about making a simple, delicious pizza dough. And if you'd rather make grilled pizza, here's the technique I like. Have fun!
Ingredients
Margherita Pizza Toppings
freshly torn mozzarella cheese

fresh basil (after baking)

extra virgin olive oil (after baking)
Pesto Pizza Toppings
freshly torn mozzarella cheese

lemon zest

fresh basil, chives and/or herbs (after baking)

lemon olive oil (after baking)
Vegetarian Pizza Toppings
mushrooms

ricotta cheese

arugula (after baking)

fresh basil (after baking)
Instructions
Preheat oven to 450F with a rack in the center.

Prepare a batch of pizza dough using this recipe, and prepare and organize your pizza toppings.

Assemble each pizza using your desired toppings, starting with sauce. Transfer one pizza at a time to the oven and bake until the crust is golden brown.

Remove pizza from oven and top with finishing toppings like fresh herbs, a drizzle of olive oil, or a bit of grated cheese. Serve immediately.
Related Recipes
More Recipes
Popular Ingredients