Shredded Jackfruit Burritos (Vegan)
This shredded jackfruit burrito is GREAT! The jackfruit is sautéed with lots of garlic and taco/chili seasoning to create a dynamic burrito filling that just about anyone can get behind.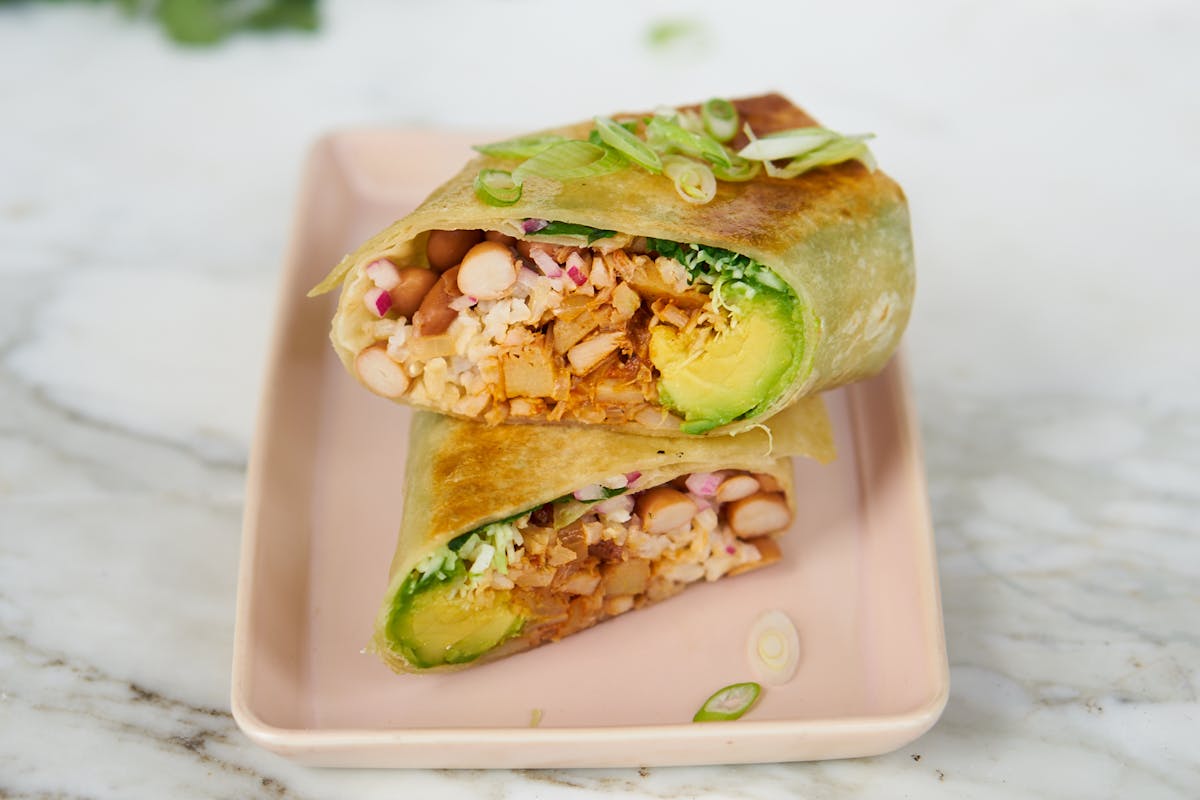 I suspect the most notable aspect of these burritos is the use of jackfruit. My guess is it might be an ingredient you're either completely onboard with, or not at all. Either way, mark my word, shredded jackfruit is a fascinating ingredient. People trying to reduce or eliminate meat from their diet tend to love it for its texture, which uncannily mimics pulled pork or shredded chicken.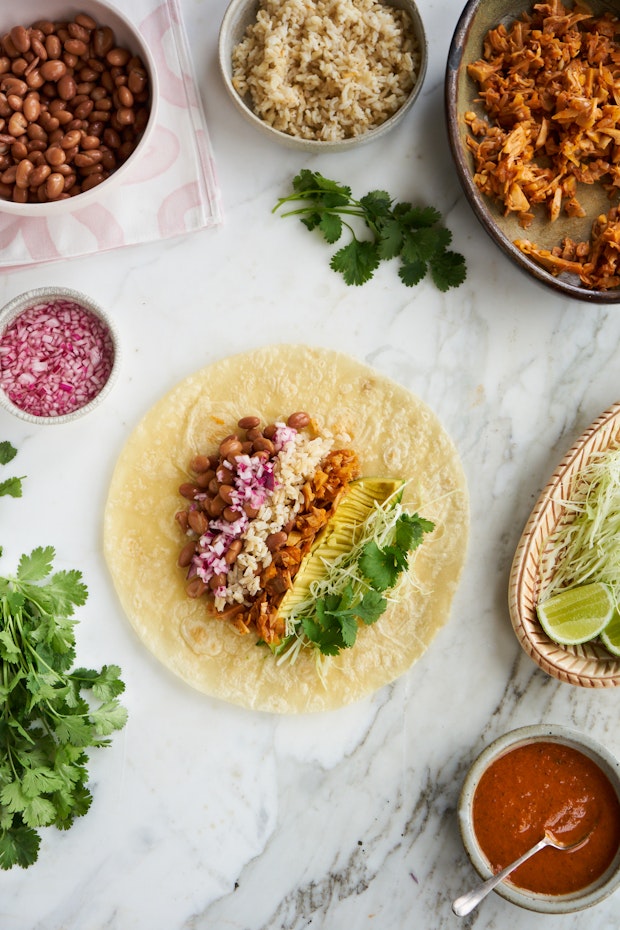 What's up with jackfruit?
Out of the can, jackfruit has a flavor that is quite mild and neutral, making it a lot of fun to play with on the culinary front - blank slate and all. And because of that, my approach is usually to blast it with an assault of spices and flavor. Here you see it sautéed with lots of garlic and taco/chili seasoning to create a dynamic burrito filling that just about anyone can get behind. When shopping for jackfruit, I buy it canned, in water (easy to find it at places like Trader Joe's) - just drain, and rinse before using.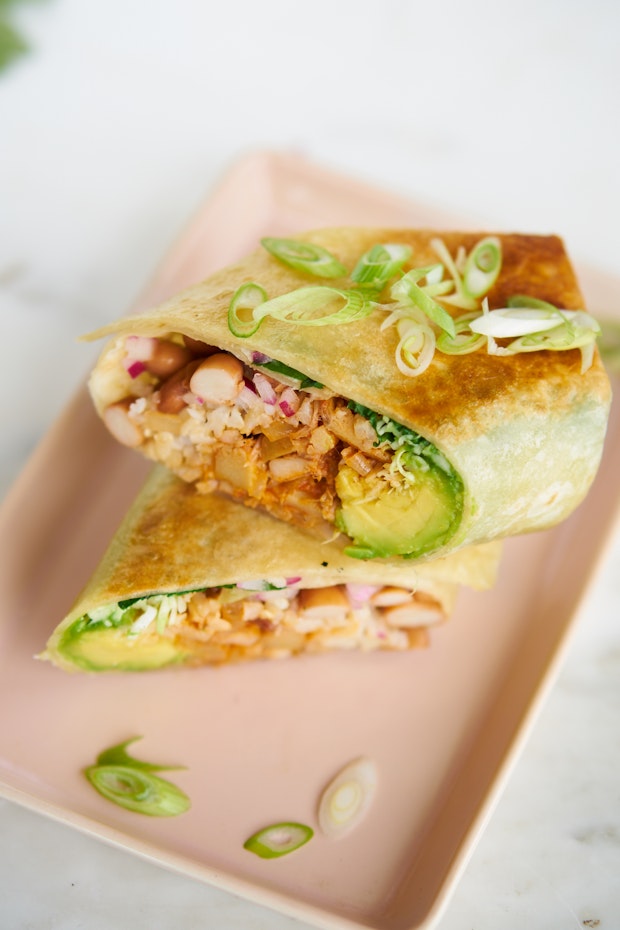 Give this a try, and if you're into it, I'm happy to feature more jackfruit recipes in the future!
Shredded Jackfruit Burritos (Vegan)
I tend to stockpile jackfruit when at Trader Joes (not sponsored), it's in a green can, hard to miss. You want it in a neutral water / brine situation.I typically use water here, but let's say you were going to add mushrooms as a topping, you could use a mushroom broth.
Ingredients
a 20-ounce can of green jackfruit (in brine or water)

1

tablespoon

extra virgin olive oil

1

medium onion, chopped

1/4

cup

chopped garlic

1

teaspoon

smoked paprika

1 1/2

teaspoons

taco seasoning (or chili powder)

1/2

cup

water

big squeeze of lemon or lime juice

scant 1/2 teaspoon of salt, or to taste

4 - 6 to

tortillas, preferably whole-grain

Any / all of the following: black or pinto beans, brown rice, shredded cabbage, sliced avocado, a favorite salsa, cilantro, scallions or red onions
Instructions
I like to make the jackfruit ahead of time, it keeps for a few days in the refrigerator for quick, on-the-fly tacos, burritos, and tostadas. Drain, rinse, and slice jackfruit into thin, 1/4-inch thick strips, from core to edge. Use all the jackfruit, the core, shredded parts, and seeds.

Heat the oil in a large skillet over medium-high heat. Stir in the onion and saute for a few minutes, until they soften a bit. Stir in the garlic, and then the paprika and taco seasoning. Quickly add the water, lemon juice, salt, and jackfruit. Cover and simmer for 5 - 10 minutes, until much (but not all) of the liquid is absorbed. Use a wooden spoon to smash the jackfruit, to get that shredded texture.
To assemble the burritos
Arrange your fillings just off-center on an open-faced tortilla. Fold in the sides and roll. Resist overstuffing, or you won't be able to do my favorite part - make them golden-crusted in a skillet. To do this, add a tiny bit of olive oil to a large pan or skillet over medium heat. Brown the top and bottom of each burrito in the skillet. So good!
Related Recipes
More Recipes
Popular Ingredients