Walnut Miso Noodles
A hearty noodle bowl recipe. Whole grain noodles and asparagus are tossed with a creamy, walnut-miso dressing plus a dollop of chile paste.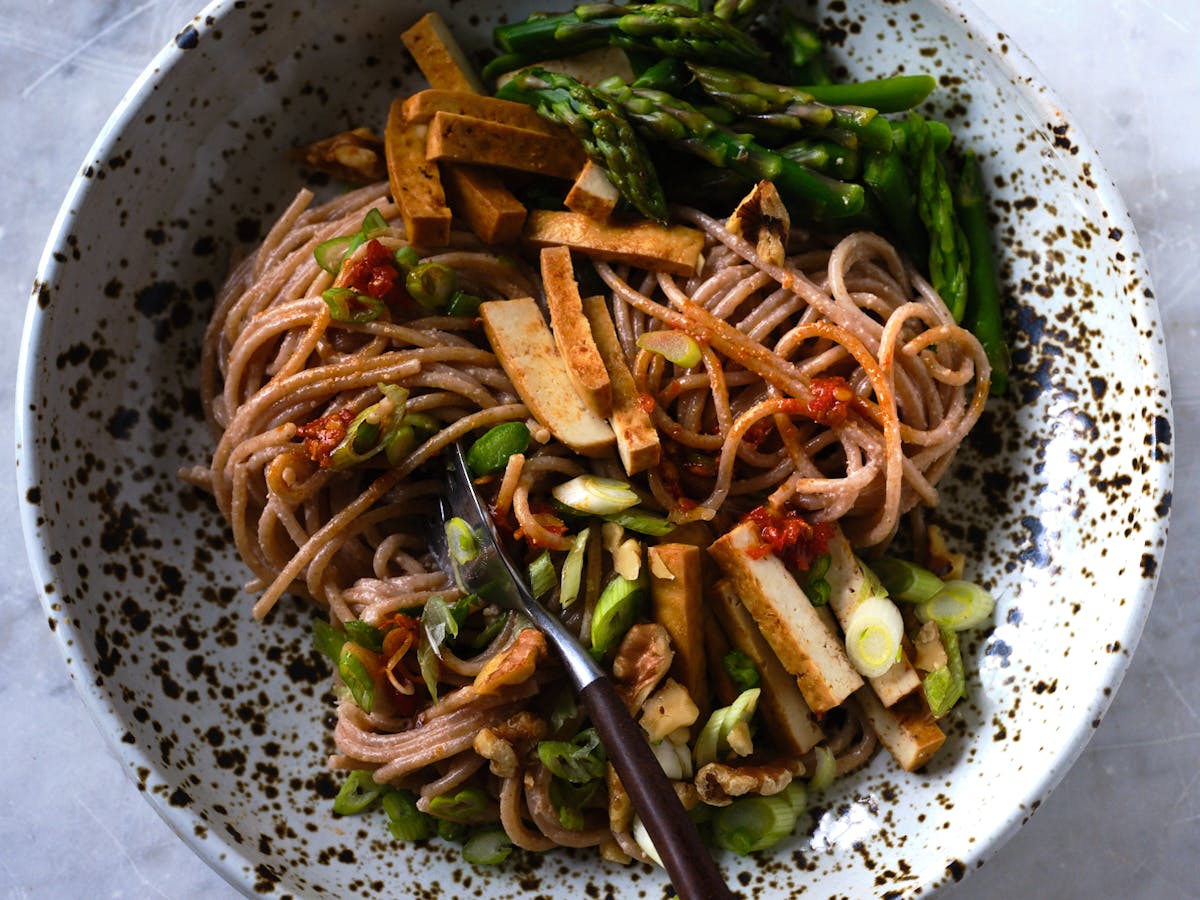 The markets here are full of color right now. Gold, red, and orange beets. Pink-fleshed pomelos. Tiny purple-streaked artichokes. Deep, dark leafy greens. This week I filled my basket with my favorite eggs, a loaf of whole wheat seed bread, fresh tofu, lots of leeks and spring onions, chard with electric-pink stems, and one bunch of pencil-thin asparagus. I bought a small bouquet of sunset-colored flowers with the change in my pocket and made my way home. A few of my finds when straight into my lunch, this hearty noodle bowl.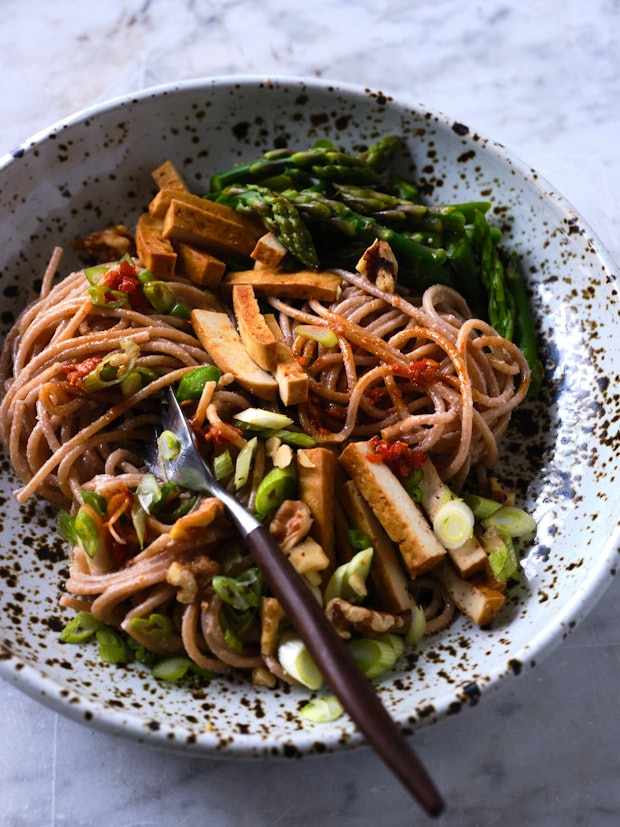 I made a quick, creamy walnut-miso dressing and used it to coat whole wheat noodles, plenty of sliced asparagus, leftover tofu, and a few other ingredients I had within reach. I was quite hungry or I might have taken the time to top off with a poached egg or two. Something I've done many times in the years since I first made this.

The main components here are whole wheat noodles tossed in a walnut-miso dressing. To make this seasonal I added the asparagus, scallions, and a big dollop of warming chile paste. I tossed some leftover tofu on top as well. The noodles and dressing are the foundation here, play around with all the different ways you can finish off the bowl to make a balanced meal of it.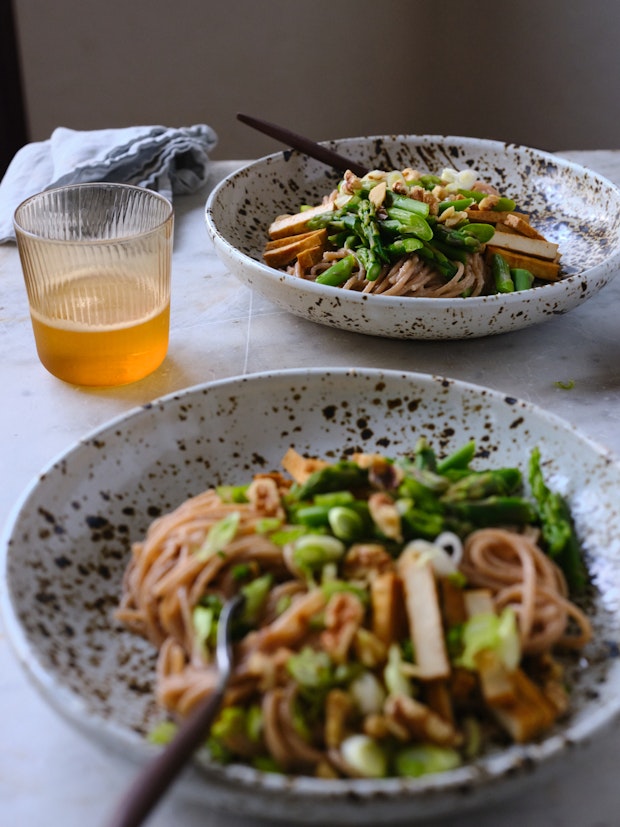 For example, in the past I've used vibrant chard leaves and stems (pictured below), and another version using caramelized onions, roasted squash, greens, and a bit of cheese. If you're looking for a summer or early fall version try roasted tomatoes, basil, and roasted peppers.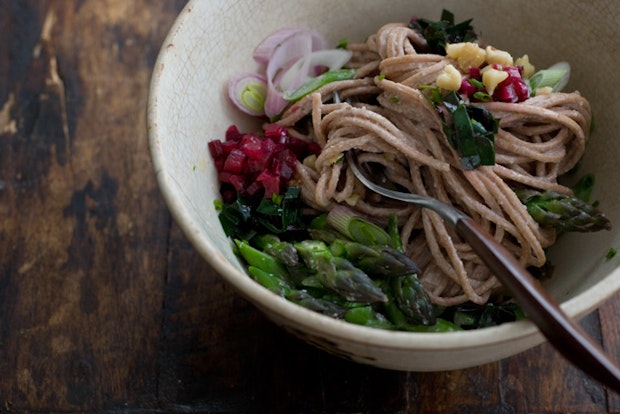 The Ingredients
Noodles: you can use a range of noodles here. My favorite for this recipe is this farro spaghetti but use whatever whole wheat, or whole grain pasta you like. Soba noodles are another good option!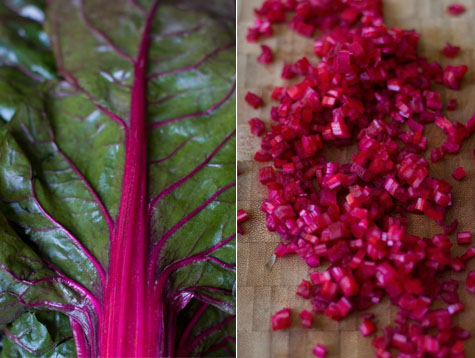 Toppings: Blanched (grilled or roasted) seasonal vegetables, herbs and scallions, something spicy (Calabrian chile paste, sesame chile paste, or sriracha), a poached egg, sliced avocado
Miso: Feel free to experiment with the type of miso you use in the dressing. I started off using a mild white miso paste, but now tend to use red miso.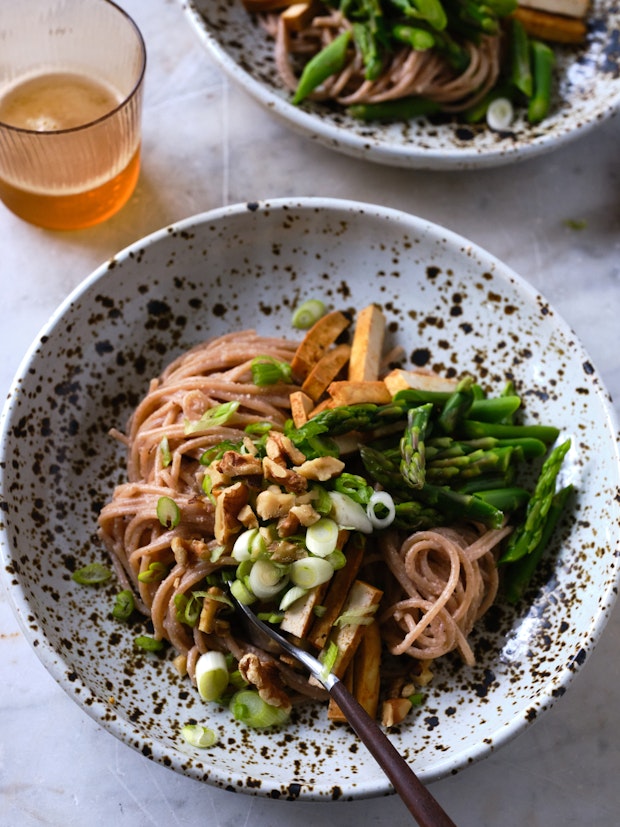 Nuts: I nearly always use toasted walnuts here, but toasted cashew or almonds are also fair game if that's what you have.
The name of the game here is flexibility. Once you have the pasta and dressing dialed in, really focus on making the vegetables and other toppings great. And if you like this recipe, here's where you can find many more pasta recipes. 
Walnut Miso Noodles
You'll likely have a bit of dressing leftover. It's great tossed with roasted broccoli or any other hearty salad. To make this recipe vegan, substitute a vegan sweetener for the honey in the dressing.
Ingredients
1/2

cup

walnuts, toasted

1/4

cup

extra virgin olive oil

1

medium clove garlic, peeled

2

tablespoons

white miso paste

2

tablespoons

freshly squeezed lemon juice

1

teaspoon

honey

2

big pinches salt (optional), or to taste

1/4

cup+ warm water

8

ounces

whole wheat spaghetti or linguini (or soba)

1

small bunch of asparagus, sliced thinly

Topping ideas: sliced green onions, chopped chard stems and leaves that have been cooked for a minute or two in a skillet with a bit of olive oil and salt (see photo), chopped fresh chives or scallions, toasted walnuts, spicy chile paste, poached egg
Instructions
Bring a large pot of water to a boil.

In the meantime, to make the dressing, use a food processor, blender or hand blender to puree the walnuts, olive oil, garlic, miso paste, lemon juice, and honey. Add the warm water a bit at a time until the dressing is the consistency of a heavy cream. Taste and add salt a bit if you think the dressing needs it. Set aside.

Salt the pasta water generously and cook the pasta per package instructions, being careful to not overcook. About 10 seconds before you are going to drain the noodles, add the asparagus to the pot. Alternately, you can cook the asparagus separately and use a spider to remove and set aside. Drain and toss the pasta with about 1/2 the walnut-miso dressing.

Toss the pasta well, adding more dressing if you like. Arrange in two bowls or on a platter. I finished off this version topped with the asparagus, sliced green onions, leftover tofu, toasted walnuts, and a good-sized dollop of Calabrian chile paste.
Related Recipes
More Recipes
Popular Ingredients