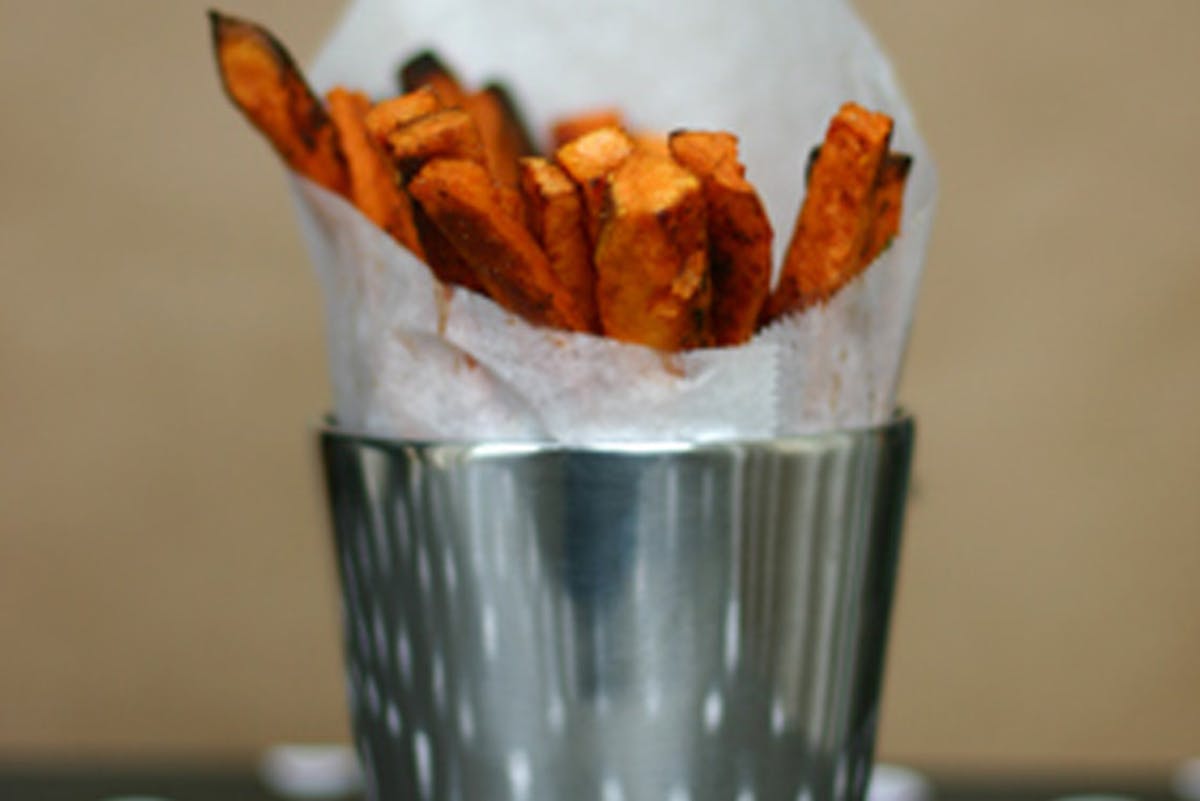 Sweet Potato Oven Fries Recipe
I'm going to get a little more nutritional and science-based today. As I was browsing on Amazon, a book caught my eye, so I ordered it. SuperFoods Rx : Fourteen Foods That Will Change Your Life. It's not your standard cookbook, and I'm not sure my life needs much changing -- but some of the information and ideas presented in this book looked fresh and important.
The basic premise is that there are fourteen nutritional powerhouse SuperFoods that can help you live healthier, for longer. Even if you think you are eating 'healthy' you may not be getting as much nutritional bang for your buck as you could be. The foods Dr. Pratt covers and advocates are: broccoli, oranges, spinach, blueberries, pumpkin, turkey, soy, yogurt, walnuts, wild salmon, tea, beans, tomatoes, and whole grains.
The book kicks off by listing staggering statistics about Americans and their declining health - more than 125 million of us having at least one chronic condition like diabetes, cancer heart disease, or glaucoma. Scary.
SuperFoods can apparently help combat this trend through their wealth of micronutrients (polyphenols, carotenoinds, and phytoestrogens). I have a hard time pronouncing the different types of micronutrients, but I did get a good sense of what they were good for -- At their basic level, just think of them as the nonvitamin, nonmineral, super strong, healthy stuff inside different foods. SuperFoods are packed with positive micronutrients which provide the foundation for the book.
A few interesting bits of information from SuperFoods Rx:
-The blueberry combines more powerful disease-fighting antioxidants than any other fruit or vegetable. They also appear to have the ability to slow or even reverse many of the degenerative disease associated with the aging brain.

-A compound found in broccoli was found to prevent the development of tumors by 60 percent in the study group, and reduce the size of tumors that did develop by 75 percent. (In a study at Johns Hopkins University).

-One bowl of oatmeal a day can reduce cholesterol by 8 to 23 percent.

-One study showed that by drinking one glass of orange juice a day you could reduce your risk of stroke by 25 percent.
...This book is brimming with this sort of information. It also includes 10 days of menus and recipes from Michael Stroot, chef at the Golden Door Span in Escondido, Ca. It was from this menu section that I picked todays recipe: Sweet Potato Oven Fries.
An alternative to pumpkin, the sweet potato is off-the-charts rich in beta-carotene (one of the worlds most studied antioxidants), which has been shown to help prevent many diseases, but lung cancer in particular.
The recipe itself was easy enough, it is essentially sweet potatoes cut into strips, sprinkled with a spice rub and a bit of olive oil, and roasted on a bed of rosemary sprigs.
I could imagine the waves of warm rosemary air streaming out of the house, the smell was so strong. The sweet potatoes roasted up nicely, the only problem was that they never crisped up. They went from limp to burnt, with seemingly nothing in between. The recipe mentioned that the fries would "puff up" a bit at some point late in the roasting stage, but that never really happened.
Nevertheless, they were tasty, delicious, and smelled perfect. Not a home run, only because I believe a fry should be able to stand on end, and these only slouched and slumped. But hey, they were baked and not fried, so my expectations were set regarding texture and crispness from the start.
Regardless, this is an important book, everyone should at least read it and take the ideas and presented facts into consideration. Armed with this information it seems very easy to improve the nutritional impact of your diet substantially though a few easy choices. A great way to kick off the new year.
In some of the early entries on this site I didn't request permission to run the recipe I was writing about from the publisher so it won't appear here. The majority of entries on 101 Cookbooks will have the recipes attached, this just happens to be one of the ones that doesn't.
From: SuperFoods Rx Page: 223