Classic Cheese Fondue Recipe
A classic cheese fondue recipe. I've included dozens of my favorite things to dunk - don't limit yourself to just bread!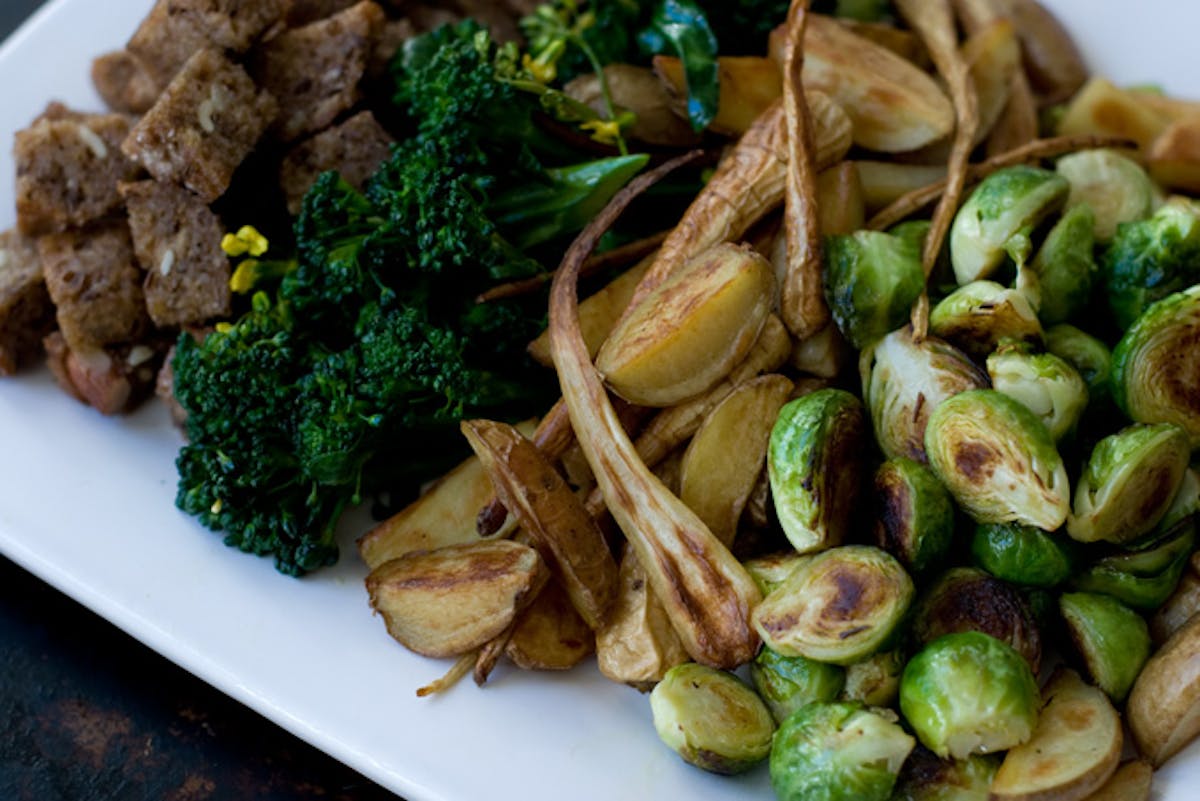 Fondue is perfect for holiday and New Year's celebrations - all that warm, oozy cheese, served in a communal pot. Though, I'll be the first to say, it's easy to overindulge in a haze of bread and cheese. In an attempt to bring a wider variety of ingredients and nutrients to the party, I like to put out big platters with a wide range of things to dip - roasted vegetables, fruit, and multi-grain breads.
A couple things to know before you make cheese or chocolate-based fondue for the first time. First, you need to have a good, heavy, thick-bottomed fondue pot. I received a nice, simple, white Le Creuset fondue set a few years back, and have since put it to good use. It is just the right size, heavy enameled-lined cast iron (so the cheese won't scorch on the bottom), and easy to clean. Some of you might have those thin metal fondue pots which are better suited for doing oil-based dipping/frying.
Back to the dip-ables. The trick to having a memorable and tasty fondue experience is dreaming up great things to dunk. Whatever you do, don't stop with the bread cubes - here's a list of some of my past favorites. I like to line up the dip-ables in pretty rows on big platters next to the fondue pot (one platter next to the cheese fondue and then another platter for the chocolate fondue). I'll post my favorite chocolate fondue recipe below as well. A few of my favorite things to dip:
Fruits: sliced bananas, apples, pears, peaches, or pineapples, or dried fruit, orange sections, strawberries, cherries, raspberries, blackberries, or grapes. Whatever is seasonal.

Breads: mixed-grain and whole wheat breads, crusty French or Italian bread, pita wedges, fresh tortillas, tortilla chips, croissants, bread sticks, naan, focaccia, or baked polenta cubes. In my book, I include recipes for variations like chipotle or spicy bean fondue which go nicely with the fresh tortillas, etc.

Blanched vegetables: broccoli, asparagus, green beans, snow peas, or snap peas. Blanch in a pot of lightly salted boiling water for a minute or two to soften them up just a bit. Drain them well before putting them out on a serving tray.

Raw or roasted vegetables: brussels sprouts, cherry tomatoes, red bell pepper slices, celery sticks, roasted potato wedges, roasted sweet potatoes, parsnips or roasted mushrooms.

Cakes and sweet things: angel food cake cubes, graham crackers, marshmallows, tiny brownies, tiny cookies, ladyfingers, shortbread, amaretti, biscotti, crystallized ginger chunks, or meringues.
From the archives.
Classic Cheese Fondue Recipe
1 clove garlic, minced
1 lb. Gruyere cheese, shredded (or 1/2 lb Gruyere + 1/2 lb Emmental cheese)
3 tablespoons unbleached all-purpose flour
1 3/4 cup dry white wine
1/4 teaspoon freshly grated nutmeg
A splash or two of kirsch (opt)
Toss the cheese with the flour. Rub the interior of a medium saucepan with the peeled garlic. Place over medium heat and add the wine. Bring to a simmer and add the cheese mixture, one handful at a time. Stir in the nutmeg.
Stir over low heat until smooth and cheese is melted and bubbling. Add a splash or two of kirsch (optional) and continue stirring until it starts to bubble just a bit. Transfer the cheese mixture to a fondue pot and you are ready for dipping. Continue to stir frequently.

Chocolate Fondue
1 lb. premium semisweet or bittersweet chocolate, well chopped
1 1/2 cups heavy cream
In a medium saucepan over low heat bring the cream to a simmer. Add the chocolate. Simmer, stirring until the chocolate is melted. Transfer the mixture to a fondue pot and use strawberries, cherries, oranges sections, graham crackers, marshmallows, or ladyfingers for dipping. Continue to stir frequently.