Peppermint Bark Chocolate Chip Cookie Recipe
A great peppermint bark cookie recipe using one of my favorite cookie doughs and peppered with a generous amount of chopped peppermint bark.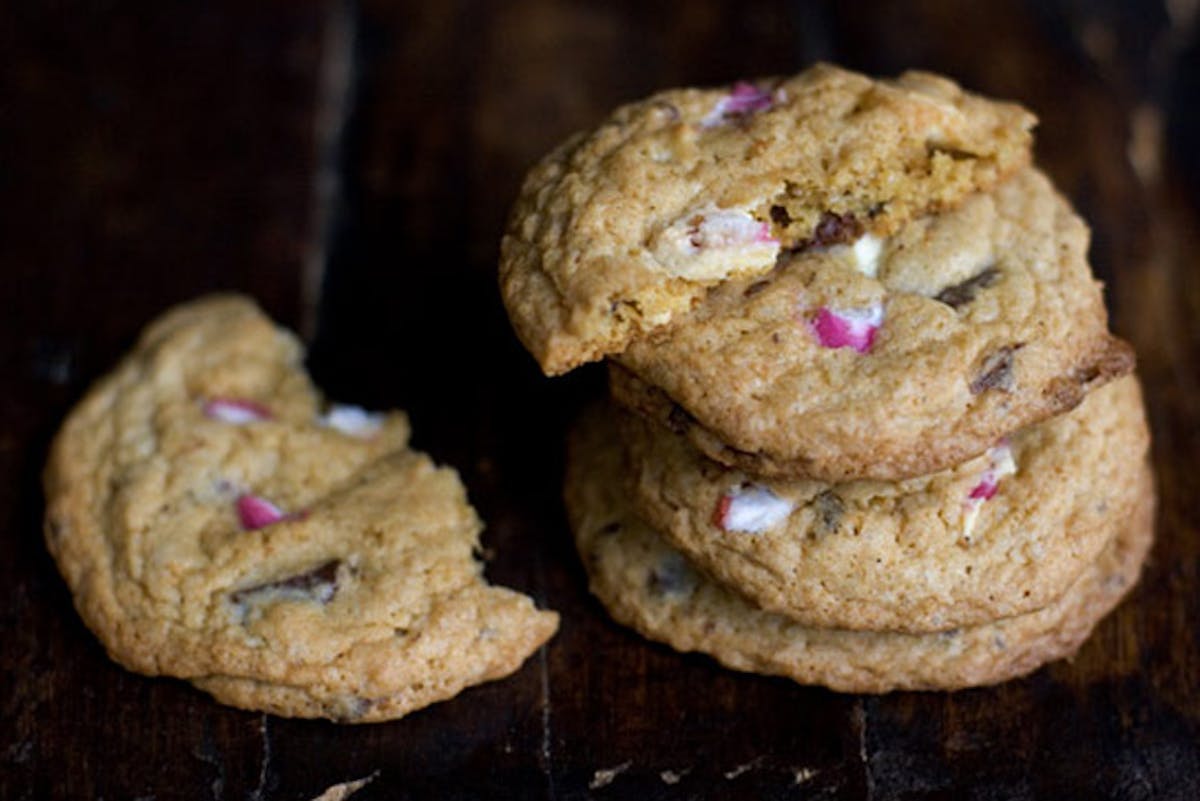 Many of you have been searching for a great peppermint bark cookie recipe. The original post I did about this holiday cookie was posted way back in 2003(!) - I've since overhauled and updated it, the peppermint bark cookie recipe you see below reflects these changes. I no longer use the famous Neiman Marcus cookie dough base, instead I use what has become my favorite "drop cookie" base. I then populate that with an obscene amount of peppermint bark. As you can see in the photograph you end up with a classic shaped cookie - not too thick, not too thin. They are delicious, and easy to make.
I've also baked a chocolate peppermint bark cookie, very similar in approach with lots of oozy minty chocolate goodness. Sometimes I do a batch of each of these cookies and put them on a platter together - plain on one side, chocolate on the other.
Purchase good peppermint bark - it's worth it. In the past I admit I've attempted to cut corners (be forewarned) - like the time I tried to stir in a blend of white chocolate chunks, semi-sweet chunks, and crushed peppermint sticks in place of the actual peppermint bark. The peppermint stick needs the support of the raft of chocolate beneath it, or else it just melts and leaves big pockmarks wherever the peppermint chunks were.
Recipe updated: 12/07

Peppermint Bark Chocolate Chip Cookie Recipe
Nearly a pound of peppermint bark goes into these cookies, not quite, but close. This is a large batch of cookies, I typically bake off half of them, form the rest of the dough into cookie-sized balls, and place them in freezer bag for later use.
3 1/2 cups whole wheat pastry flour (or unbleached all-purpose flour)
1 teaspoon baking soda
1 teaspoon aluminum-free baking powder
3/4 teaspoon fine-grain sea salt
1 cup unsalted butter, at room temperature
2 cups sugar
3 large eggs
1 tablespoon vanilla extract
2 cups peppermint bark, roughly chopped
1/2 cup chocolate chips or shaved chocolate
Preheat the oven to 375F degrees. Position the racks in the middle of the oven, and line baking sheets with parchment paper or Silpats.
Whisk together the flour, baking soda, baking powder, and salt in a bowl. Set aside.
In a large bowl or stand mixer, beat the butter until light and fluffy, then beat in the sugar until it is the consistency of a thick frosting. beat in the eggs one at a time, incorporating each fully before adding the next and scraping down the sides of the bowl a few times. Stir in the vanilla until evenly incorporated. Add the dry ingredients in 3 increments, stirring between each addition. At this point you should have a moist uniform dough. Stir in the peppermint bark and chocolate chips by hand, mixing only until evenly distributed. Reserve a bit of the bark to sprinkle on top of the cookies after you have dropped them onto the baking sheets.
Drop a heaping tablespoon of dough for each cookie onto the prepared baking sheets 2 inches apart and bake for about 10 - 14 minutes, until golden on bottom and top. Cool on wire racks.
Makes 2 to 3 dozen medium-large cookies.