Chocolate Peppermint Bark Cookie Recipe
A chocolate peppermint bark cookie recipe featuring a rich chocolate dough punctuated by generous amount of chopped peppermint bark and mini chocolate chips.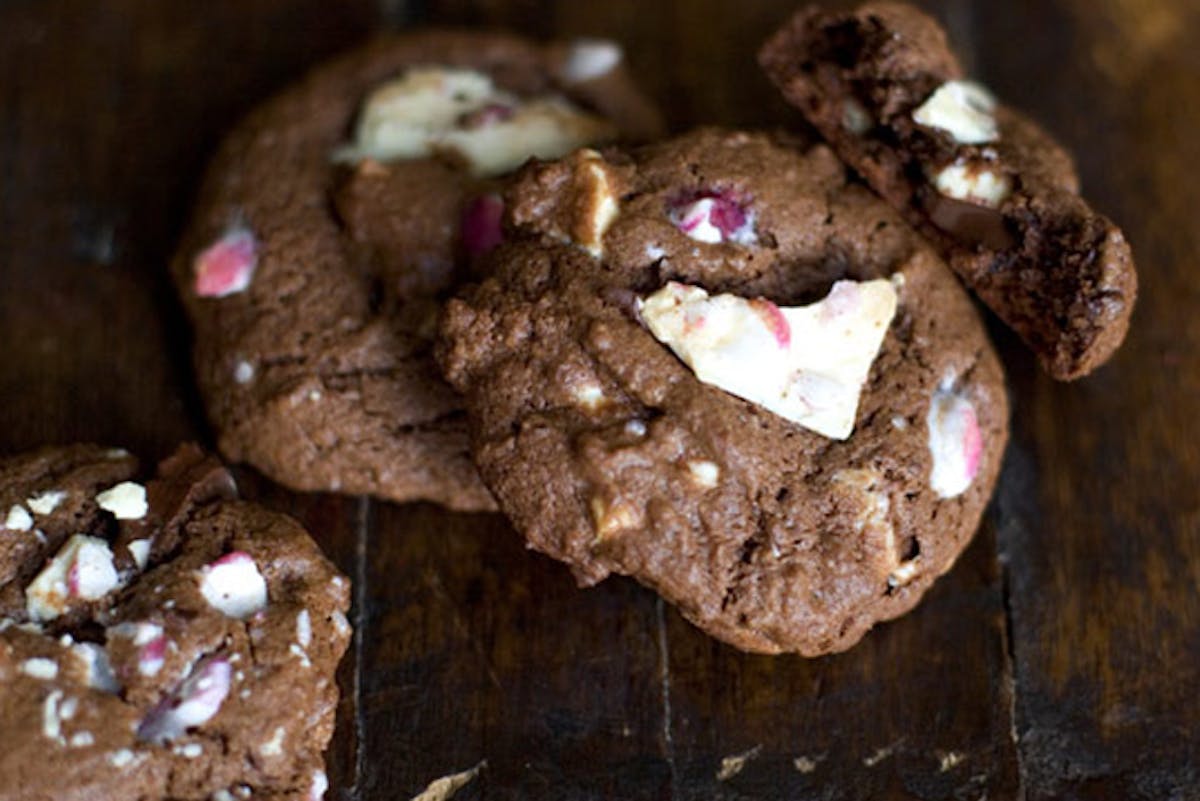 Here's a twist on the Peppermint Bark Chocolate Chip Cookie recipe you like so much. The key to making these cookies taste delicious is to load them up with the peppermint bark. This dough also freezes really well. So, as I mention in the head notes, make a big batch, cook half of them and shape the other half into dough balls. Freeze them on a cookie sheet until hard and keep them in a freezer-proof plastic bag - ready to bake anytime.
As I mentioned in the "plain" version of the peppermint bark cookie recipe - using the right kind of peppermint bark is important. In my opinion thick is better than thin. In the past, I've attempted to cut corners (be forewarned) - the time I tried to stir in a blend of white chocolate chunks, semi-sweet chunks, and crushed peppermint sticks in place of the actual bark, didn't work out very well. The peppermint stick need the support of the raft of chocolate beneath it, or else it just melts and leaves big pockmarks wherever the peppermint chunks were.
Recipe updated: 12/07

Chocolate Peppermint Bark Cookie Recipe
Nearly a pound of peppermint bark goes into these cookies, not quite, but close. This is a large batch of cookies, I typically bake off half of them, form the rest of the dough into cookie-sized balls, and place them in freezer bag for later use. And on the ingredient front - I love the flavor of Dagoba cocoa/cacao powder.
3 cups whole wheat pastry flour (or unbleached all-purpose flour)
1 cup non-alkalized cocoa powder
1 teaspoon baking soda
1 teaspoon aluminum-free baking powder
3/4 teaspoon fine-grain sea salt
1 cup unsalted butter, at room temperature
2 cups sugar
3 large eggs
1 tablespoon vanilla extract
2 cups peppermint bark, roughly chopped
1/2 cup miniature chocolate chips (optional)
Preheat the oven to 375F degrees. Position the racks in the middle of the oven, and line baking sheets with parchment paper or Silpats.
Whisk together the flour, cocoa powder, baking soda, baking powder, and salt in a bowl. Set aside.
In a large bowl or stand mixer, beat the butter until light and fluffy, then beat in the sugar until it is the consistency of a thick frosting. beat in the eggs one at a time, incorporating each fully before adding the next and scraping down the sides of the bowl a few times. Stir in the vanilla until evenly incorporated. Add the dry ingredients in 3 increments, stirring between each addition. At this point you should have a moist uniform dough. Stir in the peppermint bark, and optional chocolate chips by hand, mixing only until evenly distributed. Reserve a bit of the bark to sprinkle on top of the cookies after you have dropped them onto the baking sheets.
Drop a heaping tablespoon of dough for each cookie onto the prepared baking sheets 2 inches apart and bake for about 10 - 14 minutes, until very fragrant. Cool on wire racks.
Makes 2 to 3 dozen medium-large cookies.