Tropical Icebox Cake Recipe
Cool, refreshing, and tropical, this icebox cake recipe features a gingersnap crust, vanilla ice cream, rum, macadamia nuts, and toasted coconut.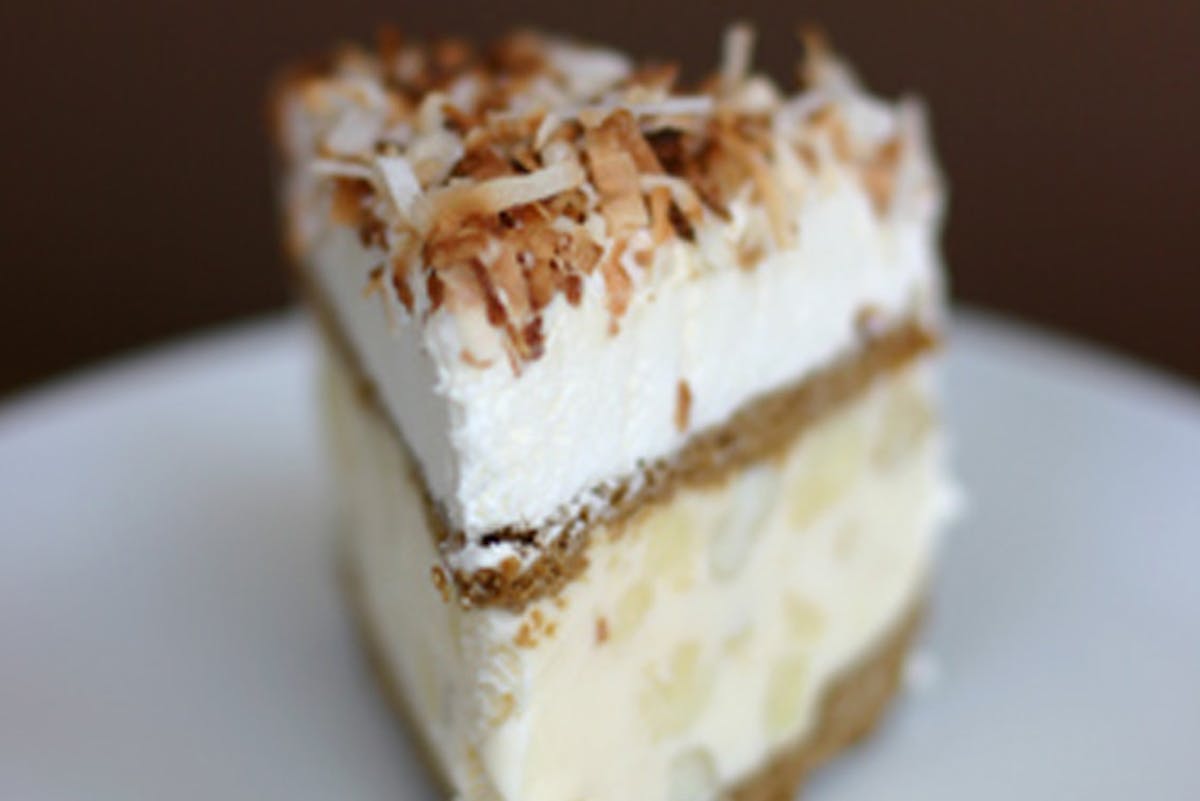 I was in my early twenties when I read an article in Food and Wine magazine about cake decorator, Margaret Braun. The article was titled 'A Cakewalk through Barcelona' and was about Margaret wide-eyed and wandering around Barcelona -- taking in the architecture, looking for locally produced food colorings, jotting notes in her journal, and enjoying delicious Catalan cuisine. Prior to this trip, her cakework already incorporated many medieval and gothic motifs, but it was in Barcelona that she discovered the magic of Antonio Gaudi. She then goes back to New York and incorporates his influence into one of my favorite cakes, appropriately titled 'Cakewalk through Barcelona'.
After reading this article and looking at the stunning photos, I never looked at cakes again the same. It also opened my eyes to all the possibilities out there for artists. I was a visual art major in college, and wasn't entirely sure what I wanted to end up doing. I always kept this article in the back of my mind as a reminder of how exciting it could be to find a niche where you excel at what you do while constantly being able to find new ideas, materials, and inspiration through your travels or even in your own back yard.
I own Margaret's book, Cakewalk -- and I've read it from cover to cover (multiple times). I was all set to do one of the fondant covered cakes for this weeks post, but bailed out at the last minute. I am still short a couple pieces of equipment, and to be frank, my icing piping skills are just not up to snuff (as many of you have seen on my previous cakes). But I will practice, and revisit this book.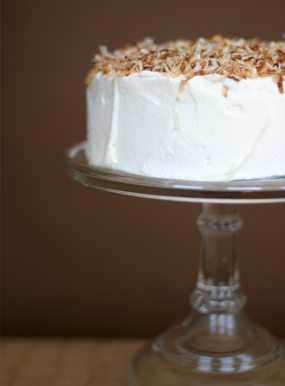 Because I have been daydreaming about cakes all week, I decided to make a simple ice cream cake - a little anti-climatic, I know. Most of the ice-cream cakes I have seen in the past are hard on the eyes and outright tacky looking - they always just have way too much going on. Just because someone has access to thirty-one flavors doesn't mean they need to use them all. And because it is summer I wanted something cool, refreshing, and tropical. So, I present to you my first attempt at an icebox cake. You can use just about anything for the layers - sherbert, sorbet, ice-cream, frozen yogurt. The crust could be make with chocolate or vanilla wafers in place of the gingersnaps, and some people even do layers of actual cake between layers of ice-cream.
Tropical Icebox Cake Recipe
Gingersnap Crust: Place 2 1/2 cups loosely crumbled gingersnaps, 5T melted butter, and 3T sugar into a food processor and blend until mixture is the texture of coarse sand.
Ice-cream Layer: Soften 2 1/2 cups high-quality vanilla ice-cream or frozen yogurt and stir in 1 cup chopped pineapple and 2/3 cup loosely crushed macadamia nuts.
Whipped Cream Layer: Whip 1 1/2 cups of heavy cream sweetened with a few tablespoons of sugar and a splash or two of rum. Whip until billowy but not too stiff.
Toasted Coconut: I pan toasted the coconut over medium low heat, roughly a cup or so.
Assemble the cake: Pack a thin layer of ginger snap crust into the base of a 6-inch spring form pan. Slather on a generous layer of ice cream, let it freeze until hard.
Pack another layer of ginger snap crust on top of the ice cream (because I love the buttery sweet gingersnap crumbs), then fill pan to the rim with a thin layer of rum + sugar sweetened whipped cream.
Freeze until hardened, preferably overnight.
Release cake from the pan (don't cut around edges w/ a knife) and frost the entire cake with a layer of the sweetened whipped cream.
Top with toasted coconut. Put back in the freezer until outside layer of whipped cream is set.