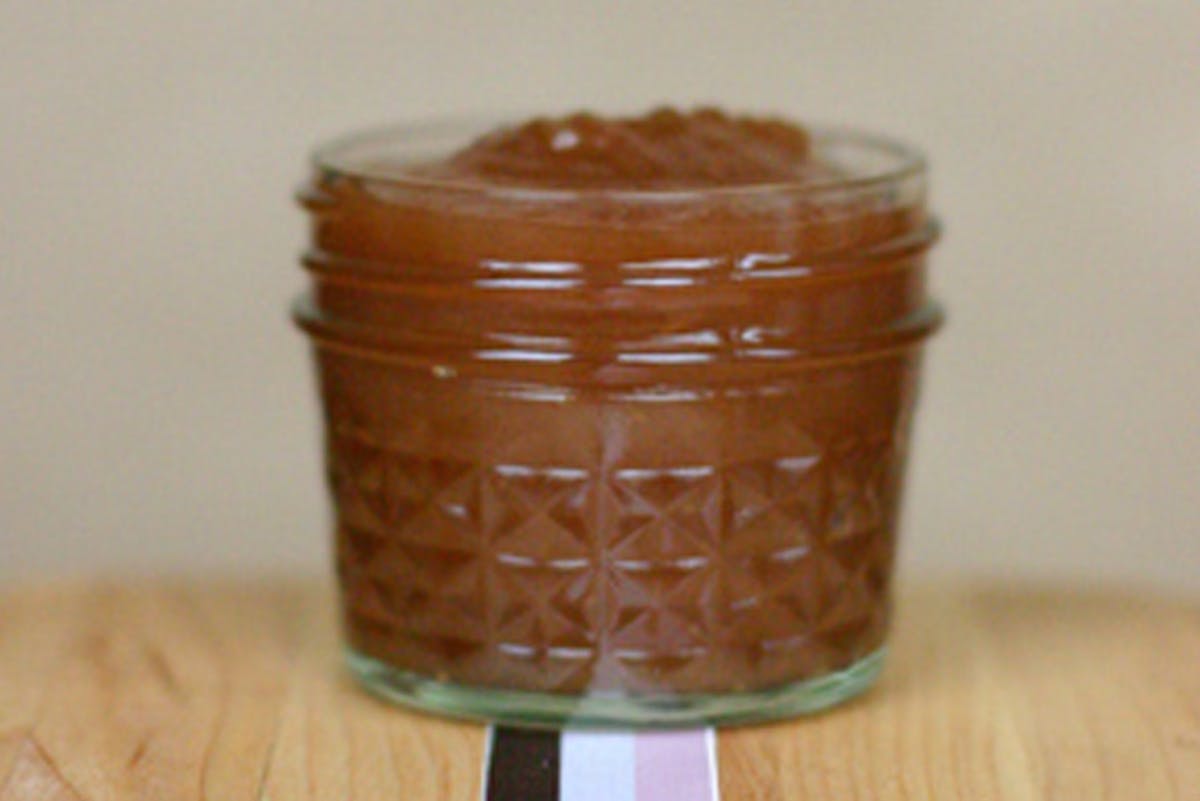 Apple Butter with Carolina B. Recipe
Carolina B. makes tasty jams and jellies in a small studio apartment just outside the Mission district here in San Francisco. Her name is pronounced caro-leen-ah, and the B stands for Braunschweig. I first heard about Carolina and her jams when I read about her a few weeks back in Daily Candy. I thought it was really neat that she was doing her own thing and in the early stages of setting up her own jam empire under the name cmbsweets.
Coincidentally, a few nights later I walked up the street to a little 'hipster' arts and crafts fair called Feria Urbana which just happened to be taking place right in my neighborhood. Carolina had a booth there and was selling everything from apple-honey butter and raspberry jam to fig-sesame spread and seasonal favorite - pomegranate jelly.
I immediately started gushing about how great I thought her story was (like some kind of groupie) and she was nice enough to let us sample her different creations. I got brave and asked her if she would teach me how to make good jam sometime -- at the same time volunteering my chopping, blending, and stirring skills to her if she ever wanted to take me up on it. I ended up going home with a jar of amazing boysenberry jam and her promise to take me up on my offer.
We set the time and place, and decided to make a fall-spiced apple butter. Carolina showed up at my house yesterday, apples and vintage jam jars in tow, and in no time we were peeling, chopping, simmering, and stirring. The kitchen has never smelled so good.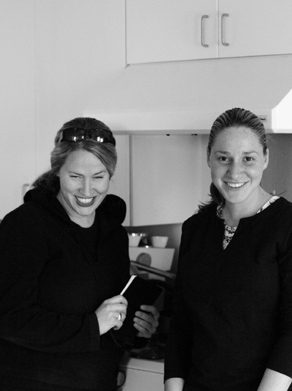 Me and Carolina in the kitchen
The cool thing about apple butter is that it is very straightforward to make. Unlike many other preserves, this recipe doesn't call for any pectin, so it isn't an intimidating place to start. Carolina said she would come back sometime over the holidays and we can address the whole pectin lesson (which also, isn't as scary as it sounds) over a batch of Pomegranate Jelly.
This apple butter is sweet, heartily spiced, perfect for this time of year, and absolutely delicious. I can think of a dozen ways of eating it -- as a spread on sandwiches, toast, panini, and fresh baked bread. I like it in place of syrup on pumpkin-spice pancakes, and I know lots of people who enjoy it this time of year with variety of roasted or braised meats and vegetables . It is perfect served warm or cold.
A couple final words on Carolina and her jars of jam...Her branding is very fun, cute and distinctive. Kids will absolutely love it. Parents also give the thumbs up to her use of all-natural ingredients (and organic fruit when possible). And if that wasn't enough, her pricing borders on outright cheap ($3 or $5 per jar) --perfect for gifts, housewarmings, and stocking fillers. If you want to order jams from her you can visit her online store and she will be happy to ship to you.
Apple Butter with Carolina B.
This recipe makes roughly 40 ounces of apple butter. So you can make 5 small 8-ounce jars (great as gifts or house warming presents), or a couple large sized jars, it's up to you.
4 pounds of apples, peeled and cut into bite sized chunks (we used a mix of empire, gala, and Fuji apples - but any type of flavorful apple will do)

Roughly 1/2 gallon of apple cider
2 cups of sugar (use roughly 1/2 cup per pound of fruit)
1 1/2 t. cinnamon
1/2 t. cloves
Juice of one lemon
Prepare the jars: Heat oven to 225 and place jars (but not lids) on the baking racks. Jars will need to stay in the oven for at least 20 minutes. Wash the lids with hot water and let them dry completely on a clean towel.
Make the apple butter: In a big, heavy pot over medium/med-high heat add the apples and enough apple cider to just cover the apples. Bring to a simmer. A bit of a foam will form, you want to skim that off a couple of times (don't obsess). Cook the apples until they are tender throughout, roughly 20-30 minutes. Take the apples off the heat, let them cool for a couple minutes, and then puree in a blender, in small batches (don't fill the blender over half full with the hot liquid or you will have a mess). The puree should be the consistency of a thin applesauce.
Put the puree back in the big pot over medium heat. Bring puree to a simmer (you need it to hit 220F on a candy thermometer). Then, while stirring, slowly sprinkle in the sugar, cinnamon, cloves, and lemon juice. Continue to simmer over medium/med-low heat. It takes quite a while from this point until the apple butter reduces and really thickens up, anywhere from 1 to 2 hours (try to keep it around 220F). Make sure you stir regularly, you don't want it to burn or cook to the bottom of the pot. You are looking for the apple butter to thicken up and darken. Towards the end it gets a bit messy, the simmer becoming more lava-like - it also sounds different, lots of plop and slop noises and lots of spattering coming from the pot. Remove from heat.
Fill your your biggest, deepest pot with water and bring to a rolling boil. The water level will need to cover the jars.
Fill the jars:Using tongs carefully remove each jar from the oven and fill to within 1/4 inch of the top with the apple puree. Wipe off rims with a clean dry paper towel. Place a dry lid on each jar and close tightly. Using tongs place each of the jars in the boiling water and boil for 10 minutes.