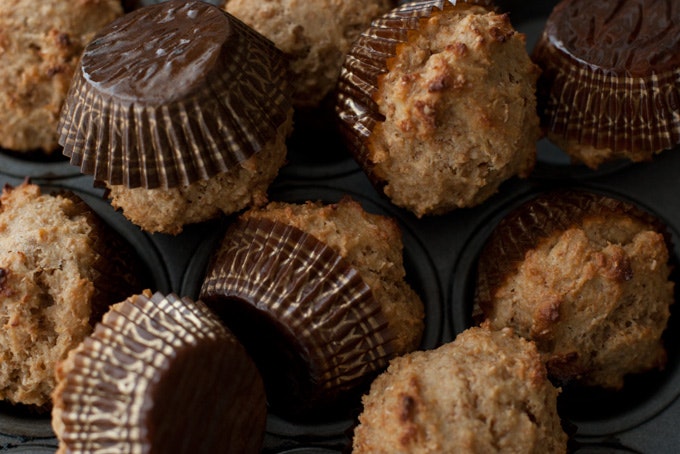 Today's bran muffin recipe comes from a gem of a cookbook I stumbled upon while browsing vintage books in an antique shop in Cambria, California. We drove through Cambria last week on our Hearst Castle adventure, and it just so happened that this particular shop had a disproportionate number of natural food volumes in their cookbook collection. One jumped right off the shelf at me, it had a wonderfully Rousseau-esque illustrated cover and was titled The New York Times Natural Foods Cookbook by Jean Hewitt.
At the time this book was published Jean Hewitt was the Home Economist of The New York Times. Her articles appeared regularly on the Food-Fashions-Family-Furnishings page, and in The New York Times Magazine. Jean became interested in cooking without highly processed ingredients while doing research for one of her Times articles. Many of the recipes featured in the book were contributed by readers - the newspaper conducted a 12-month search to find cooks and chefs who were experimenting and utilizing natural ingredients in interesting ways. The book features over 700 recipes and many of them are strikingly original, slightly quirky, and I'd bet a good percentage of them are delicious. Looking down at the book next to me, I've flagged the sunflower seed soup, macrobiotic super soup with buckwheat dumplings, dilled batter bread, and cottage cheese pancakes.
Back when the book was first published in 1971 natural foods seemed to have some public perception issues (not unlike today). The front cover flap reads, "...if you think natural food is all pumpkin seeds and molasses, this new cookbook from The Times will come as a delicious surprise." One of the selling points on the back cover, "food to serve with pride - and without apologetic pep-talks about being natural or "organic" or "good for you." As the saying goes - the more things change, the more they stay the same. I spend a lot of time explaining to people that natural foods aren't synonymous with "neatloafs" and sprouts.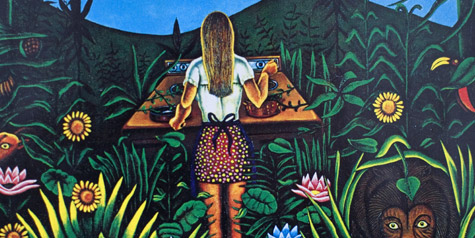 Cover detail - The New York Times Natural Foods Cookbook
I couldn't resist trying the bran muffin recipe - the gold standard by which healthy baking is measured. The original recipe was contributed to the book by Cynthia Hedstrom from New York, New York. I've updated it to account for different naming conventions and ingredient availability. This is classic bran muffin recipe and turns out hearty, substantial golden-crumbed muffins that are delicious hot out of the oven with a touch of butter and sprinkled with few grains of salt. They are made from a yogurt and whole wheat base batter using minimal butter, but I promise you - they can hold their own against more butter-rich alternatives.
All in all, a lucky find - eight dollars on a book very well spent. If you end up trying to buy a copy of it, be sure to look for one with the fantastic, colorful dust cover. I believe mine is a first edition, it is hardcover, published by Quadrangle Books, and 434 pages in length.
Baby Bran Muffin Recipe
These bran muffins are delicious hot out of the oven with a touch of butter and sprinkled with a few grains of salt. They are made from a yogurt and whole wheat base with minimal butter and can certainly hold their own against their not-as-nutritious counterparts. Adapted from Bran Muffin recipe in The New York Times Natural Foods Cookbook published 1971.
2 cups white whole wheat flour OR stone ground whole wheat flour
1 1/2 cups wheat bran
3/4 teaspoon fine grain sea salt
1 1/4 teaspoons baking soda
2 tablespoons raw natural cane sugar OR brown sugar
2 cups full fat yogurt
1 egg, lightly beaten
1/2 cup honey, preferably a light honey such as clover
2 tablespoons melted butter
1 cup of add-ins of your choice - raisins, chopped dried fruit, nuts, etc (optional)
Preheat oven to 425F degrees, racks in the middle.
In a medium bowl, combine the flour, wheat bran, salt, baking soda and sugar.
Beat together the yogurt, egg, honey, and butter in a second larger bowl. Add the dry ingredients and fold in until everything comes together. Fold in any optional add-ins, raisins, nuts, and the like. Resist overmixing.
Either grease a mini-muffin tin with butter or line the tin with small muffin papers. Fill each 3/4 full. Bake 10 -15 minutes, until muffins are golden on top and cooked through. You can also make larger muffins in a standard size muffin pan with this batter, you just need to bake them about 5 minutes longer.
Makes about two dozen tiny bran muffins or one dozen larger ones.