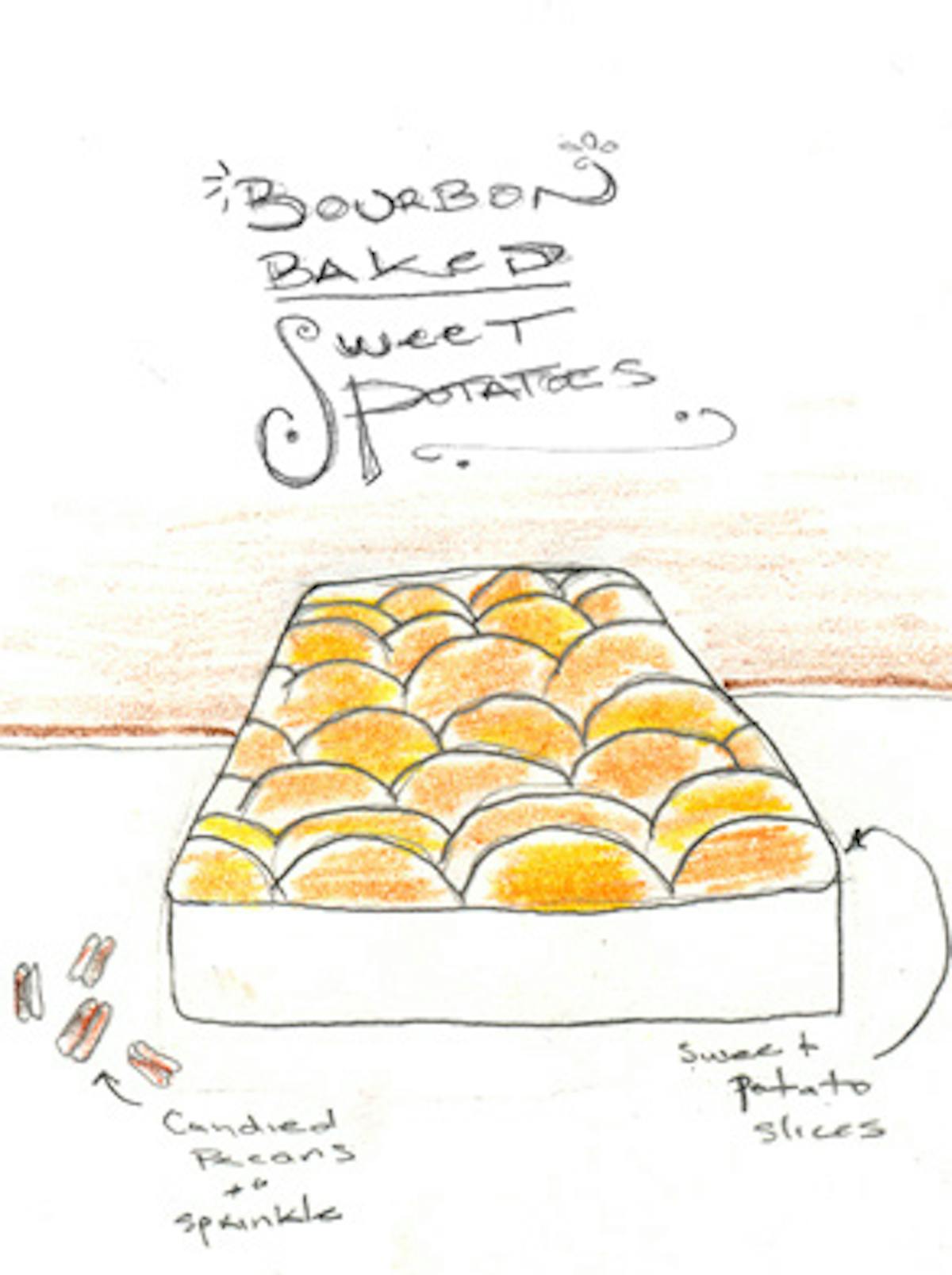 Bourbon Baked Sweet Potatoes Recipe
In my haste to sit down to our Thanksgiving feast I forgot to take a picture of my sweet potatoes - so, for better or worse, today you will get your first glimpse of my illustration skills.
As you might imagine, Thanksgiving is quite a production in the Swanson household. Yesterday everyone made the drive my parent's house in Los Gatos which is about an hour south of San Francisco in the hills between Santa Cruz and San Jose. My parents still live in the house my sister and I grew up in, but they have thankfully long since ripped out the orange carpet and linoleum floors. I like going down there during the winter and tend to just lay around, read books, watch TV, and act generally lazy (just like I was still sixteen!).
Everyone had something to contribute to the feast. If you aren't in the kitchen my dad has likely figured out something else around the house for you to focus your attention on. He Tivos programs on the TV he thinks we will like and because there is always something wrong or broken on his computer or the home network, he has our tech-savvy spouses troubleshooting stuff as soon as they step foot inside. Bless him for being technologically enthusiastic though, because I think that is where my sister and I picked it up.
Me and Tiff
Thanksgiving dinner was delicious as ever. To top it all off one of my oldest friends, Tiffany, stopped by afterwards. Tiffany lived just up the street from me as a kid and we had all sorts of fun growing up together. Swatch watches, crimping irons, spring breaks, and Mr. Harden's english class were only the tip of the iceberg. We went our separate ways in college but always stayed in touch. She is an amazing illustrator and did illustrations for ChickClick when I first started that at Imagine Media. She recently moved to Los Angeles, so it was nice to see her on our home turf. Unfortunately, she missed out on the feast and we were packing up leftovers as she arrived...
The menu:
-artichoke dip and baguette

-vegetarian stuffing with mushrooms and herbs

-big mixed green salad with candied pecans and dried cranberries

-a golden roasted turkey (no one makes a turkey better and more beautifully than my dad, even if I don't eat it anymore)

-bourbon baked sweet potatoes (recipe below)

-classic mashed potatoes with caramelized onions on the side

-green beans (a version w/ crispy bacon and one w/o)

-apple pie a la mode (recipe here)
-pumpkin pie with freshly whipped cream
I wanted to make something with sweet potatoes, bourbon, and crunchy pecans. For those of you who have been reading this journal for a while, you know I am hung up on sweet potatoes. I didn't want to make a mushed, mashed, baby-food sweet potato dish (although sometimes I like those too!).....I wanted one with structure and deep caramelization on the sweet potatoes. I also wanted to make something that I could assemble 90% before I got to my parents. Lastly, I was looking for something that could function as a main dish vs. a side dish - for the vegetarians at the table foregoing the bird. Essentially what I ended up doing was pre-roasting 2 baking sheets full of medium-thick sweet potato slices (until they got tender and golden). I layered those slices in a baking dish (the way you might layer gnocchi alla romana), sprinkled them with spices and lemon zest, and then covered the whole thing and put it in the refrigerator. Then, about 45 minutes before going to sit down to eat, I breezily drizzled the sweet potatoes with a simple maple/bourbon/buttery glaze and popped it in the oven where it got nice and hot and even more golden. Yum. The more formal recipe follows below.
Bourbon Baked Sweet Potatoes
5-6 chubby, red-fleshed sweet potatoes
Splash of extra-virgin olive oil
Salt and pepper

1-inch square of ginger, peeled and grated
2 generous pinches of ground cinnamon or canela
1 generous pinch of ground cloves
Zest of one lemon (orange zest would be good too)
3T unsalted butter, melted and cooled a bit
1/4 cup maple syrup
Splash of milk (2T. or so)
Splash of bourbon (2T. or so)
1/4 freshly grated Parmesan (not from the plastic container!)
Spicy Pecans (recipe below)
Prepare the Sweet Potatoes:
Preheat the oven to 375.
Slice the sweet potatoes about 1/3-inch thick and use a circular cookie cutter (optional) to stamp each slice into a uniform, round shape -- or you can just peel the potatoes and slice them. My cookie cutter was about 1 1/2 inches wide. Toss the sweet potato medallions in a generous splash of extra-virgin olive oil, sprinkle with salt and pepper, and place in a single layer on a baking sheet(s). Bake for 20-25 minutes, rotating from top to bottom halfway through, until tender and golden. Remove from oven and let cool.
Assemble:
In a baking dish, (I used an 8x8) --layer the sweet potato medallions, you want them to overlap slightly. Sprinkle with the lemon zest, ginger, cinnamon, and cloves. Cover tightly and place in refrigerator. You can assemble to this point up to a couple days in advance.
An hour before serving:
In a small bowl whisk together butter, maple syrup, milk, and bourbon. Drizzle all of the sauce over the sweet potatoes, sprinkle with Parmesan, cover with foil, and bake at 375 for 10-15 minutes. Uncover and continue baking until deeply golden and caramelized - another 15-20 minutes. Sprinkle with Spicy Pecans and you are ready to go.
Spicy Pecans
1 tablespoon unsalted butter
2 cups pecans
1/3 cup brown sugar
1 teaspoon paprika
1 teaspoon red chile powder
3 tablespoons cider vinegar
In a medium skillet over medium-high heat melt the butter and add the pecans. Saute for 2-3 minutes or until the pecans are lightly browned and smell toasty fragrant. Stir in the brown sugar, stir until it gets liquidy and lightly caramelized, about 3 minutes. Stir in the spices, and then add the cider vinegar. Stir until the liquid evaporates. Pour pecans out onto parchment lined baking sheet, separate the nuts into a single layer, and bake at 375 for 4 minutes. Let cool.