Snow-topped Holiday Cupcakes Recipe
Knee-deep coconut flecked frosting tops over a sour cream coconut cake batter base make these a quintessential holiday cupcake recipe.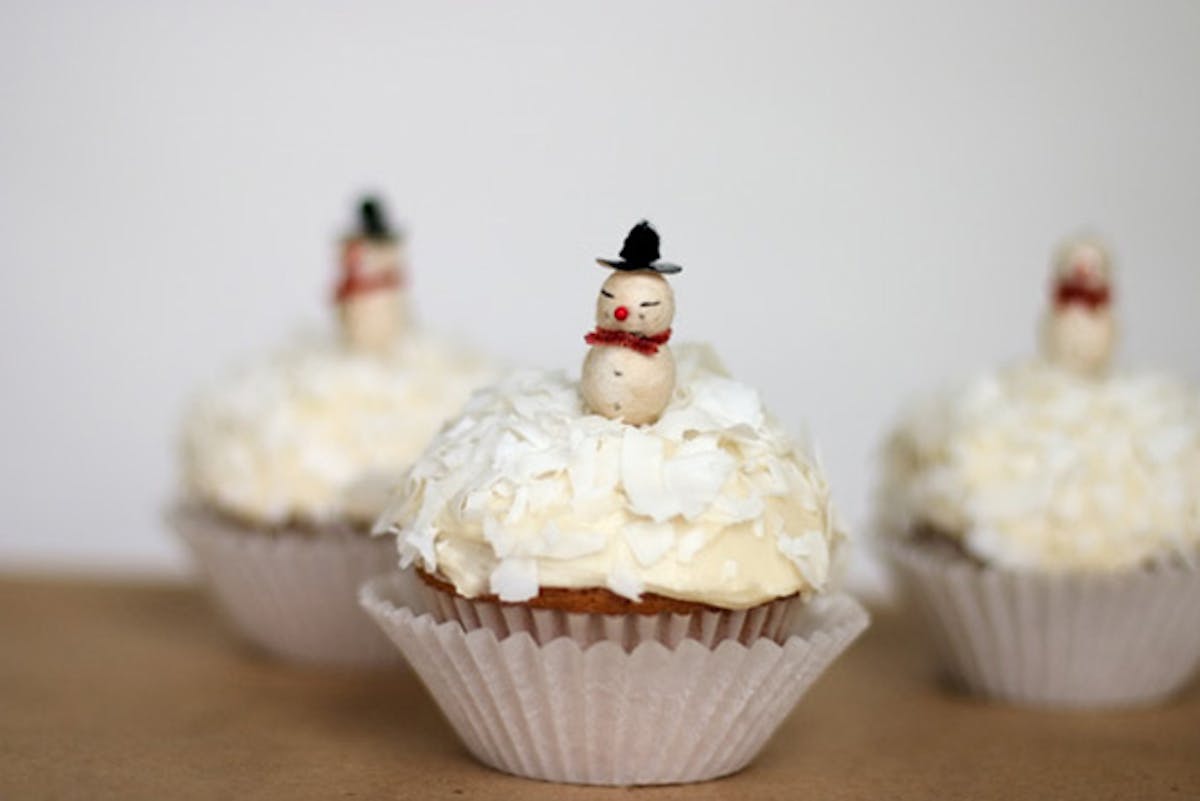 I love to feature Lisa Yockelson's cupcake recipe this time of year because they are so darn cute and delicious (thank you Lisa!). Her recipe makes perfect snow-topped holiday cupcakes. They have big, billowy, knee-deep frosted tops that hint at the coconut blizzard that must have just blown through your kitchen.
As I've learned the hard way, not all cupcake recipes are created equal. It's easy to end up with flat, dense cupcakes. Not these. They blossom from their muffin tins, set right up, and then behave perfectly - eventually glowing with a kiss of gold from the heat of the oven. After coming out of the oven the cupcakes hold nicely - no sinking, slumping, or fissures.
While the cupcakes are baking I whip up the coconut cream cheese frosting - easy and delicious. You can make them small, medium, or jumbo. Decorate them with your favorite, holiday characters. I found these vintage snowmen at a flea market.
Sidenote: I haven't tried to make these with any alternative flours but would like to at some point. If any of you have, please let me know what you did -and how they turned out.
Snow-topped Holiday Cupcake Recipe
Lisa calls these her Jumbo Coconut Cupcakes. Start with the cupcake batter and whip up the frosting while the cupcakes are baking and cooling.
2 1/2 cups plus 2 tablespoons unsifted bleached all-purposed flour
1/2 teaspoon baking soda
3/4 teaspoon salt
3/4 teaspoon nutmeg
12 tablespoons (1 1/2 sticks) unsalted butter, softened
1 1/2 cups superfine sugar
3 large eggs
2 1/2 teaspoons pure vanilla extract
3/4 cup thick, cultured sour cream
1 cup tightly packed sweetened flaked coconut

Coconut Cream Frosting (see recipe below), without the addition of the sweetened flaked coconut, for topping the baked cupcakes

About 1 1/2 cups sweetened flaked coconut, to top the frosted cupcakes

Bakeware needed:
8 jumbo muffin/cupcake cups (two pans each holding six individual muffin cups), each cup measuring 4 inches in diameter, 1 3/4 inches deep, with a capacity of about 1 1/8 cups (hs note: I used standard muffin pans. When I filled the cups 2/3 full, I got nice classic cupcakes. When I filled to the top I got big, jumbo-style cupcakes. Both were great, and plenty jumbo for me.)

Nonstick cookware spray, for preparing the muffin/cupcake pans
Preheat the oven to 375. Film the inside of the muffin/cupcake cups with nonstick cooking spray. Set aside.
Sift the flour, baking soda, salt, and nutmeg onto a sheet of waxed paper.
Cream the butter in the large bowl of a freestanding electric mixer on moderate speed for 3 minutes. Add half of the superfine sugar and beat for 1 minute; add the balance of the superfine sugar and beat for 2 minutes longer. Beat in the eggs, one at a time, mixing for 45 seconds after each addition. Blend in the vanilla extract. Scrape down the sides of the mixing bowl frequently with a rubber spatula to keep the batter even textured.
On low-speed, alternately add the sifted mixture in three additions with the sour cream in two additions, beginning and ending with the sifted mixture. The batter will be smooth, moderately thick, and buttercream-like. On low speed blend in the coconut.
Divide the batter among the prepared muffin/cupcake cups, mounding it slightly in the center.
Bake the cupcakes for 30 to 35 minutes (hs note: less if you use smaller tins), or until risen and completely set. When baked, a wooden pick inserted in the center of a cupcake will withdraw clean.
Cool the cupcakes in the pans on racks for 15 minutes. Carefully remove the cupcakes to cooling racks. Cool completely.
Using a flexible palette knife, spread the frosting as thickly as possible on top of the cooled cupcakes, making a thick 2-inch cap on top. Sprinkle the frosted surfaces of the cupcakes with the coconut. Refrigerate any cupcakes not served within 2 hours.
Makes 8 jumbo frosted cupcakes.
Coconut Cream Cheese Frosting
12 ounces (one and one-half 8-ounce packages) cream cheese, softened
5 tablespoons (1/4 stick plus 1 tablespoon) unsalted butter, softened
2 1/2 teaspoons pure vanilla extract
3 tablespoons heavy cream
1/8 teaspoon freshly grated nutmeg
5 1/2 cups unsifted confectioners' sugar (hs note: I used a bit more)
3/4 cup lightly packed sweetened flaked coconut
Using an electric hand mixer, beat the cream cheese and butter in a large mixing bowl on moderate speed for 1 minute, or until creamy and well combined. Blend in the vanilla extract, heavy cream, and nutmeg. On low speed, add the confectioners' sugar in three addition, beating until thoroughly combined before adding the next batch. Scrape down the sides of the mixing bowl frequently with a rubber spatula to keep the frosting even textured. (hs note: you can control the thickness of your frosting by adding more powdered sugar if needed)
if you are preparing the frosting in advance, press a sheet of food-safe plastic wrap over the surface of the frosting and set aside. use the frosting within 30 minutes of mixing. All baked goods topped with cream cheese frosting should be kept refrigerated after the frosting has set.
Makes about 4 1/2 cups.
Reprinted with permission from Baking by Flavor (Wiley, 2002)