Basic Chocolate Cake Recipe
This is a rich, decadent, but basic chocolate cake recipe. It is chocolate-packed, moist, and not-too-complicated. Baked and served in one pan slathered with a layer of fresh chocolate whipped cream frosting.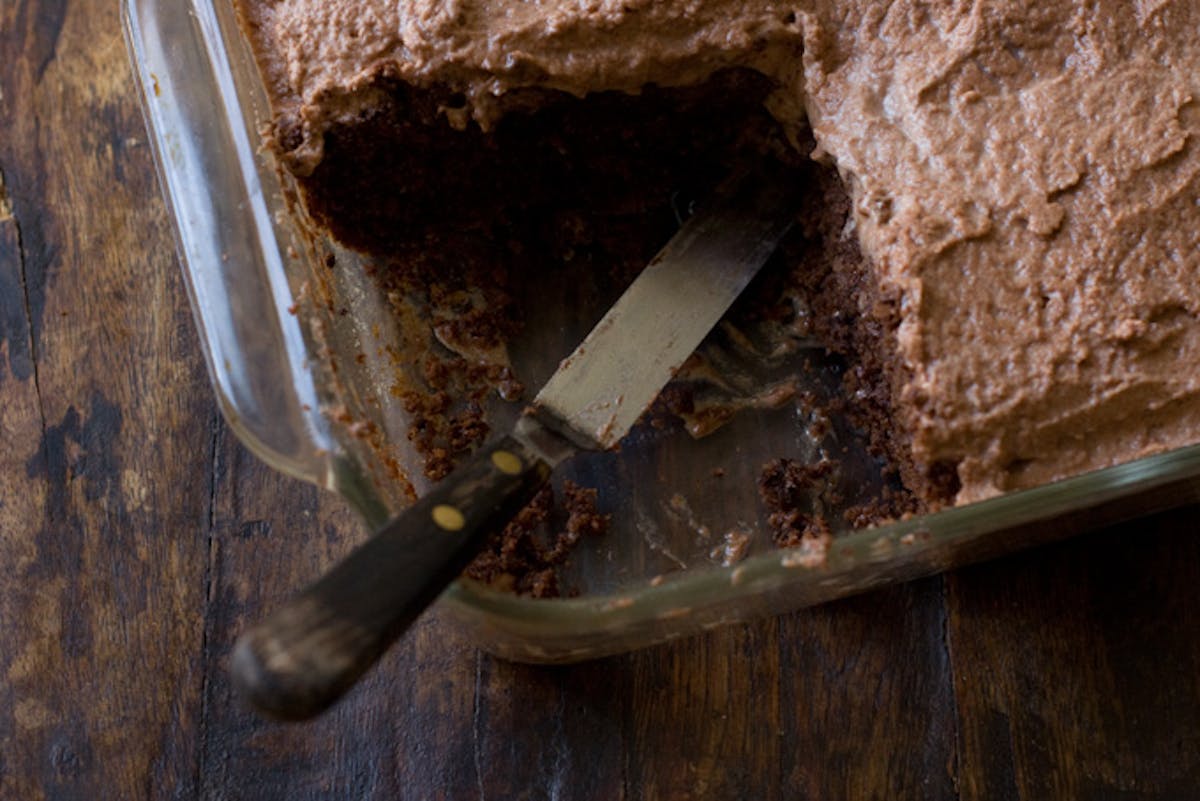 There are a few things that make my basic chocolate cake recipe different from others, but before I get into the details, I should write a bit about the type of chocolate cake we are dealing with. This is not one of those, multi-layered, fancy-pants chocolate cakes. I'm not much good with those. This is a simple, relatively unassuming chocolate cake. An everyday chocolate cake that you might not make everyday. It is chocolate-packed, moist, not-too-complicated and delicious. I bake, frost, and serve it in one pan - typically a Pyrex I picked up at a yard sale years ago. It has no added sugar in the cake or frosting (I use maple syrup), and whole wheat pastry flour is used in the batter. A generous slather of fresh, chocolate-whipped cream frosting tops it all off (also maple sweetened).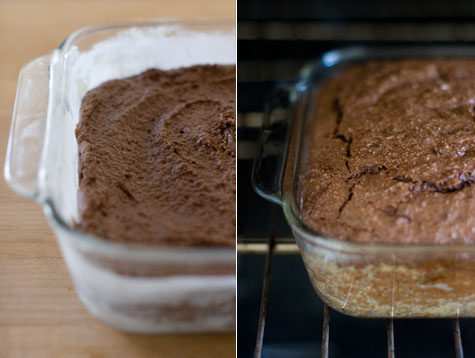 You will want to refrigerate any leftover cake that has been frosted. I should also mention that as the cake chills it become more and more truffle-like in texture. Feel free to let it come back up to room temperature if you like a more crumb-like texture. Likewise, the frosting will set up as it chills, but stays billowy and light at room temperature.
I've been trying to develop more recipes like this one. Cakes, tarts, cookies and treats that approach the sweeteners and flours a bit differently than most traditional recipes - less refined sugar, less white flour, etc. Let me know if this is something you're interested in seeing more of, and I'll keep posting the best-of what I come up with.
Basic Chocolate Cake Recipe
I typically make this frosting just before serving. I should also mention that you'll want to give your coconut milk a good shake (or stir) before using it - it tends to separate in the can. If you have a hard time finding whole wheat pastry flour, feel free to substitute unbleached all-purpose flour.
2 1/2 cups whole wheat pastry flour
3/4 cup non-alkaline/non-Dutched cocoa powder (I use Dagoba)
1 tablespoon baking powder (look for non-aluminum type)
3/4 teaspoon fine grain sea salt
1/2 cup barely melted unsalted butter (or coconut oil)
1 cup real maple syrup, room temperature
2 eggs, lightly beaten
2 teaspoons vanilla extract
1 cup coconut milk, room temp
8 ounces good-quality bittersweet chocolate, shaved or finely chopped
Preheat oven to 350F degrees with a rack in the middle. Butter and flour an 8x8 square cake pan (I've also had success using a 9x9 pan, just adjust your baking time).
Sift the flour, cocoa powder, baking powder, and salt into a large bowl. In a separate medium bowl whisk together the melted butter and maple syrup until it looks like caramel. Whisk in the eggs, vanilla, and then the coconut milk. Pour the maple syrup mixture over the flour mixture and stir until barely combined. Add the chocolate and stir until everything comes together and is no longer dusty looking - avoid over-mixing. Pour the batter into the prepared baking pan and bake for 30 - 40 minutes. This is a cake I like slightly under-baked, so I pull it out when the center is still a bit under cooked - the toothpick doesn't quite come out clean when testing. If you are going to use it for a layer cake - then bake it all the way (clean toothpick). Remove from oven and allow to cool (absolutely completely) in pan before frosting (frosting recipe below).
Chocolate Whipped Cream Frosting
2 ounces bittersweet chocolate (chopped)
1/4 cup unsalted butter, room temperature
1/4 cup maple syrup
1 cup heavy cream, whipped to stiff peaks
To make the frosting melt the chocolate in a double-boiler, or in a bowl placed over a pan of boiling water. In a medium bowl beat the butter until smooth and fluffy. Beat in the maple syrup. Then add the melted chocolate. Stir until silky smooth - any flecks of butter should be melted. Pour the chocolate mixture over the whipped cream and fold the chocolate into the cream. Keep going until the chocolate is well incorporated. Use an offset spatula to frost the completely cooled cake. If the cake is at all warm, the frosting will weep and melt. It still tastes good, but isn't what you're after.
Makes one 8x8 or 9x9 cake.