Mini Buttermilk Berry Milkshakes Recipe
A tasty, no-fuss dessert - these might be the best tasting milkshakes ever.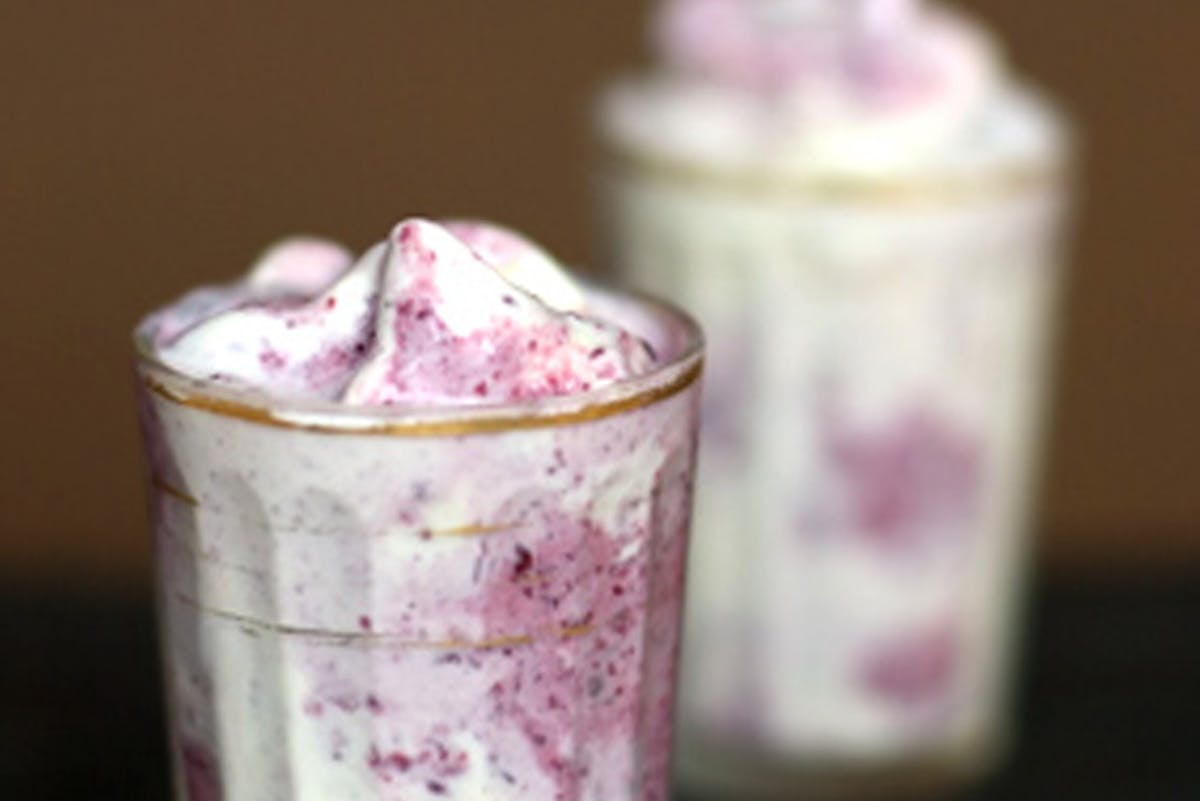 This buttermilk milkshake recipe was inspired by a recent trip to Napa. My friend Pam regularly invites me on fun excursions that find me heading north from the city, across the Golden Gate, and north-east towards wine country. I won't go into too much detail about the amazing Oaxacan feast she hosted (with partner Carl) at their home/winery on a perfect day late last summer - because you will just be flat-out jealous, but I will tell you that the homemade black bean tapenade seasoned with Mexican avocado leaves (grown in Napa) being served, was one of the best bean recipes to ever pass my lips. A real treat.
Pam invited me to lunch with a couple of her amazing friends a couple weeks back at the Wine Garden in Yountville. It used to be a classic diner and has recently gone through a complete overhaul and remodel. Julie Nord, the new owner, treated us (8 total) to a delicious tasting menu. I was thrilled that they didn't even flinch when it was revealed that I was the lone vegetarian at the table - it is one thing to go to a restaurant and order a vegetarian entree, it is a whole other thing to expect a vegetarian tasting menu. Anyways, they couldn't have been more accommodating. Here is a sampling of the delicious dishes I got to try:
-a contemporary Waldorf salad - a pretty mix of greens, nuts, apples, and a slightly sweet dressing.

-Macaroni Gratin - a grown-up version of the classic, served in the cutest teeny-tiny copper pot

-Sugar Pie Pumpkin Tortelloni - tastes as good as it sounds

-String Beans with Almonds and Crispy Shallots - buttery, bright green, and perfectly cooked

-Caramelized Brussels Sprouts - best brussels sprouts I've ever had - golden, browned, crunchy where they were in contact with the pan. Yum.

-house made celery root chips

-Black Forest Cake of some sort with cocoa nibs around the edges

-and to top it all off - as if the great company, and good food weren't enough - they sent out the grand finale. The Ode to the old Diner.
We were each served a tiny buttermilk milkshake served in a small soda fountain glass. There were two flavors to choose from: vanilla with a huckleberry swirl or vanilla with an apple-cinnamon swirl. After taking a sip I was convinced that a better milkshake was not possible. The buttermilk added a bit of tang to the sweetness of the vanilla ice cream. I had the huckleberry flavor, and the way the tartness of the berries, the sweetness of the cream, and the tang of the buttermilk came together was delicious. Delicious but rich. A sip or two (or three) is really all you need to feel satisfied - drink a whole glass and it will put you right over the edge.
So of course I got home and wanted to make buttermilk shakes for everyone. We actually picked up a chrome milkshake maker at a yard sale last spring, and so, as of this afternoon, we were in business. I sent an email to Julie after our lunch, I was hoping she would ask the chef for the recipe for me - but I bounced the email (maybe a typo or something), and decided to give my own concoction a shot. I think I actually came pretty close.
You don't need a milkshake machine to make these. You can use an immersion blender, or just let your ice-cream soften up on the counter for a bit before stirring in the buttermilk. I think shot-glass sized glasses (or a tad bigger) make the perfect serving size for these (see pic). And from start to finish they only take about 5 minutes to make. A tasty, no-fuss dessert.
On a side note, another dear friend of mine (from my publishing days) who writes restaurant reviews in the Napa area wrote a nice review of the Wine Garden for the North Bay Bohemian a while back, check it out for a more non-veg take on the restaurant.
Mini Buttermilk Berry Milkshake Recipe
3 big scoops of top shelf vanilla ice cream
1/3c.-1/2c. buttermilk
A cup or so of berries
A splash of Creme de Cassis
Let me start off this recipe by saying that you can make the swirl out of just about anything. We always have berries in the freezer because Wayne loves to make smoothies every morning. Just use what ever you've got around.
Let your vanilla ice cream soften up a bit before scooping three XL scoops into a big sized glass or cup. Mix in the buttermilk using a milkshake machine, an immersion blender, or by hand. I like my milkshakes extra thick, so I don't like to over mix them or thin them out with too much liquid. If your milkshake gets too thin, just add another scoop or two of ice cream.
Make the berry puree:
Puree berries with an immersion or regular blender. Incorporate a small splash of creme de cassis.
Spoon or pour a bit of the vanilla milkshake into each serving glass, add a bit of the berry puree, more of the milkshake, more puree, and so on. Give the milkshakes a bit of a swirl with a spoon and serve immediately.
Makes enough for about 4-6, depending on serving glass size.