Butter Lettuce Sunshine Salad Recipe
A lovely salad recipe utilizing a vibrant citrus and Parmesan vinaigrette. I did a demo of this salad at the San Francisco Ferry Building Farmers Market.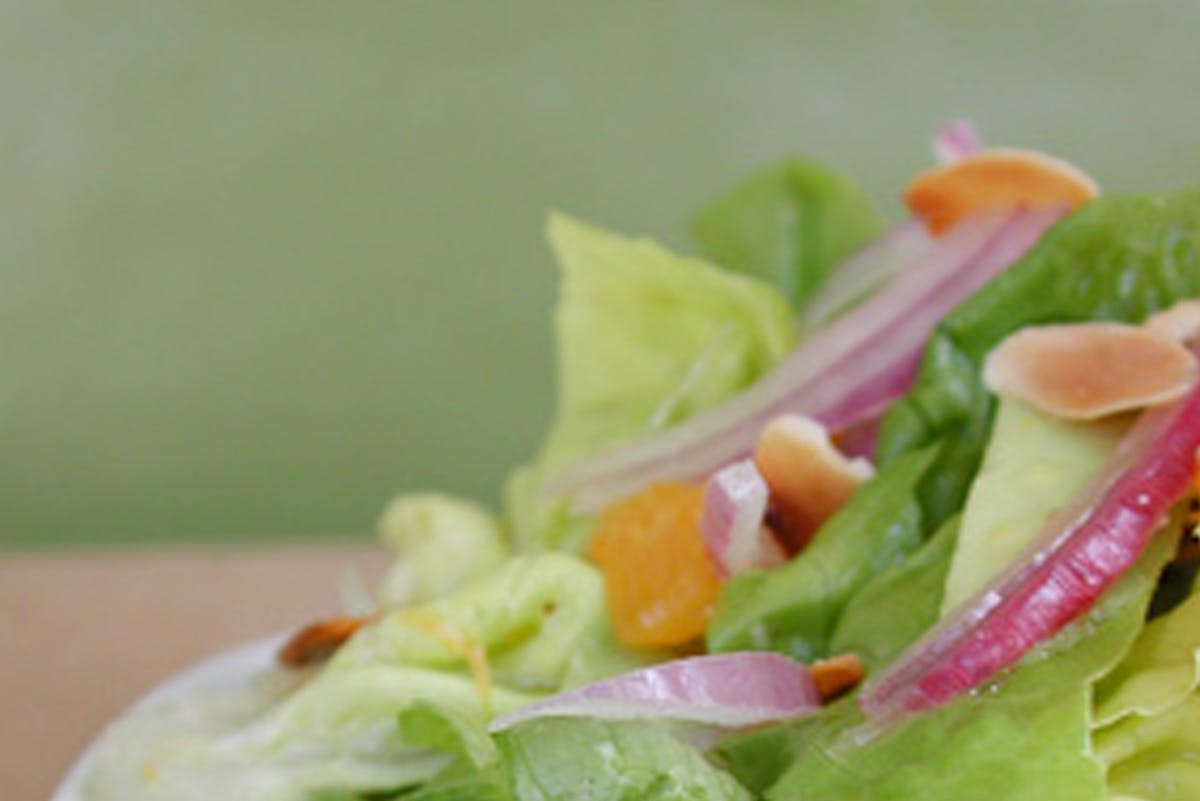 I was wide awake at 5:30 this morning. The bright green Victorian across the street from us, as well as the lemony yellow one two doors down, are both being gutted and renovated. The massive plastic tarps covering various holes in roofs and windows whip and snap when the wind kicks up, making the storm outside seem much more dramatic than it actually is. I just stayed there in my cozy bed, staring out the window watching the rain come down in sheets illuminated by the streetlight waiting for the sun to come up. So much for spring.
I needed to be down at the Ferry Plaza Farmers Market this morning by 8:30 to do a cooking demonstration outside under the awning. As you can imagine, I was really excited to do a demo at my hometown market, even if the weather was bleak. As part of its educational efforts, CUESA, the non-profit that runs the San Francisco Farmers Market puts on some great programing throughout the year - including their 'Shop with the Chef' and 'Meet the Producers' forums which are held back-to-back each Saturday morning. The Saturday morning cooking demonstrations/interviews are hosted by Willow Waldeck, whom I absolutely adore. Willow has been curating and cultivating this program for six years and has seen an amazing spectrum of chefs, cooks, cookbook authors, farmers, and producers participate. The end result is a better educated public that is excited and more knowledgeable about the bounty of products and produce sitting at the doorstep of the San Francisco Bay Area.
We are really lucky to have Willow, and I encourage all of you locals to go down and check out the program. Out-of-towners - put it on your itineraries for your next trip to SF, it is a great way to spend a weekend morning in San Francisco. I happened to be on the other side this morning, but generally I try to attend a handful of the programs each season in the audience, and always come home with new ideas, or learn something new about the food I am consuming and where it comes from.
It was also great to meet some of the readers of this site in person - everyone was so nice. I love being able to put names (from the comments) with faces. Thanks for braving the weather and turning out.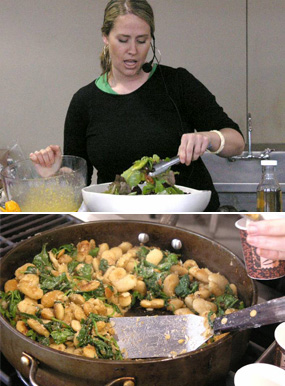 Thanks to Barry Jan for the above pictures.
I did two recipes this morning - one of my favorite, bright, citrusy, springtime salads - as well as a sauteed white bean recipe (with greens). The bean recipe was much better suited for todays grey skies and raindrops, but the salad was optimistic and is a good choice for a springtime lunch the next time the sun comes out.
I will include the salad and citrus vinaigrette recipe below just as I made it this morning for those of you who couldn't attend in person. It was ever so slightly adapted to take advantage of the sweet baby romaine salad greens, spring onions, and blushing cara cara oranges that were available at the market when we were picking up produce this morning.
Thanks again to my sis, who showed up at the crack of dawn, helped me load and unload my car, wash + dry salad greens, and kept me organized. It was great spending the day with you. xoxo -h
ps. I saw a couple people with cameras - If you got any pics this morning, send them to me and I will add them to the post.
Spring Sunshine Salad Recipe
6 to 8 handfuls mixed salad greens or butter lettuce, washed and dried well (I used baby romaine this morning)
1 or 2 medium oranges, torn into pieces, pith removed (I used cara cara oranges this morning)
1 avocado, thinly sliced
1/2 cup or so toasted nuts (sliced almonds, pine nuts, etc)
1/2 cup sliced spring onions

About 1/3 cup Citrus Parmesan Dressing (below)
Wash and dry your salad greens well and place them in a large bowl. Add the oranges, nuts, and onion. Toss well with the Citrus Parmesan Dressing (below). Add the avocado and give the salad one last light toss, be gentle, you don't want the avocado to disintegrate.
Sprinkle with a few shavings of Parmesan - you can make nice thick curls using a vegetable peeler.
Serves 4 to 6.
Citrus Parmesan Dressing
1/3 cup freshly grated Parmesan cheese
Zest and juice of 2 oranges
2 tablespoons chopped shallots
2T white wine vinegar
1 cup extra-virgin olive oil (or half reg. + half lemon oil)
2 pinches of both salt + pepper
In a medium bowl (or Mason jar) combine the grated Parmesan, orange zest and juice, and the shallots. Whisk in the white wine vinegar. Whisk in the olive oil and finish by seasoning with salt and pepper.
Other ideas:

-Gently heat the dressing and toss with spinach, for a warm, slightly wilted dinner salad.
-Use the vinaigrette as a marinade.
-Use it to toss with pasta (stuffed cheese filled pasta is an especially good choice).
Makes about 1 1/2 cups.