Sour Cream Waffles Recipe
Art Smith's sour cream waffle recipe - delicious, light yet structured waffles that cook up golden brown with just the right amount of outside crunch.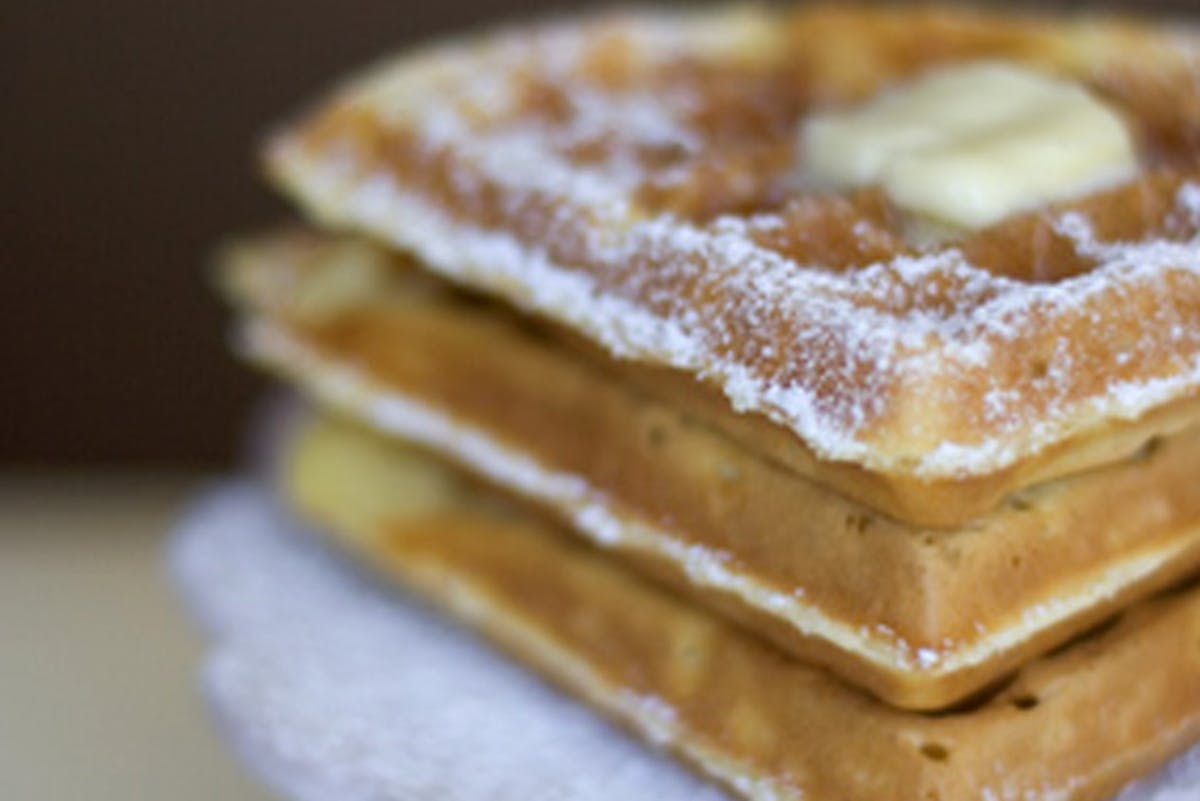 There are a handful of terribly neglected (and now dusty) appliances in my house; the bread machine circa 1995, the blender (now I opt for the handy immersion blender), the panini grill - and of course, the waffle maker. I secretly want a Belgium waffle iron with deep, golden pockets that cradle the warm butter and syrup - but since I rarely use the standard maker I've got, it is a bit hard to justify. But my quest for a new tasty waffle recipe started on Sunday when I went to a baby shower at my oh-so-crafty friend Whitney's house in Berkeley. Being the smart and practical host that she is - she had a make-your-own waffle bar set up for us. Scoop a cup of batter onto the waffle maker, close the lid, wait for the green light to tell you it is done, and then have your way with a vast assortment of toppings. I was thrilled. Strawberries, warm maple syrup, chunks of chocolate, fruit salad, whipped cream - you could top your piping hot waffle with whatever your fancy.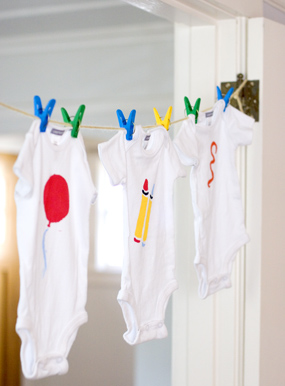 In the other room Whitney put a big stack of bright, crisp, white onesies alongside a huge assortment of stencils and fabric paints so everyone could paint a onesie for the baby-to-be to wear when he/she arrives (see above picture).
I was inspired to dust off the waffle maker when I got home, and combed through a bunch of my books looking for an inspiring waffle recipe to have a go of. I was a bit stumped for a while - with all the cookbooks I have here you would think I would be awash in waffle recipes, but I actually didn't come across many at all in the first ten or so books I pulled. I sort of stepped back for a minute and asked myself who I thought would make a mean waffle. I immediately yanked my Art Smith book from the bookshelf. Bingo - he has not just one waffle recipe in his book, he's got three - and they all sound delicious. He gives us recipes for Sweet Potato-Pecan Waffles, Coconut Waffles with Mango-Strawberry Compote, and the one I picked, Sour Cream Waffles.
These sour cream waffles are a breeze to make, and if you've got a bit of sour cream leftover from say....fajita or taco night - you probably have all the other ingredients right now in your refrigerator. These are delicious, light yet structured waffles that cook up golden brown with just the right amount of outside crunch (no one likes a soggy waffle). Be forewarned, this recipe is for all you butter lovers out there, and calls for a whole stick. So instead of eating a whole stack of them, enjoy one or two segments underneath a giant scoop of strawberries or fruit salad. Yum.

Art Smith's Sour Cream Waffle Recipe
1 3/4 cups all-purpose flour
1 tablespoon sugar
1 tablespoon baking powder
1/2 teaspoon salt
8 tablespoons (1 stick) unsalted butter melted
1 cup milk
1/2 cup sour cream
3 large eggs
Maple syrup or jam, for serving
Heat a waffle iron according to manufacturer's directions. Lightly oil the grids. Meanwhile whisk the flour, sugar, baking powder, and salt in a large bowl to combine and make a well in the center. Whisk the melted butter, milk, sour cream, and eggs in a medium bowl until well combined and pour into the well. Whisk just until smooth; do not over mix.
Spoon about 1/4 cup of the batter into the center of each quadrant of the waffle iron and close the iron. Cook until the waffle is golden brown, 3 to 4 minutes. Serve the waffles hot, with the syrup passed on the side.
Makes twelve 4-inch waffles.
From Back to the Table: The Reunion of Food and Family by Art Smith (Hyperion, 2001) - reprinted with permission.