Sweet Crepes Recipe
The perfect standard crepe recipe from Larousse Gastronomique, I've included many variations and topping suggestions here as well.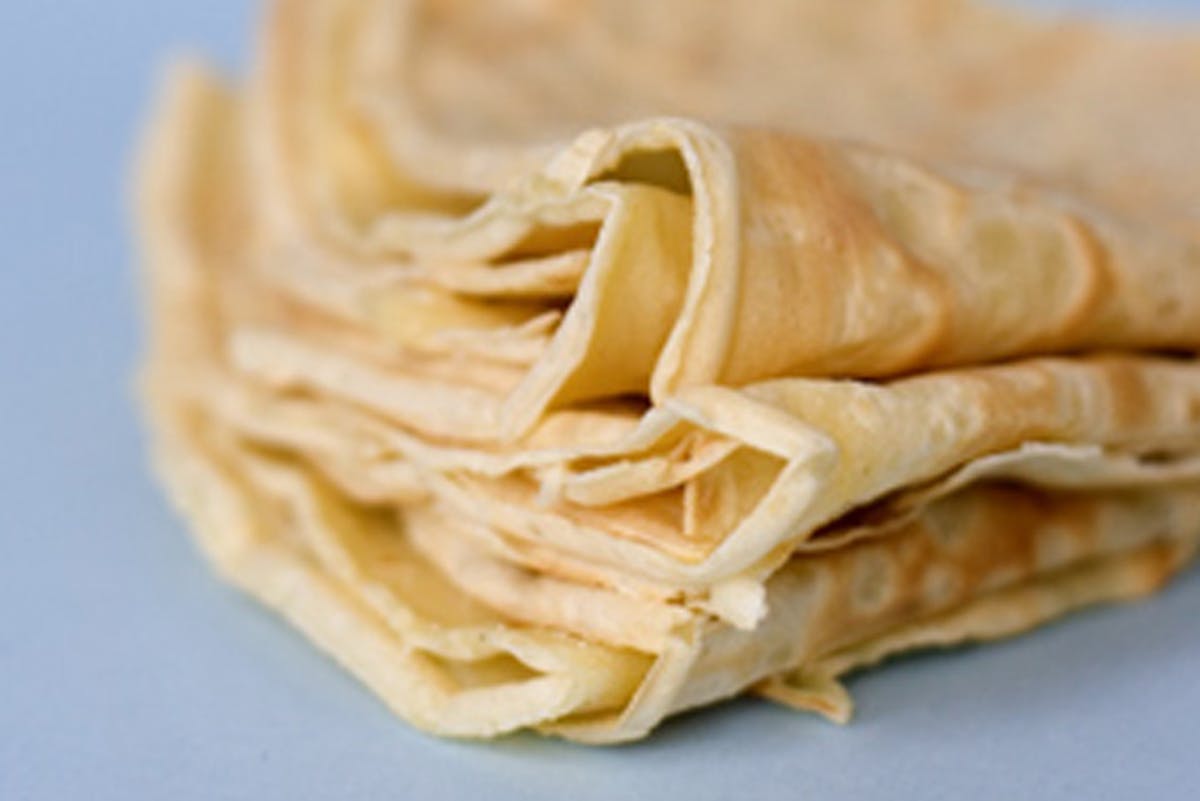 This crepe recipe stems from a new kitchen acquisition. I may have mentioned before - I've flirted with many a kitchen gadget. There was the summer of the sorbet maker, post-college experimenting with the bread machine, and frivolous flings with a never-ending series of cheap non-stick pots and pans. Very few ever earned the loyalty, care, and everyday dedication that I lavish on my workhorse of a mixer, my cherished enamel-lined cast iron casserole, and the holiest of holies....my pizza stone.
There is a recent addition to the inner circle. For my birthday earlier this month I received a huge, 13-inch wide, Tibos electric crepe maker. Lucky girl, I know - I've been itching to write about it. The Tibos perches confidently right on my countertop and plugs into an outlet. In addition to the crepe maker, the kit contained an assortment of tools that assist in the delicate and sometimes precarious art of crepe making - including a booklet of instructions and recipes for all the different things you can create; sweet crepes, buckwheat galettes, blinis, tortillas, pancakes, crespelle, palatchinken, bricks, chapatis, beghrirs, spring roll skins, etc. Lest you think it impractical to bring a machine like this into your own kitchen.
It has been three weeks of crepes. Endless variations on batters, flour, liquids. Batters with beer, without beer, with only flat beer, with milk, with only water, with butter, some with oil...It actually seems quite difficult to totally screw up a crepe batter, but some certainly were better and easier to deal with than others. Some liked to tear or fall apart when I went to flip them. Some were a touch soggy or eggy, some extra lumpy, and some were just plain fussy and ill-manered.
At the end of it all we seem to have the standard, non-buckwheat crepes down pretty well. We've had some good, solid buckwheat batters - but when I discover or create 'the one' - I'll write it up here.
Favorite crepes we've made so far:
-Sweet Crepes with Forest Berry Fruit Conserve (classic + delicious)

-Sweet crepes with David Lebovitz's Tupelo Honey Chocolate Sauce with Brandy (completely indulgent). The recipe for the sauce is in his Chocolate book.

-Sweet crepes with June Taylor's Meyer Lemon + Rose Geranium Jelly (deliciously sophisticated and tart)

-Sweet Crepes with bittersweet Scharffen Berger shavings (perfectly simple)

-Buckwheat crepes with Bellwether Crescenza, sauteed paper-thin new potato slices (drizzled with lemon olive oil), and chopped chives (my very favorite savory crepe so far)

-Buckwheat crepes with sauteed mushrooms and Gruyere

-Buckwheat crepes with Gruyere and diced tomatoes (organic canned) that I drained, squeezed (to get rid of the extra liquid), then sauteed down a bit with some extra-virgin olive oil, red pepper flakes, and salt. I sprinkled with slivered basil before folding crepe.
Crepe tips that most recipes leave out:
-Put a layer of aluminum foil under your crepemaker for quick and easy cleanup.

-Always strain any lumps out of the batter before attempting to make crepes. I thought straining might be an unnecessary step - but the little rake tool you use to spread the crepe batter around snags on the lumps and will tear the crepe.

-Go about making your crepes confidently. Use a light but determined touch if you are using the rake tool to spread batter across a flat crepe maker or pan. Or a smooth swirl of the wrist to send batter evenly across a standard pan. Quick and confident, and don't be afraid to make a bit of a mess.

-I fill a big measuring cup (the kind with the little easy-pour lip) full of the crepe batter. It makes pouring the batter onto the crepe maker tidy and easy.

-If you don't have an electric crepe maker, you can also make crepes in a slick, smooth, non-stick pan - like an omelet pan. It's not as fun as using the Tibos, and the crepes aren't going to be as pretty or perfect - but they still taste good. I tried a few this way - just to see how the other half live.

-I slightly undercook the first side of the crepe - until it is just golden. I flip, cook the second side, then flip back to the first side and fill. I let the ingredients come up to temperature (let the cheese melt a bit, etc), then fold and eat. By undercooking the first side a bit you buy yourself some time later as you are waiting for your filling to heat up a bit.

-Make your crepes to order whenever possible.
I found quite a bit of crepe inspiration while browsing through my copy of Larousse Gastronomique. It has three full pages of ideas, suggestions and recipes. So, while it may take some time for me to graduate from simple filled + folded crepes - I look forward to diving a little deeper in the future with endless variations on the broiled, baked, and glazed crepes described in this classic. The following is a great standard crepe recipe - the batter is easy to make, keeps in the refrigerator, is unfussy, and can be filled with just about anything you can dream up, including your favorite preserves.
Make some sweet crepes and keep them hot (see below). Sieve some apricot, plum, or peach jam and heat it, possibly adding some rum or a fruit liqueur. Spread the crepes with jam, roll them up, sprinkle them with caster (superfine) sugar and serve immediately. the crepes may also be placed for a few moments under the grill (broiler) to caramelize the sugar.
Larousse Gastronomique Sweet Crepe Recipe
Be sure to read all the tips up above as well, they will help you with many of the little things I had to learn the hard way
Mix 500g (18oz, 4 1/2 cups) plain (all-purpose) flour with 1 tablespoon vanilla-flavoured sugar (or a few drops of vanilla extract), 5-6 beaten eggs and a small pinch of salt. Gradually stir in 750 ml (1 1/4 pints, 3 1/4 cups) milk and 250 ml (8 fl oz, 1 cup) water. Flavour with a small glass of rum, Cognac, Calvados or Grand Marnier, depending on the recipe. Finally, add 40 g (1 1/2 oz, 3 tablespoons) melted butter or a mixture of 25 g (1 oz, 2 tablespoons) melted butter and 2 tablespoons oil. Leave the batter to stand for 2 hours. Just before making the crepes, dilute the batter with a little water or milk - 100-200 ml (4-7 fl oz, 1/2-3/4 cup).
It was formerly the custom to add 2-3 tablespoons caster (superfine) sugar to the batter, in addition to the vanilla-flavoured sugar. Today the crepes are usually sprinkled with sugar when cooked, according to individual tastes.
A more basic (but very similar) version of this recipe that also worked great was this one - but again, I would go through the extra step of straining the batter before cooking.
From: Larousse Gastronomique (Clarkson Potter, revised edition 2001)