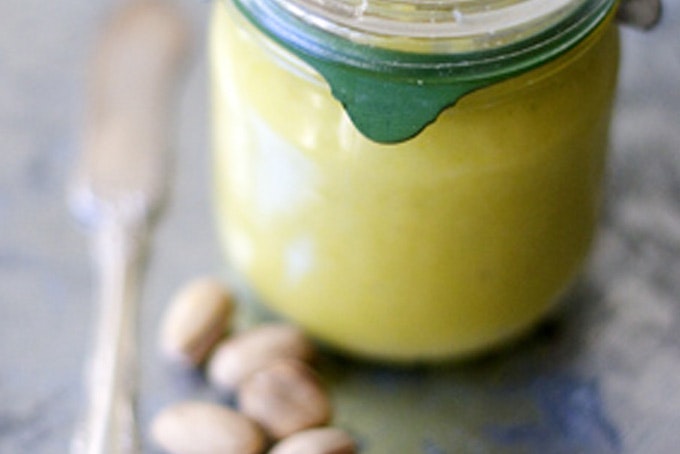 Sweet Pistachio Butter Recipe
My fingers are a little raw from shelling pistachios for what felt like two hours at the crack of dawn this morning. Note to self, recipes that require shelling, blanching, and skinning usually take a long time.
We had our friends Merin and Rusty over for tasty crepes last night. When I surveyed the kitchen at the end of the night I saw a big bag of pistachios slumped over alongside a jar of leftover crepe batter. I thought to myself, why not make a sweet pistachio butter or paste to spread on crepes this week? I wouldn't have to go to the store for any special ingredients or anything. I could knock this out in fifteen minutes tops, no problem.
Silly me.
Have you ever shelled and skinned any significant quantity of pistachios? Wow. Who knew? My fingertips are all pink are tender to the touch and I only ended up with a single, solitary cup of the pistachio meat. Lucky for me I had almonds on hand too. They are easy to skin after a quick swim in a pot of boiling water - an assertive pinch and you are in business. So I ended up using 1 part pistachios to 1 part almonds.
Ordinarily I might skip skinning the pistachios, but I wanted my pistachio butter to have that super bright, vibrant pistachio green color. Leaving the purple/brown skins on would certainly muddle my color plan, and they might puree flaky instead of smooth. So I went the extra mile.
Taste? This butter has a nice mild pistachio flavor to it. You could opt for 100% pistachios if you want a more intense flavor. You could also split the batch in half and make one half sweet (with any sort of sweetener), and the other half savory (season with a bit of salt to get the flavors to brighten). You can also play around with the consistency of it. Less water and you are going to end up with a paste, more water and you can thin it way out.
I'm going to use it on crepes this week, but I imagine you can think of a million other ways to use it. Inside a pistachio sandwich cookie, as a colorful base layer in a sweet tart (or mini tart), in all sorts of hors d'ouvres and finger foods...have at it.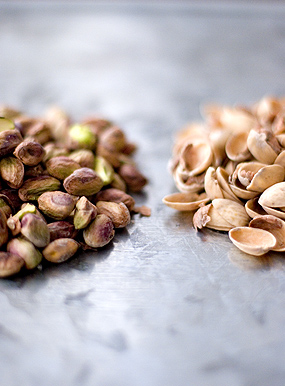 Sweet Pistachio Butter
1 cup pistachios, shelled, blanched and skinned (instructions below)
1 cup almonds, blanched and skinned

roughly 3/4 cup granulated sugar (next time I will prob. sweeten with a mild honey or light agave nectar)

1/2 cup or so hot water
couple pinches of salt
To blanch the almonds and pistachios just drop them in a pot of boiling water for a minute or so. I use a slotted spoon to remove a couple of test nuts. Test one of the almond, the skins should puff out a bit and slide of easily with a good pinch. The pistachios are a little trickier because of their funky shapes and you might need to coax the skins off using a variety of any of the following: pinching, picking, or rubbing.
The next step is to make a nut puree. I gave my hand blender a good workout, but it worked quite well for this purpose and I ended up with a nice smooth nut butter in the end. Place the nuts, and about 1/2 cup hot water in a medium bowl. Get in there are puree it. You may need to add more water to thin things out - just ad a bit at a time, you're in trouble if you add too much. I like mine a consistency that is easily spreadable, I don't like nut butters that are so thick they tear the bread you are spreading them on.
Sweeten it up. I ended up stirring in about 3/4 of a cup of sugar to sweeten my pistachio butter. You might like a little more or a little less. Start with 1/4 cup and ad in 1/4 cup increments from there. Stir in a pinch or two of salt to pull everything together.

Makes about 2 cups.