Butterscotch Calypso Bean Soup Recipe
A soup inspired by a visit to Delfina restaurant.
Sunday night I took Wayne to Delfina for his birthday where we had a delicious meal for two. I was coerced into attending a jazz concert at Yoshi's on my birthday last month, so this time it was my turn to pick the destination. Once seated at Delfina we wanted to sample a variety of dishes and ended up splitting all of the following (I'll write it all down in the order it came to the table):
-Zuppa di ceci with paprika oil and cumin croutons
-Fava bean crostini with lemon oil and pecorino
-Tagliatelle with artichokes, mascarpone, and mint
-Semolina fried spring onions
-Panna cotta with candied kumquats
We had a few nice glasses of wine throughout dinner that I forgot to take note of at the time (funny how that happens), and ended the meal with a fabulously distinctive violet-nosed dessert wine. Our waitress was nice enough to jot down the name of for me: LaCrima Di Morro D'alba 2002 Luciano Landi "Passito."
The zuppa di ceci was stunning. The smoky, vibrant swirl of red-orange paprika oil set off the nutty ceci puree perfectly. I don't eat or cook pureed bean soups often at all lately, and this version reminded me just how simple and wonderful a soup made with the common garbanzo can be.
Today I decided to cook up a batch of the Delfina-inspired soup for my lunch. I took inventory of what beans I had on hand, and was hoping that I still had some dried garbanzos on deck. No dice. I have an entire library of beautiful heirloom beans - but today, no garbanzos or even the cute, tiny garboncitos when I need them. It was apparent that I was going to have to sacrifice some of my pretty beans. I have a special place in my heart for the pretty ones. My favorites are the heirlooms kissed with vibrant coloring, subtle freckles, spots and flecks - all with flavors and textures as distinct as their skins. Some of the marked beans fade after doing time in the simmer pot, but they always leave a little hint of color, reminding you of their former glory.
I don't like to puree the pretty beans. In a lot of cases they aren't the best beans to puree anyways, but even if they were, it still doesn't feel quite right to me. In this case, I sucked it up and did the job that needed doing.
I scanned the beans and pulled down a pound of the beautiful Butterscotch Calypso Beans, also known as Steuben Yellow-Eyed Beans. When cooked they are creamy with a thin skin - the pot liquor is reasonably flavorful and turns a light chestnut color as the beans cook. They taste great straight out of the pot without much fuss or fanfare. Because of all of the above, I thought they might be a good candidate for a pureed soup that would pair nicely with the paprika oil and cumin croutons. It would be quite a different flavored soup base from the one I had at Delfina, but I thought it would be nice nonetheless.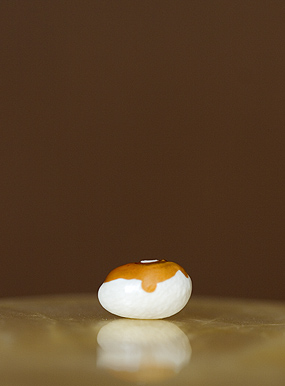 There were a couple surprises along my journey this time around. I thought the pureed beans would end up being light or yellow-tinged after blending. Wrong. The beans ended up being very close in color to, say, refried pintos - a fleshy tan. The soup appears lighter in the picture (above) because I added 1/2 cup cream to the pot at the end. The puree also took on a taste that reminded me (a bit) of pinto beans as well - not exactly what I was after, but good and filling regardless. I ended up really liking this soup a lot, and recommend trying it. Don't skip on the paprika oil - it really punctuates the soup and makes all the difference between a good soup and a delicious one.
I also look forward to trying this recipe one more time using garbanzos.
Butterscotch Calypso Bean Soup
Start with a pound of cooked Butterscotch Calypso Beans. Don't drain them. Make sure they are still covered in enough water/pot liquor to move forward. To cook my beans this time around I just covered them with water, threw in 1/2 of a loosely chopped onion, and a chopped shallot. Let the whole pot simmer for 2 hours and 15 minutes and you are in business. If the water drops below the bean line, just throw in another cup or two and stir. No soaking ahead of time, and no salting until just before the beans were finished cooking. You will know if your beans are seasoned properly at this point because they will taste so good you will want to eat a whole bowl of them.
While you are cooking the beans, make the flavored oils and croutons.
Paprika oil:
1/2 cup extra virgin olive oil
1 large clove of garlic, crushed
1 Tablespoon bittersweet paprika
1 teaspoon sweet smoked paprika
In a small saucepan over medium-low gently heat the olive oil and garlic. You want the oil to get hot, but not simmer and bubble. Just when the oil starts bubbling a bit around the sides of the garlic remove the saucepan from heat and stir in both paprikas. Set aside for at least 10 or 15 minutes and let the oil infuse. Remove the garlic. I also strained the infused oil before serving using an espresso filter (I think a paper coffee filter will work just as well). You are shooting for a beautiful, deeply colored and fragrant oil that doesn't have a ton of paprika grain in it.
Cumin oil:
Toast 1 T. cumin seeds in a dry skillet until fragrant, a couple minutes over medium heat. Crush the toasted cumin with a mortar and pestle - or a spice grinder, knife or whatever you've got. Back to the skillet: add 1/4 cup extra-virgin olive oil to the skillet, let it heat up and add the crushed cumin seeds along with a few pinches of salt. Remove from heat and let sit for 10 or 15 minutes.
Cumin croutons:
Preheat the oven to 400 degrees. Cut a small loaf of rye bread into crouton-sized cubes. In a medium bowl toss a couple handfuls of the rye cubes with the cumin oil until they are nicely coated. Place on a baking sheet in the oven for 15 minutes or so - until the croutons are crisp and starting to brown.
Assembling the soup:
After letting the soup cool just a bit, puree it with a standard or immersion blender. At this point you want to assess whether your soup is too thick (mine was). I thinned mine out by stirring in a cup or two of water (a mild broth might also be nice). I also added 1/2 cup of cream to give it a slightly richer texture, flavor, and mouth feel (optional). Taste again and season if needed.
Serve with a generous drizzle of the paprika oil and a sprinkling of the cumin croutons.
Makes 4-6 servings.