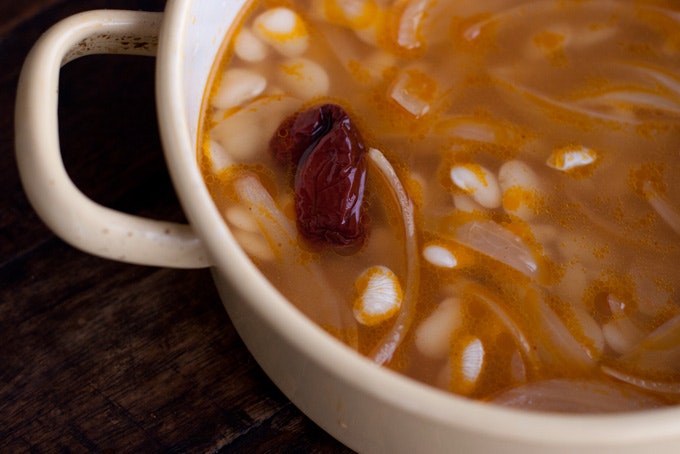 Baby Lima Soup with Chipotle Broth Recipe
I suspect that one of my favorite recipes from Super Natural Cooking is a tad bit neglected, overlooked. It lives unassumingly on page 144, has no seductive photograph flanking it, and has the word lima in the title. It was a recipe originally shared with me by my pal Amanda Berne, in the middle of the day, in a Mexican grocery store in San Francisco's Mission District. We were surrounded by beans and dried chiles, flanked by towers of steaming, freshly made tortillas. Amanda can mount a compelling argument for a recipe she is fond of, and I tend to listen to her. This soup quickly became a regular in my kitchen. Made from just five ingredients, it is a vibrant, chipotle-spiked, brothy soup that requires minimal babysitting. The dainty baby lima beans soften up in about an hour without any pre-soaking or fuss.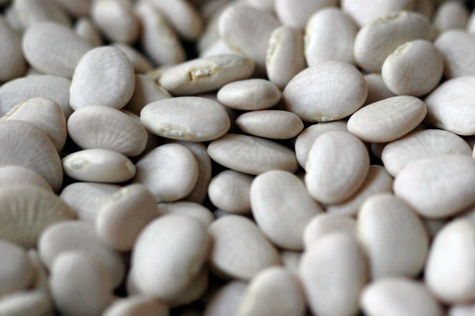 You can find chipotles in adobo sauce in the Mexican-foods section of most markets. They lend a spicy, smoky, assertive flair that's nicely balanced by the beans and regal reddish gold broth.
Those of you interested in my weekend trip to Portland, Oregon can read the details and see a few pics I uploaded.
Baby Lima Soup with Chipotle Broth
1 pound dried baby lima beans, picked over and rinsed
10 cups water
1 head garlic, top lobbed off to expose the cloves and loose skins removed
2 tablespoons olive oil or clarified butter
1 onion, halved top to bottom and sliced into thin crescents
1 to 2 chipotles in adobo sauce
2 teaspoons fine-grain sea salt

Squeeze of lime juice (optional)
Pick over the beans, looking carefully for any pebbles or dirt clumps; baby limas seem to be magnets for dirt. Rinse the beans, then combine them with the water and garlic in a heavy soup pot. You might think putting a whole head of unpeeled garlic in the pot is strange, but just go with it. Bring the beans to an active simmer and cook for 30 to 40 minutes, until just a touch al dente and not mushy or falling apart. Test their doneness by tasting; you really can't tell any other way.
Heat the olive oil (or butter) in a heavy skillet over medium-high heat, add the onion, chipotles, and 2 teaspoons of the adobo sauce, and sauté over medium high heat for 3 to 4 minutes, just until the onion starts to soften. You can always add more adobo sauce later for a spicier soup; just don't overdo it on the front end.
Add the salt and the onion-chipotle mix to the pot of beans and simmer gently for about 5 minutes to blend the flavors. The broth should be thin, so add more water if needed. Add more salt and more adobo a bit at a time if the flavors aren't popping. Finish with a squeeze of lime if you like. I usually remove the garlic head at this point or serve around it.
Serves 6.